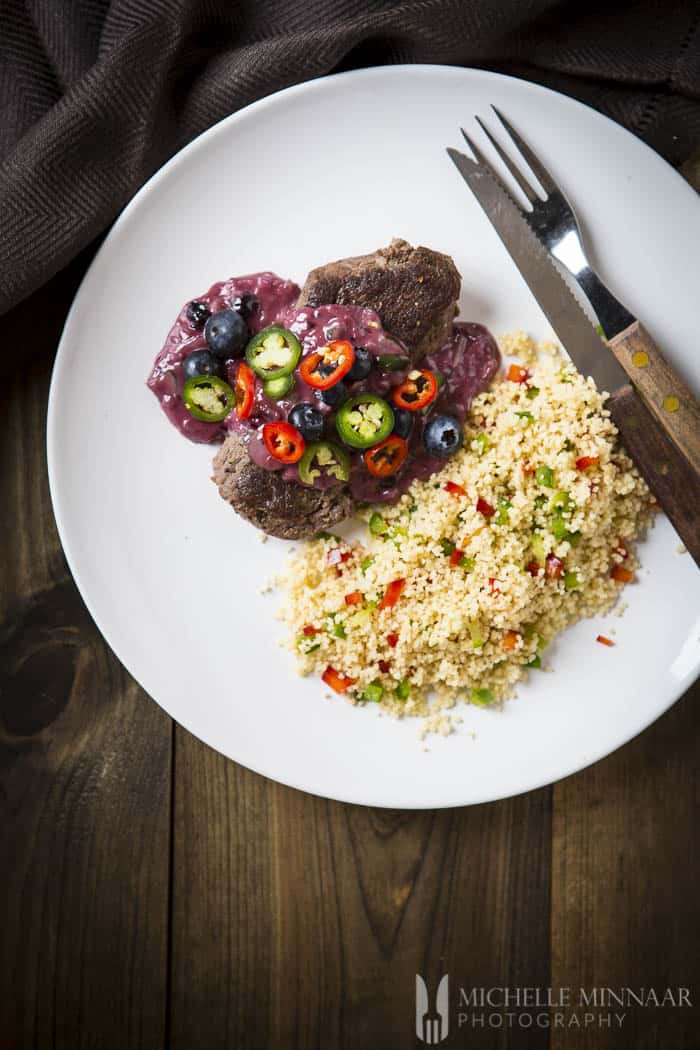 It's got three stomachs. It can run over 70km per hour with its powerful legs. It's the biggest bird on the planet. It has wings but can't fly. It's the ostrich and it's delicious.
Habits and routines are handy concepts but it's freakishly easy to fall into a rut, which is why I haven't visited Iceland for a long time. It simply hasn't occurred to me. Dawdling around the aisles were fun and revelatory.
Take these raw, frozen lobster tails for example. Should I turn them into Lobster Bisque, Lobster Thermidor or simply serve them plain with lemony, garlic butter? The jury is still out but until then they'll be patiently waiting in my freezer until I make up my mind.
If you are after something offbeat, check out Iceland's exotic meat selection. Wagyu burgers, kangaroo steak, you name it. Yet, I reached out for the ostrich fillets when memories flooded in of the wonderful 'braais' I've enjoyed with my family in South Africa more than 10 years ago.
The meat had a bit of a strange colouring and it turns out it has been partially cooked before being frozen, supposedly to lock in the flavour. Frying the meat in a hot pan two minutes on each side yielded a medium doneness and even though I'm a die hard fan of rare meat, I enjoyed it.
For those wondering what ostrich tastes like, it tastes like beef. Very lean beef fillet. It's healthier too with lower fat content and the fat it does contain is unsaturated.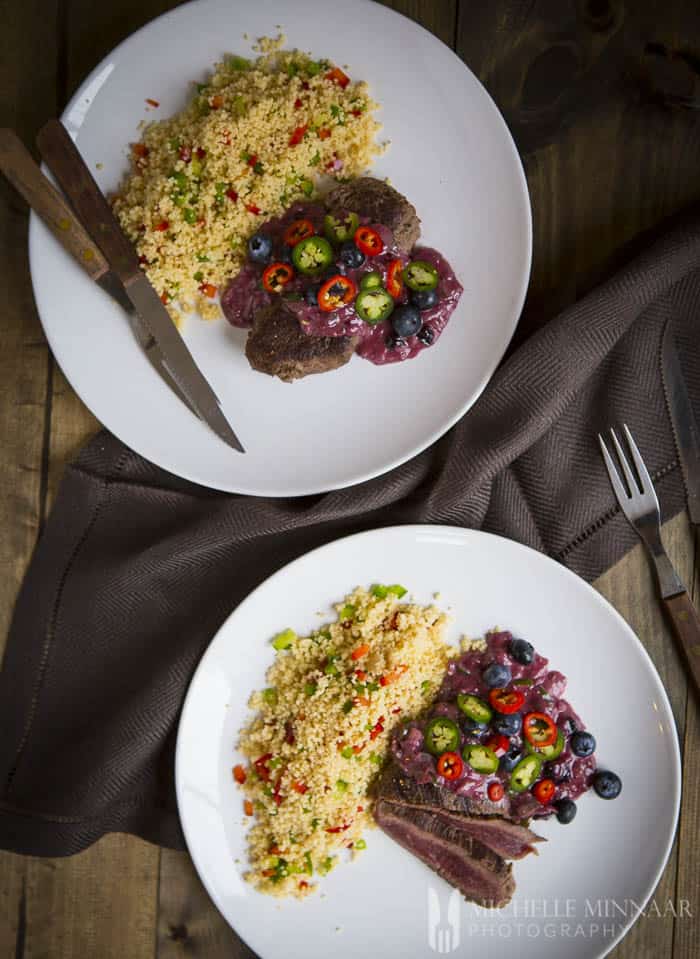 Have you tried ostrich? If not, why not? If so, how did you enjoy it?
Love Sauces? Check out these books!
Print
ostrich fillet with creamy blueberry sauce
---
4

ostrich steaks
black pepper

30

ml (2 tbsp) butter

5

ml (1 tsp) vegetable oil

1

medium onion, finely chopped

1

clove garlic, minced

1

green chilli, chopped

75

ml (5 tbsp) port

100

ml (3fl oz) fresh cream

20

ml (4 tsp) blackcurrant jam
salt

100g

(

3oz

) blueberries
---
Instructions
Season the steaks with black pepper.
Heat the butter and oil in a frying pan and fry the steaks for 4 minutes on each side, then remove from the pan, but keep warm.
In the same frying pan, sauté the onions, garlic and chillies over a low heat for 5 minutes.
Add the wine, cream and jam and boil for 2 minutes. Season with salt.
Arrange the steaks on a serving dish, pour the sauce over and garnish with blueberries.
Prep Time:

15 minutes

Cook Time:

10 minutes

Category:

Dinner

Method:

Pan Fry

Cuisine:

Australian
Nutrition
Calories:

352

Sugar:

Sugars

Sodium:

87 mg

Fat:

20.7 g

Carbohydrates:

14.8 g

Fiber:

Dietary Fiber

Protein:

22.8 g

Cholesterol:

61 mg
P.S. This post was commissioned by Iceland.