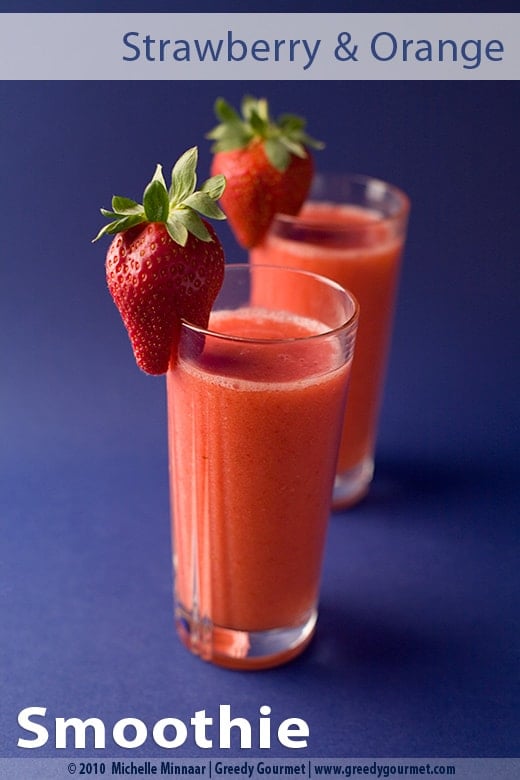 Nothing is more depressing than UK's fruit scene during winter.
Most fruit are imported during this time and on top of being exorbitant they are tasteless. There are only so many apple pies, pear crumbles and fresh oranges I can stomach before repeatedly hitting my head against the wall out of pure boredom. At last I have figured out a solution!
A while back I complained to a friend about Gabriel getting constipated. As a foodie I don't know where I have gone wrong because I can't get him to eat anything else other than meat, bread, pasta, cheese and yogurt. Fruit, vegetables and even potatoes he gives one look at and refuses to eat them. Mysteriously, he is a very strong and healthy child. I refuse to join the brigade of parents who go through great lengths to hide vegetables in dishes. Most produce taste good in their own right, don't they?
She suggested experimenting with smoothies. Hmmm, interesting idea. A little while later I got to work. Since it was winter, the fruit scene was still dreary at the shop but then something caught my eye in the frozen section that I have not noticed before. Frozen fruit! Not over my dead body would you catch me eating them but in smoothies they are ideal and you don't even need to chill the drink with crushed ice. Oh, and did I mention they are almost half the price of their fresh counterparts?
There are two types of smoothies I make. One is orange juice based and the other milk and yogurt. Usually I blend tropical fruit with the orange juice and berries with the dairy. So far, everything has worked a charm.
The good news is Gabriel loves them. And he's regular again. Now only to get him to eat his greens…
Print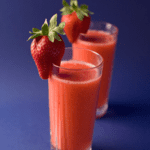 Strawberry & Orange Smoothie
---
Description
Author: Michelle Minnaar
---
frozen strawberries
orange juice
caster sugar [optional], to taste
---
Instructions
Combine strawberries, orange juice and sugar in blender.
Blend until smooth.
Notes
Use a ratio of 2:1 for orange juice and strawberries.
If the juice seems too thick, add a bit more orange juice to thin it.
You can use fresh strawberries but will need to blend in some ice cubes as well to chill the drink.
Nutrition
Serving Size:

1 serving

Calories:

187

Sugar:

29.6 g

Sodium:

250 mg

Fat:

2.3 g

Saturated Fat:

1.3 g

Carbohydrates:

35.8 g

Fiber:

5.6 g

Protein:

8.8 g

Cholesterol:

7 mg