This very creepy drink will give you chills just looking at it. Whether hosting a Halloween party or just trying to creep your friends out, this Zombie brain shot is sure to appeal to any thrill seeker.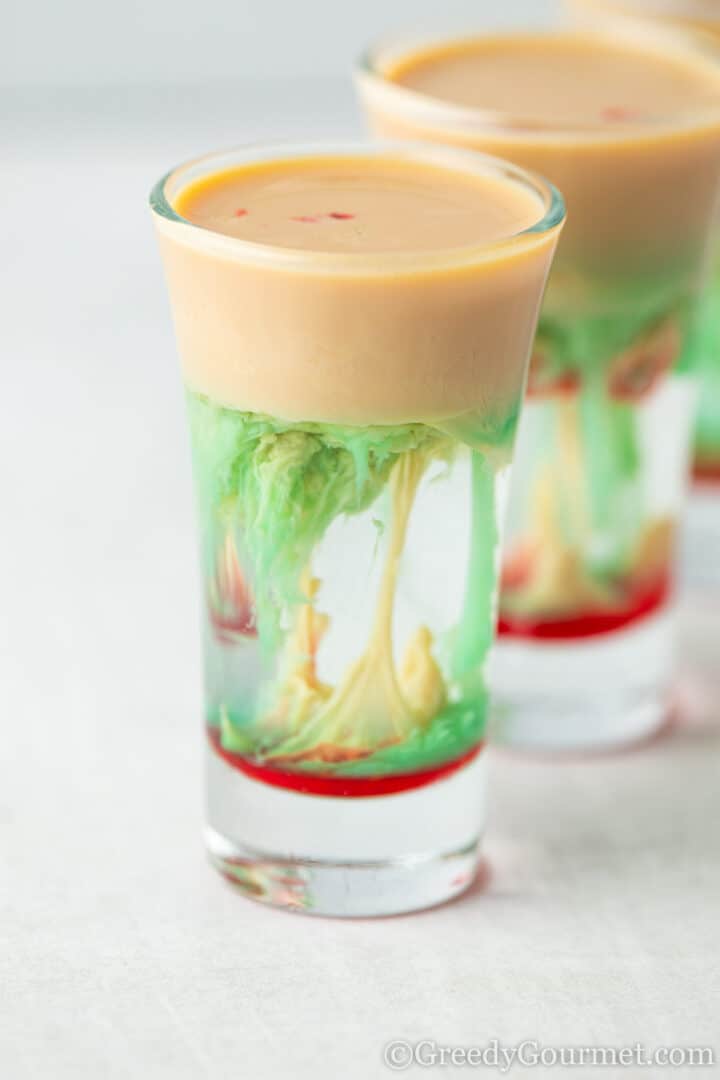 This spooky shot is made by combining peach schnapps, Bailey's Irish Cream, Creme De Menthe, and grenadine in a shot glass to create a totally creepy visual experience. What's even more amazing is that it really looks like a zombie's brain!
The zombie brain shot is a take on the Zombie Brain Hemorrhage shot. Instead of Creme de menthe, the Zombie Brain Hemorrhage shot has melon liqueur in it, giving it a fruitier flavor, but the same reaction and a similar appearance.
Like an Irish car bomb, which features Guinness beer, Bailey's Irish cream curdles when it reacts to the alcohol in the shot glass. This curdling of the Irish cream creates not only an interesting texture in your mouth when you shoot it, but the appearance of zombie brains.
This recipe is inspired by the Alien Brain Hemorrhage Shot on my website which uses blue curacao instead of Creme de menthe. The right place to serve this creamy zombie brain shot is at a Halloween party along with plenty of appetizers to keep the alcohol from going straight to your non-zombie brain.
Why You'll Love This Recipe
It's a fun and unique party drink
It looks creepy like real zombie brains
It tastes creamy, fruity, and a little minty
It comes together quickly and is entertaining to watch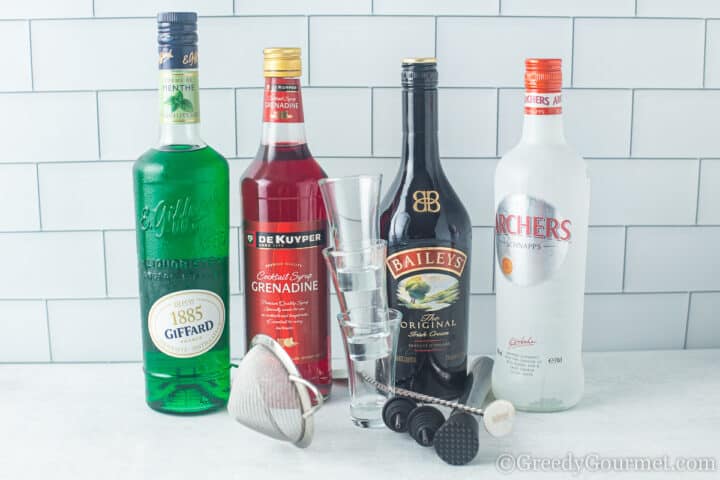 Equipment Needed For This Recipe
Shot glasses - use a shot glass to create your work of terrifying art. Layer your different liqueurs directly into the shot glass before enjoying.
Jigger - used for measuring out your peach schnapps, Irish cream, creme de menthe, and grenadine into your shot glass
Spoon - a simple teaspoon is all that is needed to carefully and slowly pour the ingredients over to come together in the shot glass, creating this creepy drink.
Ingredients You'll Need For This Recipe
Top Tip
Really slowly pour the Irish cream into the half filled shot glass to achieve the ultimate creepy zombie brain visual.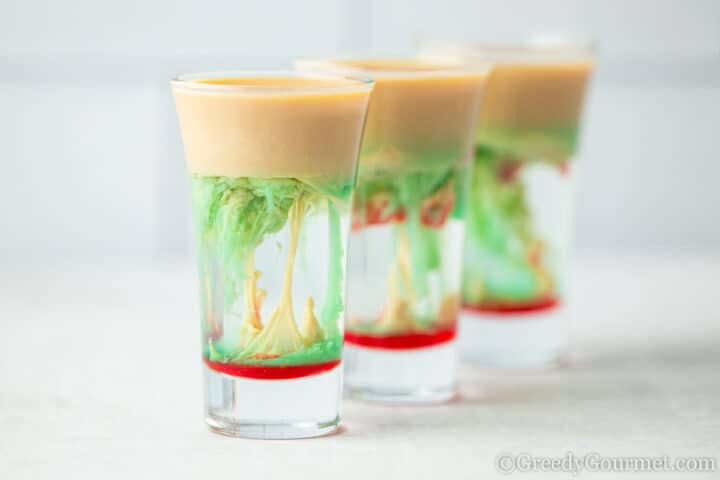 What to Serve With Your Zombie brain shot
This fun drink is great when enjoyed all by itself, but accompanying it with some desserts or munchies will make the evening that much better!
Desserts
These Halloween-themed desserts are good anytime but are a really fun addition to the zombie brain shot at a party!
Chocolate Orange Brownies - these rich brownies get their citrus flavor from orange Angostura bitters, an addition to several cocktails. A unique dessert to accompany a unique drink like the zombie brain shot
Halloween Toffee Apple Cake - this spooky Halloween-themed dessert cake is perfect to go along with zombie brain shots at your party
Meringue Ghosts - these fun-themed desserts are just right for a Halloween display accompanying your freshly poured zombie brain shots
Snacks
Keeping your guests full of food will help to prevent anyone from feeling the pain from overindulging. These recipes are all appropriate for a party where you may set up a buffet-style food layout.
Cocktails
If you're looking for some more fun drinks to serve up at a Halloween party, here are a few suggestions to keep your guests happy in between rounds or two of a zombie brain shot.
Incredible Hulk Drink - this neon color-changing drink is a great way to impress your guests
Long Vodka - a simple take on the gimlet, a long vodka is an easy drink to mix up in batches or one by one for your guests
Alien Brain Hemorrhage Shot - similar to the zombie brain shot, the alien brain hemorrhage shot uses Bailey's, blue curacao, peach schnapps, and the heavy syrup grenadine to create another Halloween recipe that will totally creep out your guests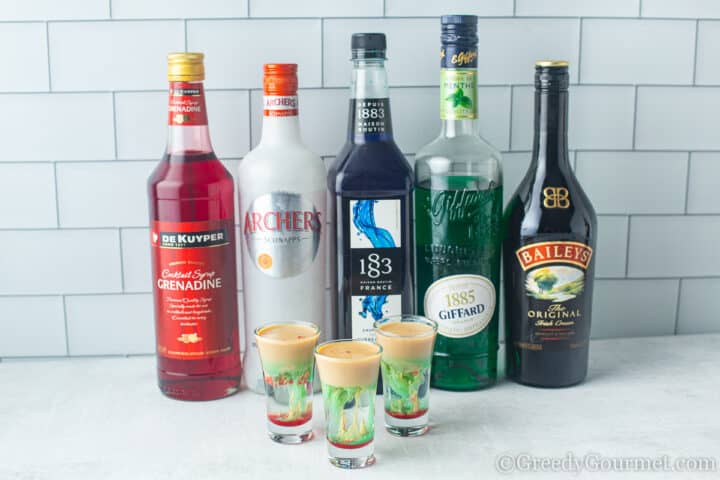 Popular Substitutions to the Zombie brain shot
There are a few possible substitutions that can be made to this spooky zombie brains in a shot glass
Peach schnapps - instead of using peach schnapps, you can reach for triple sec, which is non alcoholic, but has a sweet orange flavor instead of peach
Grenadine - to replace the heavy syrup grenadine, some simple syrup with a few dashes of cherry or pomegranate juice will do the trick in this brain shot
Creme De Menthe - use melon liqueur in your zombie brain shot to make a Zombie Brain Hemorrhage shot
Variations to the Zombie brain shot
I think you will love this zombie brain shot recipe as is, but if you would like to switch it up a bit there are several ways you can do so.
Instead of making this recipe in a shot glass, scale up the ingredients by two or three. You will follow the same steps of pouring the ingredients into a larger glass slowly to get the appearance of a zombie brain.
Using a squeeze bottle instead of a jigger to pour out the alcohol into the shot glass may help with the accuracy and with the appearance of the zombie brain shot
You can omit the Creme De Menthe from this brain shot, and replace with another liqueur if you prefer. The most important component is the Irish cream, which creates the illusion of a zombie brain in a shot glass
Top Tip
For a clearer fine line between the schnapps and Bailey's Irish cream, chill the peach schnapps first.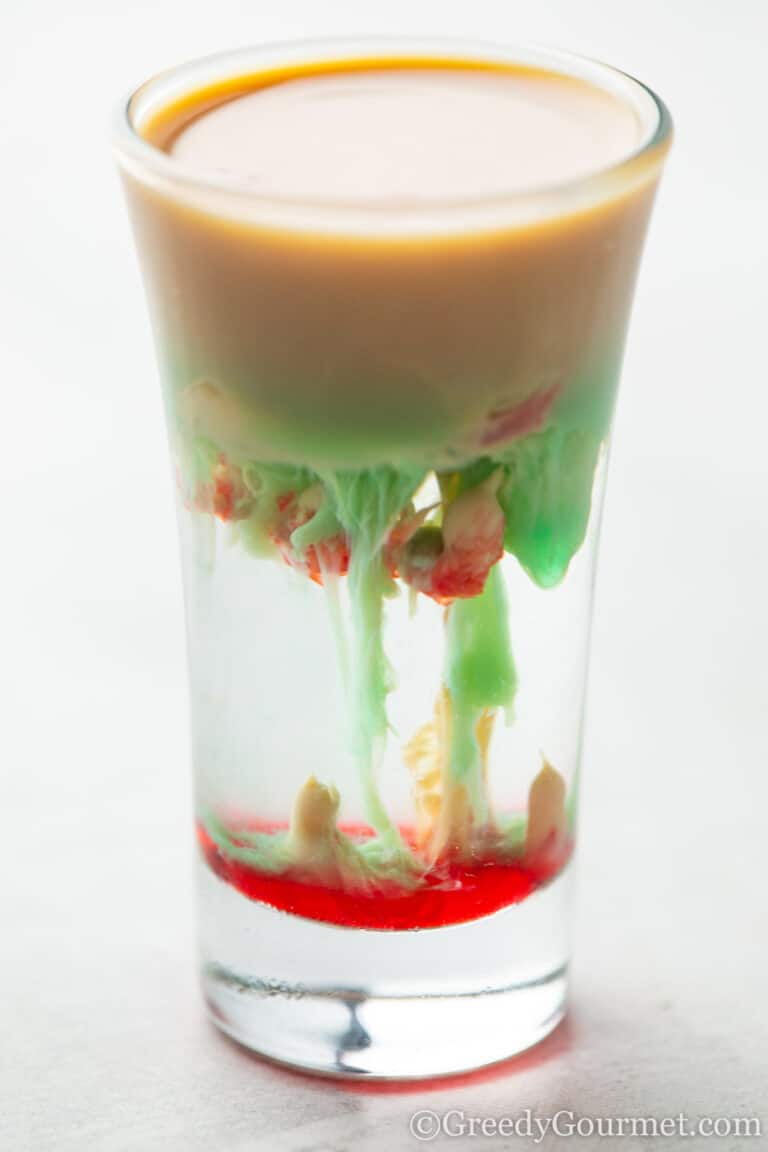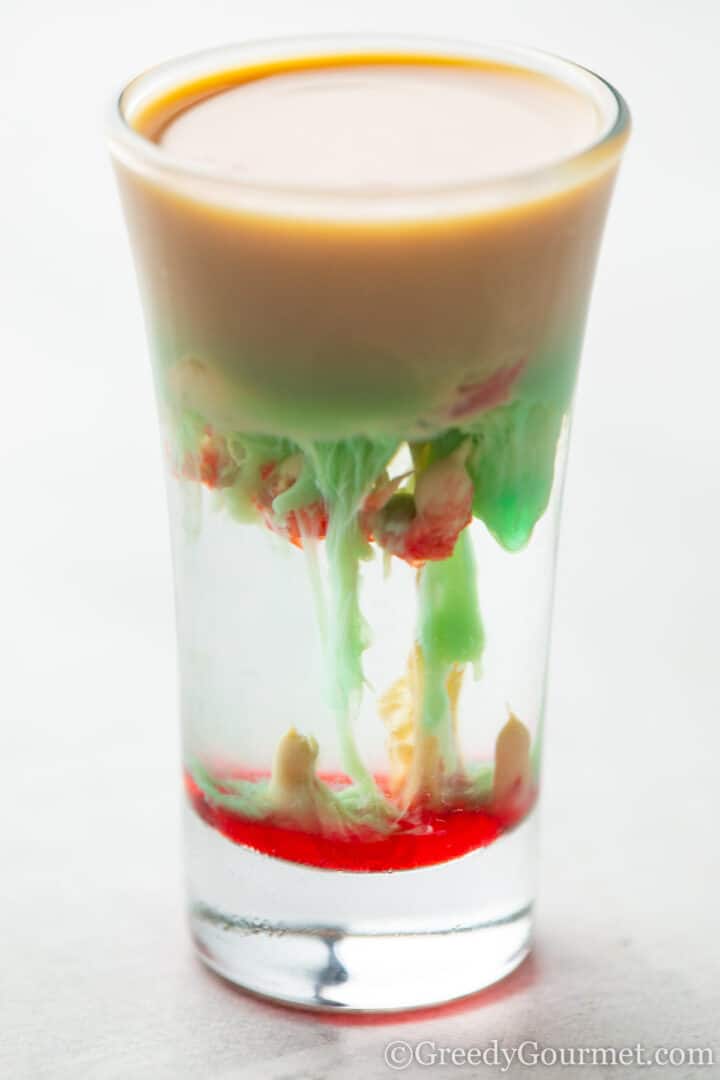 Why Does This Shot Look Like Brains?
This creepy Halloween inspired shot gets its brain-like weird appearance from the curdling of the Irish cream by the alcohol in the peach schnapps and Creme De Menthe.
Can I Scale this Recipe?
Yes, you can scale this shot into a full drink by doubling or tripling the recipe. Keep in mind that you will want to drink it relatively quickly as the texture of the curdled Irish cream does not age well.
Can I Make This Recipe Ahead of Time?
No, I wouldn't mix this recipe up too early. This crazy shot is best when made with an audience and shouldn't sit around for too long before you shoot it down the hatch.
Where Do the Colors in This Shot Come From?
The colors in this shot come from the light tan of the Irish cream, green from the Creme De Menthe, and red from a few dashes of grenadine.
What Does This Recipe Taste Like?
If you're wondering what this daring shot tastes like, it has a creamy and fruity flavor with a light mint tingle from the Creme De Menthe.
Print
Zombie Brain Shot
---
Author:

Michelle Minnaar

Total Time:

5 minutes

Yield:

1

servings

1

x

Diet:

Vegetarian
Description
Zombie Brain Shot is the perfect spooky shot recipe for your Halloween celebrations. This spooky shot is made to look like zombie brains.
---
25

ml

(1 jigger) peach schnapps

12.5

ml

(1/2 jigger) Bailey's Irish Cream

3

-

5

drops Creme De Menthe

3

-

5

drops grenadine
---
Instructions
Use a 50ml (2 jigger) shot glass.
Pour the peach schnapps into the shot glass.
Place the tip of a teaspoon level with the peach schnapps' surface and pour Bailey's gently into the bowl part of the teaspoon. 
Remove the teaspoon.
Add the drops of grenadine and Creme De Menthe.
Serve immediately.
Notes
For a clearer line between the schnapps and Bailey's, chill the schnapps first.
Prep Time:

5 minutes

Cook Time:

0 minutes

Category:

Cocktail

Method:

Pour

Cuisine:

American
Keywords: Zombie Brain Shot, Halloween Shots, Spookie Shots, Halloween Shooter, Halloween Cocktail, Zombie Brain Cocktail, Zombie Brain Shot Ingredients, Spookie Shooter, Dead Zombie Shot, Zombie Shots, Brain Shots, Brain Damage Shot, Creme De Menthe Recipe