Pretty to look at but what exactly do you do with an ostrich egg?!?
That's what I was wondering as the gigantic egg, sent by Morrisons, sat in my refrigerator for a week. It was playing peek-a-boo games with me every time I opened the fridge door!
Do I use it all in one dish, or rather measure it out in portions and see how many different dishes I could prepare with it? How am I going to break the egg? What a shame it will be to break its shell. What if I drill a hole in it instead and preserve the shell for keepsake?
An hour and many crazy YouTube videos later I still felt ambivalent. My husband pointed out to me the amount of dust drilling caused and how most of it will wind up in the egg. Plus it's kind of gross how you had to blow into it to get the contents out; not very hygienic if you asked me.
Gone were the romantic notions of keeping the shell whole and lovingly painting it afterwards. The damned thing had to be cracked.
With only two adults and two small children in the house, how were we going to eat a WHOLE OSTRICH EGG? For once a problem was solved for me when I heard family was coming over on Easter Sunday and it would be the perfect occasion to use it.
What to cook? Something simple. Something easy. Something that will focus solely on the egg. Frittata!
The day arrived and after everyone ooh-ed and aah-ed, and fondled my heavy egg, work started.
*clunk*
*thwack*
*bash*
The shell was thick and after numerous hard thumps with a knife it finally giving way. Dust was inevitable and we constantly had to fish out tiny pieces of shell as the egg slowly poured into a big bowl. A thick, luxurious, golden yolk came out last and what a sight it was. Also amazing was the membrane which was surprisingly strong and felt like thick pliable paper.
The frittata mixture ended up in a roasting tray (as seen in the picture) and two round 20cm (8 inch) cake tins. After seven adults and two children have feasted about half was left.
Taste-wise, it's not much different from a hen egg. The white curdled in a strange way but what was most noticeable was the denseness of the egg, much more so than a chicken's whose texture now seems bubbly to me.
An adventure it was for me indeed. Another thing I can tick off my bucket list!
Have you ever cooked with an ostrich egg? If you haven't, are you tempted?
Print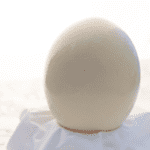 Bacon, Cheese & Potato Ostrich Egg Frittata
---
Description
Live life dangerously. Cook an ostrich egg!
---
18

back bacon rashers

1.5

kg (3.3 lbs) potatoes, peeled

1

ostrich egg

200g

(

½

lb) cheddar cheese, grated

3

bunches spring onions, sliced
---
Instructions
Preheat the oven to 180°C (fan 160°C/355°F/gas 4).
Grill the bacon until cooked. Wait until cooled then cut with scissors into strips and set aside.
Meanwhile cut the potatoes into 2.5cm (1 inch) cubes. Boil in salted water until just tender, then drain and set aside.
Crack the egg in a large bowl and whisk. Stir in the bacon, potatoes and cheese.
Divide the mixture into 3 baking dishes then sprinkle the onions over them.
Place the dishes in the oven and cook for 30-45 minutes or until set.
Notes
Serve with a crispy salad and some mayonnaise.
There is room for play in this recipe. Add and remove ingredients (e.g. peppers, mushroom, different cheeses) to your liking because it's very hard to go wrong!
Prep Time:

30 minutes

Cook Time:

45 minutes

Category:

Breakfast

Method:

Baked

Cuisine:

Italian
Nutrition
Serving Size:

182.5

Calories:

249

Sugar:

1.4 g

Sodium:

153 mg

Fat:

13.6 g

Saturated Fat:

4 g

Carbohydrates:

14.8 g

Fiber:

2 g

Protein:

16.3 g

Cholesterol:

264 mg