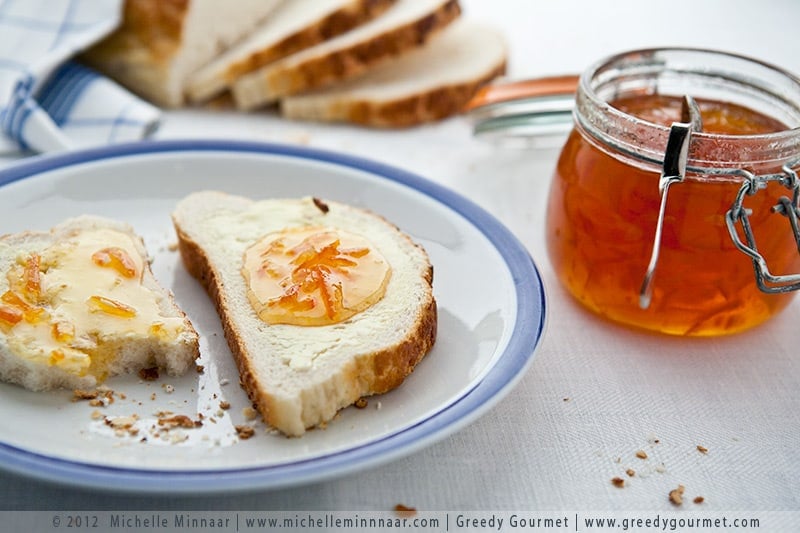 When it came to grandparents I felt that I'd been royally screwed over.
My paternal grandparents passed away long before I came into existence and my experience with my maternal ones was less than rosy. So when kids came to school with stories about how they did this, that and the other fun stuff with their grandparents I was filled with a concoction of disbelief, disappointment and resentment. I had no sentimental I-baked-cookies-with-my-grandma-in-her-warm-old-people-smelling-kitchen tale to tell.
Fast forward twenty years. An interesting phenomenon occurs in the UK every morning after peak hour. Roads are filled with little Fiestas puttering along at no more than 30 mph and pavements are blocked by old-fashioned trolleys. If you're lucky you might even trip over a 6 wheeler one with swivel wheels. It was a bit of a culture shock coming from South Africa where a lot of "ou tannies en oompies" are safely put away in old age homes.
After a walk in the park Gabriel and I bumped into our elderly neighbour, Gwen. Fitting in with British custom I participated in the obligatory neighbourly chinwag of superficial things like the weather. After all, my limited experience with the grey and white haired species had left me rather wary. Admittedly, since it rains a lot the subject didn't leave much room for in-depth discussion we veered onto other subjects such as swimming which she was going to do that afternoon. Knowing that I was stuck in this tiny village without a car she offered to take us along. I keenly accepted.
Weeks turned into months and then years and we're still going for our weekly swim and even go to the green grocers too. In my eyes, it turned into an unlikely friendship. Heck, she's like the grandmother I had never had and the void I felt has finally been filled.
In her 80's, Gwen has been married for over 60 years to a now cantankerous man who comes from a generation of bakers. She's got plenty of war stories to tell and point out a flower to her and she'll recite the Latin name. A keen reader who visits the library regularly, she swims often, has an active social life and gets speeding tickets.
I want to be her when I grow old.
So one day in January on the way back she was happily clucking away that she got hold of Seville oranges to make marmalade. Knowing that my husband likes the latter, it immediately struck me that here was a golden opportunity to learn from someone with decades of experience in jam making. My previous attempts at this forgotten art ended up in shambles when I used overripe plums so my confidence was zero. She kindly agreed to teach me and in the photos that follow you'll see her helping.
With bountiful jars of marmalade in the cupboard I had to quickly learn to like the stuff more. My favourite way of enjoying it? Mix some marmalade with mayonnaise and eat with roast chicken. Divine!
So next time while you commute and an old person annoys you by being in the way, remember, it might be another Gwen.
There you have it; I finally have my own grandma story. We didn't make no stinkin' cookies but gorgeous marmalade instead!
Traditional Marmalade vs. Tawny Marmalade
Do you see the difference between these bottles? The one on the right is the Tawny kind where you use less sugar. Delicious, bitter and not too sweet, it gets the attractive deep colour from brown sugar. You'll find more details on how to prepare Tawny Marmalade in the Recipe Notes.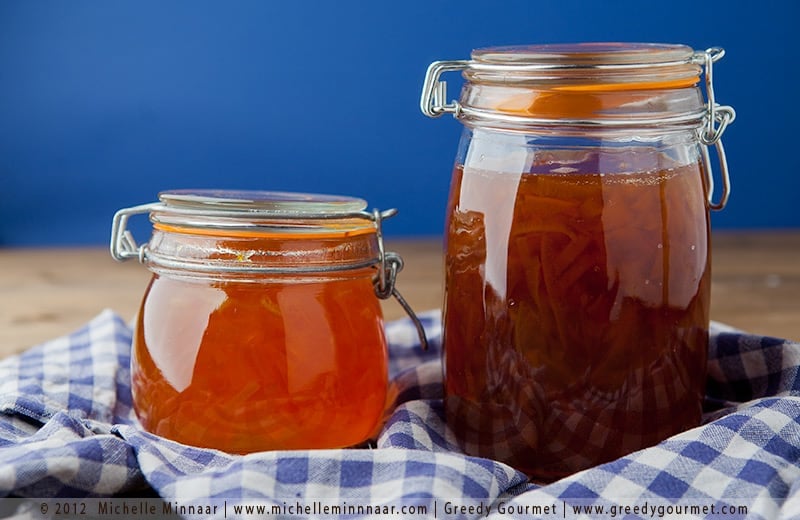 MARMALADE AND SPECIAL DIETS
Marmalade is safe to eat for vegans and vegetarians. It contains no fat, sodium, lactose or gluten. Unfortunately, diabetics steer clear because it's high in sugar.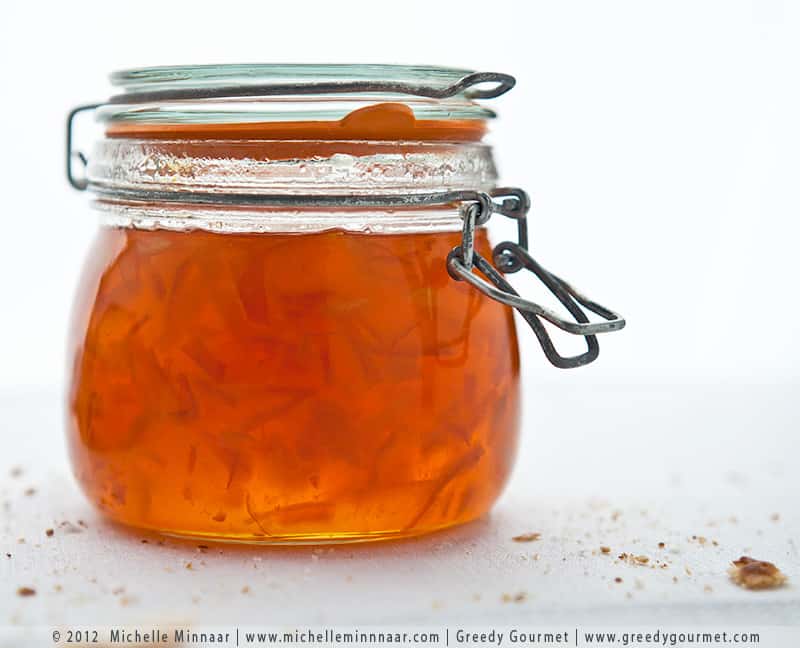 Marmalade Recipe Variations
Three Fruit Marmalade
Feeling adventurous? In the recipe below you can add a grapefruit or two as long as you remove an orange or so. Make sure you stick to the same weight.
Frozen Fruit and Marmalade
Most preserves can be made from frozen fruit. As the pectin content tends to weaken slightly during freezer storage, add 10% more fruit. When cooked, cut the fruit into quarters; remove all the pips, pith and flesh. Squeeze this through a strainer and retain any juice or pectin that is obtained, discard pips etc. Return juice, shredded peel and remaining ingredients to the cooker and finish as recipe below states.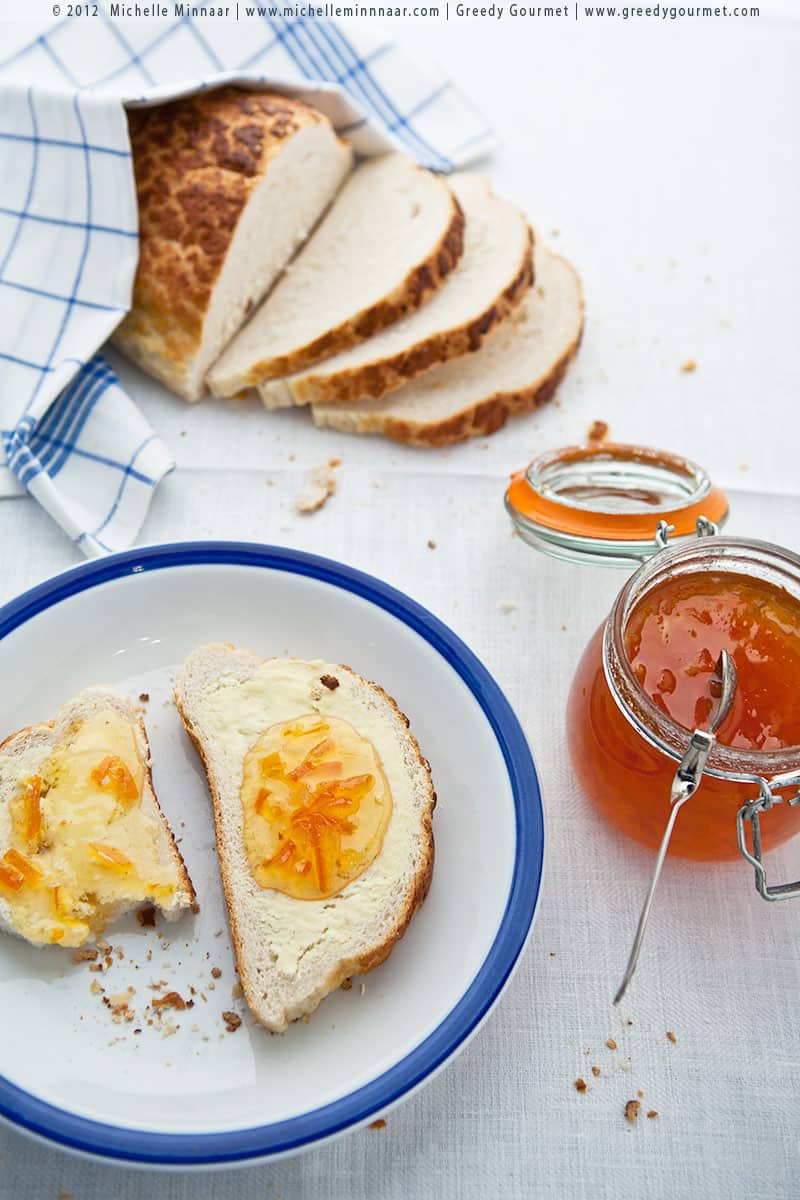 Marmalade Flavour Ideas
Although I haven't experimented with these variations these flavours in theory match well with oranges. Here are a few ideas for ingredients you can add to the pot before cooking the fruit:
grated fresh root ginger
finely chopped chili
juniper (try at your own risk)
cloves (try at your own risk)
What about some booze with your marmalade? Here are a few ideas for what you can add it marmalade after it's been cooked:
Whisk(e)y
Brandy
Armagnac
Kirsch
Grand marnier
Cointreau
Sherry
Ground spices, such ginger and/or cinnamon
Vanilla (might get lost in the intense citrus flavour)
Right, let's start by washing the oranges and lemons.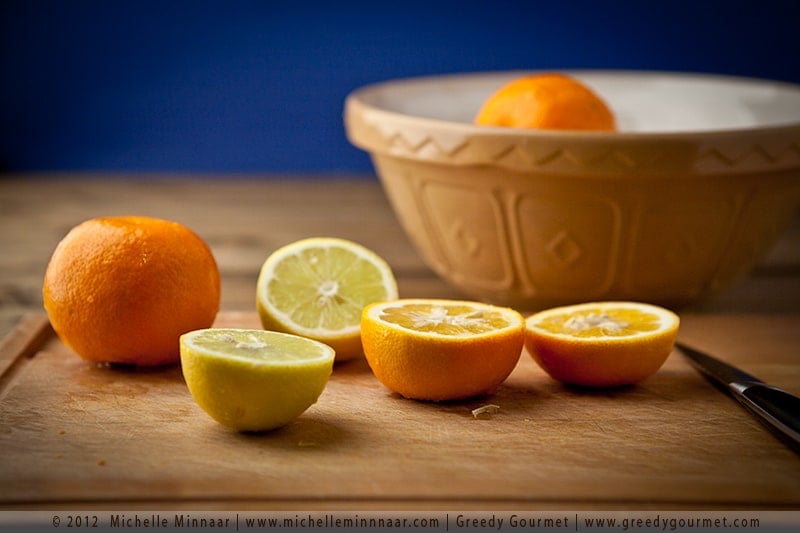 Slice all the fruit in half, preparing to juice them.
Pour the lemon juice in a glass, cover with cling film and place it in the fridge. You'll need this tomorrow when you add it to the pot after the shredded fruit has been cooked.
Here's my makeshift pectin holder - a large cup and a square piece of sterilised muslin - ready for pips and pith.
Juice all the oranges. Fantastic arm exercise if you ask me!
Pour all the orange juice in the biggest ceramic or glass bowl in the house. Don't taste it, trust me, it's vile.
Place all the pips in the muslin cloth as you go along.
See all these babies? You need to shred them.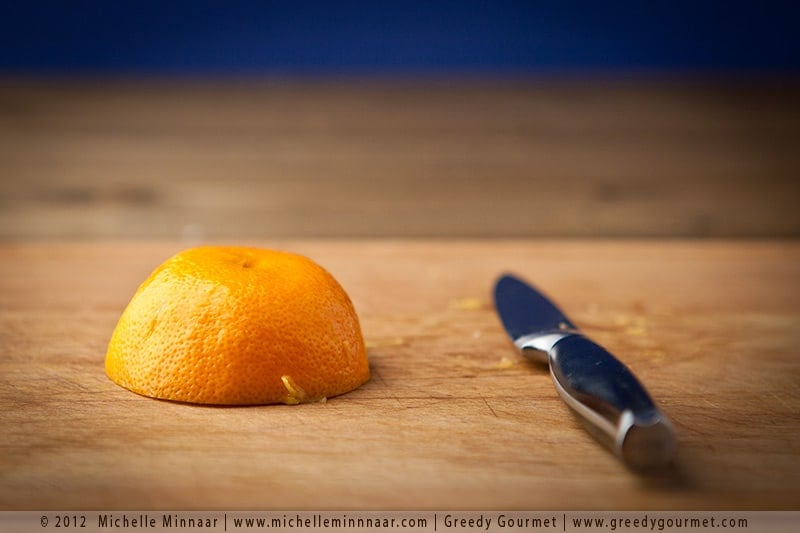 First you need to remove the pith though.
Seville oranges have quite a lot of pith, an excellent source of pectin, which makes them the classic variety for marmalade.
Slowly slice the pith out ...
... keeping the skin as thin as possible.
Didn't you know? The pips are having a pectin rave in the muslin bag and the pith pieces are gonna join them big time.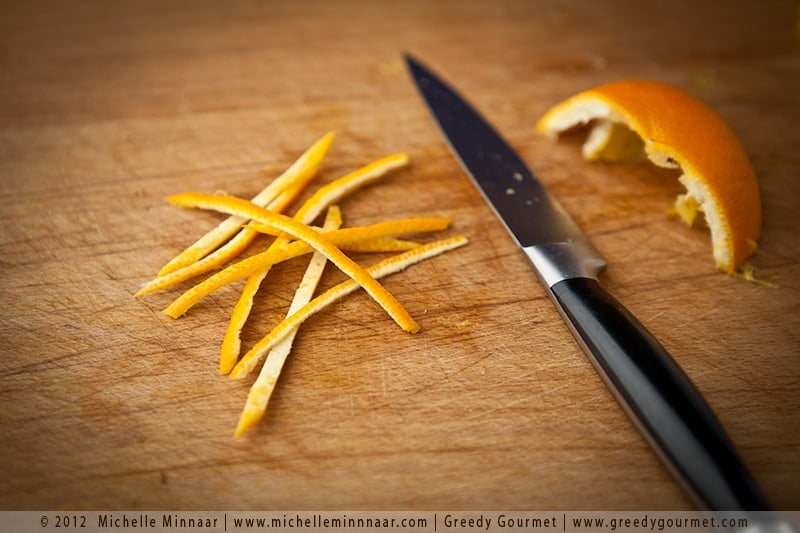 Didn't you know? The pips are having a rave in the muslin bag and the pith pieces are gonna join them big time.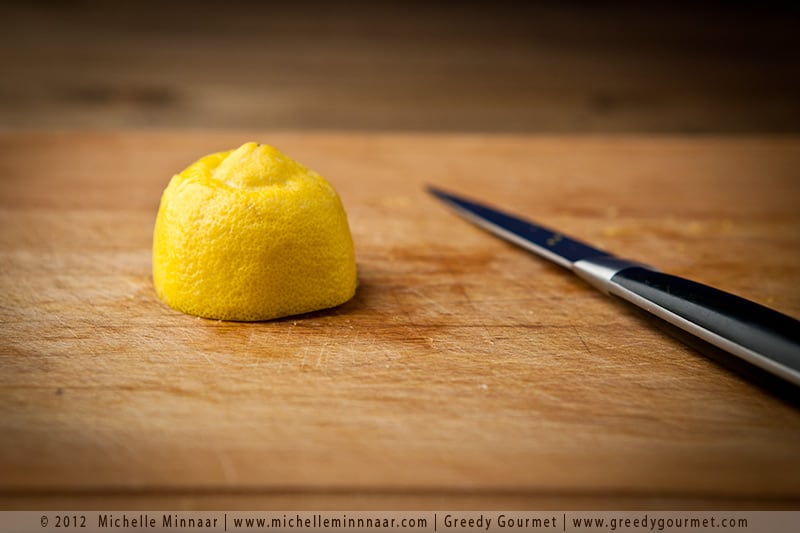 Next, slice the orange peel finely and add it to the big bowl with orange juice. Repeat, repeat, repeat and repeat.
Remember what we did with the orange shells?
Do exactly the same with the lemons.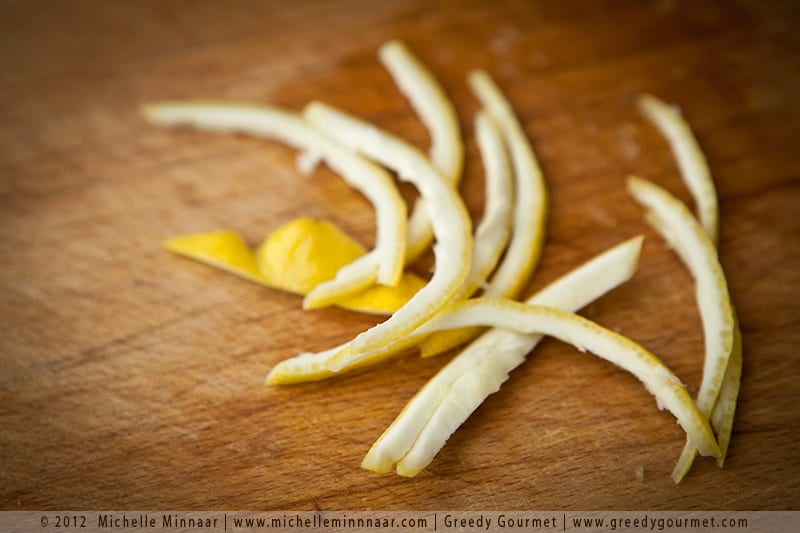 Peel shredded. Lemon piths love raves too.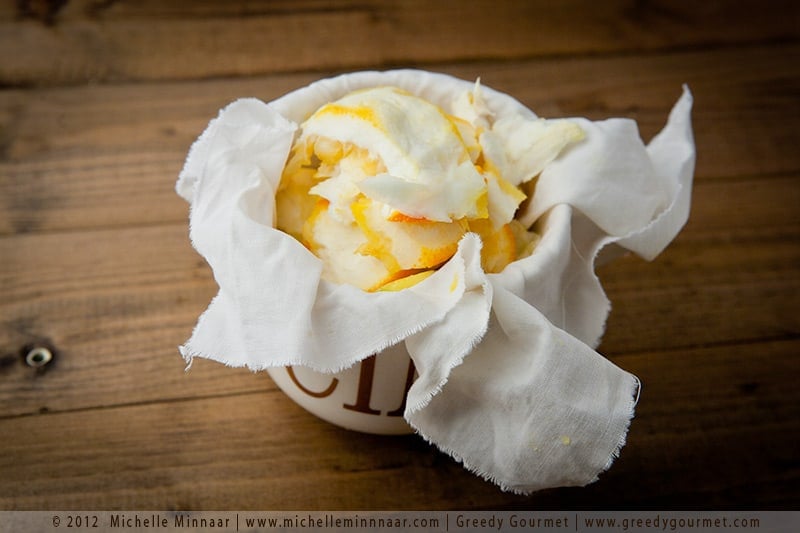 It's a full house!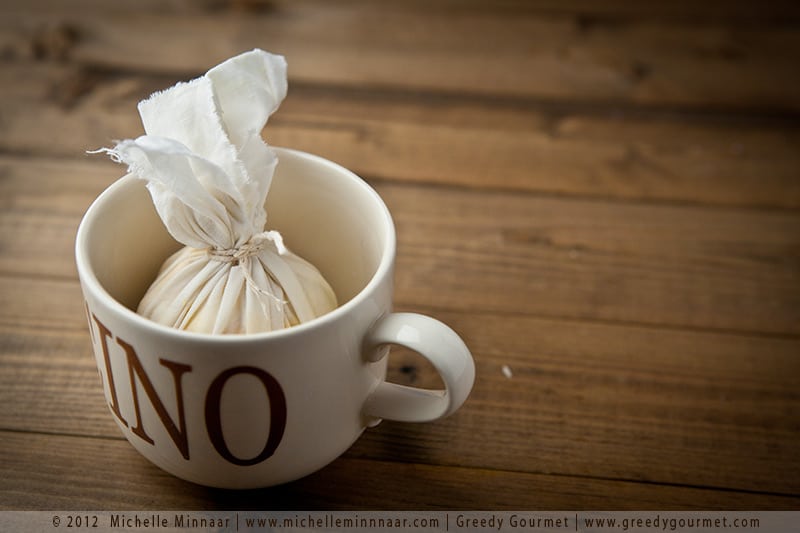 Use a sterilised string to firmly tie up the ravenous bunch. That was my terrible joke of the day. Is anyone still reading? Leave a comment for my amusement. 🙂
By now the big bowl should have started filling up nicely with orange juice and shredded peel.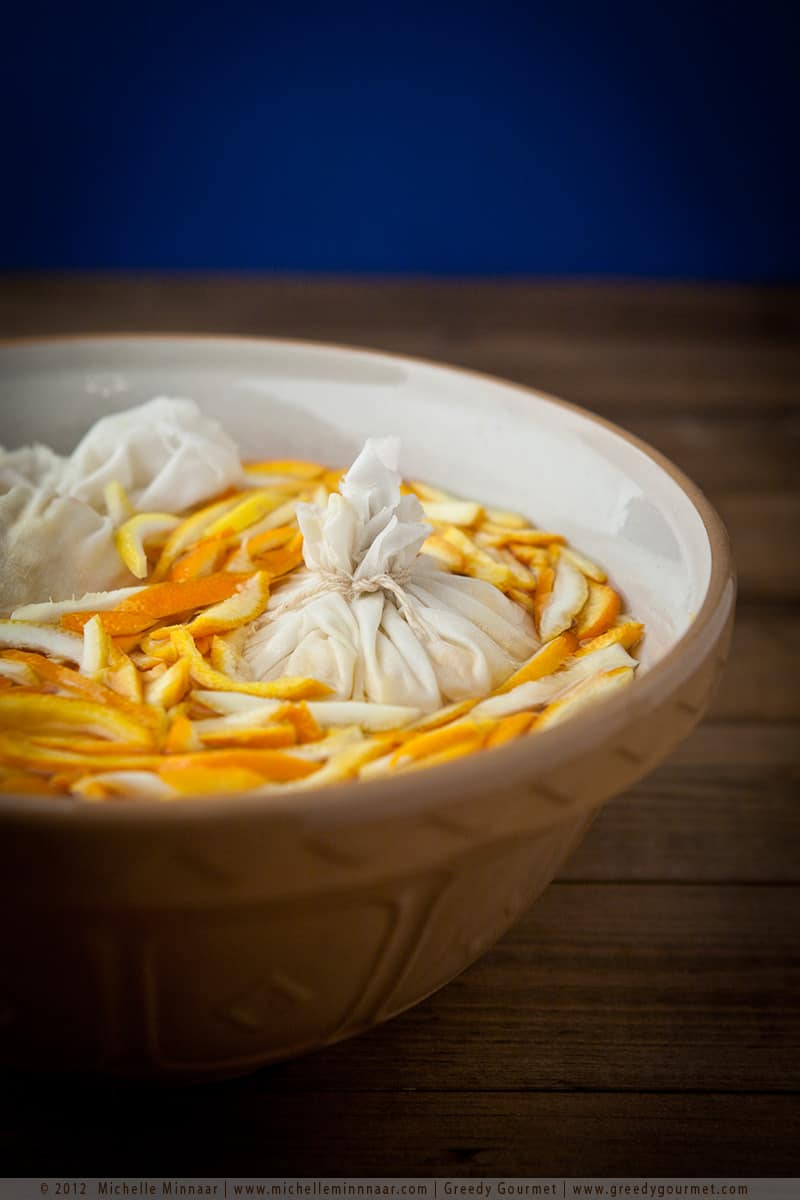 Add the water along with the pectin happy muslin bag, cover and leave overnight for the fruit to soak.
Good morning! Did you have a good night's sleep? How about farm fresh marmalade on toast for a late brunch?
If you're using the open pan method, simmer the bowl's contents gently for about 2 hours or until the the fruit is soft. If you really can't wait for breakfast, use a pressure cooker, which will do the job in only 10 minutes.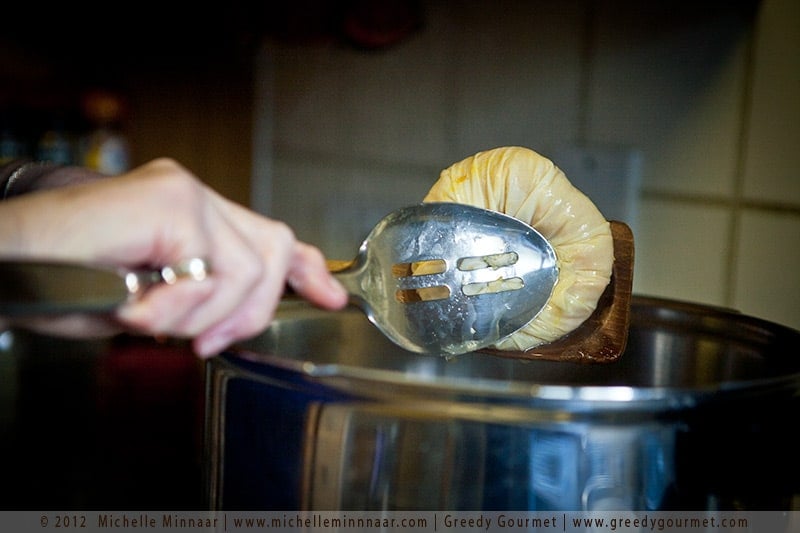 Remove the muslin bags from the pot and squeeze out every last drop from them. Remember, it uses pectin and that's the setting agent for all jams and jellies. Otherwise you're just making a glorified, gloopy orange sauce.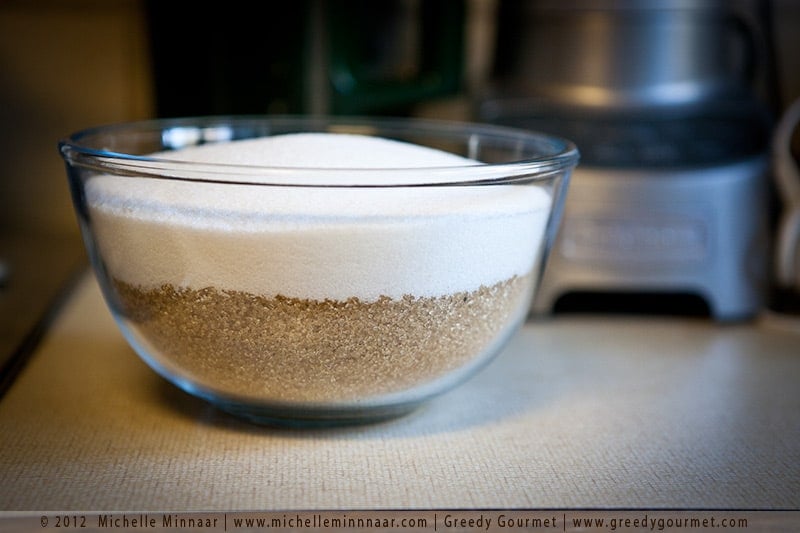 Have your sugar ready. Here, I made Tawny Orange Marmalade which essentially uses 25% less sugar and funnily enough the orange flavour comes through better and makes for tastier marmalade. The muscavado sugar gives the marmalade a lovely dark hue too. For more details, check the recipe notes.
Add the lemon juice and stir until the sugar has dissolved. Turn up the heat, we're going to boil the hell out of it. If you have a sugar thermomemter, great stuff. The liquid has to reach 104-106ºC(220-222ºF).
Don't forget to have clean, sterilised glass jars ready, so get washing. Preheat the oven to 100ºC(220ºF) - the jars need to be in for at least 30 minutes.
Here are three methods to test for setting point:
1. Take a little marmalade on to a cold saucer and cool. Push with the finger at one side and if the skin has formed wrinkles, setting point has been reached, or
2. Take a little marmalade on to a wooden spoon. Turn it over and over several times so that it cools then allow it to drip from the edge. If the last drop does not drips but stays as a blob of jelly, setting point has been reached, or
3. Use a sugar thermometer and wait until the temperature reaches 104-106ºC(220-222ºF).
Be careful not to overcook which may result in a very dark preserve that does not set well.
Double, double toil and trouble. Fire burn, and caldron bubble.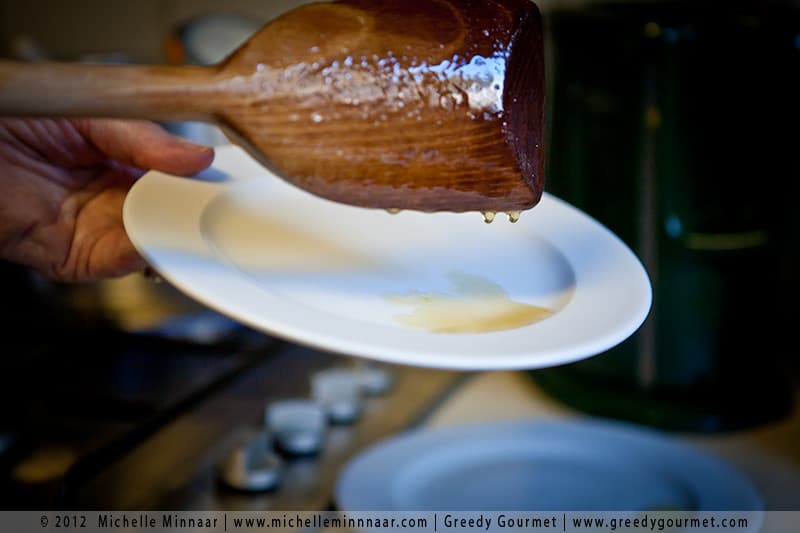 The liquid should slowly gloop off the spoon.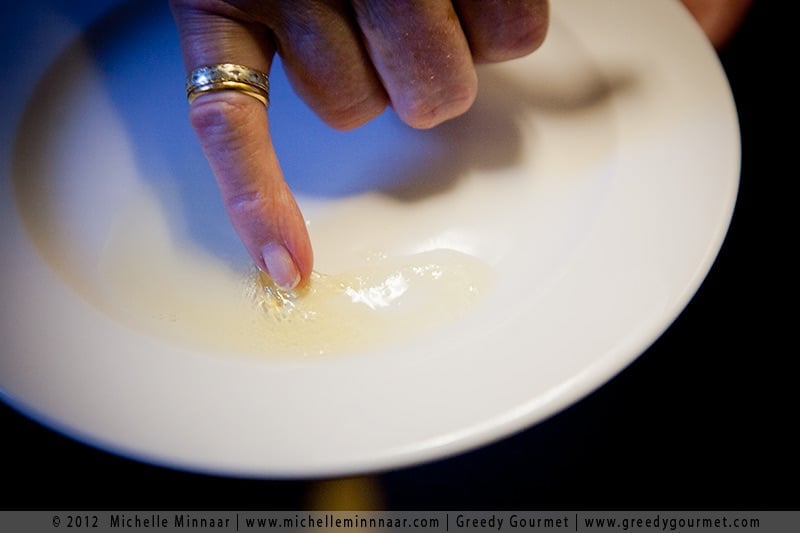 Are we there yet?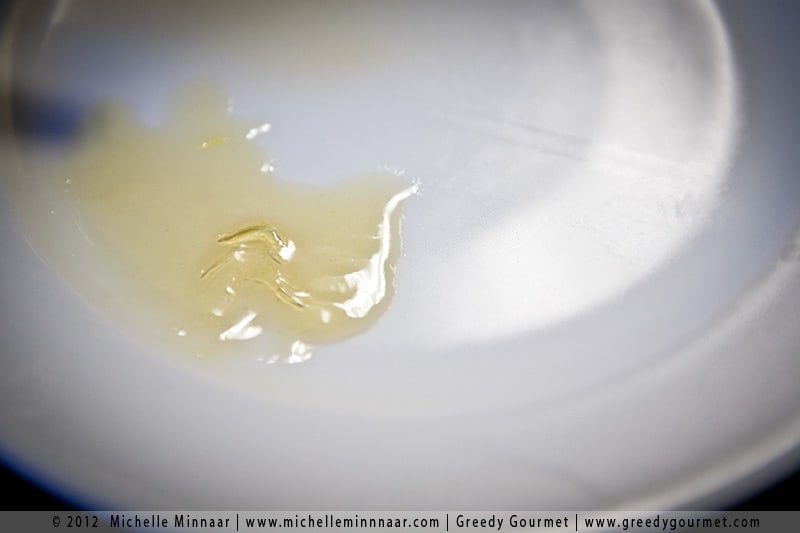 Look at that lovely skin that formed. Bottle up!
Wait for 10 minutes first to allow the fruit to disperse while cooling down. If bottled too soon, you will only scoop the jam part of the marmalade because the fruit pieces will sink to the bottom of the pan. Got it?
Use two separate containers for lids and rubber seals respectively. Pour boiling water on them before using to seal the jars.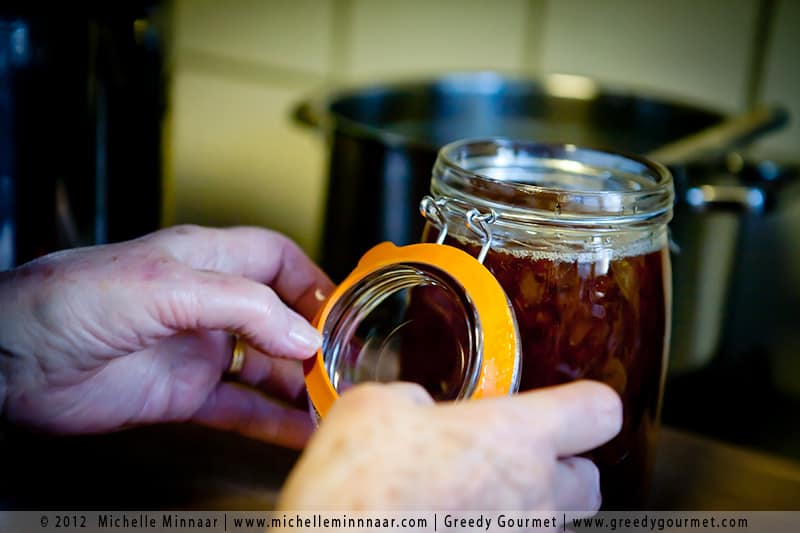 Rubber seal on.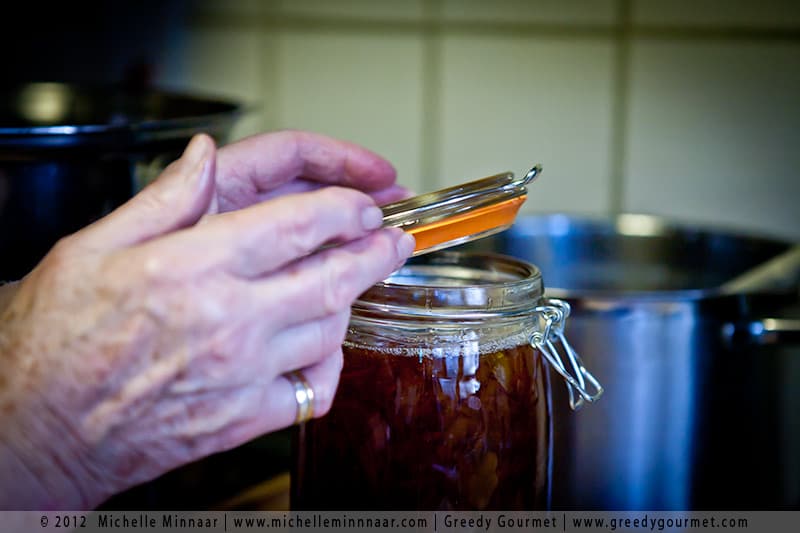 Almost there...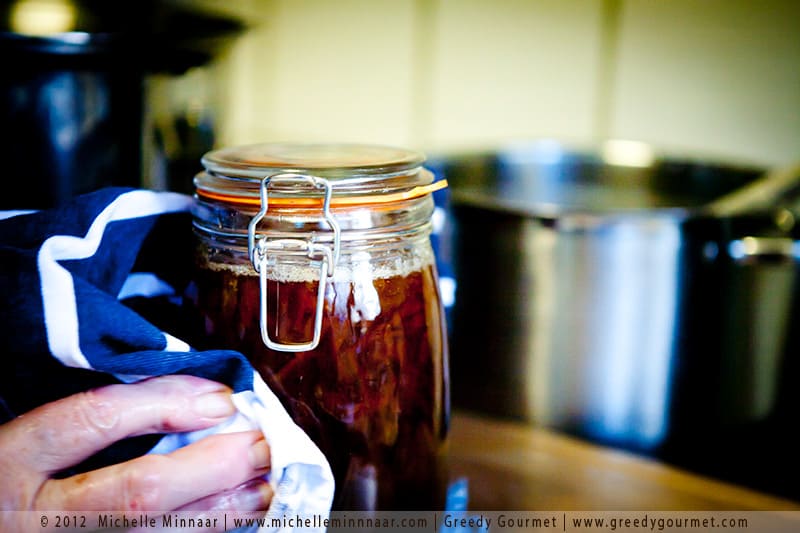 Ta-daa! A sealed fresh jar of marmalade. Breakfast's ready!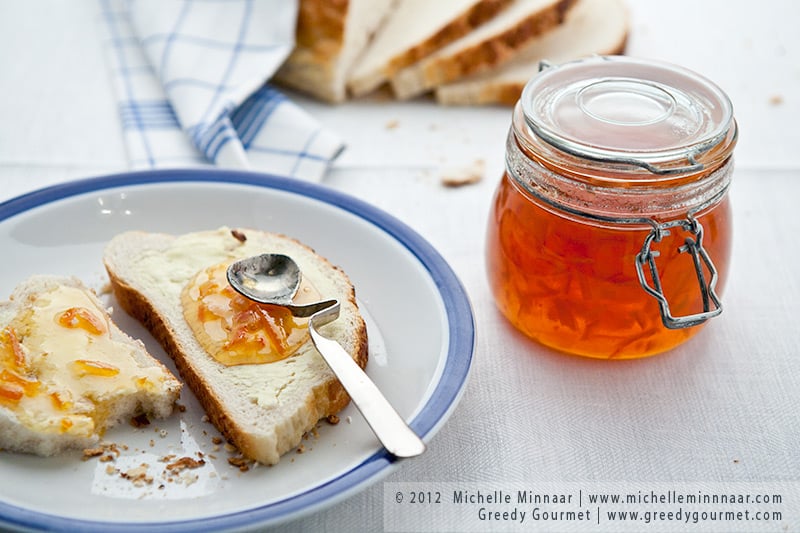 Print
Seville Orange Marmalade
---
Description
The ultimate guide recipe you will ever need to make your own Marmalade with lots of variations.
---
1

kg (2 lb) Seville oranges

2

lemons

2

kg (4lb) granulated sugar
---
Instructions
Wash the fruit. Halve the lemons, squeeze out their juice, pour it into a container and keep in the fridge. Place the peels to one side.
Halve the oranges, squeeze out the juice and pour it into a large bowl.
Scrape all the pips out of the citrus fruit and place them in a sterilised muslin bag (a square piece of thin cotton cloth works too).
Remove the lemon and orange pith with a sharp knife and add it bag of pips. When done, tie the muslin bag/cloth with a sterilised string and add it to the bowl of orange juice.
Shred the lemon and orange peels into thin strips. Depending on how chunky you would like your marmalade you can cut them into thicker pieces.
Add the shredded peels to the bowl with the orange juice and muslin bag.
If you're planning on using a pressure cooker to cook the fruit add (500ml) 1 pint water to the large bowl with shredded fruit. If you are using an open pan, 1 litre (2 pints) of water is used for every 500g (1lb) of fruit.
Leave the bowl covered at room temperature overnight for the fruit to soak.
Simmer gently until the fruit peels are really tender and the contents of the pan have been reduced by half, which should take about 2 hours using the open pan method. Alternatively, use the pressure cooker that will only take 10 minutes.
Add the sugar and lemon juice then stir. When the sugar had dissolved boil rapidly till a set is obtained.
Cool for about 10 minutes before potting. Seal at once. Store in cool, dark and dry place.
Notes
Have some marmalade with buttered toast. I like to mix some with mayonnaise and eat it with cold roast chicken.
The containers used from start to finish should either be ceramic or glass. Avoid metal because acid in the fruit might interfere with the metal. Plastic bowls might soak up the flavour of the food's contents.
The fruit must soak for at least 12 hours because it lessens the cooking time. With open cooking, if you don't soak them long enough beforehand they will take about an hour longer to cook to soften the peels.
For Tawny Orange Marmalade, instead of 2kg (4lb) sugar, use 750g (1½ lbs) muscavado sugar and 750g (1½ lbs) granulated sugar.
Prep Time:

780 minutes

Cook Time:

60 minutes
Nutrition
Serving Size:

64.3g

Calories:

163

Sugar:

41.8 g

Carbohydrates:

42.8 g
save the recipe to your pinterest board