Bubble gum ice cream is one of those exotic flavours of ice cream that you don't usually find in the ice cream stall. It's a very specific flavour. Sometimes, bubblegum ice cream also has a very distinct colour, ranging anywhere from light pink to baby blue.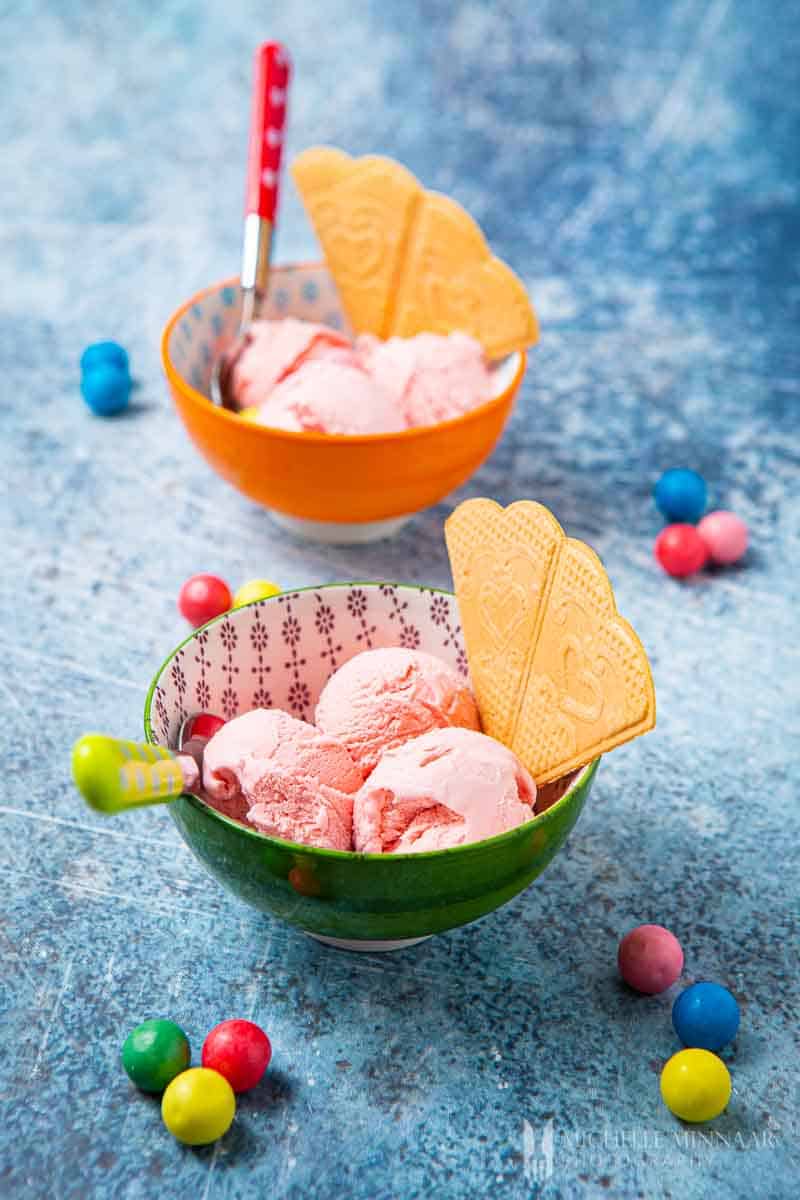 Give this fun and tasty bubble gum ice cream a go! It's a definite hit of the summer that you'll immediately fall in love with. Besides, who doesn't love to treat themselves with a scoop of ice cream? In general, the preparation will only take a couple of minutes. Once it's in the churner, it'll only be a short while before you enjoy this treat.
products you need for this recipe
Here's a list of the top products you'll need for making a delicious bubble gum ice cream recipe. It's best if you take a look below and see if you've got these items in your kitchen:
Let me know if there's anything else you would consider using for this bubble gum ice cream recipe! Drop a comment below.
What is bubble gum ice cream made of?
In short, it's made out of double cream, also known as heavy cream in the USA, as well as milk, egg yolks, sugar and vanilla paste.
You can also use vanilla extract. Click here to find out the difference between vanilla paste and vanilla extract.
In essence, it is made with the usual ingredients to make other ice cream recipes like these:
However, the main difference is one of the ingredients – the gum syrup, which provides the gum flavour.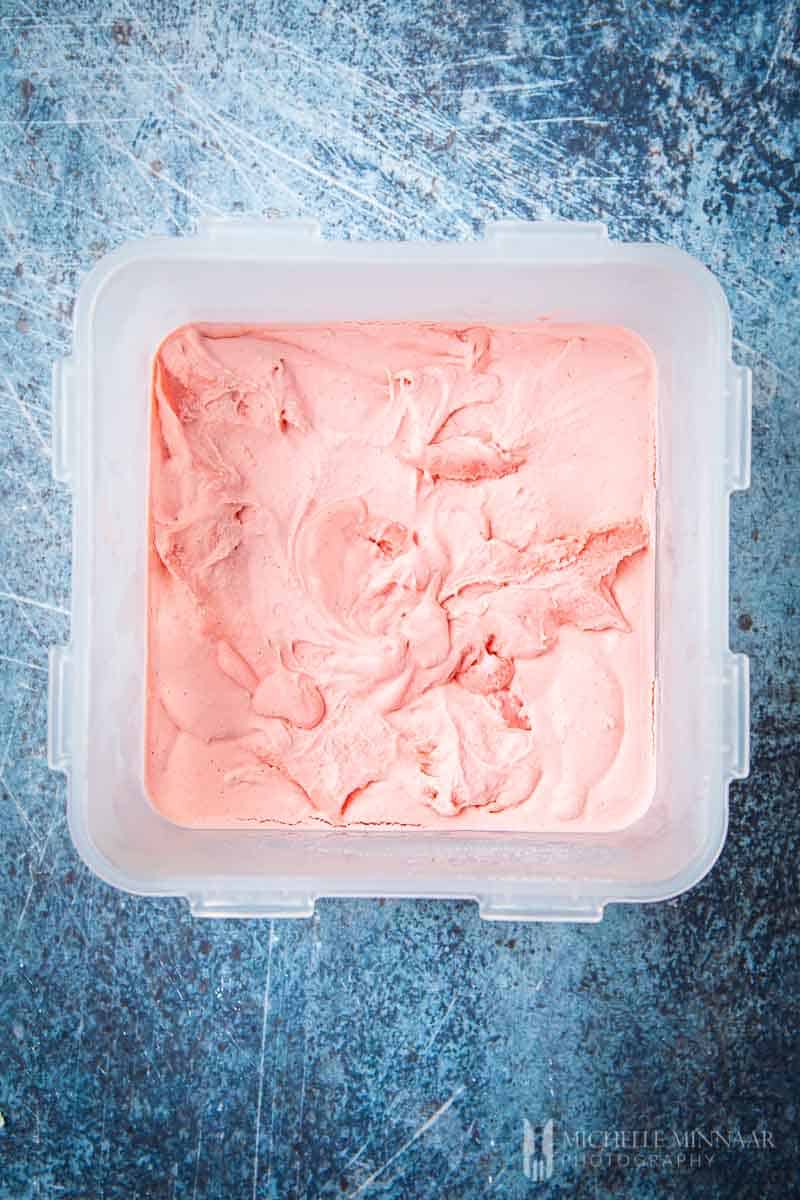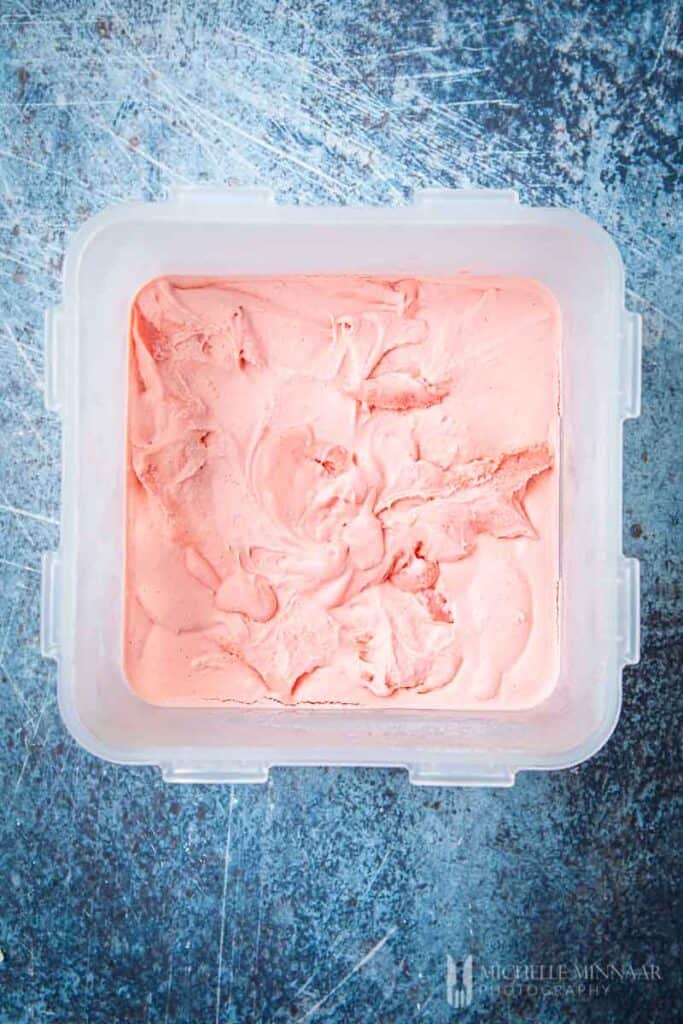 What flavour is bubblegum ice cream?
In short, it tastes exactly like ordinary bubblegum. There's a subtle sweetness with a velvety texture.
Add as much syrup as you like into the cream mixture. If you for instance add a red gum syrup, you might not even need additional food colourant to make the bubblegum ice cream.
However, the gum syrup will control the amount of gum flavour you want. So start off with the recommended amount, as mentioned in the list of ingredients, and then work your way up by adding more into the mixture until you're satisfied with the result.
Historically, the blue colour originates from 'blue moon flavour', which was invented in the Upper Midwest in the USA, more specifically in Wisconsin. The taste resembled the taste of marshmallow flavours. The flavour also came to be called smurf-blue.
Why is bubble gum ice cream blue?
No idea! I've done some digging but couldn't find an answer.
Sometimes, ice creams come in a funny colour. That said, my end result is pink.
However, you can add blue food colourant into the cream mixture and the whole thing will hopefully turn light blue (I tried adding blue colouring, but while limiting oneself to natural ingredients the effect is not always as envisaged – you can read about the result in the notes section of the recipe).
Pink or blue, the choice is entirely yours to make. So, take a couple of minutes to decide which colour you want!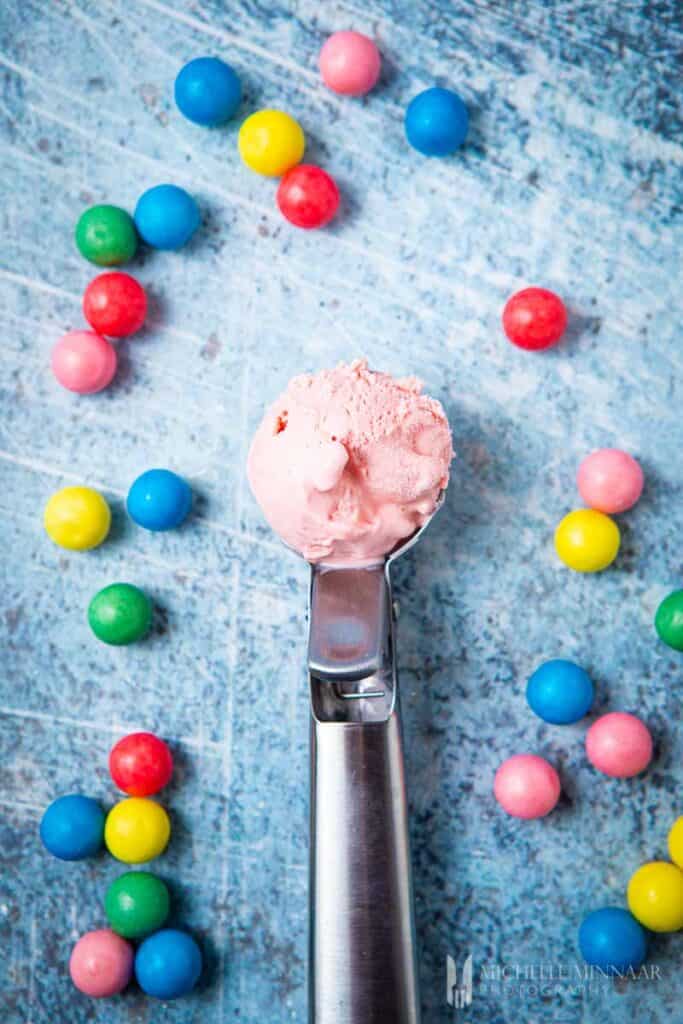 Can you eat the bubble gum in ice cream?
Technically yes, but it's not the most pleasant experience as you are exposed to different textures. First of all, you can eat the ice cream, but you'll have the gum in the back of the mouth. Just make sure you don't swallow it.
Kids tend to swallow the gum entirely, which is not always ideal. So, if you want to treat your kids, just look out for the gum. It's one of those ingredients that'll need a bit of supervision, especially with smaller children.
However, by all means, add the gum as a topping.
best toppings for bubble gum ice cream
The most fun topping for bubble gum ice cream is bubble gum itself. The more colourful the gum is, the better. However, enjoying the ice cream may prove a challenge, since you can't chew gum and eat ice cream at the same time.
For that reason, I recommend adding smarties or coloured sprinkles. Just go for whichever you love most.
Otherwise, for a different type of topping, you can add bits of cotton candy to enhance the flavour of the bubblegum ice cream.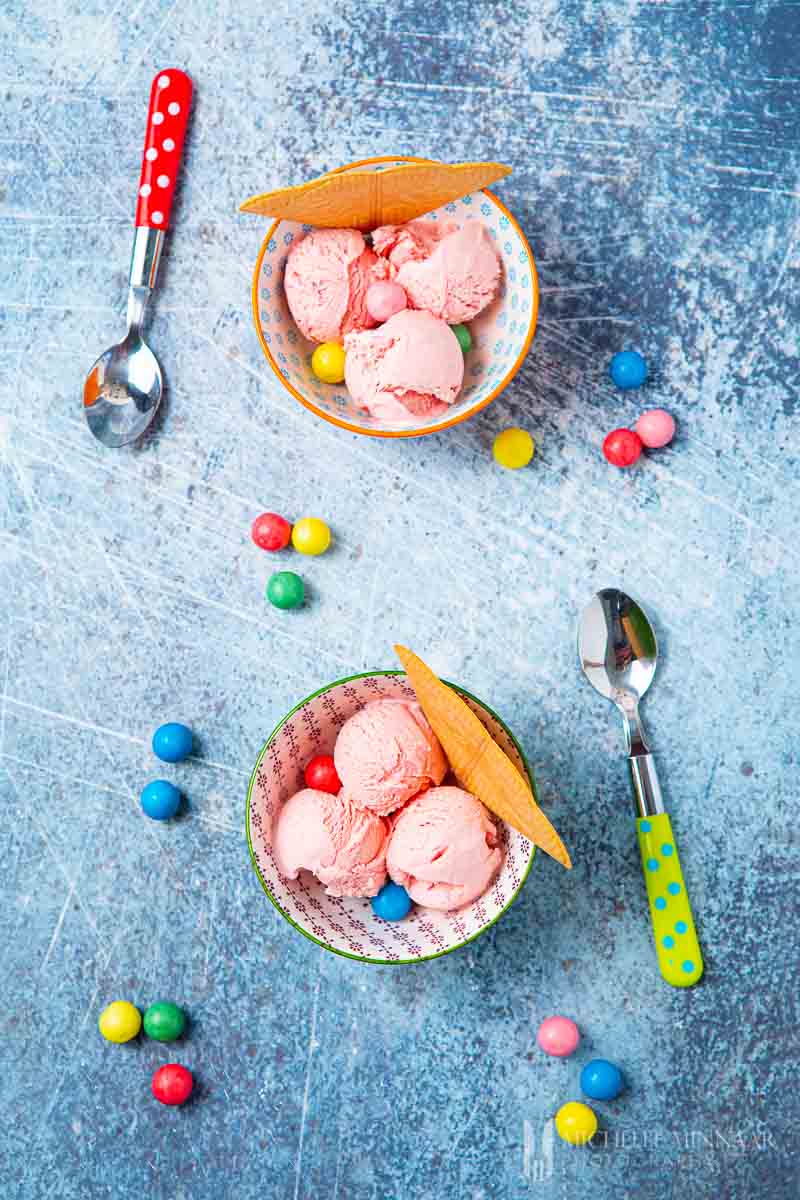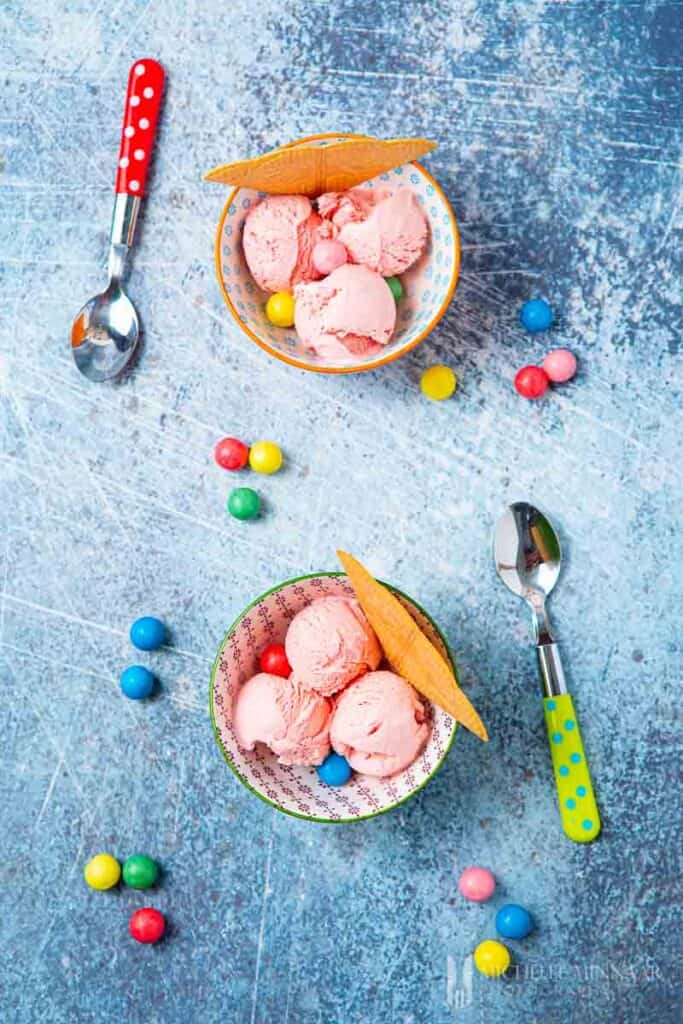 Lastly, you can also consider:
fresh fruits like raspberries, blueberries, strawberries – you can make a coolie from these berries and pour it over as a liquid topping, something in the fashion of snow cones.
white chocolate shavings – if you've got a grater, this will be a matter of two minutes. Otherwise, you can purchase ready-made shavings and treat yourself to some chocolate.
almond flakes
Just add the topping which you love most and treat yourself to the perfect ice cream.
Have you ever tried bubble gum ice cream or have you ever made a bubble gum ice cream sauce? Will you go for pink or blue? Drop a comment below, I'm curious how you'll decide to make it.
Print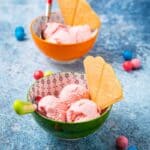 Bubble Gum Ice Cream
---
Description
This pink Bubble Gum Ice Cream is eye catching, tastes so good and is easy to prepare. Kids and adults alike love this pink dessert!
---
500

ml (2 cups) double cream

250

ml (1 cup) whole milk

125

ml (1/2 cup) + 15ml (

1 tbsp

) granulated sugar

3

large egg yolks

7.5

ml (1/2 tbsp) vanilla paste

75

ml (5 tbsp) bubble gum syrup

10

ml (2 tsp) red food colouring
---
Instructions
Combine the cream, vanilla, milk and 15ml (1 tbsp) sugar in a saucepan. Bring to the boil then remove from the heat.
In a large bowl, whisk together the 125ml (1/2 cup) sugar and egg yolks, until the mixture has gone pale in colour and doubled in size.
Temper hot milk into the sugar yolk mixture, by slowly adding hot milk about 60ml (1/4 cup) at a time, whisking to distribute heat. Once all the milk has been added, transfer mixture back into the saucepan.
Place the saucepan over medium-low heat. Stir until mixture reaches nappé consistency, or 80°C (180°F) on a kitchen thermometer. Let mixture sit at this temperature for 5 minutes to pasteurise the eggs.
Stir in the bubblegum syrup and red food colouring.
Remove from heat and pour the custard into a large mixing bowl. Place the bowl into icy water and stir until the custard has cooled.
Pour the custard into an ice cream maker and churn according to your unit's instructions.
After the churning process, the bubblegum balls can now be incorporated into the ice cream and frozen. Use as many as you please. Alternatively, you can serve the bubblegum as a garnish when serving the ice cream.
Transfer the ice cream to a sealable container and freeze for at least 3 hours or overnight.
Notes
When it comes to colouring the ice cream, it's up to you. Use as much or as little as you like. Personally, I prefer to eat as naturally as possible, so went light on the colouring.
If you were hoping for blue bubblegum ice cream, proceed with caution. I attempted it, but yellow (from the yolks) and blue (food colouring) turned the ice cream green. I even used and emptied (!) a whole bottle of blue food colouring and it still remained a pale green. It tasted good though!
Prep Time:

10 minutes

Cook Time:

1 hour 30 minutes

Category:

Dessert

Method:

Freeze

Cuisine:

American
Keywords: bubble gum ice cream, pink ice cream, bubble gum ball ice cream, ice cream machine recipe