For those of you who will eat caramel or dulce de leche straight out of the can, here is another way to enjoy your favourite sweet. Try this irresistible no bake biscuit cake made with fresh caramel. It is moist, luscious, sweet and above all – very simple to make.
In fact, it's so simple, you can make this caramel biscuit cake with your kids. It's a very fun way to educate your children on the basics of making dessert. Soon, you'll be happy to find a version of this no bake biscuit cake on a festive occasion like your birthday.
As its name suggests, this no bake caramel biscuit cake doesn't require an oven. All it needs is time for the biscuits to soak up that lovely caramel. Once the cake is all softened up, you can enjoy it with a delightful cup of tea or coffee. Of course, you can deviate from the caramel biscuit recipe and add or use other ingredients like chocolate, cocoa powder or condensed milk. The choice is yours.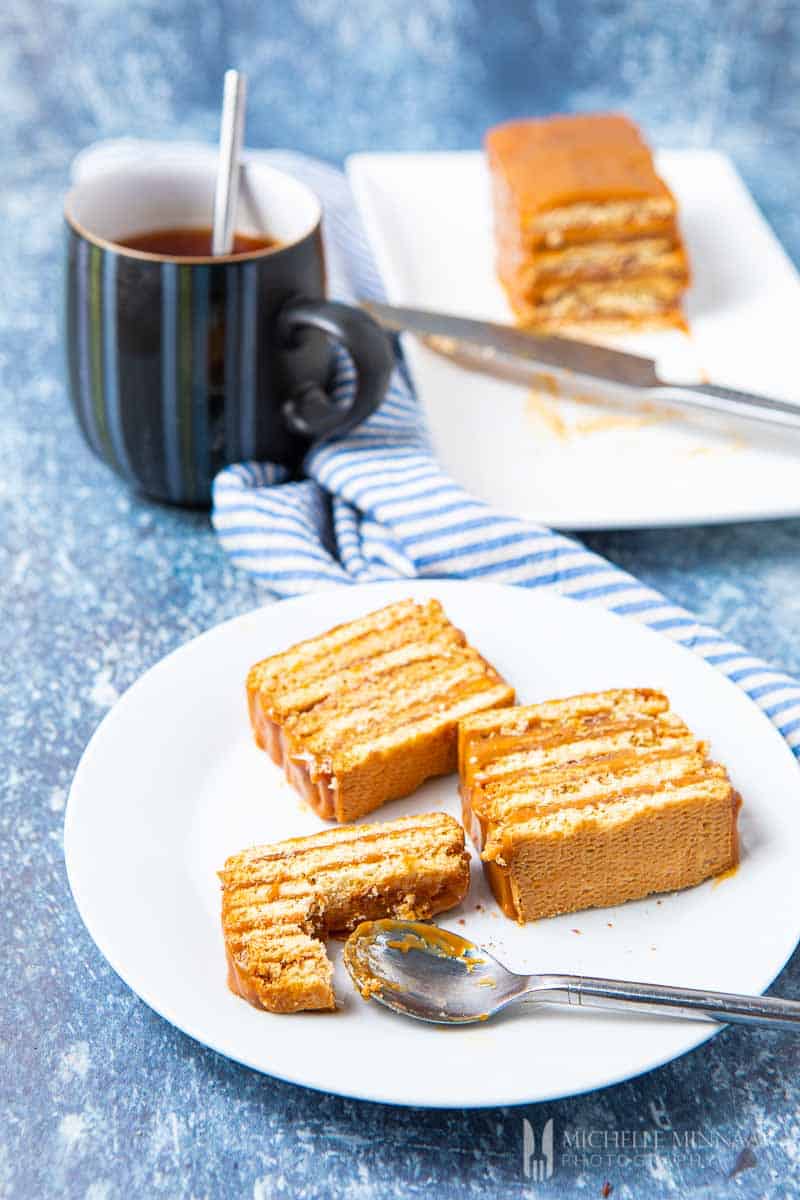 How to make biscuit cake in the fridge
Here's a list of things you are going to need to make this irresistible no bake biscuit cake:
Tip: When you are done with your caramel biscuit cake, shove it in the fridge for a couple of hours. The biscuits will soften up much quicker because they'll absorb the moisture out of the caramel.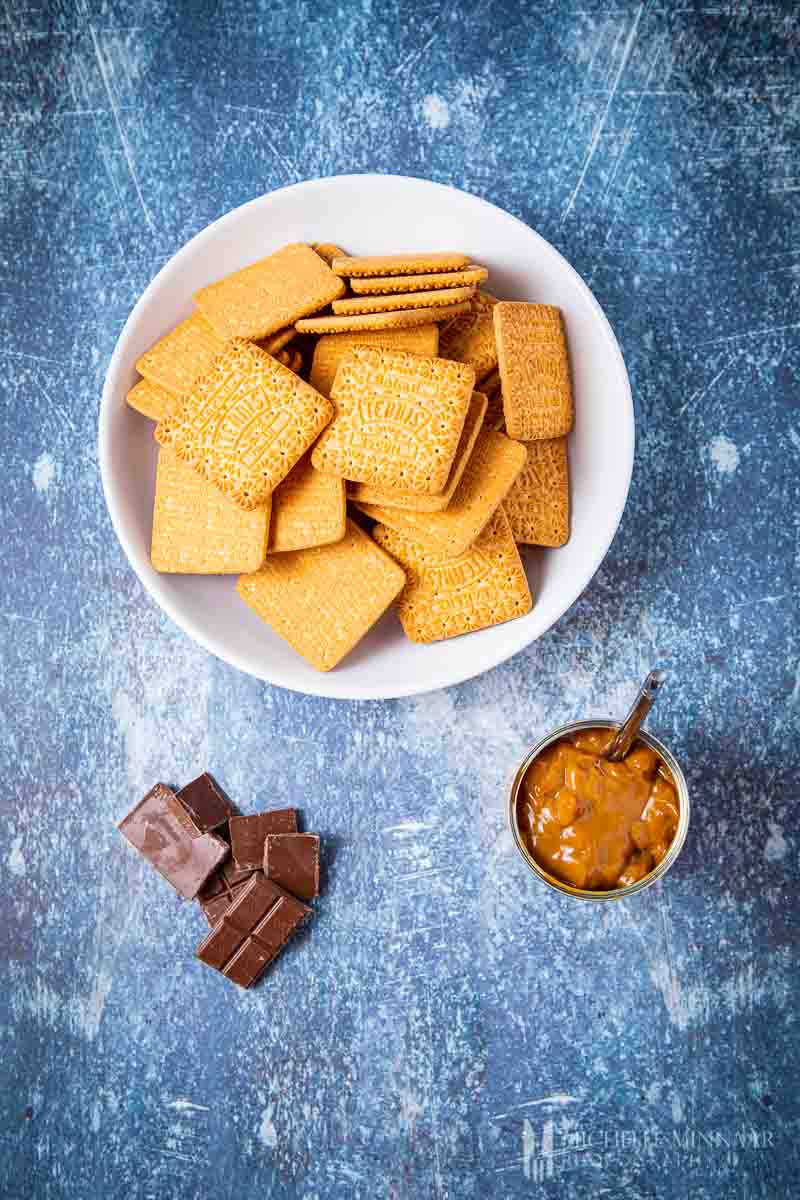 No bake biscuit cake recipe
I discovered this no bake biscuit recipe quite a time ago. In fact, it was around my 30th birthday when I decided to whoop up this dessert for myself. As it was delicious (and the level of difficulty was low), I've been making this caramel biscuit on a regular basis ever since. What you see here was my birthday "cake". Or should I say tart? At 36-weeks pregnant the last thing I wanted to do was stand in the kitchen for a few hours to churn out a cake. Understandably, I took the easy way out and made this instead which took just 10 minutes with very satisfying results.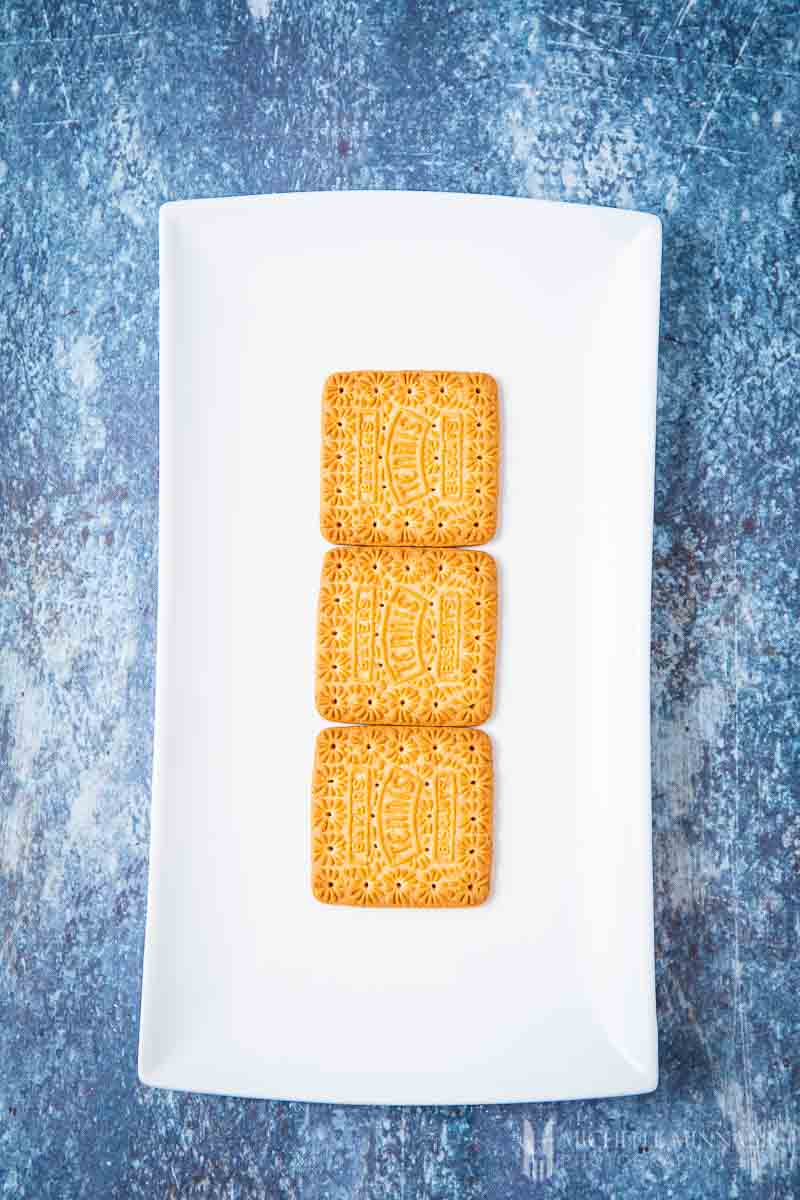 No bake chocolate biscuit cake using condensed milk
There are a couple of excellent substitutes for caramel that still work perfectly with this caramel biscuit cake recipe. You can always use dulce de leche. This is caramel's closest substitute. Nevertheless, there are other substitutes you can consider for making your own version of this no bake biscuit cake recipe.
Instead of caramel, you can always use condensed milk. The condensed milk will provide a very silky texture with almost honey vanilla-like flavours. It will work just as well in this caramel biscuit cake as the caramel. The hardest part when it comes to cooking with condensed milk is to resist dipping your finger in it – it's really delicious.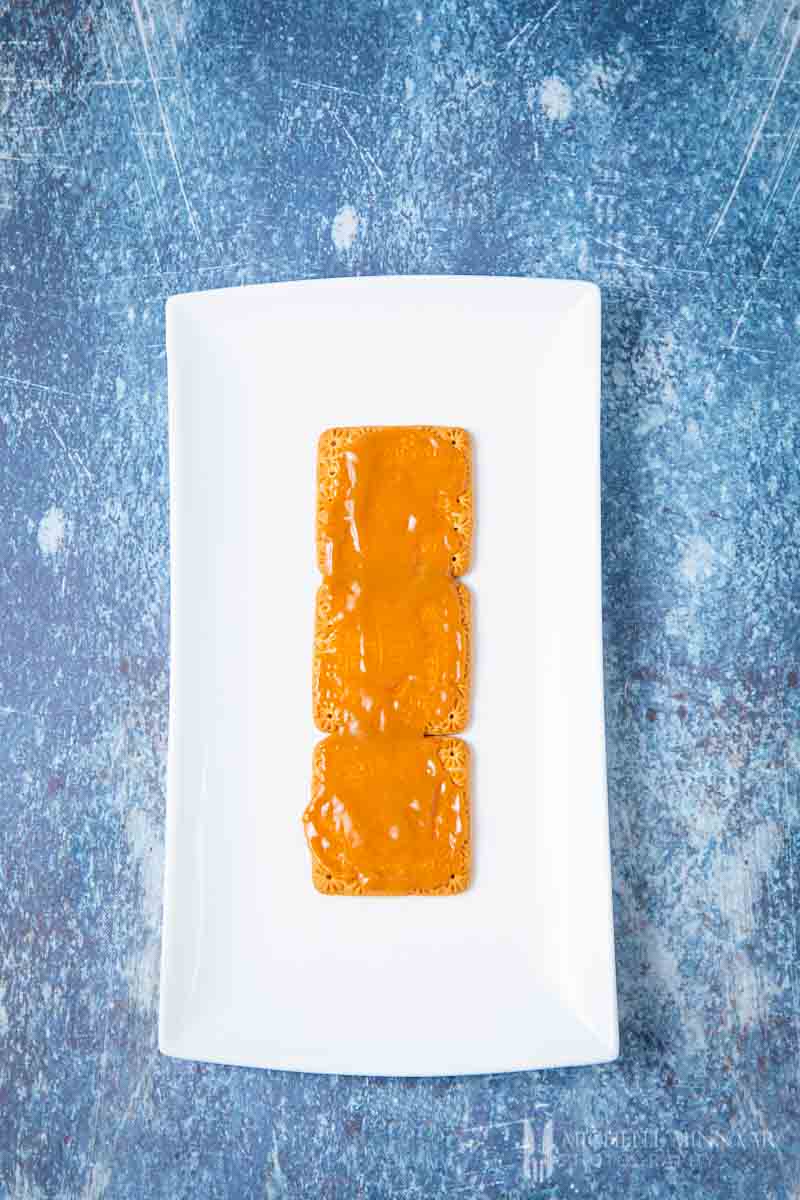 If you've got leftover condensed milk, you can make other recipes. For instance, try these:
If you feel more chocolatey, you can also use this chocolate fudge sauce in between the layers of biscuits. Otherwise, just add some cocoa powder into the condensed milk and watch the no bake biscuit cake turn a beautiful brown colour.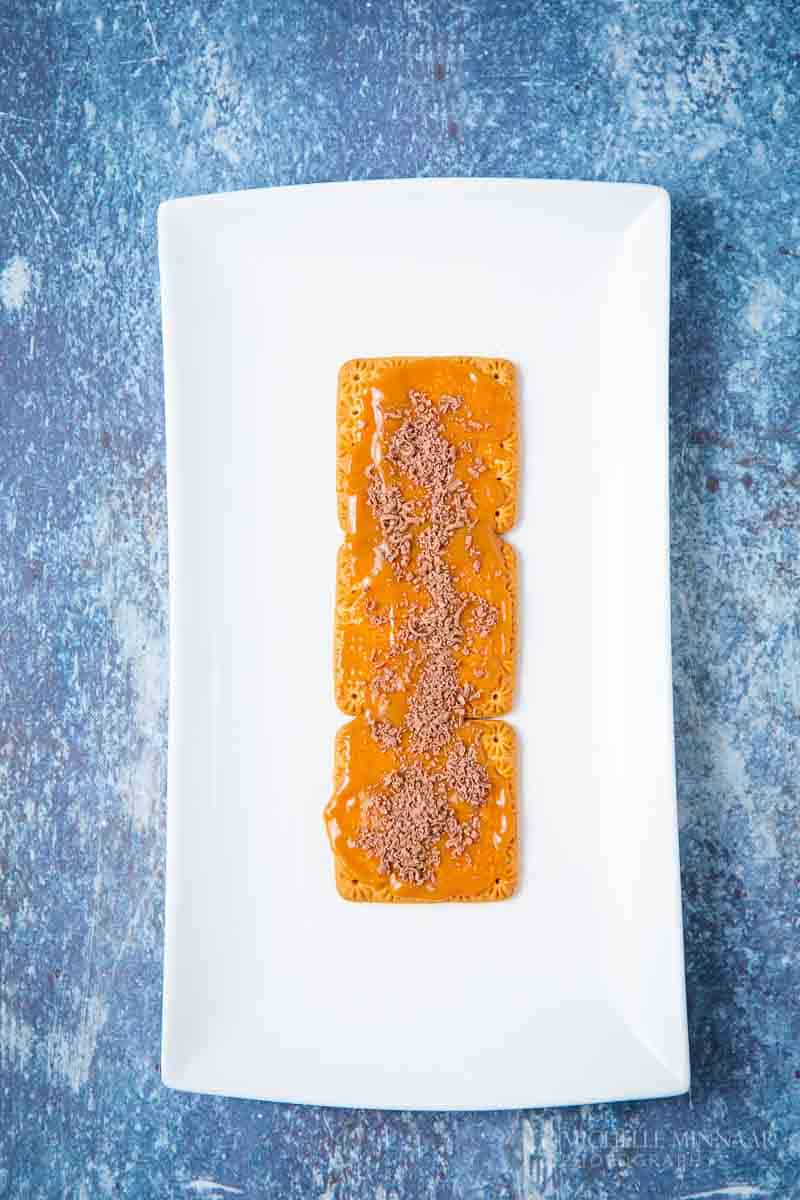 quick biscuit cake recipe
Obtaining caramel isn't a problem for most people, though some people struggle to select the perfect biscuits.
Tennis biscuits are well loved by all South Africans, and expat shops always have stock. Feel free to use those for this no bake biscuit cake. Otherwise, you can use any types of square biscuits. Don't worry if they have an extra bit of flavour. For instance, if you purchase ginger cookies or coconut cookies, it will work all the more with the recipe.
Otherwise, you can always make your own cookies. Just remember to cut them square.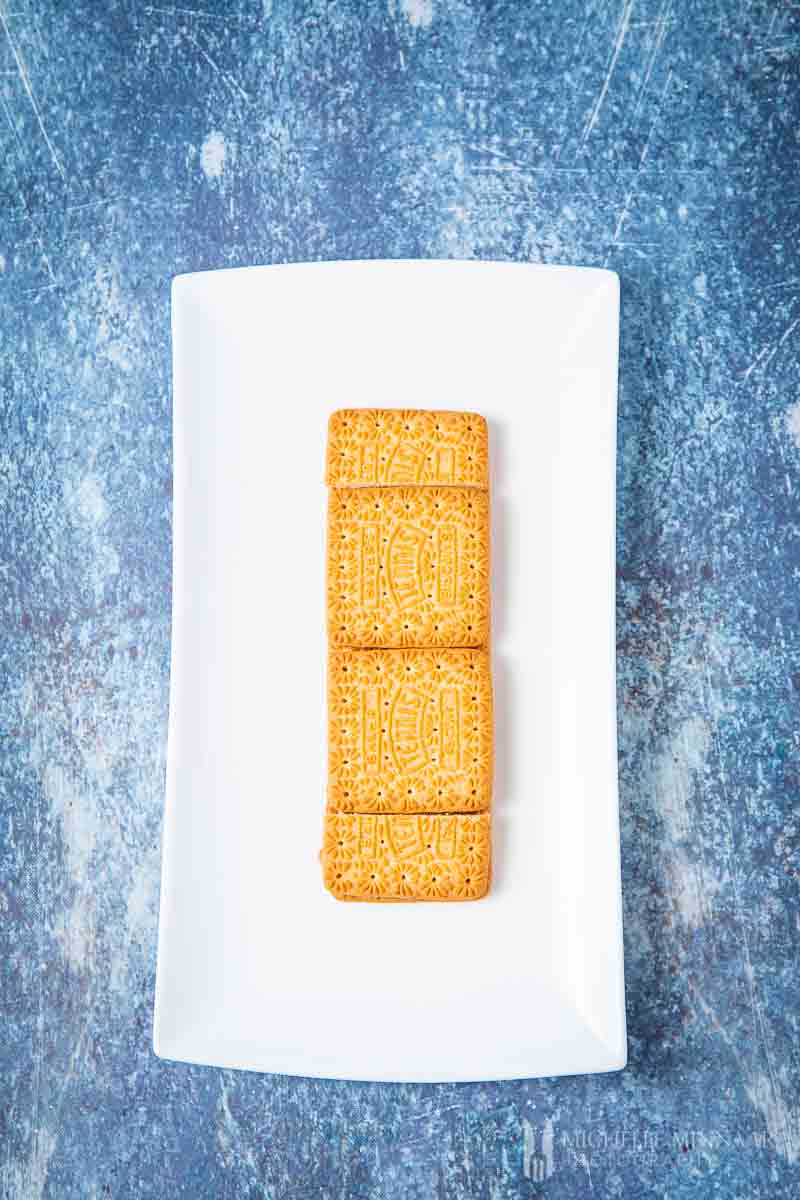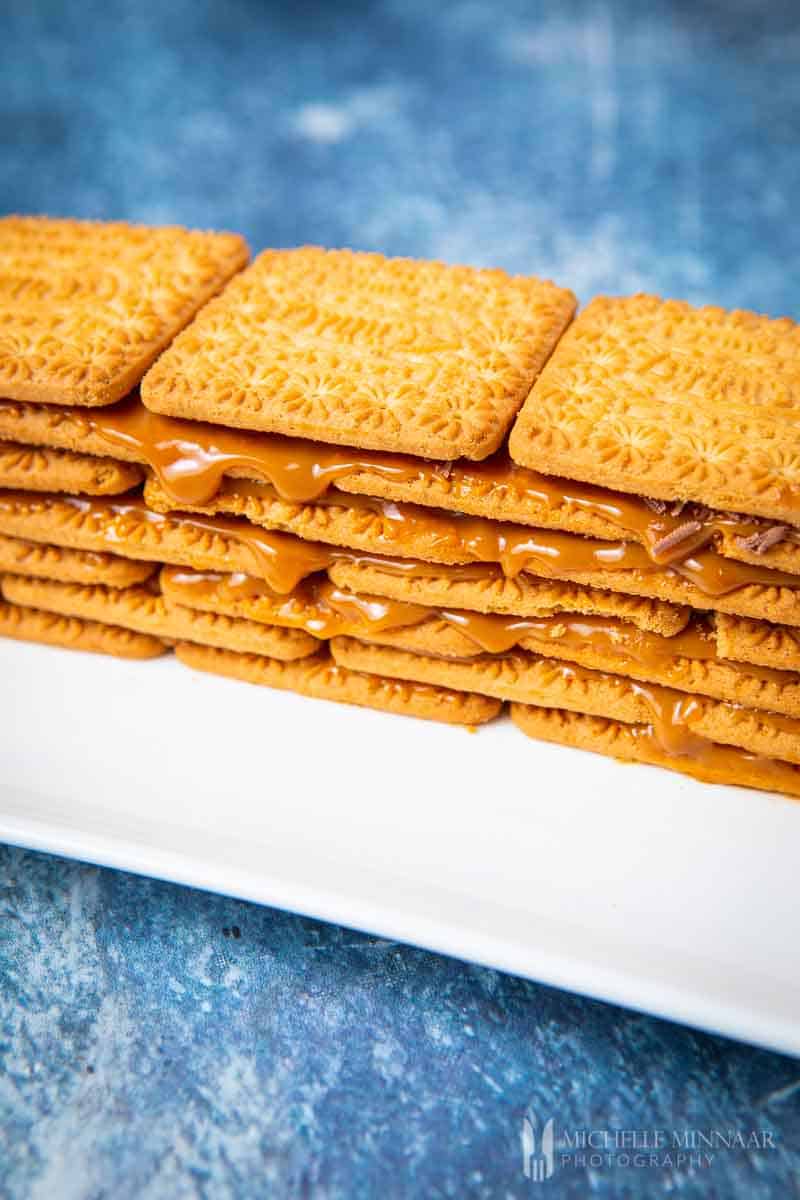 If I've inspired you to make more cookies, then try these recipes: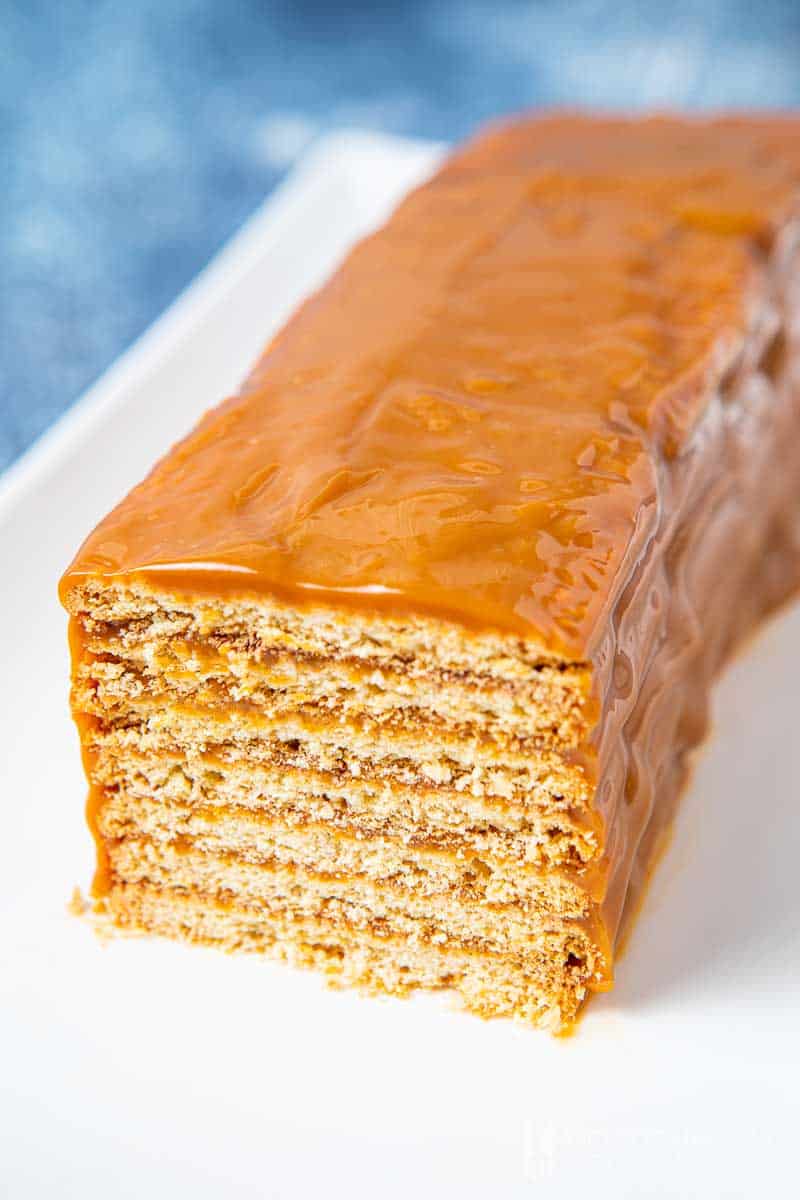 how to serve the cake
Once you are done with your no bake biscuit cake, you should wait a few hours so that the cake softens up. Simply stick in the fridge and let it soften. Once you see that the caramel has softened the biscuits (you can test the softness with a toothpick), take the cake out of the fridge. Let it sit for 5 to 10 minutes at room temperature and serve.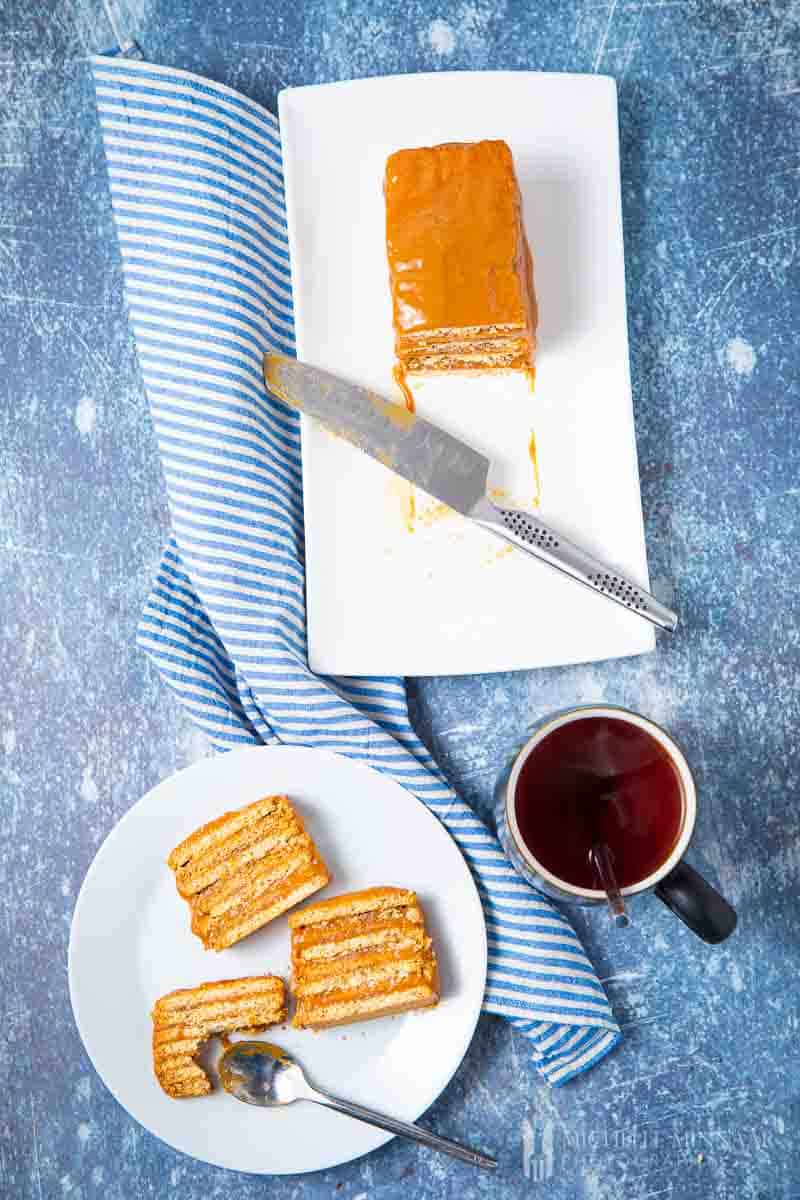 How would you make this no bake biscuit cake? Let me know in the comments section below.
Print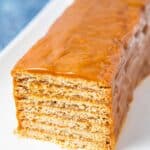 No Bake Biscuit Cake
---
Author:

Michelle Minnaar

Prep Time:

30 minutes

Cook Time:

0 minutes

Total Time:

1 hours 10 minutes

Yield:

8

portions

1

x
Description
Make this easy no bake caramel biscuit cake recipe in just a few minutes. A caramel biscuit cake is just what you.
---
2

packets Tennis Biscuits, about 400g (

14 oz

)

1

tin (400g/14 oz) caramel

100g

(

3 oz

) Cadbury's Mint Crisp [optional]
---
Instructions
Imagine you are building a brick wall. Essentially the cake consists of two different layers.
Level A: Place three biscuits next to each other. Slather with caramel and grate some chocolate over it.
Level B: Place half a biscuit on each end on top of the caramel, and the other two in the middle. Cover with caramel and grate some chocolate on top.
Now continue with A, then B, then A, etc. I ended up with 9 levels in total.
When you are done, cover the cake with the leftover caramel.
Place the cake in the fridge overnight and enjoy the next day.
Notes
You don't need so many biscuits but the excess is for backup in case you break some when cutting them in half.
Tennis biscuits are square, coconut biscuits from South Africa. Feel free to experiment with other varieties.
Cadbury's Mint Crisp is the brand I use but there are other alternatives out there – just remember the mint should be crystalised, not simply just mint-flavoured chocolate.
Category:

Dessert

Method:

Chill

Cuisine:

South African
Keywords: no bake biscuit cake, caramel biscuit cake, tennis biscuit fridge cake, South African dessert recipe