Having spent most of his birthday bored to death in the car as we drove from The Lake District all the way back to Essex, I thought I should make it up to little Gabriel. Like a lot of mothers, I wanted to be the best and in one area I excel is food. For a very small party I came up with ideas for chicken spring rolls, cheese and leek tart, salad and carrot cupcakes. The rest of the family thought I was nuts.
"It's a CHILDREN'S party!"
"They want crisps, chocolate, jelly and ice cream."
"Gabriel will be happy with whatever you place in front of him."
"Why are you creating so much work for yourself?"
Indeed, why am I such a sucker for punishment? A day before the party I came to realise they were right. Did I really want to spend all my time before and during the party in the kitchen? Shouldn't I rather spend quality time with everyone else and enjoy it? To be honest as much as I love cooking, I'm not keen on marathon sessions – think along the lines of 8 hours – and opted for the easy way out.
Sunday morning arrived and the five of us all piled in our little Golf and sped off to Monkey Bizzness. For those of you who live in the area it is a must visit if you have small children. There are so many activities to choose from hours go by in a blink of an eye.
Gabriel's newest discovery is these little plastic cars that he can sit in and move around with his feet.
Don't forget the big slide that his grandmother Susan took him on over and over and over and over and over again.
No need for words.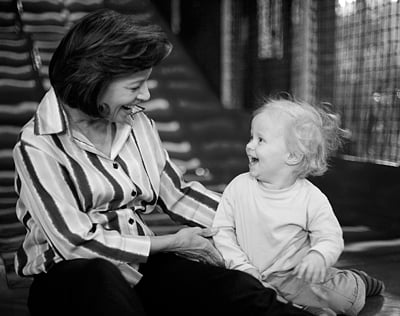 Oh, and Gabriel's favourite: the Wendy house. A minute after he squeezed in all the other children left. He must have farted. Ah, that's my boy!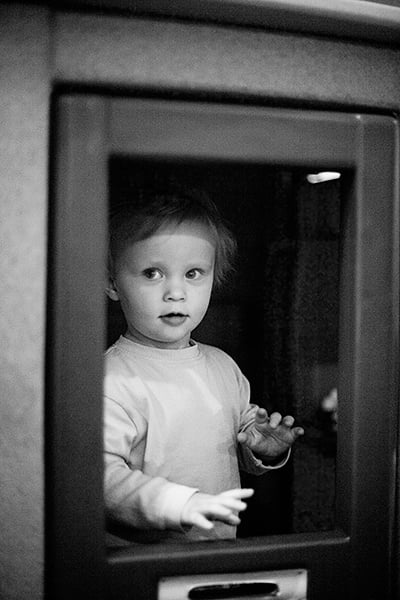 After throwing Oscar-winning performance tantrums because we dragged him away from his playing, we sped to Marks & Spencer and got some nice bits to eat; including a chocolate caterpillar cake.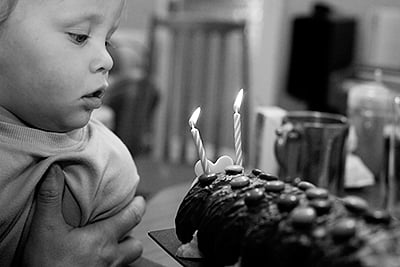 He needed some help blowing his candles, which he found totally mesmerising.
Even though there were two other children and five adults to play with, Gabriel opted to harass Shacia in her basket where she was bothering no one. Poor dog.
All the play and excitement took its toll on Gabriel and he sat very contently in the dog box. What a party!
Oh, and the cupcakes? I made them a week later for Gabriel and had our own mini-birthday party all over again. A promise is a promise. Happy 2nd birthday, baby.
Print
Carrot Cupcakes with Vanilla Buttercream
---
for the cakes
2

large eggs

175g

(

6oz

) golden caster sugar

150

ml (5fl oz) sunflower oil

200g

(

7oz

) self-raising flour, sifted

5

ml (1 tsp) mixed spice

2

medium carrots, weighing approximately 250g (

9oz

), coarsely grated

5

ml (1 tsp) vanilla extract
Finely grated zest of 2 oranges
for the buttercream
110g

(

4oz

) unsalted softened butter

625

ml (2½ cups/10oz) icing sugar

2.5

ml (½ tsp) kosher salt

15

ml (1 tbsp) + 5ml (

1 tsp

) whole milk

5

ml (1 tsp) vanilla extract

5

ml (1 tsp) fresh lemon juice
---
Instructions
Preheat the oven to 180°C/fan 160°C/gas 4. Place 12 paper muffin cases in a deep bun or muffin tin.
Put the eggs, sugar and oil in a large bowl and beat with an electric whisk for 2-3 minutes until light and fluffy.
Using a metal spoon, gently fold in the flour, spice, grated carrot, vanilla extract and half the orange zest, until thoroughly combined.
Divide the mixture between the muffin cases then place in the oven for 20-25 minutes until well risen and golden brown. Remove from the oven and place on a cooling rack.
Meanwhile, in a stand mixer, fitted with a paddle attachment, cream the butter & salt for about 30 seconds and then add half of the icing sugar and the milk to the butter and beat again until combined. Scrape down the bowl. Add the rest of the icing sugar, the vanilla, and the lemon juice and beat until combined. Scrape down the bowl again. Beat on high speed for 5-6 minutes or until the frosting is fluffy. Make sure to stir the buttercream well before using to get the air bubbles out of the frosting.
Spread liberally over the cooked cakes and top with the remaining zest.
Notes
For added texture and flavour, sprinkle chopped walnuts or pecans on top.
I used a mini-muffin pan too and in the process I got out 6 large cupcakes and 12 mini ones.
Increased the amount of mixed spice up to 15ml (1 tbsp) if you like the flavour.
Prep Time:

25 minutes

Cook Time:

10 minutes
Nutrition
Serving Size:

1 serving

Calories:

138

Sugar:

15.3 g

Sodium:

54 mg

Fat:

1 g

Carbohydrates:

28.6 g

Protein:

2.9 g

Cholesterol:

31 mg