How do you eat yours? In a brownie that's how!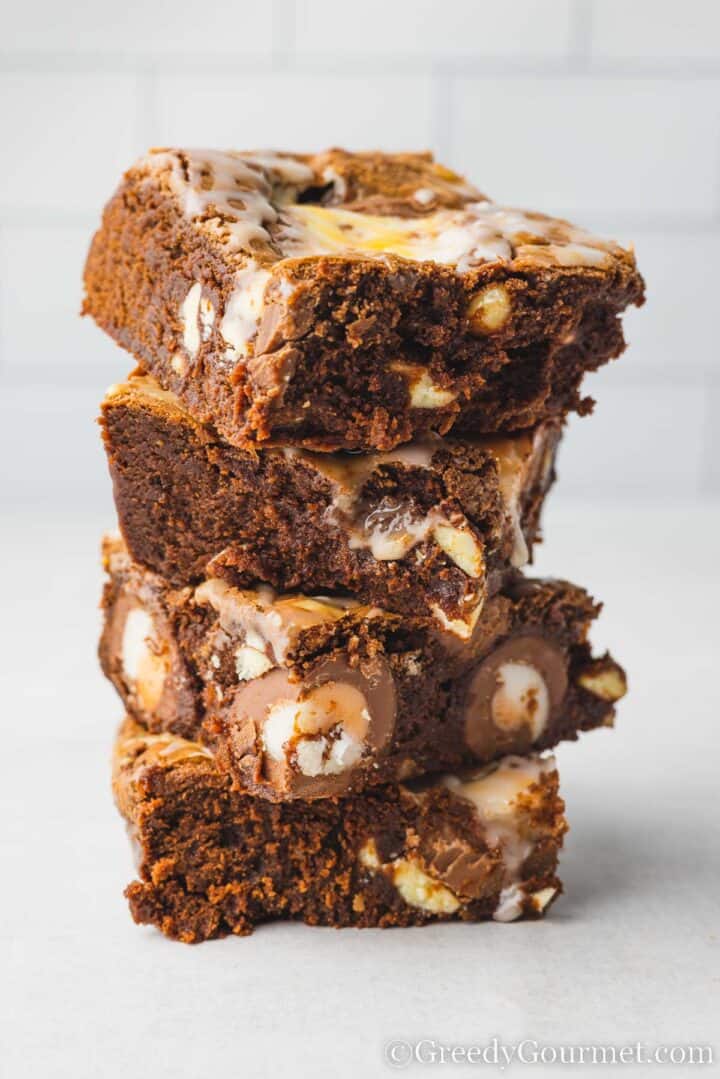 These Creme Egg brownies are the creme de la creme of indulgent treats. Crispy on the outside and gooey on the inside, they are simply sensational, utterly irresistible and – whisper it – surprisingly easy to make!
So, if you want to set off some brownie-based bedlam in your household this Easter, look no further than this crowd-pleasing Creme Egg brownies recipe.
Why you'll love this Creme Egg brownie recipe
They're the perfect Easter treat
These are easy Creme Egg brownies – minimal fuss, maximum satisfaction
Making Creme Egg brownies is something kids can get involved in too
You can get really creative with the decoration!
Equipment needed to make this recipe
There are a few important kitchen items you'll need before whipping up these delicious Creme Egg brownies: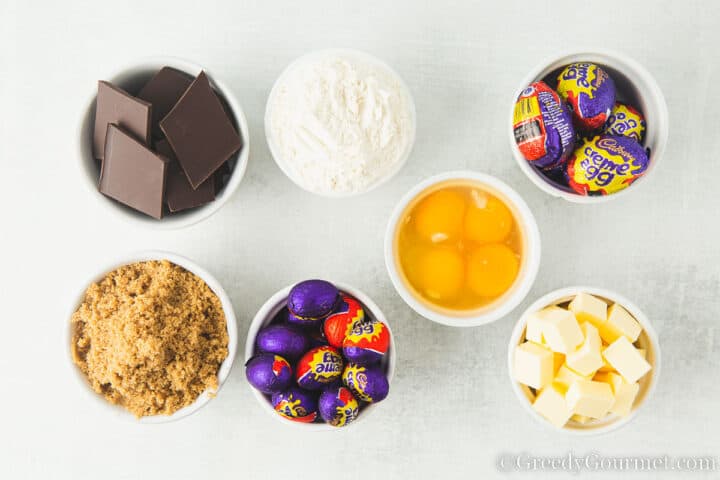 Ingredients needed to make this recipe
How to make Creme Egg brownies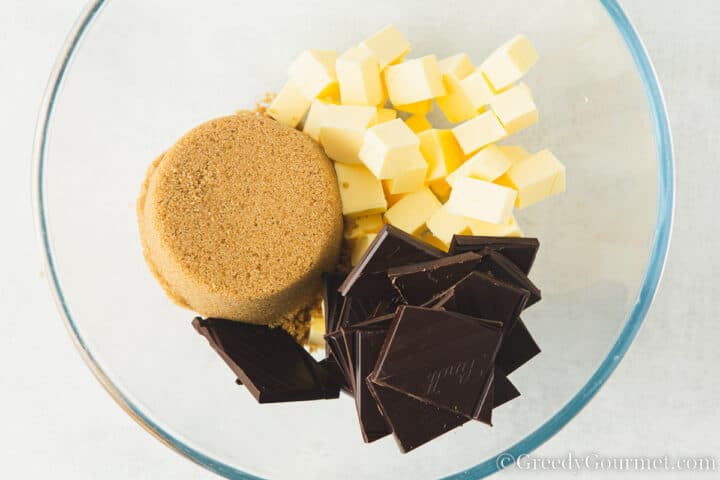 Place the butter, chocolate and sugar in a large bowl.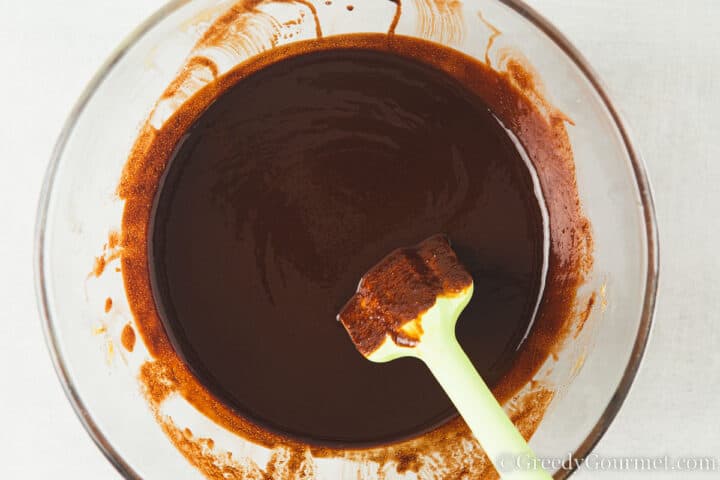 Melt until a smooth chocolate sauce forms.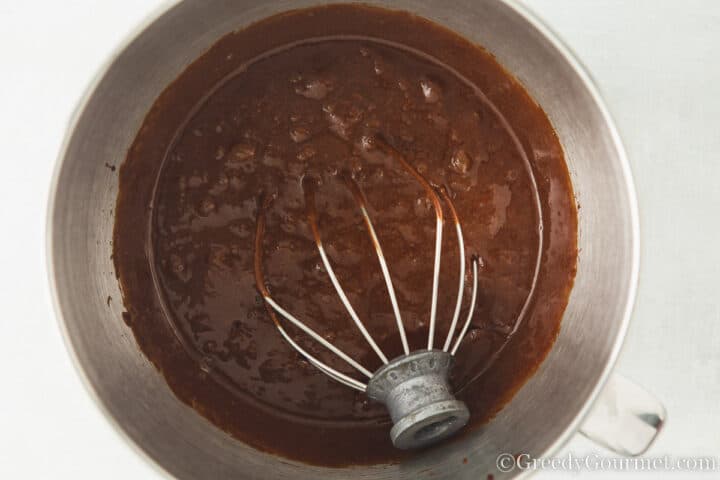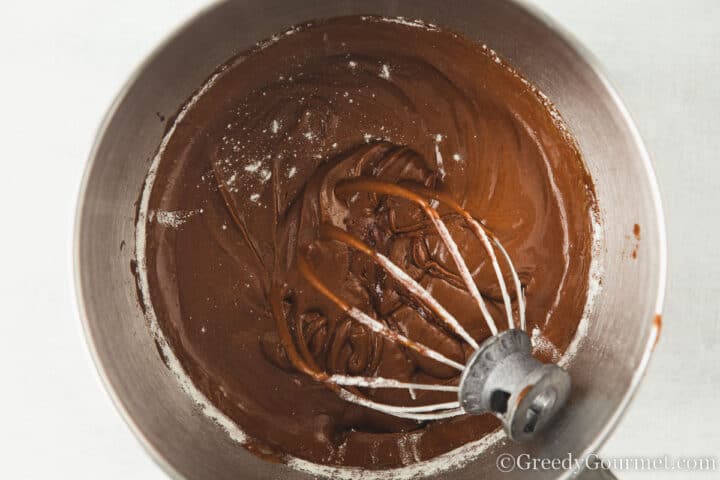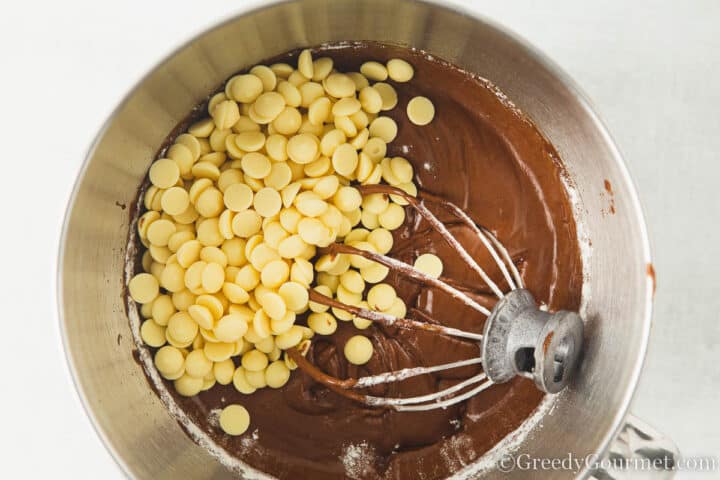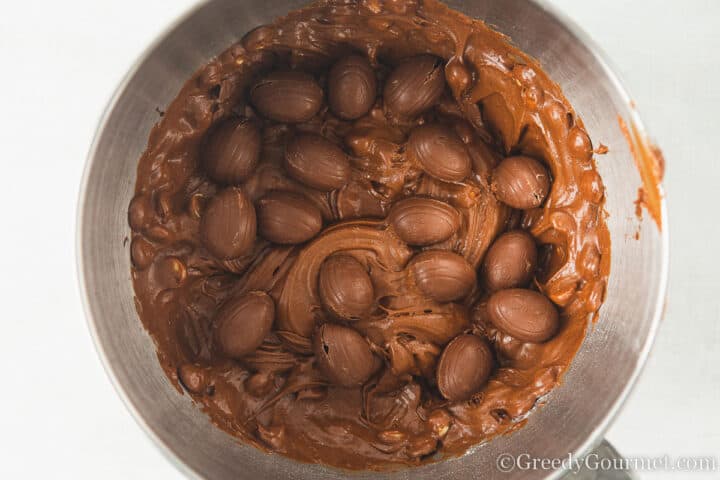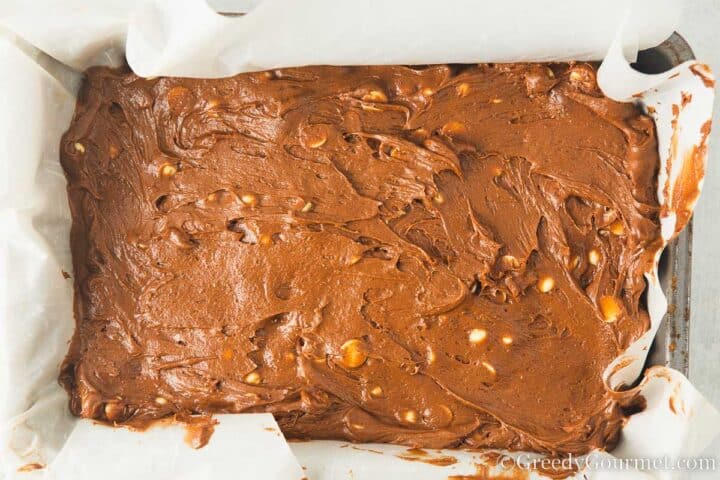 Transfer contents to lined baking tin.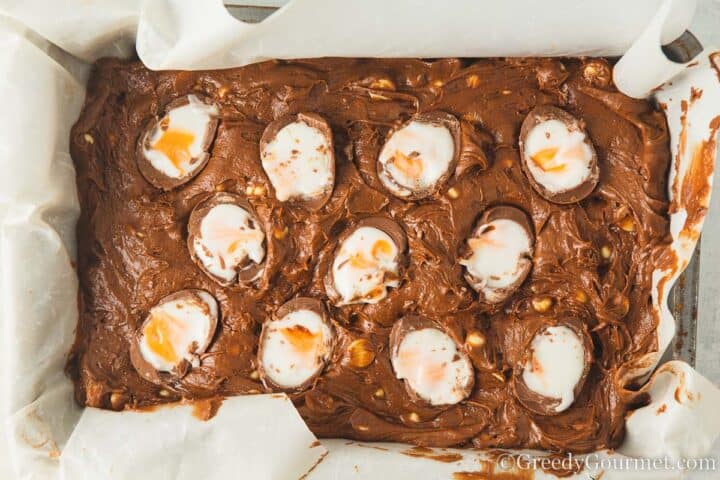 Halve the Creme Eggs and decorate the brownie on top.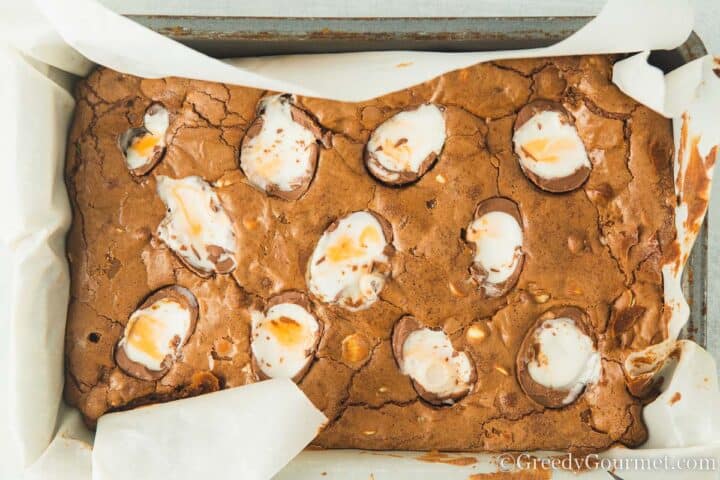 Bake until slightly wobbly in the center.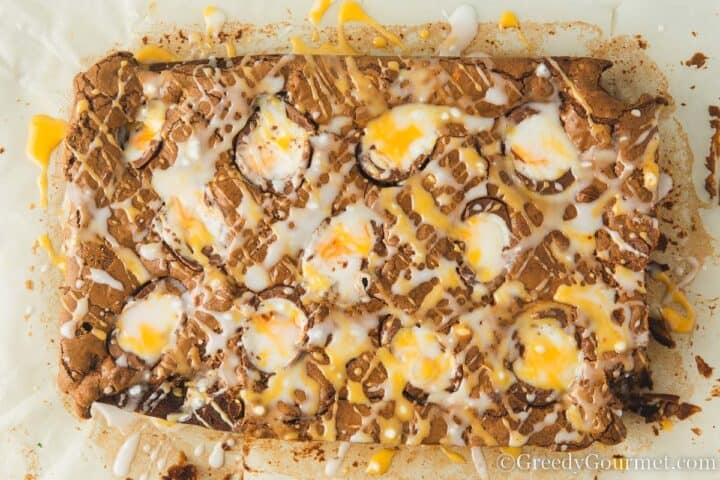 Decorate to your heart's content. Slice and enjoy!
Top Tip
Don't over-mix your brownie batter, as it will produce too much air. Be gentle, especially when adding the flour, and you'll end up with silky smooth brownies.
What to serve with Creme Egg brownies
Ice cream
Creme Egg brownies with a scoop of vanilla ice cream is the ultimate Easter indulgence. If vanilla doesn't float your boat, pick your favourite flavour and enjoy!
Warm drink
For me, a nice warm cup of tea or coffee is the perfect pairing with a delicious chocolate brownie!
Popular substitutions for this recipe
For the best results, dark chocolate is the way to go. You can, however, use milk chocolate when making these brownies.
Turn these Creme Egg brownies into Creme Egg blondies by using white chocolate in place of dark chocolate.
You can replace Creme Eggs with Cadbury Caramel eggs if you prefer them. If you like, you can even go half and half!
Use mini Cadbury Creme eggs to decorate the top of the brownies, in place of the full-size version
You can replace light brown sugar with caster sugar if you prefer a lighter brownie
Variations to this recipe
Make these brownies extra chocolatey by adding 40g of cocoa powder
Add a teaspoon of vanilla extract for extra depth of flavour
You can reduce the quantity of Creme Eggs in this recipe without having to alter the quantity of the ingredients in the brownie mixture
Top Tips
For the best bake and to achieve that mouthwatering brownie flavour, use dark chocolate that 70% cocoa or higher.
When portioning up your brownies, use a large sharp kitchen knife. Heat it by submerging the blade in hot water for a few seconds – you'll get a nice clean cut.
Freeze your mini Creme Eggs the day before baking. This will prevent the filling from oozing out during the baking process.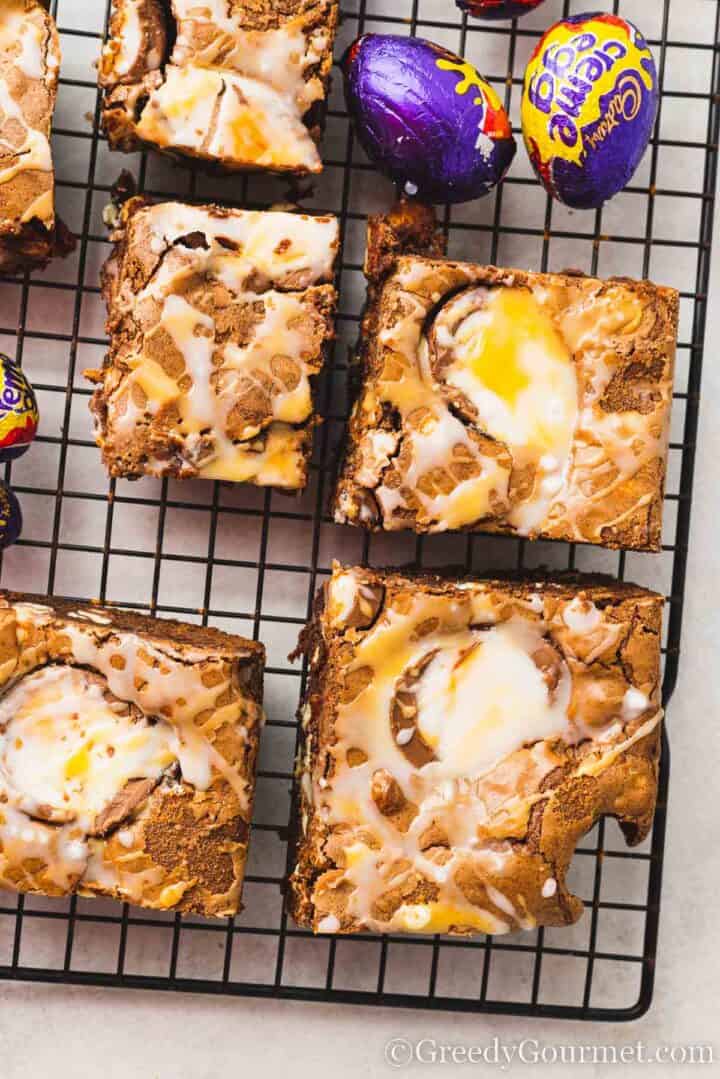 Can you buy Creme Eggs all year round?
Not in the shops you can't. Creme Egg 'season' is between January and April, although you can buy Cadbury Creme Eggs online all year round.
What did Creme Eggs used to be called?
They were originally called 'Fry's Creme Eggs' when they burst onto the confectionary scene back in the swinging sixties – 1963 to be precise.
Seven years late, they were reinvented as 'Cadbury Creme Eggs' – and the rest is sweet history.
How do you cut Creme Eggs in half?
It can be tricky to get a clean cut – the best way is to heat a sharp kitchen knife. Dip your knife in hot water for a few seconds before you cut each Easter egg. The blade will soften the chocolate as it slices through, making it a lot easier.
Don't forget, it doesn't have to look perfect. The best Easter brownies have that homemade charm that you can't buy in a shop!
What kind of chocolate is best for brownies?
Dark chocolate produces the best results when it comes to baking brownies. While you can use milk chocolate, to get the best texture and taste, use dark chocolate with at least 70% cocoa.
How do you know when brownies are done?
After 30 minutes of baking, it's time to check. The edges of the brownie block should be solid but there should be a slight wobble to the centre. Insert a skewer into the block – it should come out mostly clean.
Ever-so-slightly under-baking the brownie will achieve the perfect texture, as it will retain its heat and continue to slowly bake when it comes out of the oven.
How long does it take brownies to set?
At least 30 minutes. This is the minimum time though – I'd recommend letting brownies cool for an hour to two hours in order to achieve the perfect cut.
How do I decorate Cadbury Creme Egg brownies?
These brownies give you the chance to get really creative! Using melted white chocolate, you'll create two different chocolate mixtures, adding yellow or orange food colouring to one batch and leaving the other white.
Then, you can use a piping bag to drizzle both colours on top of the brownies. Release your inner artist and have fun!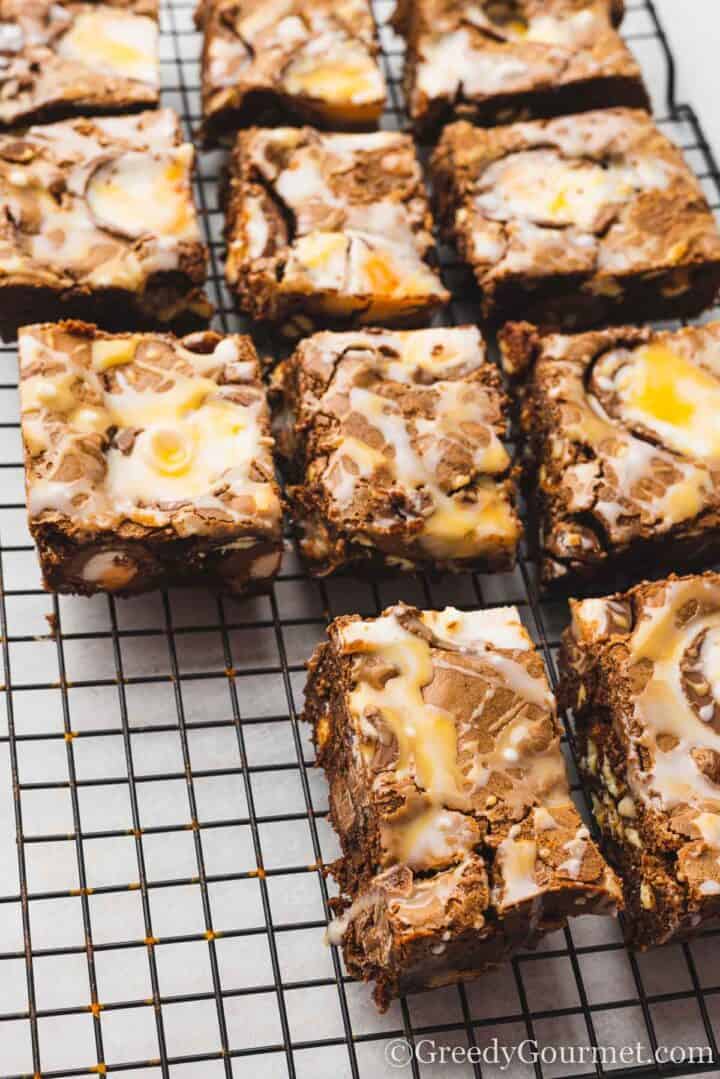 Are Creme Egg brownies suitable for vegetarians?
Yes, these brownies are 100% suitable for vegetarians.
Are Creme Egg brownies suitable for vegans?
Unfortunately, no. These brownies contain dairy products such as milk and butter and, therefore, aren't suitable for vegans.
Are Creme Egg brownies gluten free?
As these Creme Egg brownies contain plain flour, they aren't suitable for those on a gluten free diet.
However, you can easily adapt them by using almond flour. If you can't find almond flour, or have an almond nut allergy, there are many suitable almond flour substitutes.
How should I store Creme Egg brownies?
Store them at room temperature in an airtight container for up to four days. If you need to keep them longer, pop them in the fridge – they'll keep for at least a week.
However, if these bad boys are still around after a week I'll give you a medal!
Can you freeze Creme Egg brownies?
Yes, these brownies are perfectly freezable – ideal if you want to make a big batch.
Simply store them in a freezer-safe airtight container, label with the date of freezing and place in the freezer. They will last for up to 3 months.
For the ultimate step-by-step guide, check out my 'Can you freeze brownies?' article.
Are Creme Egg brownies better warm or cold?
Brownies can be served hot or cold, but I do love a warm brownie! Warm it up a touch in the microwave and serve with ice cream for that wonderful warm/cold combination.
Why did my Creme Egg brownies turn out dry?
Most likely because they were over-baked. Be sure to follow the instructions on how to check whether the brownies are done.
Why did my Creme Egg brownies turn out too wet?
Either you've not baked them for long enough, you've cut them too soon or the wet/dry ingredient amounts are off.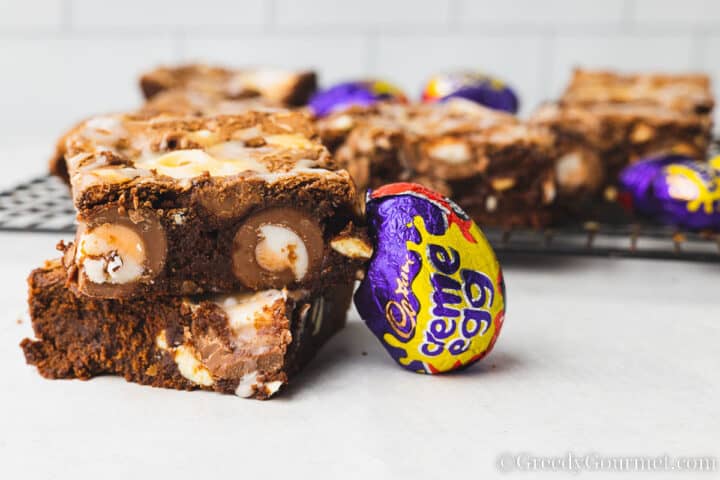 More delicious brownie recipes
Who doesn't love a brownie recipe? Luckily, I have several. Warning... they're all dangerously tasty!
Print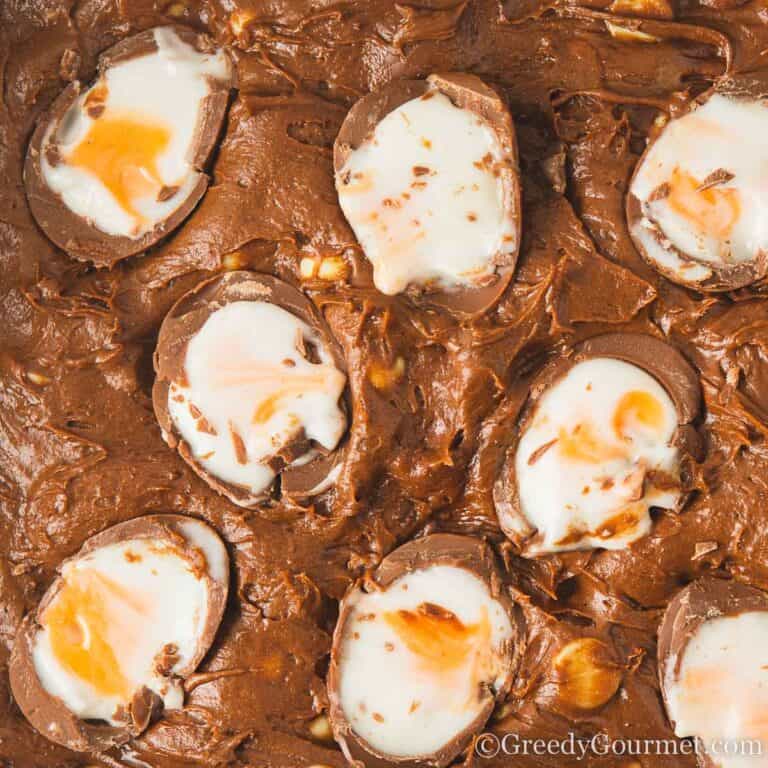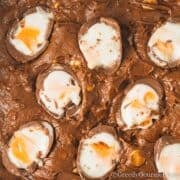 Creme Egg Brownies
---
Author:

Michelle Minnaar

Total Time:

45 minutes

Yield:

16

servings

1

x

Diet:

Vegetarian
Description
These Creme Egg Brownies can be enjoyed by children and adults alike every Easter. The perfect indulgence for a chocolate lover.
---
Creme Egg Brownies
200

g

(7oz) 70% dark chocolate

250

g

(9oz) butter

300

g

(10 1/2oz) light brown sugar

4

large eggs

150

g

(5oz) plain flour

100

g

(3 1/2oz) white chocolate chips

200

g

(7oz) Mini Cadbury Creme Eggs, frozen

6

Cadbury Creme Eggs, halved
Topping
100

g

(3 1/2oz) white chocolate
yellow or orange food colouring
---
Instructions
Preheat the oven to 180°C / fan 160°C / 350°F / gas mark 4.
Line a baking tray with parchment paper.
Melt the dark chocolate, butter and sugar over a low heat. Alternatively, zap everything in a bowl in a microwave in short bursts and stir in between until the sugar has melted.
Leave the melted chocolate mixture to cool to room temperature which should take about 10 minutes.
Transfer the mixture to a stand mixer bowl and beat fast for 1 minute. 
Beat in one egg at a time until the volume increases, it lightens in colour and becomes almost fluffy.
Stir in the white chocolate chips and Mini Creme Eggs. 
Transfer the batter to the lined baking tin and smooth out with a spatula. 
Have fun decorating the batter by distributing 12 Creme Egg Halves evenly across the brownie. Gently squeeze each half into the batter. Be careful, they can be quite brittle!
Bake for 30 minutes, or until the edges are solid but the centre has a slight wobble to it. A skewer should come out mostly clean.
Let the brownie cool completely.
Melt the white chocolate and split the mixture into half. 
Add a few drops of colouring to the one batch to achieve a yellow/orange hue. 
Splatter the two types of chocolate over the brownies. Have some fun! 
Place in the fridge to set for a while, then slice the brownies into portions and serve as is or with ice cream. Enjoy!
Notes
From 30 minutes onwards you should check the doneness of the brownie. It took my oven 40 minutes to reach the optimal doneness. Don't over bake it though!
Prep Time:

10 minutes

Cook Time:

35 minutes

Category:

Dessert

Method:

Bake

Cuisine:

British
Keywords: creme egg brownies, creme egg recipe, creme egg bake, creme egg brownie recipe, cream egg brownies, creme egg tray bake, gooey creme egg brownies