Who among us doesn't like something sweet with our tea or coffee? It is easy to buy all sorts of confectionery of lower or higher quality in shops. However, it is just that much more satisfying to enjoy a treat when you have made it yourself. Usually people opt for serving savoury snacks such as parmesan crisps or parmesan arancini, for example.  However, not a lot of people serve sweet treats as canapés, such as date balls and the like. It is an excellent way to impress your guest by finishing off a dinner party with coffee and some homemade treats.
Or, if you can bear to part with them, you can provide them as a present when visiting friends. Flowers and wine are nice but something edible will win any day of the week. Plus, homemade date balls will certainly be a novelty your friends have probably not tried before. Date balls are easy to make, and if the basic version is not enough for you, you can tweak the recipe in many different ways. Don't be afraid to let your creativity flow and play with different shapes and flavours.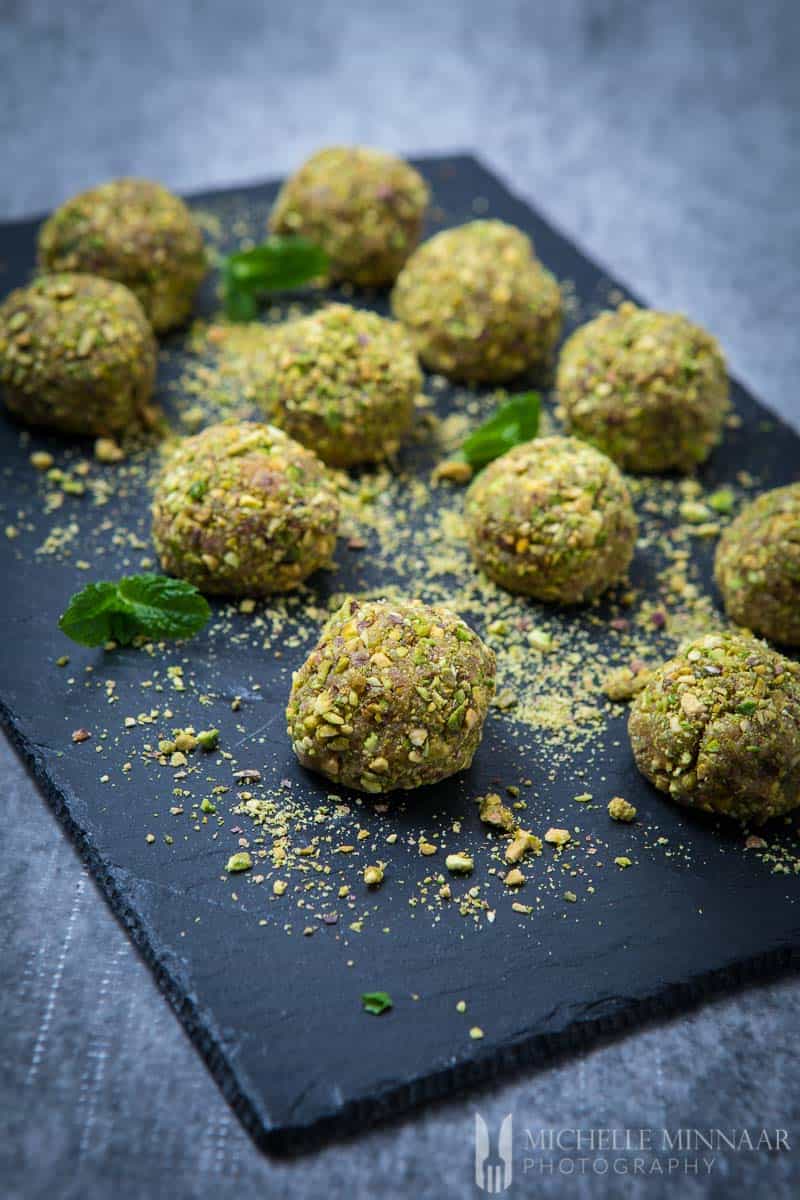 Date balls – a healthy snack
When you taste the date balls it wouldn't occur to you that they are actually unsweetened! The sweetness in the date balls come from the natural sugar content in the dates. The only added sugar in this recipe comes from the biscuits. Therefore, you can easily use dates for savoury snacks too. I have used dates before to make savoury treats such as bacon wrapped dates.
This time, however, I decided to try something a little bit different. I wanted to find a more balanced flavour that was not exactly savoury but not overly sweet either. Date balls are a snack that you can enjoy after lunch or in the afternoon with a cup of coffee. It's great for the office as well when you need a little extra something to get you through the day. Either way, I bet that date balls will be your new favourite snack.
If you are looking for another healthy snack, they you would love my peanut butter coconut balls. They are divine!
Coating
I have coated half of the date balls in desiccated coconut and the other half in crushed pistachio. You don't have to do both, but I quite like the variation of having both types. Visually, it also looks great when you serve the two kinds next to one another – the snowflake white coconut ones and the enchanting green pistachio coated ones.
You don't have to limit it to pistachios though, other nuts are also great for this purpose, especially hazelnuts, almonds and walnuts. Simply crush them to a powder that you can coat the date balls in. You can use a mortar or a blender for this.
Regardless what kind of nuts you choose, remember to go for unsalted ones. If you are planning to use the date balls as a sweet treat, you can also substitute the nut coating for a chocolate one. Melt your preferred kind of chocolate and dip the date balls in the chocolate and let them set. Dark chocolate is especially good for the caramel flavour from the dates. You can even combine the two versions and roll the chocolate covered date balls in crushed nuts. For a more sophisticated version, use crushed freeze-dried raspberries or strawberries. Your date balls will look like petit fours from an upscale restaurant.
Add some filling
The basic recipe for date balls is quite simple, but you can make it more advanced if you want. You can use the mixture for date balls to make a whole range of confectionery. For example, you can put an entire hazelnut in the centre and have a little crunchy surprise in the middle. You can also stuff the date balls with nougat or marzipan. Simply wrap the date mixture around whatever it is you want to have in the middle. You can even use a candied cherry or some other dried berries. It also makes for a more interesting serving if you present a bowl full of date balls, all of which have different fillings. There are a lot of ways you can play with this recipe.
Shape up
You can actually use the date paste in other shapes too. For instance you can make your own date snack bars, which are fabulous for your kids' lunch boxes, or for your own lunch box for that matter. You can actually choose just about any shape you want. Also, you could also form the date paste into a rectangular shape and cut slices of it. Perfect for a snack or as part of a dessert with fruit or ice cream, for example.
This is a great recipe for involving your kids in the kitchen. Have them shape the date balls or ask them to come up with their own designs. Trust me, they will love it.
Make an adult version
Another possibility is to spice up the date balls with a little something from the alcohol cabinet. Add a few table spoons of liqueur in the date mixture and enjoy the sophisticated result. Darker alcohols with a somewhat sweet note are perfect for this purpose. This could be rum, brandy, amaretto or cognac, which would work well in combination with the dates. Be careful not to overdo it! The date flavour should still remain the all encompassing flavour.
Serving
The date balls contain butter and egg, so serve immediately or keep refrigerated. Serve the date balls as a snack with tea in the afternoon or as a digestive after dinner. You can also incorporate the date balls into a dessert by serving them on a plate with a scoop of vanilla ice cream and your favourite fresh fruits. With so many ways you can tweak the date balls you can serve them in just as many different ways. Let me know what you come up with and leave a comment to share your ideas with all of us!
Print
Date Balls
---
Author:

Michelle Minnaar

Prep Time:

15 minutes

Cook Time:

45 minutes

Total Time:

60 minutes

Yield:

30

1

x
150g

(

5 oz

) butter

500g

(

3 1/2 cups

) pitted dates, finely chopped

1

egg

100g

(

1/2 cup

) sugar

200g

(

2 2/3 cups

) biscuit crumbs

100g

(

1 cup

) desiccated coconut
---
Instructions
In a large saucepan, melt the butter gently and add the dates.
Turn up the heat to medium and stir until the dates start to dissolve. Remove from heat.
In a separate bowl, lightly beat the egg and sugar together.
Add a little of the date mixture to the egg mixture to raise its temperature and prevent it from curdling.
Add the egg mixture to the date mixture.
Add the biscuit crumbs to the date mixture and stir until all have been incorporated.
Roll into walnut-size balls and then roll in the coconut.
Leave in the fridge to firm up.
Notes
Sometimes dates are really dried out, hard and chewy, in which case you need to soak them in warm water for around an hour until they've softened. If you skip this step, you risk the dates not gelling well with the butter.
A variation on the coconut is rolling the balls in finely chopped pistachio nuts.
You can give the balls a filling by pushing a cherry or macadamia nut into the centre of the balls.
Category:

Snack

Cuisine:

Egyptian
Nutrition
Serving Size:

1 serving

Calories:

109

Sugar:

5.9 g

Sodium:

106 mg

Fat:

7.5 g

Saturated Fat:

4.7 g

Carbohydrates:

10.5 g

Fiber:

1 g

Protein:

1 g

Cholesterol:

16 mg
save the recipe to your pinterest board