Ever had an eggnog crème brûlée? A delicious Christmassy twist on the classic dessert, this is one holiday surprise that is guaranteed to bring the house down!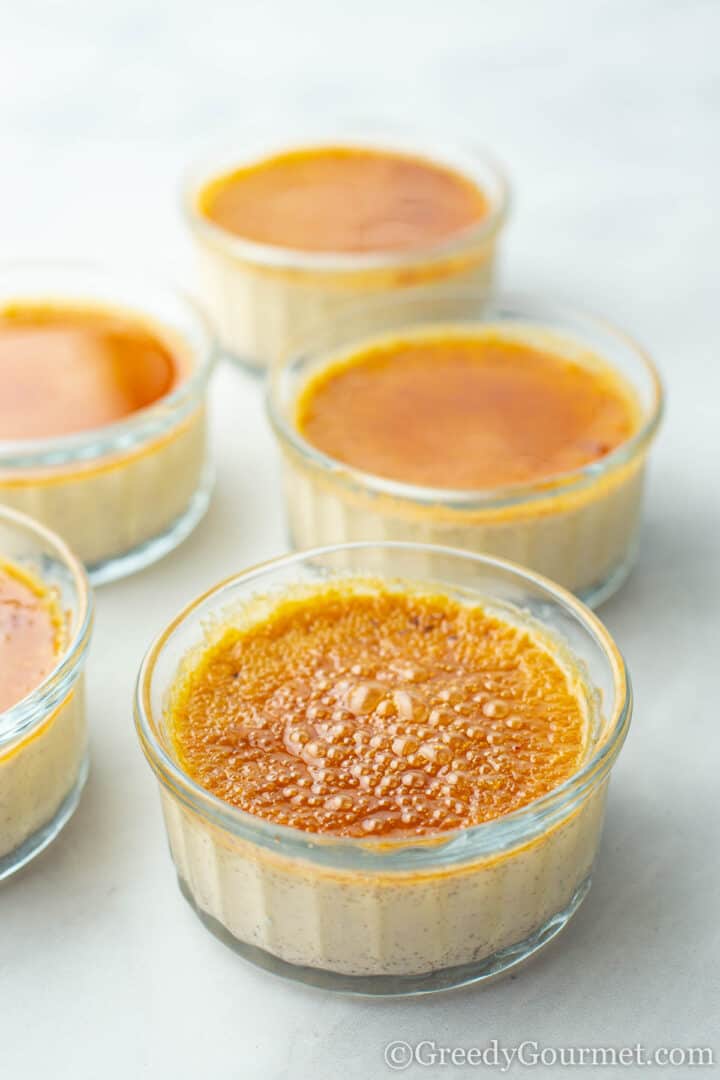 If you love creamy, custardy desserts and want to create a little bit of magic in your kitchen this Christmas, this recipe is the one for you!
Products you need for this recipe
There are a few key items you'll need for this eggnog crème brûlée recipe.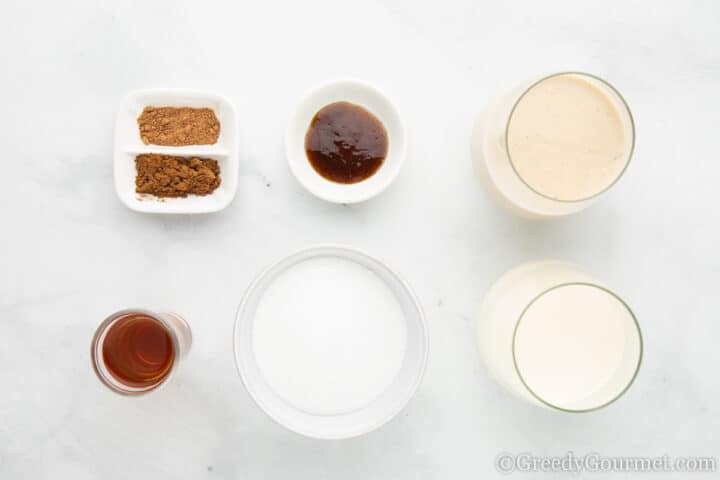 Eggnog crème brûlée recipe
If you're looking for the perfect spectacular way to round off your Christmas feast, this is the perfect recipe. It's so simple and yet utterly ingenious!
If you're like me, you love a good creme brulee. For years, I've thought you can't improve upon this classic creamy dessert.
Then I stumbled upon this Christmas delight.
It's so easy to make and the ingredients are simple. First, you whip up a spiced custard mixture, with egg yolks, eggnog, heavy cream, caster sugar, nutmeg, cinnamon and vanilla paste.
The eggnog custard mixture is then spooned into individual ramekins and baked in a water bath. In a little over half an hour, you'll have perfect eggnog creme brulee desserts, ready for cooling.
After they've cooled comes the final flourish. A dash of rum and a sprinkle of brown sugar on each, then a scorching from your kitchen blowtorch. The result is enough to melt the Grinch's heart.
What is crème brûlée?
Simply put, a creme brulee is a little pot of glory!
It's a dessert of two parts. First, the baked custard base, putting the creme in creme brulee.
Next, the crispy caramel topping, putting the brulee in creme brulee.
What is crème brûlée mostly made of?
The creme part is made up of milk (in this case eggnog), cream, eggs, sugar and vanilla. I've spiced things up with the addition of ground nutmeg and cinnamon.
The top is a combination of brown sugar and rum, which is then caramelized with a burst of a kitchen blow torch.
What is the story behind crème brûlée?
Like any proper classic dish, the history of creme brulee is shrouded in mystery and has stoked fierce debate in recent times. One thing is for sure… the origins of creme brulee go back centuries.
The commonly held belief is that creme brulee was invented in France. I mean, look at the name, right? Indeed, the first mention of creme brulee in France was in a 1691 cookbook  'Cuisinier royal et bourgeois,' by chef François Massialot. 
Hold on. Not so fast. Some 60 years earlier, at Trinity College in Cambridge, a student came up with the idea of burning the college crest on the top of a pot of baked custard. 
So, the British claim to have invented the baked custard dessert seems to have some weight, especially when you add the fact that the French never even burnt the top of their creme brulees until much later. In fact, they would place a caramel disc on top.
So it's British. That's settled. Well… not exactly. Turns out, there's a twist to this culinary tale.
A whopping 300 years before that Cambridge student's experiment, a medieval Catalan cookbook 'Llibre de Sent Soví' was published. In it, a recipe for Crema Catalana called for a baked custard to be burnt on top, for a satisfying caramel crunch.
The Catalan version is slightly different to the French – instead of cream they use milk and in place of vanilla they use lemon zest. 
Still, it seems the Spanish, or more specifically the Catalans can lay claim to the invention of this dish. At least until the next ancient cookery book is unearthed! 
What does crème brûlée literally mean?
The French crème brûlée translates into English as 'burnt cream.' Sounds a lot more appetizing in French, right?
What does eggnog taste like?
Like a creamy Christmas dream! It's something along the lines of a rich, creamy custardy dessert, with hints of Christmas spice. Drinking eggnog is just a warming, joyful experience. Which is what makes it perfect for the holiday season.
What spice is most often used in eggnog?
The typical eggnog spices are nutmeg and cinnamon. You could also use ground cloves.
What can I use instead of ramekins for creme brulee?
I really recommend getting hold of ramekins for this recipe. The whole appeal is to serve it as one dessert, with a crunchy caramel layer that you have to break through with your spoon.
You should be able to get ramekins from most supermarkets or homeware stores. If you can't find them, any kind of ceramic dish would work. Make it as one large dessert, then portion it out once baked.
Why do you cook creme brulee in water?
Cooking creme brulee in a water bath, otherwise known as a bain-marie, makes sure that the air in the oven is moist. It also helps to distribute the heat evenly throughout the egg custard and prevents the custard from cracking or scrambling.
To make a water bath, place the ramekins in a baking dish and fill the baking dish with hot water or boiling water. The water should come up to about halfway up the ramekins.
Does creme brulee have alcohol?
Alcohol is only used on the top of the creme brulee. Either brandy or rum is drizzled on top and is then burned with the kitchen blowtorch, to create the luscious caramelized effect.  
You won't even taste any alcohol. You'll be left with a wonderful caramel taste.
How many egg yolks do you need for creme brulee?
A lot! This eggnog creme brulee recipe calls for 8 egg yolks to be added to the eggnog mixture.
Can I make eggnog crème brûlée in advance?
Yes! If you're making this eggnog creme brulee recipe for a festive dinner party, you can make up the creme brulee pots up to 24 hours in advance.
When you're ready to serve them, add the final flourish with the sugar, the booze and the blowtorch.
Why does my crème brûlée split?
The tricky thing about making a crème brûlée is cooking the cream mixture at the right temperature. You want to get the right balance so that your egg yolks are cooked just enough.
If the egg yolks are undercooked, your creme brulee will be liquidy. If you overcook them, you'll end up with split creme brulees. So, be sure to closely follow the instructions below.
Why does my crème brûlée taste eggy?
It could be because you've overcooked it. The eggnog mixture needs to be slowly mixed with the egg yolks and then heated gently. Don't be tempted to rush this stage. 
I also find that running the mixture through a fine sieve before pouring it into the ramekins helps to remove any egg strands, which can prevent an unpleasant 'eggy' taste.
How do you know when crème brûlée is done?
You want to see a jiggle, bow slightly when you tilt it, but not so that the liquid comes out of the top and doesn't break the top layer.
Do I need a kitchen torch for this recipe?
If you don't have a kitchen torch, use the oven broiler or grill to caramelize the sugar. Place the eggnog creme brulee in their ramekins under the broiler or grill on a high heat for 5 minutes. 
How long should creme brulee set in the fridge?
You should refrigerate your eggnog crème brûlée for at least 3 hours before serving. Allow it to come to room temperature before giving it a sprinkle of sugar, a dash of rum and a blast from the blowtorch.
What sugar should I use in this eggnog creme brulee recipe?
Use fine sugar for the custard mixture and light brown for the caramelization of the top.
What rum should I use?
Something nice enough to drink but not too lavish to put a whole in your bank balance. Also, make sure it's a dark rum.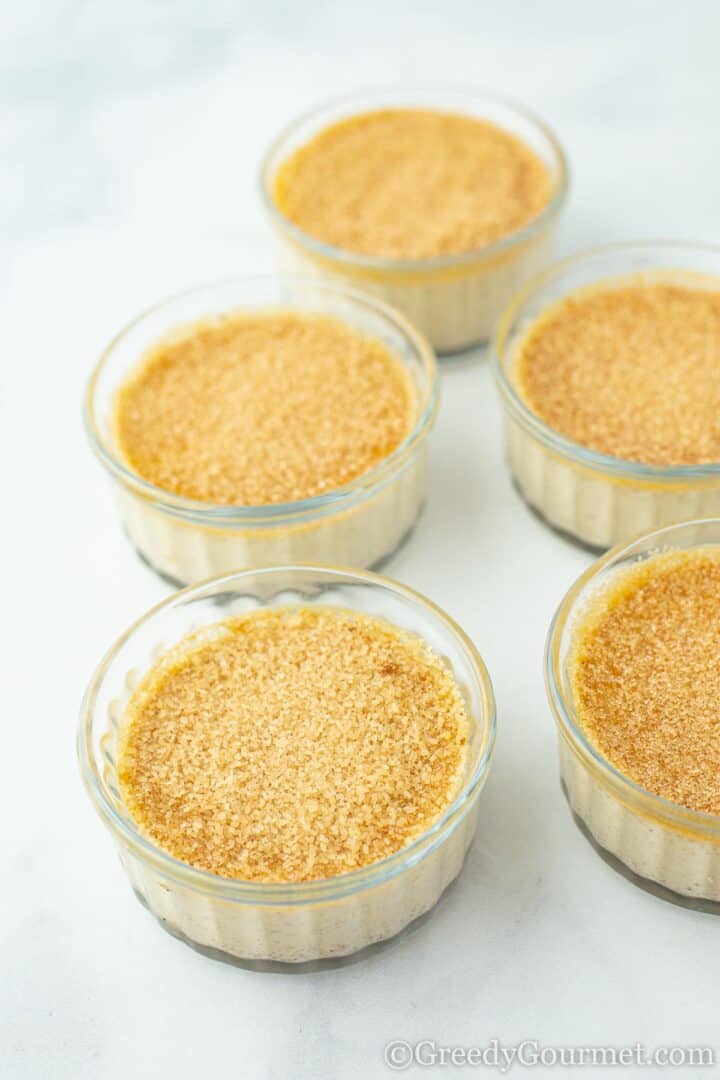 Tips for making creme brulee
Let's recap on a few key points you'll want to get nailed down in order to whip up the perfect eggnog creme brulee:
Add the eggnog mixture to the egg yolks slowly. A ¼ cup at a time should be about right. Adding it slowly means that the egg won't scramble.
Sieve the mixture before adding to the pots. This helps remove any egg strands.
Be sure to fill the baking dish halfway up the side of the ramekins. Not enough water in the baking dish means your eggnog crème brulee will crack.
Use fine sugar for the custard and light brown sugar for the top. Using the right sugar for each means you'll get a better texture.
Chill the baked pots of custard for at least 3 hours before adding the finishing touches.
After you've added the 'brulee' to the eggnog creme brulee, serve immediately.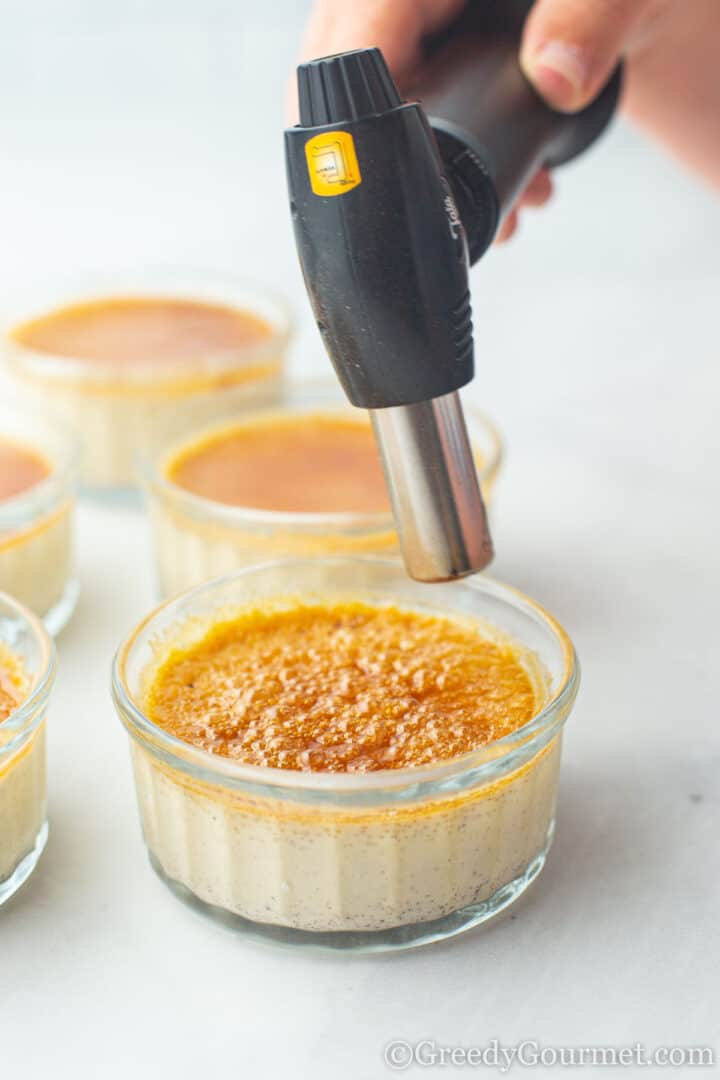 Wine pairing with eggnog crème brûlée
A sweet dessert wine would work really well. Something like a Sauternes or a Muscat. You could also go for a Chardonnay or a demi-sec Champagne or a barrel aged Cava. Anything with toasted notes is perfect.
More incredible eggnog recipes
There's so much you can do with leftover eggnog around the holiday season. Here are some divine eggnog recipes for a little festive inspiration:
Eggnog cheesecake
Eggnog cookies
Vegan eggnog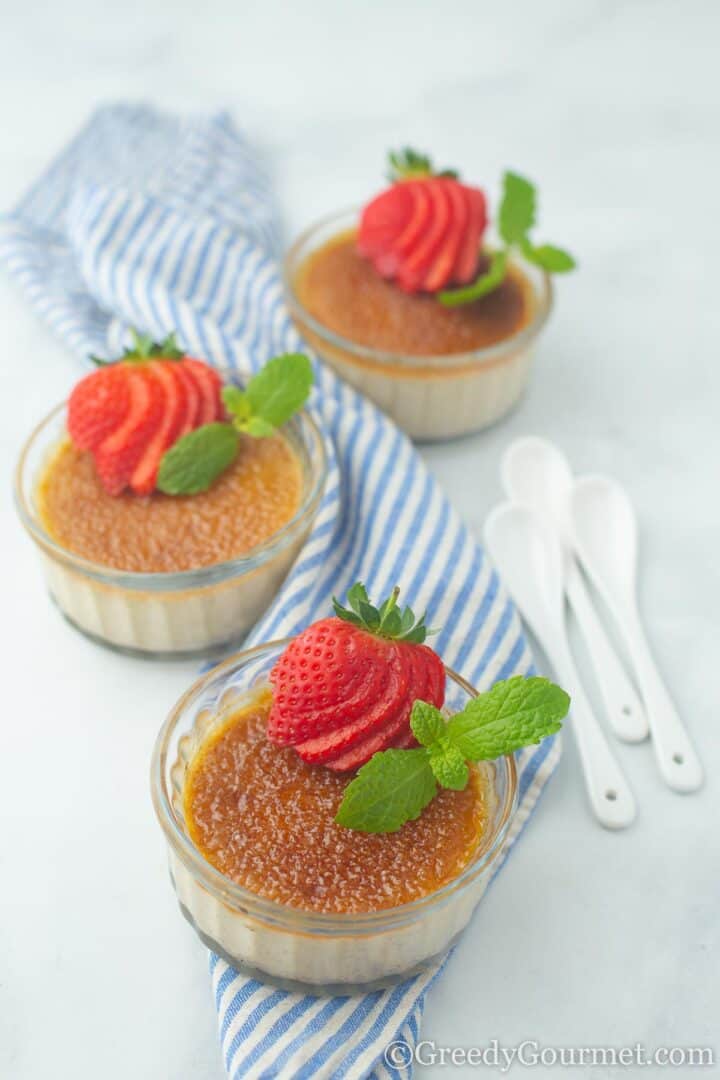 More festive dessert recipes
Has this eggnog creme brulee got you in the mood for some more holiday desserts? Here are some absolute crackers: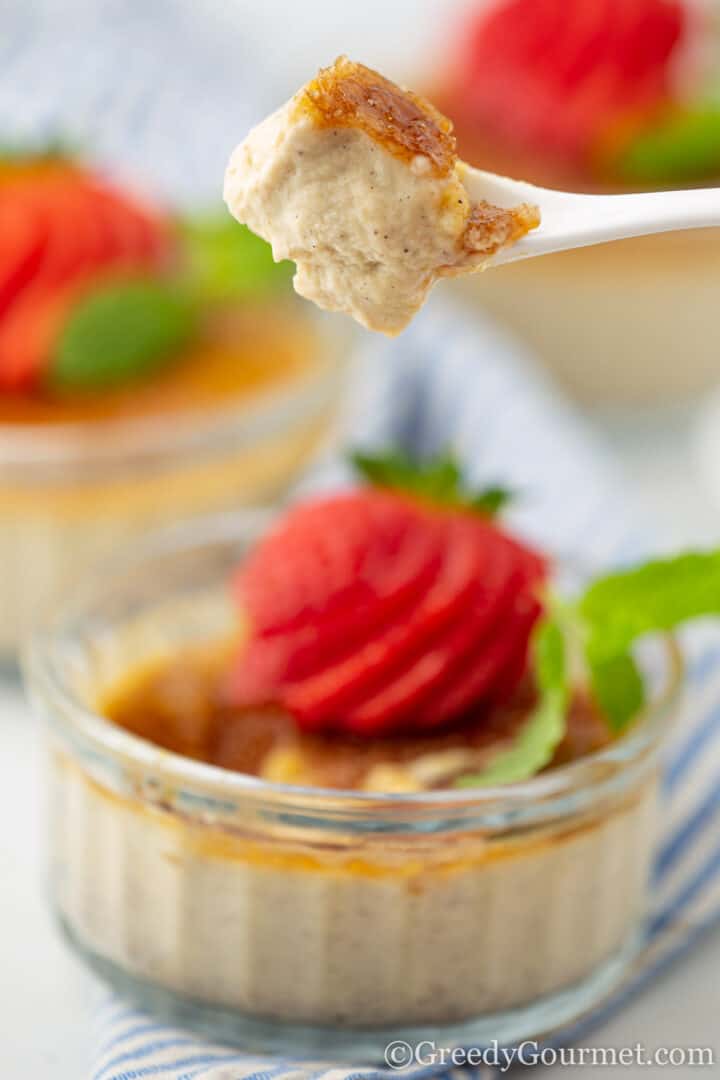 Print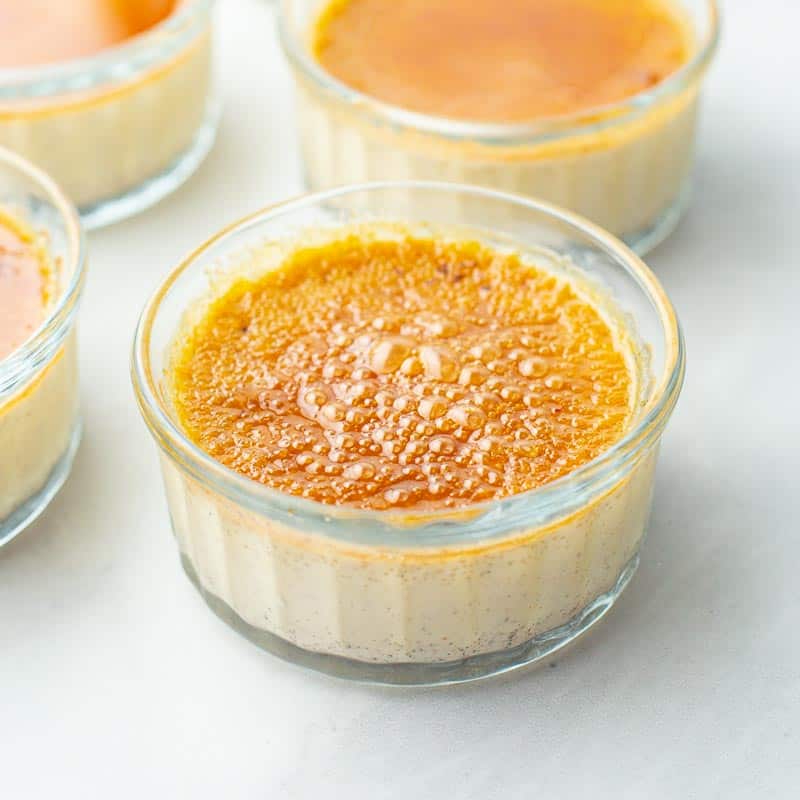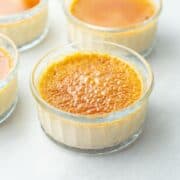 Eggnog crème brûlée recipe
---
Author:

Michelle Minnaar

Total Time:

45 minutes

Yield:

8

servings

1

x

Diet:

Gluten Free
Description
Follow this easy recipe to create a creamy Eggnog Crème Brulee. A fun twist on a classic dessert and perfect for a Christmas dessert.
---
Creme Brulee
500

ml (2 cups) eggnog

440

ml (1¾ cups) heavy (double) cream

5g

(

1 tsp

) vanilla paste

1g

(

½ tsp

) nutmeg

1g

(

½ tsp

) cinnamon

8

egg yolks

70g

(

⅓ cup

) caster sugar
Sugar Crust
110g

(

8 tbsp

) light brown sugar

120

ml (8 tbsp) rum
---
Instructions
Preheat the oven to 175°C / Fan 160°C / 350°F / Gas mark 3.
Pour the eggnog and heavy (double) cream into a pan over medium-low heat. Cook and stir occasionally until the mixture simmers, about 5-10 minutes.
Meanwhile, place the egg yolks and sugar into a mixing bowl. Whisk until a pale yellow colour and ribbons start to form.
Remove the eggnog mixture from the heat and slowly combine with the egg yolk and sugar mix. I suggest ¼ cup at a time, as if you go any faster this may cause the eggs to scramble.
Pour the mixture through a fine sieve to remove any egg strands. Stir in the nutmeg, cinnamon, and vanilla. Pour into 8 ramekins, dividing evenly.
Boil the kettle
Place the ramekins into a baking/casserole tin and carefully put into the oven. Once in the oven, get the boiled water and pour it into the tin and fill up to the halfway mark of the ramekins.
Bake the oven until the custard has set, 30 to 45 minutes. Centers should wiggle slightly when shaken, but not be soupy.
Remove from the oven and cool for 30 minutes; refrigerate at least 3 hours before serving.
Sprinkle over a tablespoon of the brown sugar and same of rum and then get your kitchen blowtorch and move it over the creme brulee for 2-5 minutes until a nice gooey bubbly consistency is formed and then set aside to cool. This should give you a nice break to the sugar when you sit down to enjoy them.
Prep Time:

15 minutes

Cook Time:

30 minutes

Category:

Dessert

Method:

Bake

Cuisine:

American
Keywords: eggnog creme brulee, eggnog, creme brulee, creme brulee with eggnog, eggnog recipe, creme brulee recipe, eggnog rum, recipe for eggnog