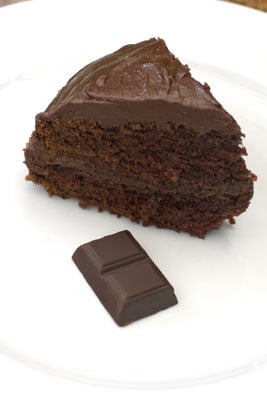 Back in late March Neil's 50th birthday (oops, I said it) was coming up and I asked him what he would like as a special meal. Chocolate cake was one of the requests. (Neil is a self-confessed chocoholic and his excuse is he's in touch with his feminine side.) He regressed by telling me on each of his birthdays his mother used to bake him a chocolate cake with melted chocolate on top as icing. Forever trying to please him, I promised I will make him one.
Retreating to my office, panicking, almost hyperventilating I sat down. There was a big problem. I have never baked a cake in my life. What if it is a total flop? It will be a total disaster.
Staring into nothingness something pink and purple caught my eye. The April 2007 issue of BBC Good Food glared back at me. On the cover was this huge, delicious-looking chocolate cake, dotted with purple pansies. Right there I decided I will make it for Neil, without the flowers of course, unless there was something he wasn't telling me.
A few days later Gabriel came and we were stuck in hospital from the 3rd to the 11th of April. Neil waited on me hand and foot, prepared meals for me (I just don't do hospital food) and visited us twice a day. It just got ridiculous when he overslept on his birthday and left a message on my cell phone pleading for forgiveness telling me he will come as soon as he can. Cell phones aren't allowed in hospital (not that it stopped me) and I was at the neonatal ICU where Gabriel was kept under surveillance because of a lung infection.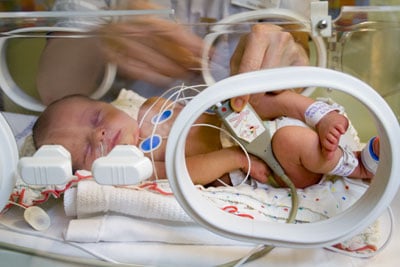 So Neil's birthday conditions were less than ideal. When we got home it was total chaos. Who knew a 3kg diaper-filling bundle of joy could cause such mayhem? In a blink a month had passed and Neil's father and stepmother came to visit. Neil mentioned some time ago that Barbara used to be quite a cake baker in her day. Shyly (and slyly) I approached her and asked if she would mind giving me a hand with Neil's almost forgotten cake. She was more than happy to help, which suited me just fine, because if the cake was a huge cock-up, I wouldn't be the only one to blame.
We religiously followed the recipe step-by-step. Out came the sponges and they looked perfect. After rigorous stirring (don't have a KitchenAid YET) the icing was ready. After some clumsy smearing, the cake was done and didn't look so bad!
After dinner the four of us each had a slice. Now I'm no cake-person (since I'm wheat intolerant and tend to steer clear of floury things) but even I was hooked. Neil enjoyed it, but in the end it was me who ate most of it. Yeah, I know. I'm such a pig.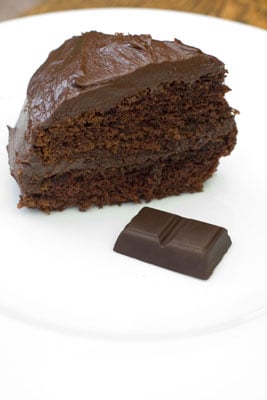 Print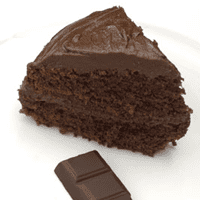 Nigella's Old-Fashioned Chocolate Cake
---
Author:

Michelle Minnaar

Prep Time:

40 minutes

Cook Time:

40 minutes

Total Time:

1 hours 20 minutes

Yield:

8

1

x
Scale
Ingredients
for the cake
200

g (8 oz) plain flour

200

g (8 tbsp) caster sugar

5

ml (1 tsp) baking powder

2.5

ml (½ tsp) bicarbonate of soda

40

g (1½ oz) best-quality cocoa

175

g (6 oz) soft unsalted butter

2

large eggs

10

ml (2 tsp) real vanilla extract

150

ml (¼ pint) sour cream
for the icing
85

ml (3 oz) unsalted butter

175

g (6 oz) best-quality dark chocolate, broken into pieces

300

g (10 oz) icing sugar

15

ml (1 tbsp) golden syrup

125

ml (4fl oz) sour cream

5

ml (1 tsp) vanilla extract
sugar flowers (optional)
---
Instructions
Take everything out of the fridge so all the ingredients can come to room temperature. Heat oven to 180°C/fan 160°C/gas 4 and line and butter two 20cm sandwich tins with removable bases. Now all you have to do is put all the cake ingredients (flour, sugar, baking powder and bicarb, cocoa, butter, eggs, vanilla and sour cream) into a food processor and process until you have a smooth thick batter. If you want to go the long way round, just mix the flour, sugar and leavening agents in a large bowl and beat in the soft butter until you have a combined and creamy mixture. Now whisk together the cocoa, sour cream, vanilla and eggs and beat this into your bowl of mixture.
Divide this batter, using a rubber spatula to help you scrape and spread, into the prepared tins and bake until a cake tester, or a thin skewer, comes out clean, which should be about 35 minutes, but it is wise to start checking at 25. Also it might make sense to switch the two cakes around in the oven halfway through cooking time. Remove the cakes, in their tins, to a wire rack and let cool for 10 minutes before turning out of their tins. Don't worry about any cracks as they will easily be covered by the icing later.
To make this icing, melt the butter and chocolate in a good-sized bowl either in the microwave or suspended over a pan of simmering water. Go slowly either way: you don't want any burning or seizing. While the chocolate and butter are cooling a little, sieve the icing sugar into another bowl. Or, easier still, put the icing sugar into the food processor and blitz. This is by far and away the least tedious way of removing lumps. Add the golden syrup to the cooled chocolate mixture, followed by the sour cream and vanilla, and then, when all this is combined, whisk in the sieved icing sugar, with the motor running.
When you've done, you may need to add a little boiling water, say a teaspoon or so, or indeed some more icing sugar. It depends on whether you need the icing to be runnier or thicker; or indeed it may be right as it is. It should be liquid enough to coat easily, but thick enough not to drip off.
Choose your cake stand or plate and cut out four strips of baking parchment to form a square outline on it (this stops the icing running onto the plate). Then sit one of the cakes, uppermost (i.e. slightly domed) side down. Spoon about a third of the icing onto the centre of the cake half and spread with a knife or spatula until you cover the top of it evenly. Sit the other cake on top, normal way up, pressing gently to sandwich the two together. Spoon another third of the icing onto the top of the cake and spread it in a swirly, textured way (though you can go for a smooth finish if you prefer, and have the patience). Spread the sides of the cake with the remaining icing and leave a few minutes till set, then carefully pull away the paper strips.
---
Nutrition
Serving Size:

1 serving

Calories:

483

Sugar:

2.56 g

Sodium:

85 mg

Fat:

19.6 g

Saturated Fat:

12.16 g

Carbohydrates:

66.24 g

Fiber:

2.56 g

Protein:

49.52 g

Cholesterol:

67 mg