Slow cooker Nutella fudge - did your heart just skip a beat as you read these four words? Don't worry – mine did too when the idea came to mind.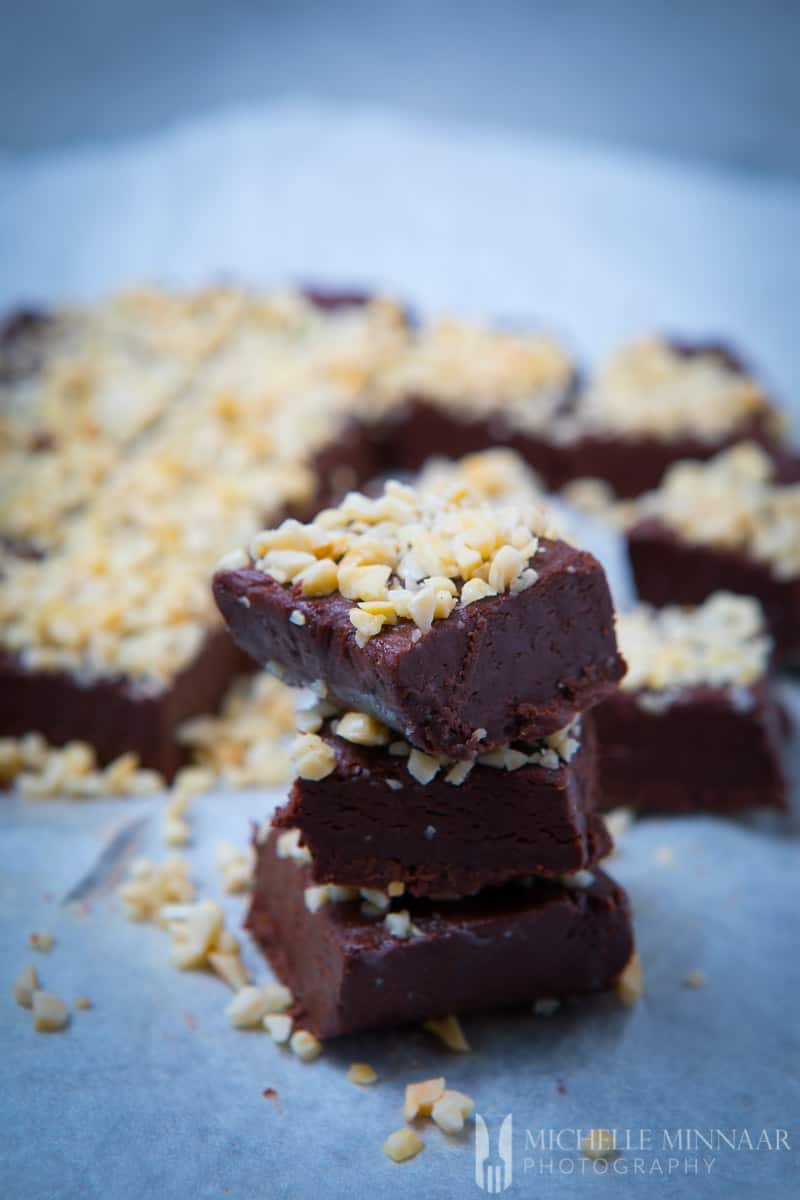 I have one word to describe this recipe - incredible! This Nutella fudge is made differently, by using a slow cooker.
Never thought of that combination, have you? Images of savoury recipes pop up I think of a slow cooker, so this was a fun experiment.
The end result was spectacular and I definitely urge you to give this recipe a go. Who knows, it might even become your favourite dessert recipe.
Enjoy and good luck exercising self-control with that jar of Nutella.
nutella fudge with crock pot
Do you want to know how I initially got inspired to make Nutella fudge in a slow cooker? I saw a campaign on Twitter and Instagram – #CrockPotDesserts.
It got me thinking and I came to the realization that most people underestimate the power of a good slow cooker. Especially, if you want to make dessert.
In either case, I've had the opportunity to make my Nutella Fudge with Crock-Pot 4.7L Digital Countdown Slow Cooker. The latter has a 5.7 liter capacity, which can feed up to 6 people and lets you plan ahead with a 20 hour digital timer.
Simply put – a handy pot to have in the kitchen if you've got a family or like batch cooking.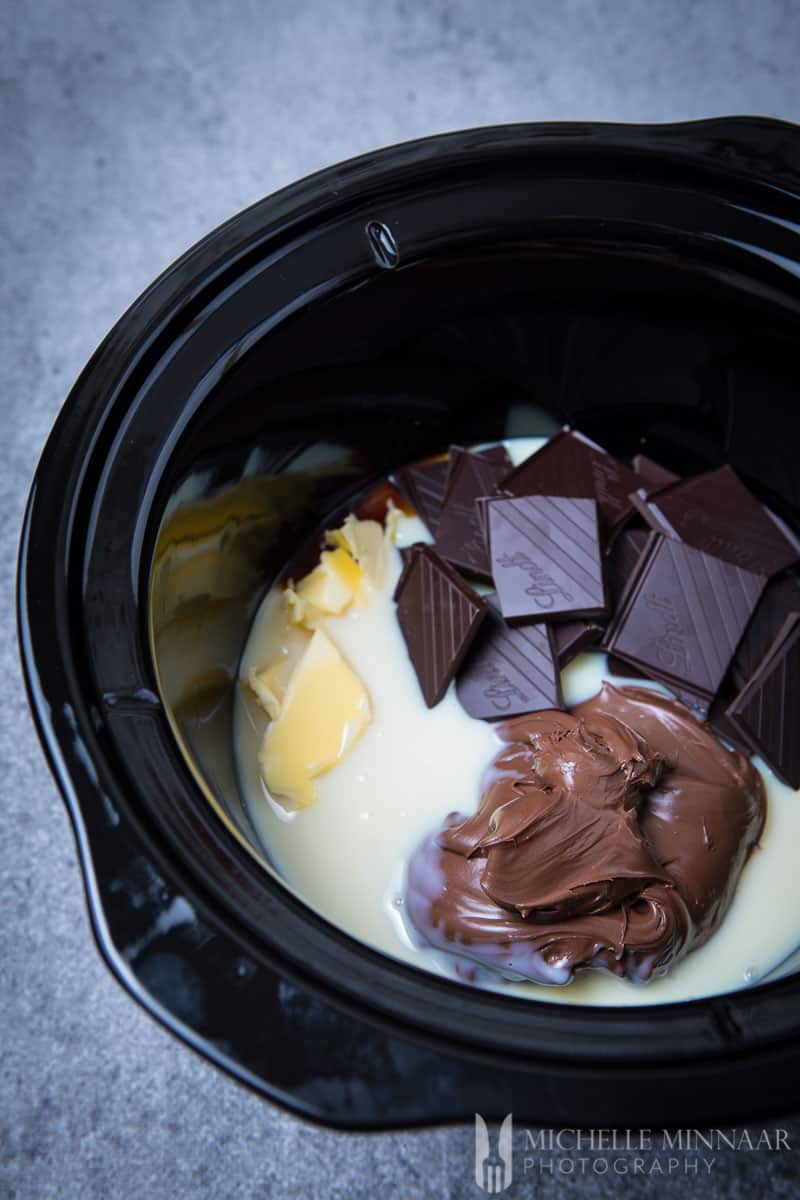 Many recipes are fantastic in the slow cooker, such as my caponata alla siciliana. This Italian stew tastes amazing when you let the sauce simmer slowly.
You can do this in a normal casserole in the oven or a slow cooker. Anyway, you can use the Crock-Pot for many other recipes. These include casseroles, curries, chilli, soups, pot roasts and desserts. Why don't you try out these slow cooker pork chops.
What I loved most about the Crock-Pot was that it automatically kept my fudge warm. What's more, it's dishwasher-friendly. That said, the pot was close to squeaky clean after my kids had a go at it with the spatula.
melted chocolate
I highly recommend using a dark variety of chocolate. Actually, the darker the better. Anything above 58% is okay, but I do prefer using 70%, and 85% if you dare - anything for the bitter kick on the tastebuds.
Keep in mind, that you still have sugar going into the Nutella fudge as well as the Nutella itself. You don't want to over-sweeten the Nutella fudge.
If you have excess chocolate, you can also try making the peanut butter, pecan and caramel brownies. Chocolate and pistachio brownies, always go down well, but instead of using pistachios add hazelnuts.
nutella
I am not even going to go in detail how much I love this sinful ingredient. Shamefully, I can eat the whole jar. Let's just leave it at that.
Let's talk about using substitutes if you can't find or don't want to use Nutella. I am sure that you local supermarket has its own brand of hazelnut butter.
If you can get hold of a premium jar of hazel butter, then don't hesitate to add it in and pass it on as Nutella fudge. It will probably taste less sweet and but will carry a more nutty flavour.
If you don't feel like using hazelnut butter, why not change the direction completely and use peanut butter. This specific flavour of peanut butter is not for everyone. So, I suggest trying it separately before you decide to cook with it.
the cooking process
Don't let the mixture overheat because it will start separating. Alternatively, you can use the low, instead of the high setting on the slow cooker. It will take longer to melt but less risk is associated with this method.
If you don't have a slow cooker you can simply use a large pan and melt all the contents on the stove.
hazelnuts
Since Nutella is basically a hazelnut spread, it is very fitting that the fudge is topped with toasted, shelled, chopped hazelnuts.
Adding a bit of fresh hazelnuts will just enhance the flavour of the dessert, giving it that crunch together with the soft fudge inside. I like to add as much chopped hazelnuts as possible, covering the whole surface.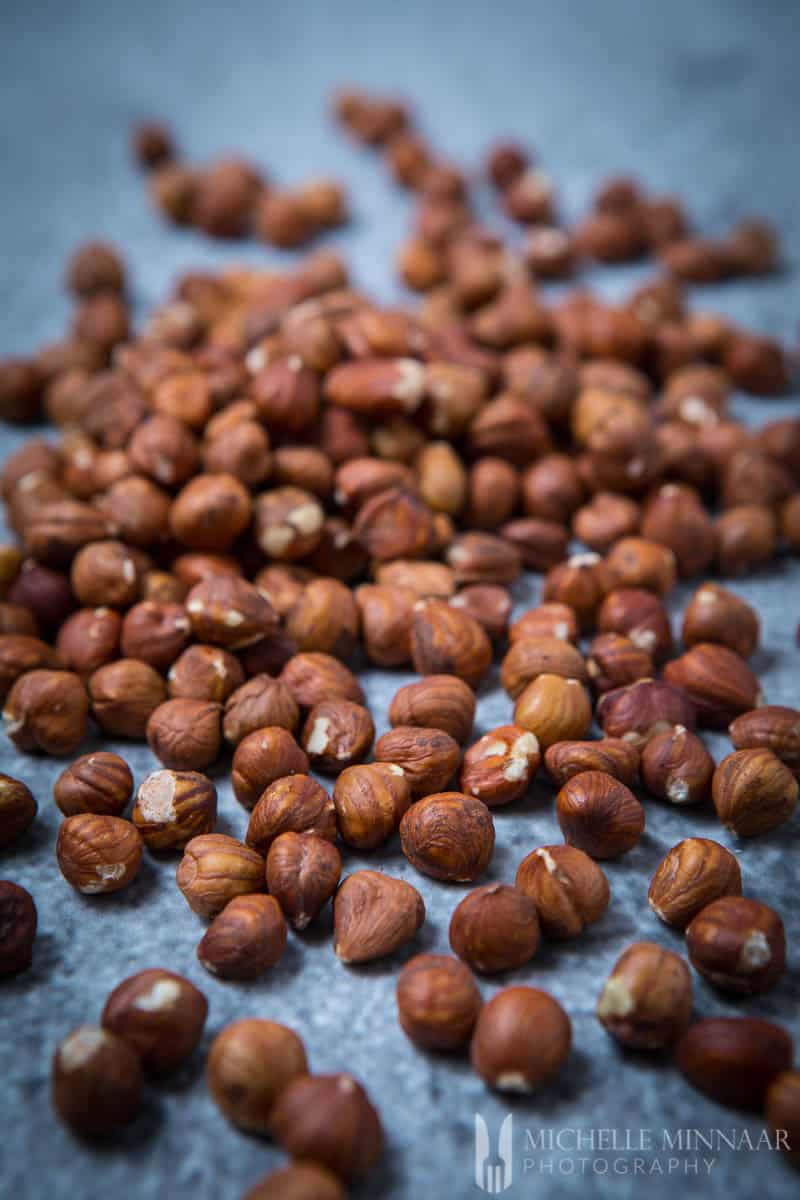 Remember to chop your nuts in equal measures for the fudge to be visually pleasing. If you can't be bothered, you can use whole hazelnuts.
The latter will remain quite firm though with a big crunch and will work better inside the actual fudge. This way, the hazelnuts will absorb the moisture from within.
trick to chopping nuts
Now, the best thing would be to buy a bag of pre-chopped hazelnuts. This makes life much easier in the kitchen. Still, sometimes you have to do things on your own for the freshest and best result.
So, in order to chop the nuts up fast and with minimal effort, take out a large knife. Chop the nuts using the same knife technique as you would use when cutting chocolate or dicing garlic really finely.
Meaning, place two hands on the knife and using your body to push down.
Or, you can try a technique which is my personal favourite. This involves you putting the nuts on an even surface. Cover them up with a sheet of baking paper.
Next, take out a kitchen hammer – the type you use for meats...and BANG! Unfortunately, this step is really noisy, but the satisfaction of completing this process is worth it! Or use a mini-food processor.
hazelnut substitutes
In my opinion, the best alternative to the hazelnut in this case is the macadamia nut. It is a mild type of nut, which is also full of nutritional value.
Macadamia is indigenous to Australia, but you can also find the trees in other places of the world, like Hawaii. Apparently, Hawaii is known for its fresh macadamia nuts that grow on trees alongside national park roads. J
ust a fun fact. Those who've ever visited this amazing place can confirm this fact.
By the way, did you notice the macadamia nut bears the same shape as a hazelnut? Just a fair warning, it can get rather expensive.
Therefore, if you are looking for a cheaper alternative – opt for the traditional walnuts. They never disappoint.
You can also use chopped almonds for the Nutella fudge. These should also be quite easy to source. Just remember to get the unsalted ones without the brown skins. All-in-all, enjoy this divine recipe!
What dessert would you make in a Crock-Pot?
Print
Slow Cooker Nutella Fudge
---
1

(397g) can condensed milk

5

ml

(1 tsp) vanilla essence

250

ml

(1 cup) Nutella

200

g

(7oz) 70% dark chocolate

100

g

(3oz) icing sugar

120

g

(4oz) chopped toasted hazelnuts [optional]
---
Instructions
Place all the ingredients, except the sugar, in the slow cooker's stoneware.
Select the high temperature setting, set the timer to 30 minutes and let the ingredients start melting.
Don't but the lid on and stir the contents every 10 minutes.
After 30 minutes the alarm will go off. If everything hasn't dissolved yet, keep stirring for a few more minutes until it has.
Transfer the content to a large mixing bowl and stir in the sieved icing sugar.
Scrape the warm fudge into a lined 20x25cm (8x10in) tin and flatten until a smooth, even surface forms.
[Optional] Sprinkle the fudge with the nuts and press the nuts gently in order for them to stick.
Chill in the fridge for at least 4 hours then cut into squares. Store in the fridge.
Notes
Don't let the mixture overheat because it will start separating. Alternatively, you can use the low, instead of the high, setting on the slow cooker. It will take longer to melt but less risk is associated with this method.
If you don't have a slow cooker you can simply use a large pan and melt all the contents on the stove.
Condensed milk should be used, not evaporated milk.
Prep Time:

10 minutes

Cook Time:

30 minutes

Category:

Dessert

Method:

Slow cook

Cuisine:

American
Nutrition
Serving Size:

1 serving

Calories:

191

Sugar:

22.4 g

Sodium:

25 mg

Fat:

9.3 g

Saturated Fat:

4.1 g

Carbohydrates:

24.7 g

Fiber:

1.4 g

Protein:

3.2 g

Cholesterol:

5 mg
Keywords: nutella fudge, slow cooker Nutella fudge, slow cooker fudge recipe, slow cooker dessert recipe, Nutella recipe
save the recipe to your pinterest board
P.S. This is a sponsored post.