Who doesn't love toblerone and cheesecake? Why not combine the two and make the ultimate dessert, toblerone cheesecake. This rich, chocolatey and crunchy cheesecake is just what you need for the holidays. Forget the classical cheesecake recipes. Make this unexpected toblerone cheesecake and win the hearts of your family members. After making this toblerone cheesecake, you will become known in the family as the ultimate cheesecake master. Trust me on that! By the way, if you love toblerone chocolate as much as I do, then you really need to save this cheesecake recipe! Keep reading to find out more to learn how to make the perfect toblerone cheesecake.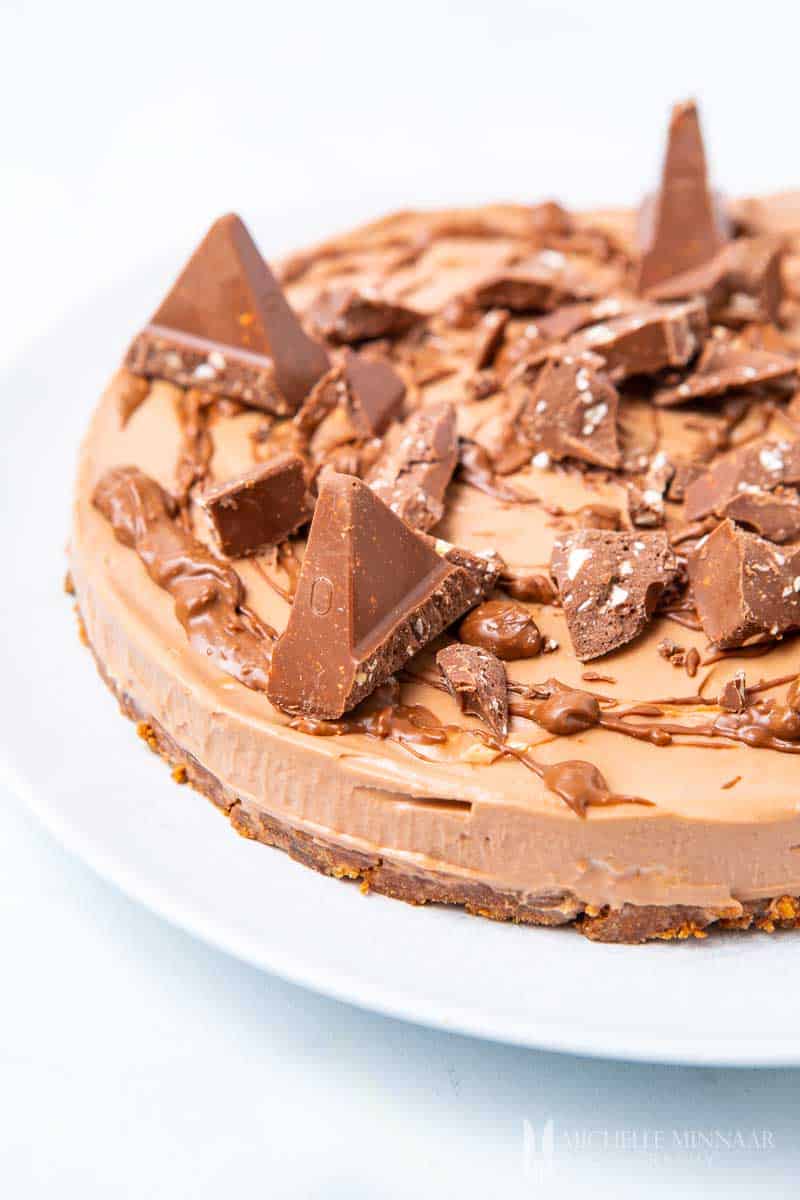 creamy toblerone cheesecake recipe – no-bake
I've always had positive memories and feelings every time I think of toblerone. This toblerone cheesecake is no exception to that. Toblerone was one of my ultimate fancy candies of choice when I was a child. You know, the kind that your parents only gave you when they came back from their travels. This was mainly due to the fact that back then, toblerone chocolate was known as 'the chocolate to get at the airport'. Especially at duty free. At least unofficially. Did anyone experience the same?
Anyways, using this incredible chocolate bar, I was able to experiment and make this luscious no-bake toblerone cheesecake. You only need a handful of ingredients really. First, you'll need cream cheese, butter, double cream and toblerone chocolate of course! The preparation time is well under 40 minutes, before you need to stick it into the fridge to cool and harden. The hardest part about completing this recipe is not to eat the chocolate!
Find the urge within to resist and stay strong! If in doubt, purchase an extra pack of the chocolate so that you won't jeopardise the portion size of your toblerone cheesecake. Altogether, this toblerone cheesecake recipe serves up to 12 people. So, it's perfect if you are hosting an event or are expecting company!
toblerone cheesecake recipe – Nigella Lawson
As always, I aspire to make the best possible version of each recipe. So naturally, I've done a bit of research to see what versions of toblerone cheesecake are out there and how they differ to mine.
For example, I came across Nigella Lawson's chocolate cheesecake. Her version requires baking, hence a handful of extra ingredients like egg. She doesn't explicitly go for toblerone, but I bet you anything that she would crumble a few bits of it on top.
Naturally, what I love about Nigella's cooking, is that she always has a great finishing touch. She added a lovely dark chocolate glaze to her cheesecake. So this inspired me to do likewise, however without the dark chocolate. I reused the toblerone chocolate for the glaze. It is in essence a toblerone cheesecake after all, is it not?
You can find Nigella's version of chocolate cheesecake here.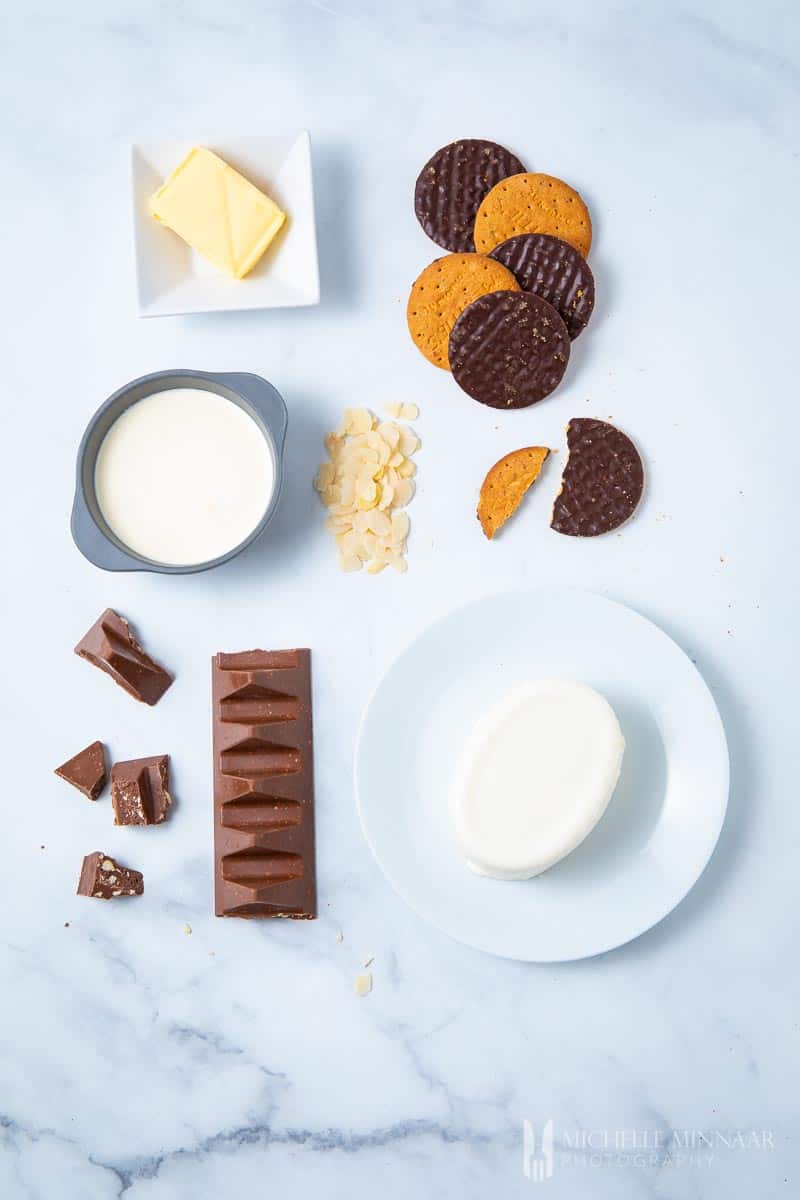 tips for making cheesecake
The most important trick there is to making cheesecake recipes is to have all the ingredients at room temperature. It is for this reason that I strongly suggest you take out the cream cheese and double cream and let it rest at room temperature before you intend making the cheesecake. At least for 1 hour!
Another great piece of advice I can share about the art of making cheesecakes is to really allow your cheesecake to firm in the fridge. This is so important as it will be the key determinant of the texture of your toblerone cheesecake.
Here is a list of some of my most successful cheesecake recipes you might like:
low fat, no-bake chocolate cheesecake
First of all, you can always opt for a light cream cheese alternative. You don't necessarily have to go for the full-fat version. Besides, there are plenty of low-fat products nowadays available at the supermarket.
Second, for a more healthy alternative (bear with me), you should substitute with avocado! Yes, you'll need at least a handful of avocados. Use them instead of the cream cheese and the double cream. You can also experiment with coconut cream. These should anyways firm up quite nicely as well.

toblerone substitutes
It's quite difficult to source toblerone substitutes, because this chocolate is truly one of a kind. Although, I did come across a fun article which actually gave a reference to toblerone's competing substitute. You can access it here; it made some quite interesting comments.
Otherwise you can substitute with any type of milk chocolate. Better yet, search for chocolate that has nuts or toffee in it. Remember, you should be looking to replicate the crunchy honey notes of the toblerone bar. It's not an easy task, I know.
mini toblerone cheesecake balls
If you feel that you want to recreate an unconventional toblerone cheesecake, then try making these cheesecake balls. These are cheesecake spheres glazed in an exterior layer of chocolate. They are completely bite-sized.
Now, this does require an extra bit of effort for you to shape the cheesecake balls into perfectly even edible spheres. Plus, let's not forget you'll have to glaze them with an extra layer of chocolate. However, these little things might become your new favourite dessert.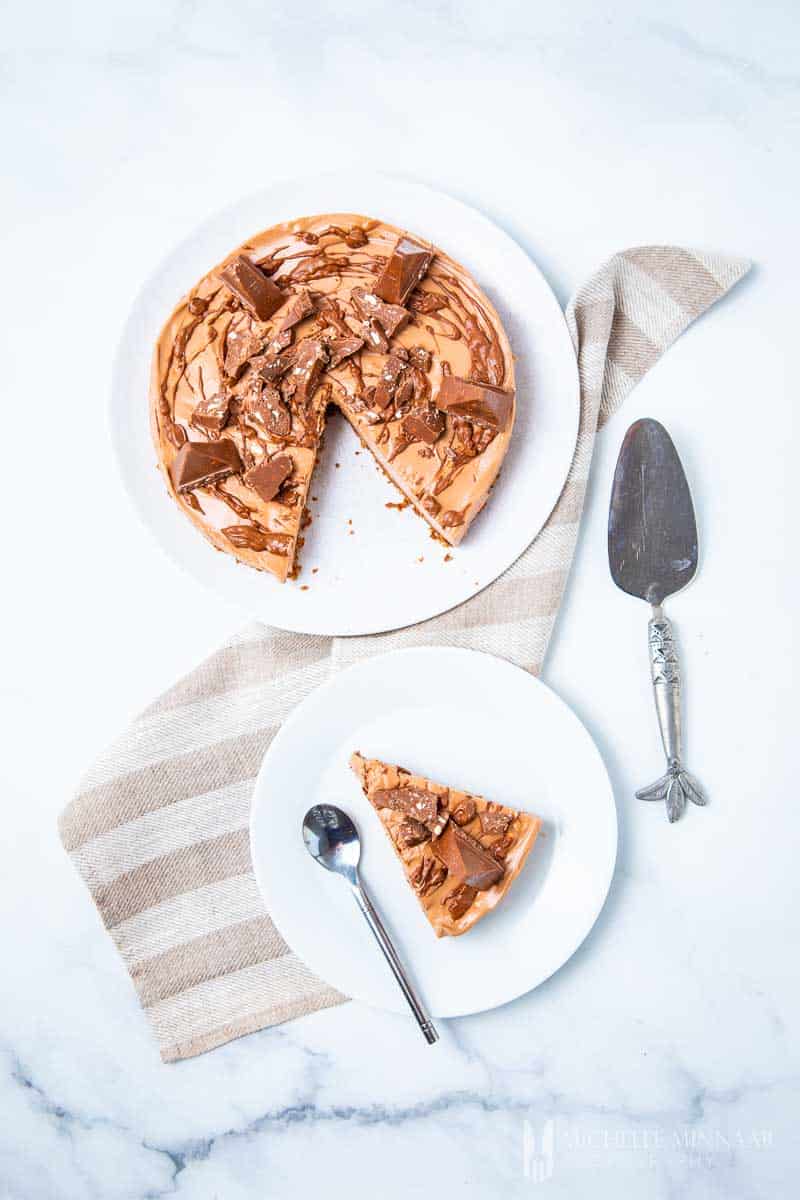 toppings
As mentioned before, one of my toppings for this toblerone cheesecake is to include a lovely toblerone glaze. You can basically reuse leftover chocolate bars. You can also consider:
Next, you are probably wondering about the leftover chocolate for the topping. Well, I like to include the large triangular chunks. They add a certain shape to the cheesecake. However, you can also opt for breaking the chocolate bar into smaller pieces. This way you can drizzle the chocolate bits evenly on top of the cheesecake.
What is your favourite type of cheesecake?
Print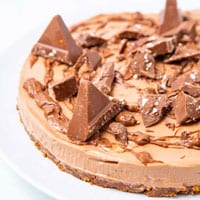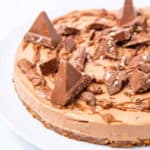 Toblerone Cheesecake
---
Description
Try this easy no bake toblerone cheesecake recipe. It's one of a kind. If you love toblerone chocolate, then this cheesecake is definitely for you to try!
---
175

g

(9oz) dark chocolate digestive biscuits

75

g

(2 1/2oz) butter, melted

280

g

(10oz) cream cheese

200

g

(7oz) Toblerone chocolate, melted

200

ml

(7fl oz) double cream
extra Toblerone chocolate, for decorating
---
Instructions
Crush the biscuits in a sealable plastic bag with a rolling pin, until everything turns into crumbs.
Mix the butter with the crumbs.
Spoon the mixture into the base of a 23cm (9in) springform cake tin and level with the back of a spoon.
Combine the cheese and slightly cooled, melted chocolate in a bowl and beat until well combines.
Pour the cream in another bowl and whisk until peaks form.
Gently fold the cream into the chocolate cheese mixture.
Spoon the cheesecake filling on top of the biscuit base and spread evenly.
Place in the fridge for at least 2 hours, but preferably overnight, to set.
Once set, release the side of the cake tin and place on a serving plate.
Decorate with extra Toblerone chocolate to your heart's content. Enjoy!
Prep Time:

30 minutes

Cook Time:

10 minutes

Category:

Dessert

Method:

No Cook

Cuisine:

English
Nutrition
Serving Size:

1

Calories:

350

Sugar:

13.9g

Sodium:

184mg

Fat:

28.5g

Saturated Fat:

16.9g

Carbohydrates:

21.7g

Fiber:

0.9g

Protein:

4.3g

Cholesterol:

66mg
Keywords: toblerone cheesecake, cheesecake recipes, nigella lawson cheesecake recipe, vegetarian desserts
save the recipe to your pinterest board