Rich, moist and terrifyingly tasty, this Halloween toffee apple cake is a great way to make this year's Halloween a memorable one.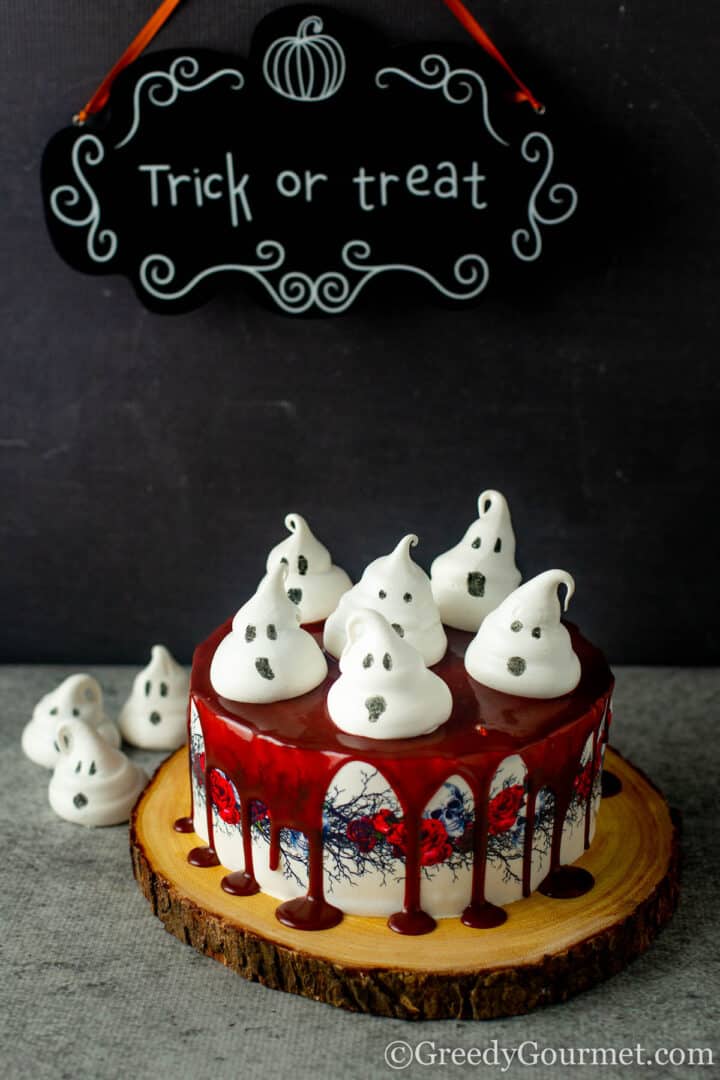 This is no ordinary toffee apple sponge! I've got a few tricks to make your sponge irresistibly light, while my extra special buttercream will absolutely melt in your mouth. Autumn desserts don't get much better than this!
Products you need for this recipe
There are a few key items you'll need for this recipe: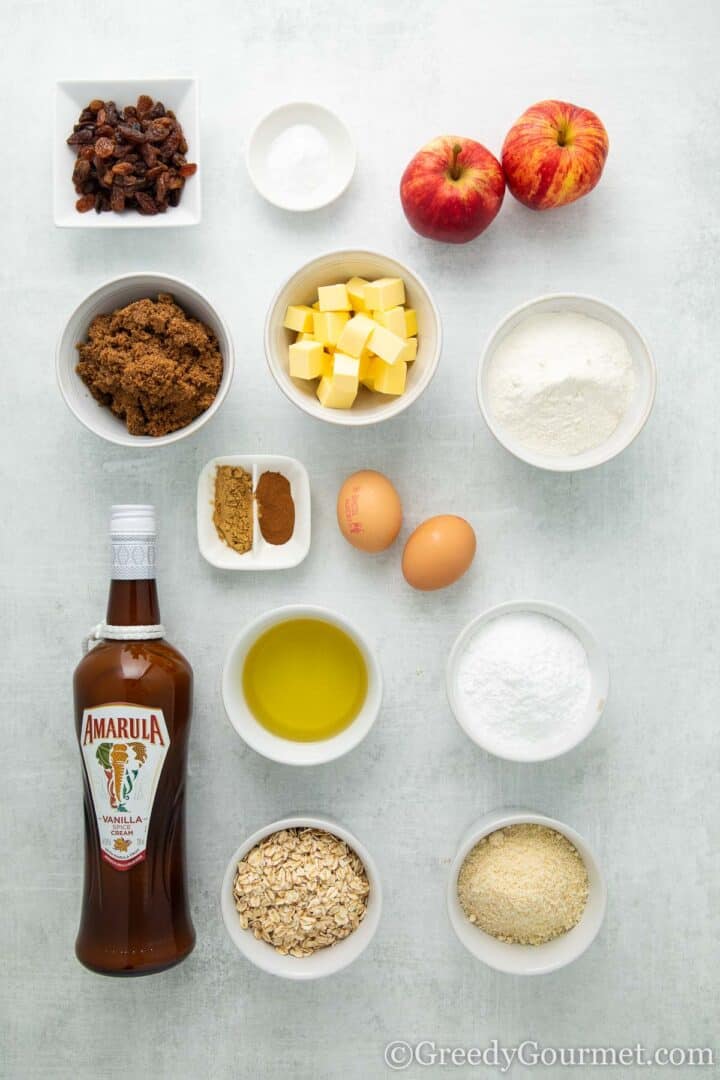 Halloween toffee apple cake recipe
Whether devouring it as a decadent dessert at your Halloween bash, or sampling a slice with a cup of coffee for the perfect Autumn brunch, this toffee apple cake recipe is pure heaven.
It's definitely one to please the whole family, especially the kids! Fruity, sweet and moist, with a little hint of spice, it's the perfect cake for this time of year.
My toffee apple cake is like everything that makes toffee apples and sticky toffee pudding great, all rolled into one gorgeous cake, with only thirty minutes baking time.
Let's take a look at the elements of this toffee apple cake: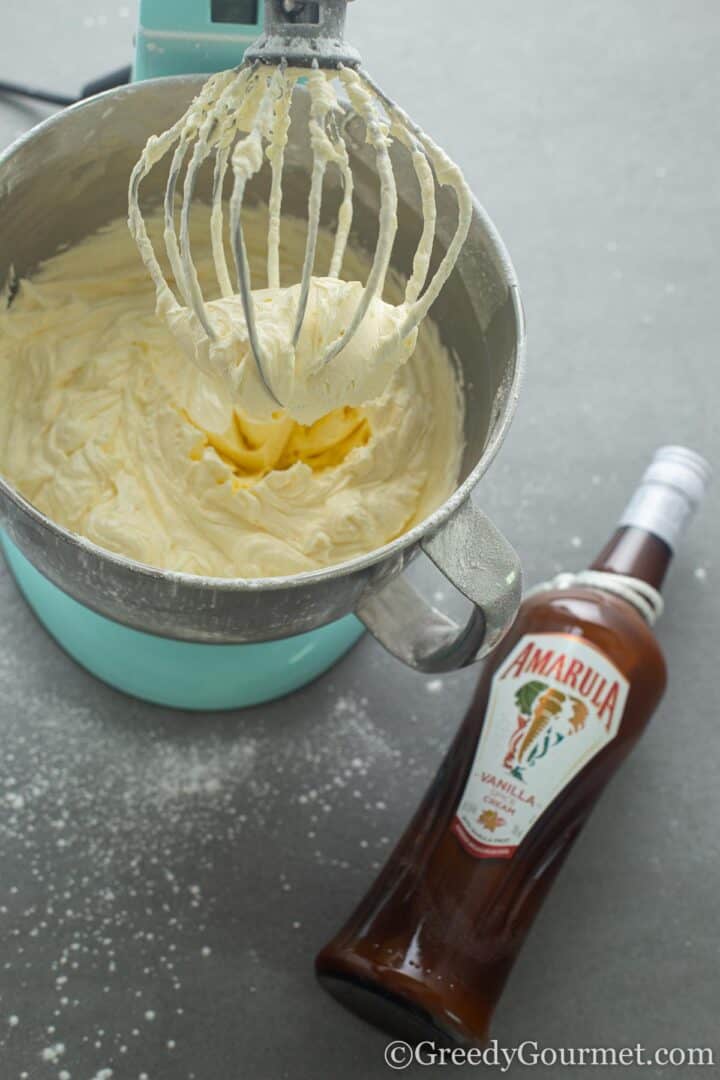 Toffee apple sponge
The actual sponge cake is simple to bake and is mostly made up of standard baking ingredients – you've most likely got them in your cupboard.
Regular eating apples are the star of the show. You'll also need vegetable oil, brown sugar, self raising flour, oats, ground almonds, sultanas, lemon zest, ginger and cinnamon.
To help the toffee apple cake rise, I've gone for bicarbonate of soda over baking powder. It's more effective than baking powder and the lemon zest helps to neutralise the taste.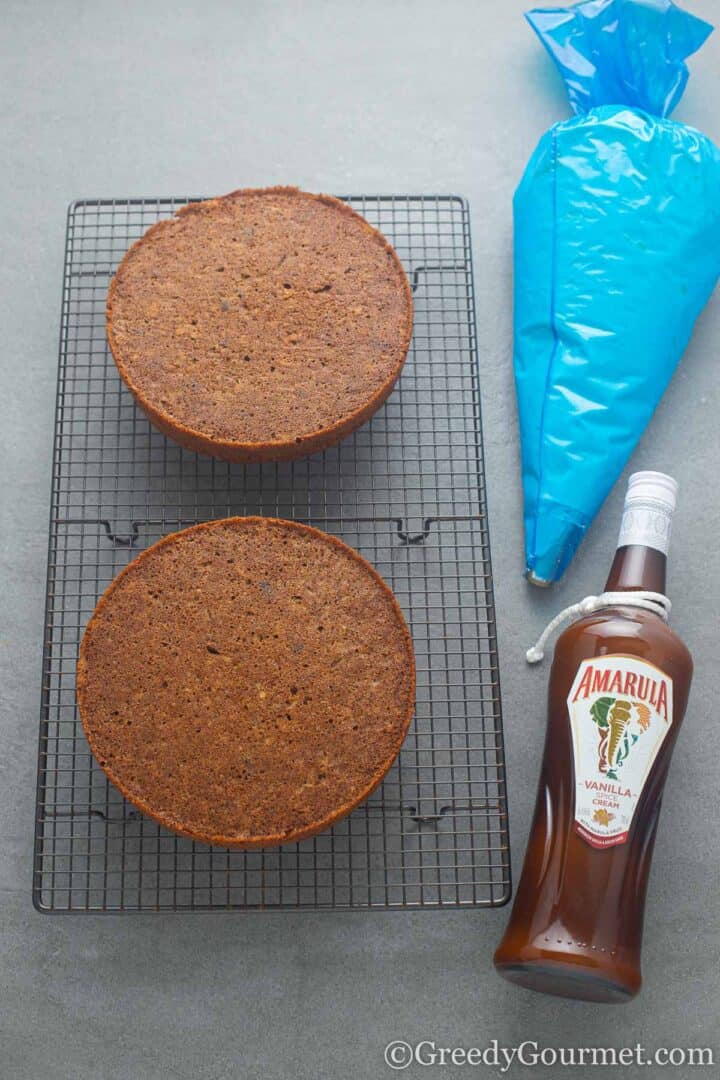 Amarula buttercream
This is no ordinary buttercream! Unsalted butter and powdered sugar are mixed with Amarula, a delicious South African liqueur that combines flavours of passion fruit, caramel and vanilla extract. It's utterly divine and one of my favourite secret baking ingredients!
Toffee sauce decoration
This one is optional. If you're in a particularly decadent mood, the toffee sauce is the final flourish. Add red food colouring as a gory twist to keep with the Halloween theme.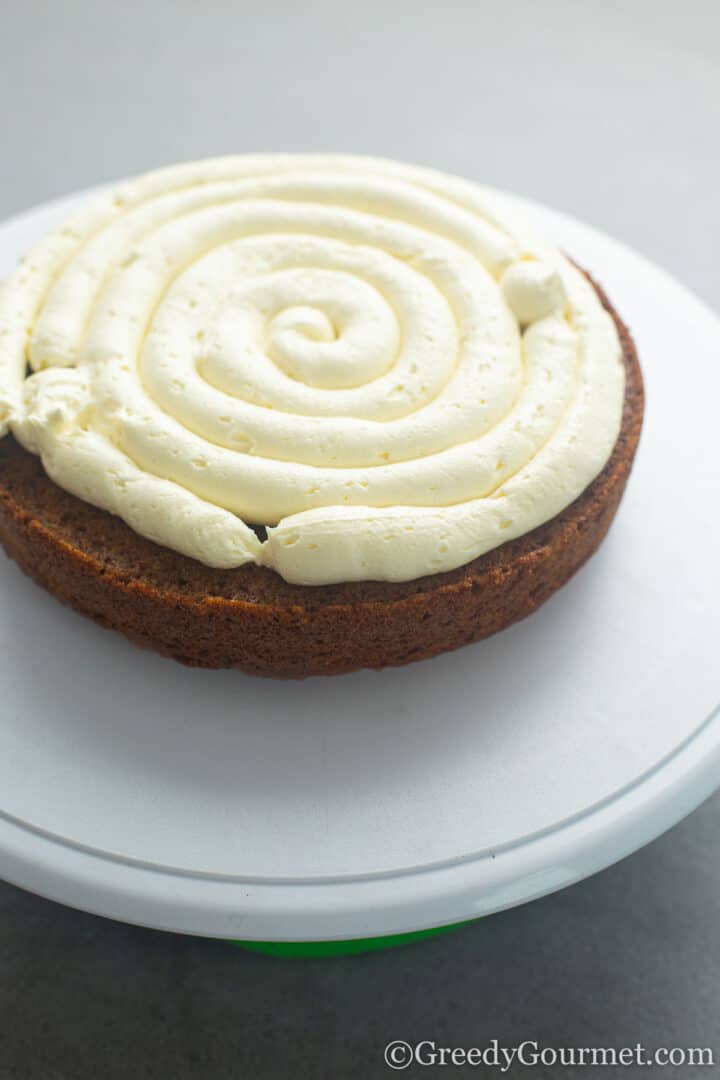 Do I need to sift flour?
Absolutely. Sifting the flour allows more air to get into your sponge cake mixture. This results in a much lighter cake. The same goes for the bicarbonate of soda.
Do I need to sift icing sugar?
Yes! Powdered sugar takes in moisture from the air, which can lead to lumps in your buttercream. So, sifting helps to remove any lumps, while allowing extra air into your toffee apple cake mixture, making your buttercream extra fluffy and delicious!
How do you know when sponge cake is done?
You can find out if your toffee apple cake is done by inserting a wooden skewer into the middle of the cake. If it comes out clean, it's done.
Another way to find out if your cake is fully baked is by gently pressing the top of the cake with your finger. If the sponge springs back into place, it's done. If your finger mark stays in the cake, give it a few more minutes.
Why is my toffee apple cake dry?
It could be one of two things – the oven or the ingredients. Firstly, you need to make sure you don't overcook the cake – do the skewer test for doneness as soon as you think it might be ready.
Secondly, your wet ingredients should be correct. If there's not enough oil, your cake will be dry, so make sure you follow the ingredient amounts precisely.
How do I decorate the cake?
Use my meringue ghosts to decorate your toffee apple cake – this is the thing that will really get the kids going! Mind you, the adults will love them too!
If you're a proper fan of Halloween, you might want to take things to a whole new level. In which case, toffee sauce with red food colouring for a gory yet delicious bloody treat is the best way to finish your fiendishly tasty toffee apple cake.
Storage instructions
First things first, keep it out of the fridge! Refrigerating sponge cake will dry it out. Instead, store your toffee apple cake in an airtight storage container.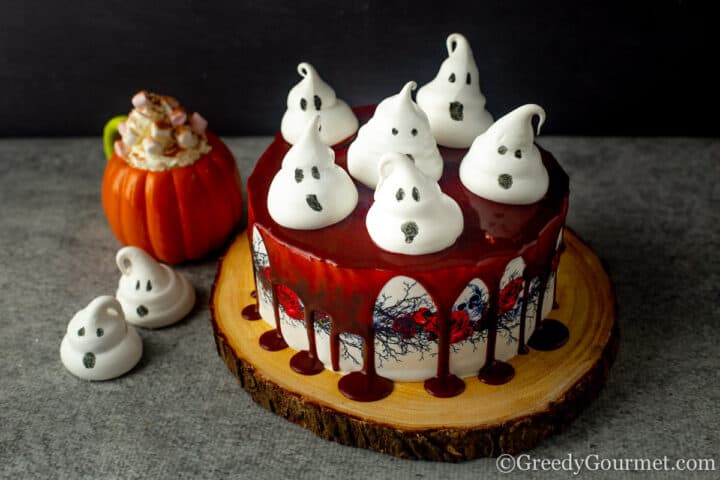 What to serve with toffee apple cake
It's frighteningly delicious served on its own. Still, when served with a cup of camomile tea, earl grey or cup of coffee, this toffee apple cake is hard to beat!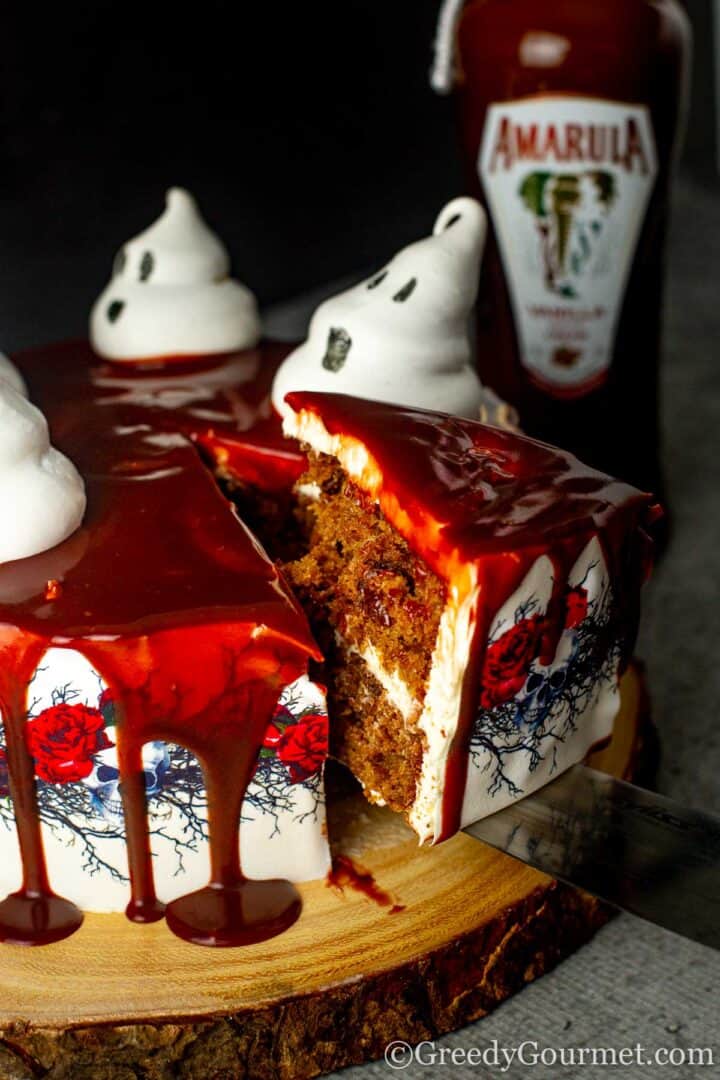 More Halloween recipes
Once you've mastered this delicious toffee apple cake, why not try one of these spooktacular Halloween recipes.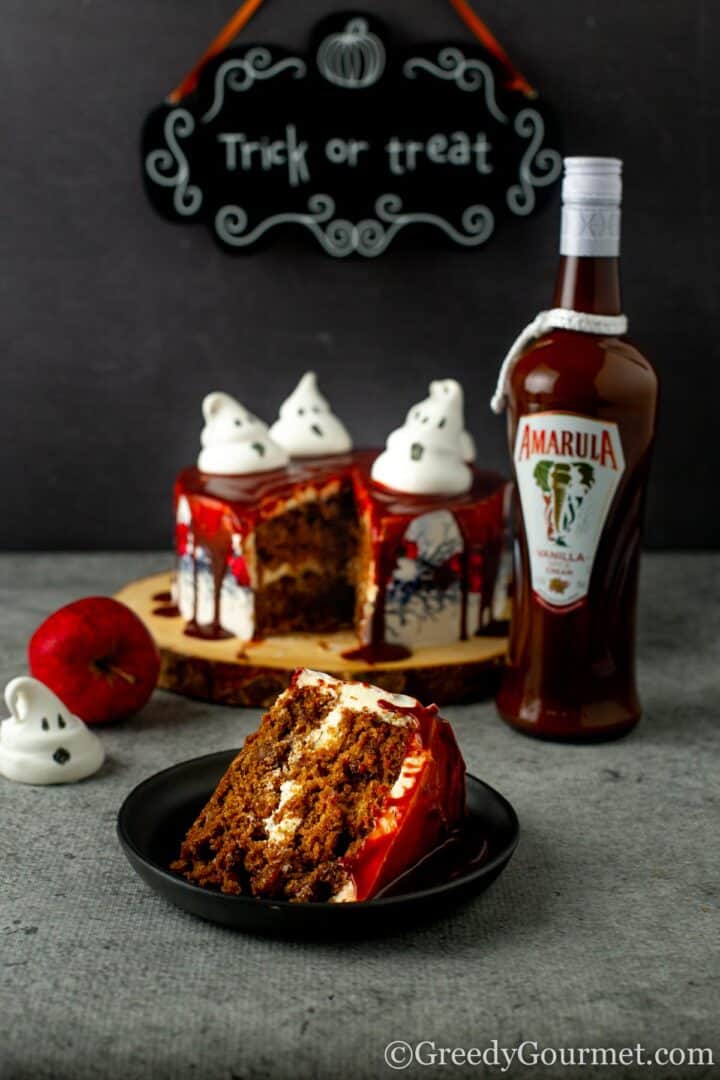 Print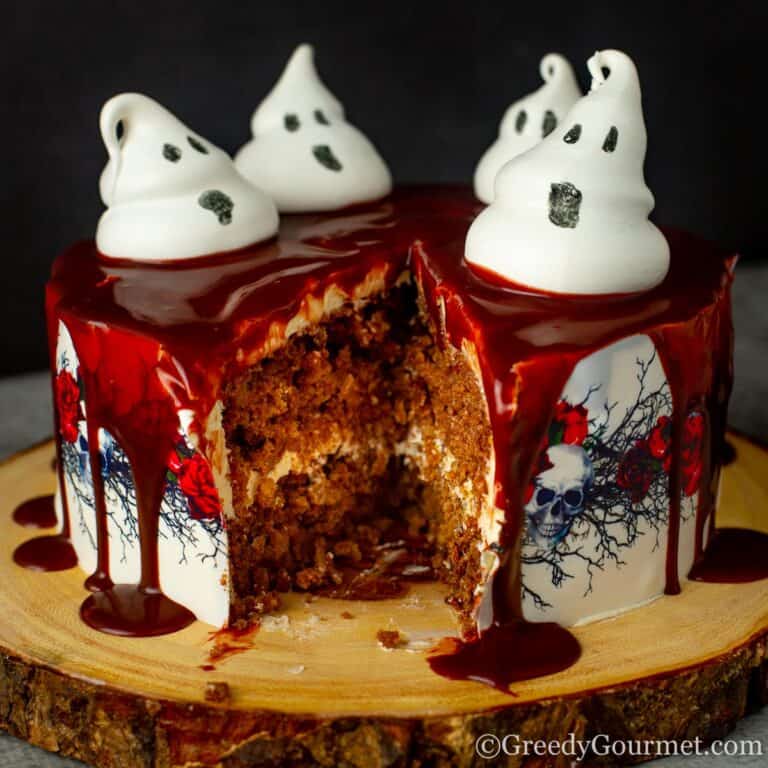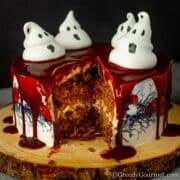 Halloween Toffee Apple Cake Recipe
---
Author:

Michelle Minnaar

Total Time:

1 hour 30 minutes

Yield:

1

2

1

x

Diet:

Vegetarian
Description
Try out this delectable Halloween Toffee Apple Cake. A fun Autumn themed treat that is sure to make your mouth water. Decorate to your heart's content!
---
Toffee Apple Sponge
2

eggs

175g

(

⅞ cup

) dark brown sugar

125

ml (½ cup) vegetable oil

250g

(

9oz

) eating apples, grated

200g

(

1¼ cups

) self raising flour, sieved

5g

(

2 tsp

) ground cinnamon

2g

(

1 tsp

) ground ginger

4g

(

1 tsp

) bicarbonate of soda, sieved

25g

(

⅛ cup

) oats

50g

(

½ cup

) ground almonds

100g

(

½ cup

) sultanas

1

lemon, zest only
Vanilla Spice Amarula Buttercream
250g

(

1 cup

+

2 tbsp

) unsalted butter, room temperature

500g

(

3¼ cups

+

3 tbsp

) icing sugar, sieved

45

ml (3 tbsp) Vanilla Spice Amarula
Decoration
---
Instructions
For the Toffee Apple Sponge: Preheat the oven to 180°C/160°C fan/356°F/Gas mark 4.
Line two 7in (18cm) springform tins and brush with a little oil.
Whisk together the eggs and the dark brown sugar until pale and glossy. I used my KitchenAid at medium speed.
Keep the machine running and slowly pour in the oil until fully incorporated.
Stir in the grated apple.
Fold in the remaining ingredients.
Divide the cake batter evenly between the two tins and transfer to the oven. Cook for 30 minutes or until cooked. (You can test it by inserting a wooden skewer into the cakes. It is cooked if the skewer comes out dry and clean.
Remove the cakes from the oven, take them out of the tins and place on cooling racks. Leave for at least an hour to cool down completely.
While they are cooling it's time to make the Amarula Vanilla Spice Buttercream.
For the Amarula Vanilla Spice Buttercream: Place the butter into a mixing bowl and whisk on medium speed until a creamy consistency is achieved. I used my KitchenAid.
Add the icing sugar one spoon at a time until everything is thoroughly incorporated.
Pour in the Vanilla Spice Amarula then turn the machine off and transfer to a piping bag with a 1cm (½in) nozzle.
Assembling the Cake: Pipe ⅓ of the Vanilla Spice Amarula buttercream onto the top of one of the cakes and smoothen with an icing spatula.
Place the other cake on top and pipe over with another ⅓ of the Vanilla Spice Amarula buttercream.
The last ⅓ of the Vanilla Spice Amarula buttercream should be piped around the side. Smooth over the top and sides with the icing spatula and then, if you have bought a cake sleeve, place it around the outside of the cake. If not, place the cake in the fridge to allow the buttercream to set.
To decorate: Pour the toffee sauce over the top and then place your meringue ghosts on top and then serve the spooktacular cake with your Halloween feast. Enjoy!
Prep Time:

60 minutes

Cook Time:

30 minutes

Category:

Dessert

Method:

Bake

Cuisine:

British
Keywords: Toffee Apple Cake, Amarula, Amarula Desserts, Halloween Desserts, Spooky Desserts, Amarula Cake, halloween cake recipe