Halloween is just around the corner and trick or treat brownies are perfect for the occasion! Have you got any special plans or any funny costumes? How about the type of treats you'll be serving?
My kids love this time of year as they have a chance to dress up into their favourite scary attire. Also, they love receiving bags of sweets and candy, which generally last for only a week once they have a go.
Well, do I have a surprise for them this year, muhaha! Instead of always receiving treats and candy, I will try and trick them. Hence, I made the trick or treat brownies which look delicious, but don't be fooled!
You have a fifty-fifty chance of eating something delicious, or eating something that might taste like stinky socks. What a brilliant twist for Halloween sweets, right?
Kids who end up on our doorstep will be under the impression that they received a treat, but have no idea what they signed up for!
brownies with kingdom of sweets
Kingdom of Sweets is a company here in the UK that specialises in sweets from all over the world. With much success since 2004, Kingdom of Sweets has grown into one of the largest confectionery retailers in the UK.
So, if you are looking for a type of candy that you usually can't find in the high street, look no further. Just go to their homepage and be amazed by their vast selection. There are lots of things you can inspire yourself by for making brownies with.
With five shops in Central London and plans to open two more in early 2017 in Camden, they stock tonnes of delicious sweets. Soon Kingdom of Sweets will be opening stores in other major cities such as Oxford and Cambridge.
If you live in one of these cities or around, consider yourself lucky! You can also order Kingdom of Sweets to do catering for any large events.
Bean Boozled Jelly Bean Brownies
Have you heard of Bean Boozled Jelly Beans? If you've ever seen a Harry Potter movie, you'll know exactly what they are. It's these silly little jelly beans, which have an identical look but taste very different.
A black jelly bean might taste of licorice, or perhaps of something less desirable. How about skunk spray? Once I saw these, I knew I was going to make the trick or treat brownies with them!
The Bean Boozled Jelly Bean mystery dispenser will definitely make for a memorable family event. Just take a look at these totally whacky and wonderful flavours:
Stinky Socks - Tutti-Fruitti
Lawn Clippings - Lime
Rotten Egg - Buttered Popcorn
Toothpaste - Berry Blue
Barf - Peach
Canned Dog Food - Chocolate Pudding
Booger - Juicy Pear
Moldy Cheese - Caramel Corn
Baby Wipes - Coconut
Skunk Spray - Licorice
Honestly, I can't even imagine what I would do if I got moldy cheese instead of caramel corn. Although, skunk spray sounds pretty bad too. Which makes me think, how do they even extract these flavours into the beans?
That's some food for thought! In any case, serving these will definitely be a lot of fun! Which jelly bean flavour disgusts you the most? Please share in the comments below.
perfect brownie batter
Perfect brownies are all about the batter. Get the batter right and you'll have everyone begging you for more brownies. Even if they got unlucky and picked the 'trick' brownies.
One can say, if the kids keep on eating the brownies containing skunk spray jelly beans, that's when you'll know your brownies are awesome. So, here are a few things you can do to make sure you nail it.
First, if you are going to make large batches, I recommend using baking foil or baking paper. This way, small brownie bits stuck to the baking tray won't get burned and then reused with the new batch. This is a very important step that's often left out.
Next, remember to take your eggs out of the fridge. Having eggs at room temperature will ensure a smooth brownie consistency. The eggs will combine more easily into the batter while you whisk.
Keep whisking and let your egg trap the air inside. This will ensure a fluffy airy brownie as the batter will cook more evenly.
Finally, when handling the flour, remember to put it in slowly in small batches. It will incorporate better and you'll reduce the risk of having a lumpy brownie batter.
I absolutely hate finding flour lumps in anything. Do you have any tips or tricks that you want to share for getting perfect brownies? Don't forget to include the Bean Boozled Jelly Beans or your favourite sweets in the batter!
gooey center
I like my brownies to be fudgy and soft in the center. There's something about that gooeyness. So, how do you know when the brownies are just right? You should keep an eye out for the four corners of the baking tray.
Once the brownie batter has shrunk in the four corners and the center is still a bit runny, take the baking tray out of the oven. Don't worry, the slightly runny center will become more solid as soon as the brownie cools. Afterwards, just cut the brownies into perfect little squares and serve them to the trick or treaters.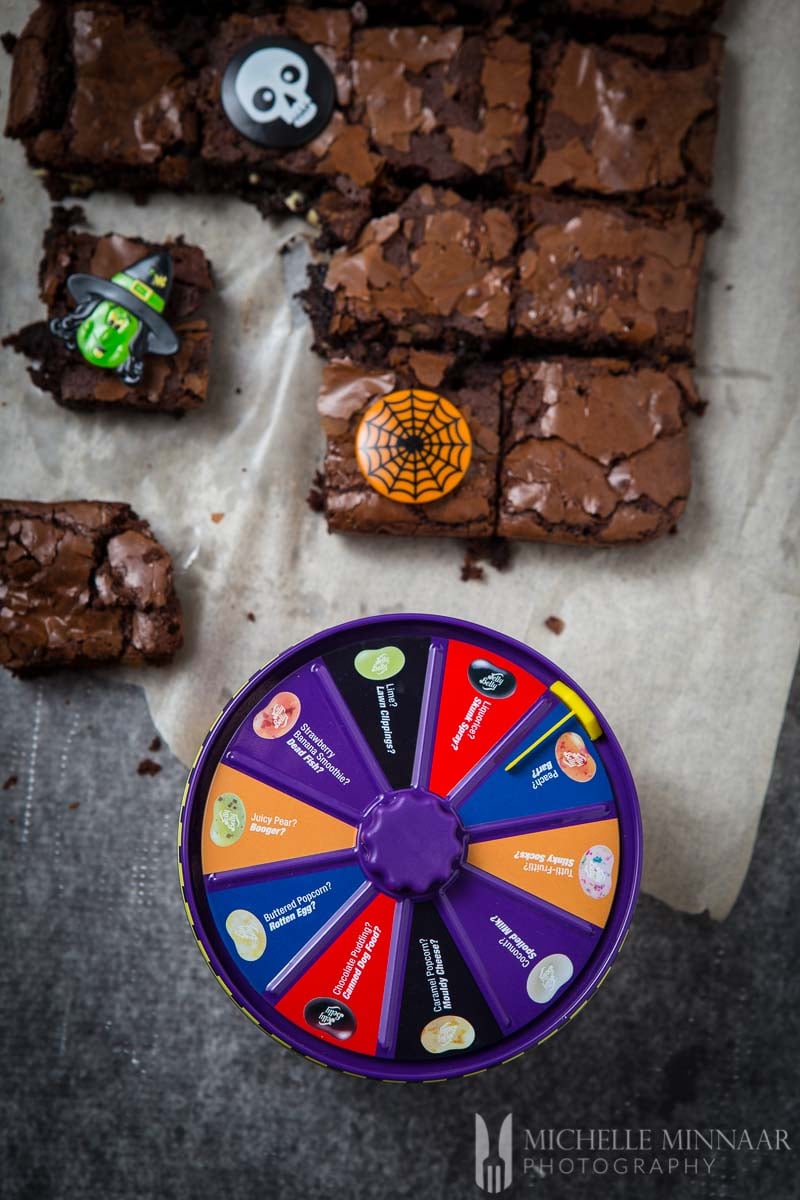 brownies variations
If you think that your kids can't handle the surprise of being tricked on Halloween, feel free to make the brownies without the jelly beans. Otherwise, you can throw in anything your kids like.
For example, in the past I've made delicious chocolate pistachio brownies. You can also try making the peanut butter pecan caramel brownies and concrete cake. These are a definite success with kids, even with adults.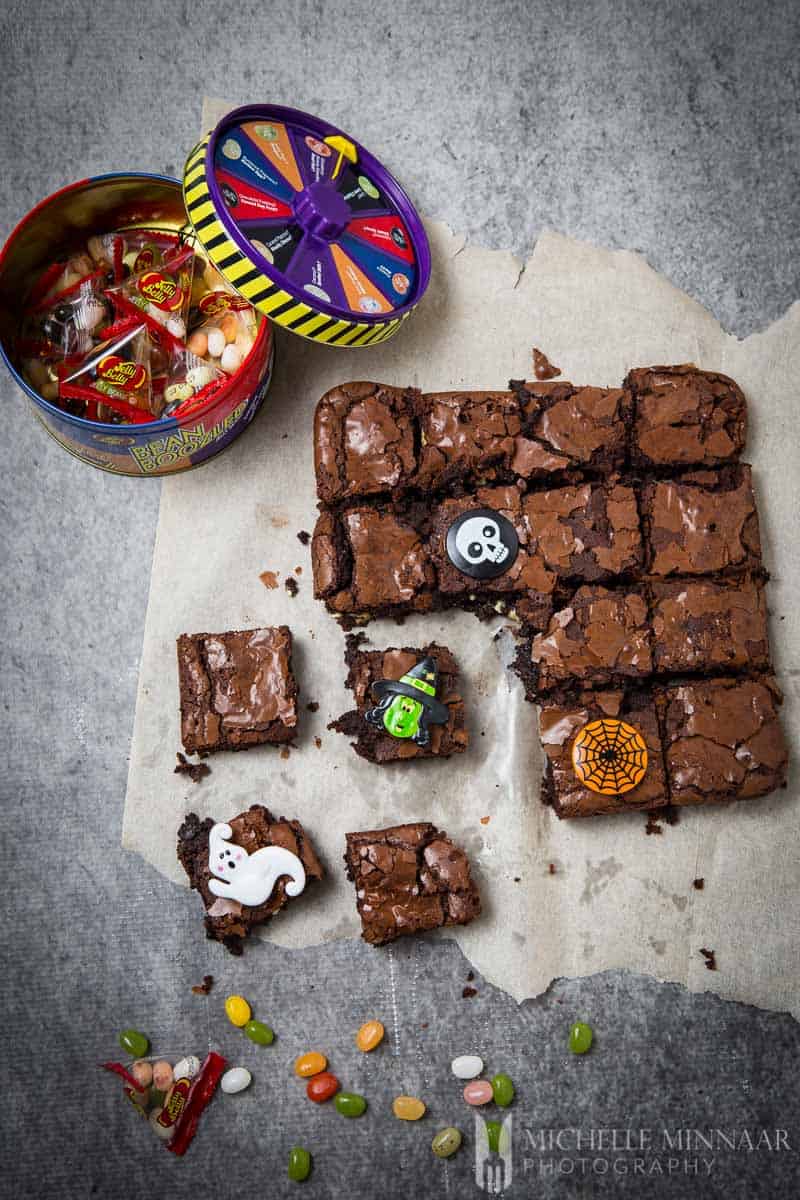 other spooky ideas
To make things spookier, you can also add black food colouring into the brownies to make them completely black, which will give a charcoal effect. Add some Halloween sugar decorations and serve.
You can also make Halloween cupcakes with the Bean Boozeled Jelly Beans. Try it making these pumpkin cupcakes and put a little surprise inside, wink wink.
Print
Halloween Brownies
---
Description
Halloween Brownies are a must this Halloween, if you want to go "trick or treating". These will certainly trick a few guests with the help of Bean Boozled Jelly Beans!
---
185g

(

6oz

) unsalted butter, cut into small cubes

185g

(

6oz

) best dark chocolate, chopped

85g

(

3oz

) plain flour, sieved

40g

(

1½oz

) cocoa powder, sieved

3

large eggs

225g

(½lb ) golden caster sugar

100g

(

3oz

) white chocolate, chopped

32

Bean Boozled jelly beans
---
Instructions
Place the butter and chocolate in a bowl.
Fill a small saucepan with some water and then sit the bowl on top so it rests on the rim of the pan, not touching the water. Put over a low heat until the butter and chocolate have melted, stirring occasionally to mix them. Remove the bowl from the pan.
Preheat the oven to 180°C/350°F/gas mark 4.
Using a shallow 20cm (8in) square tin, cut out a square of non-stick baking parchment to line the base.
Break the eggs into a large bowl and tip in the sugar. With an electric mixer on maximum speed, whisk the contents. After about 5 minutes, the mixture will look thick, creamy and about double its original volume. The amount of time this takes will depends on how powerful your mixer is.
Gently fold the cooled chocolate mixture into the sweet egg mixture. Be careful not to beat the air out of the batter.
Gently fold in the flour and cocoa powder and then stir in the white chocolate.
Pour half of the batter into the tin, then sprinkle evenly with jelly beans.
Pour the rest of the batter in. Give the tin a shake to even things out and then place in the oven and bake for 25 minutes.
If the center is still wobbly give it another 5 minutes in the oven.
Wait for the brownie to completely cooled down before cutting into desired pieces.
Store in an airtight container, preferably in the fridge. It is freezable too!
Notes
Alternatively, you can melt the chocolate and butter in the microwave. Zap it for 30 seconds at a time, stir it and zap again. Continue the process until the chocolate is melted.
Prep Time:

15 minutes

Cook Time:

40 minutes

Category:

Dessert

Method:

Bake

Cuisine:

American
Nutrition
Serving Size:

1 serving

Calories:

410

Sugar:

51.1 g

Sodium:

118 mg

Fat:

16.4 g

Saturated Fat:

9.9 g

Carbohydrates:

66.9 g

Fiber:

1.6 g

Protein:

3.4 g

Cholesterol:

61 mg
Keywords: halloween brownies, trick or treat cake, bean boozled jelly bean recipe, halloween brownie ideas, trick or treat desserts
save the recipe to your pinterest board
P.S. This is a sponsored post.