This slow cooked shoulder of lamb is one of those memorable lamb recipes that will remain with you forever. It's one of those wow dishes, that you can proudly serve to a special someone or for your family on a special occasion. Fair warning though, this slow cooked shoulder of lamb is not a quick meal that one can prepare in under thirty minutes. In fact, for this whole shoulder of lamb to release its impeccable flavour into the dish, it takes seven hours to cook! And while seven hours might seem like a long time, if you are preparing a feast – trust me those seven hours will whizz by.
I hope you enjoy making this exceptional lamb recipe that uses one of my favourite cuts of lamb of all time. A definite melt-in-the-mouth lamb recipe!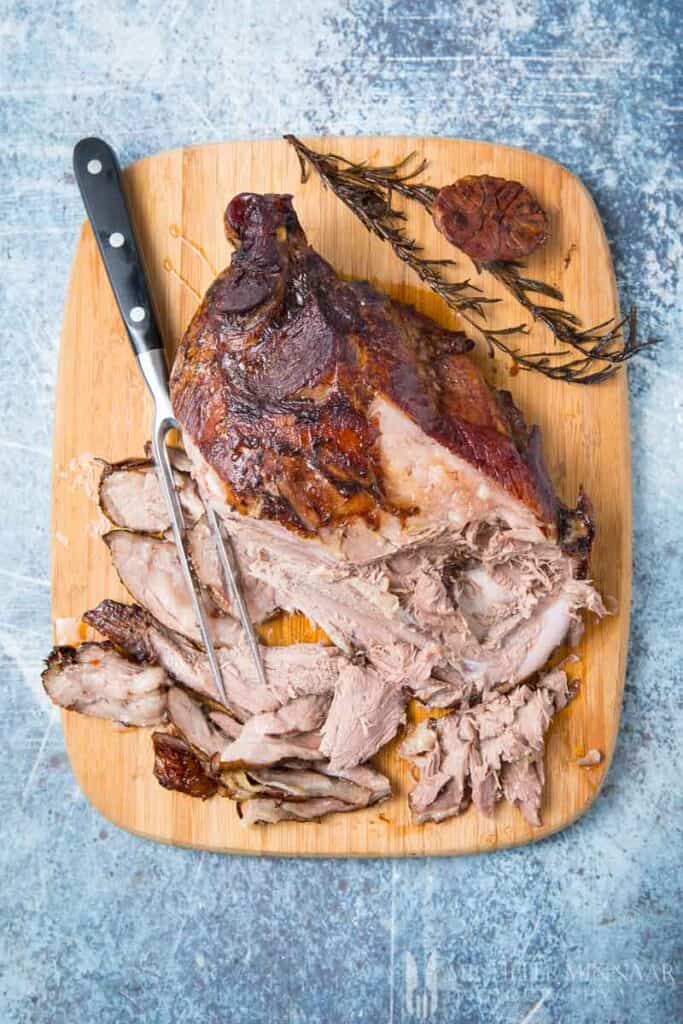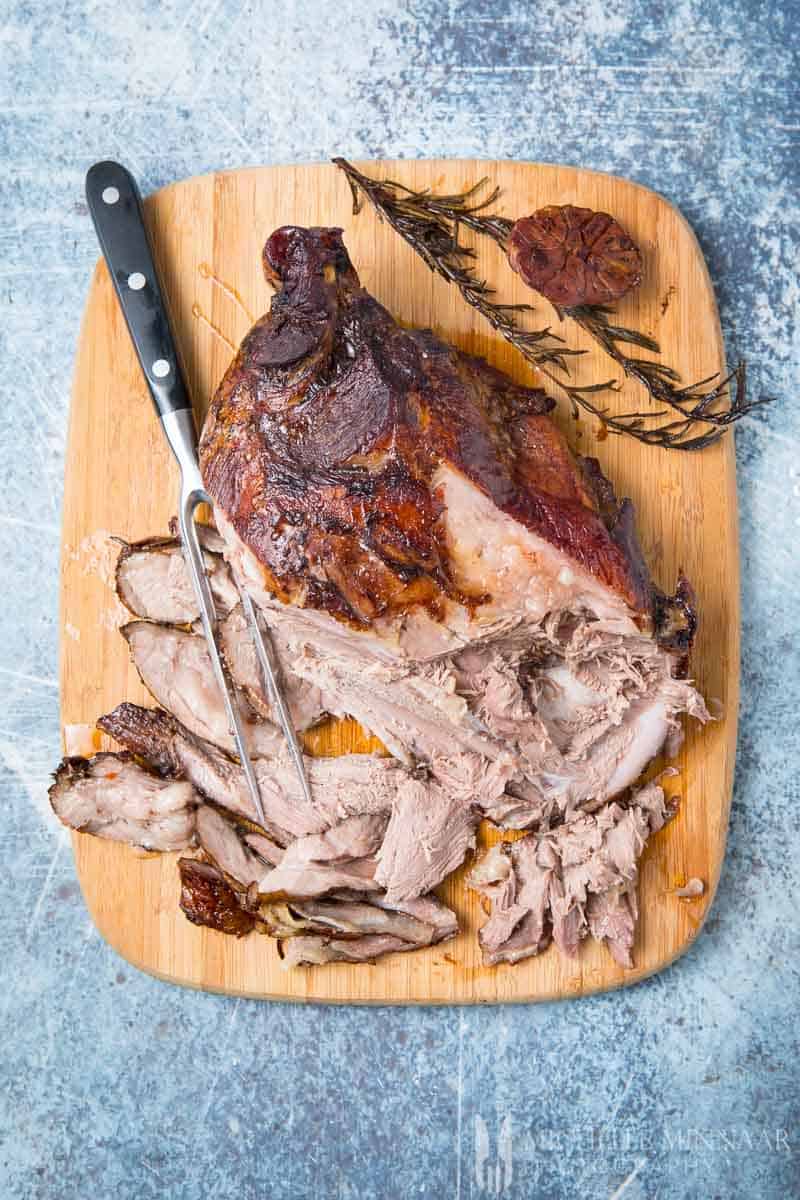 slow cooked shoulder of lamb by Nigella Lawson
This slow cooked shoulder of lamb recipe was inspired by the lovely Nigella Lawson. Since she is something of a culinary genius, I looked over her method of making slow cooked leg of lamb and applied similar methods during my cooking process. This way, I know that I've applied the right temperatures for my size of shoulder of lamb. You can check out her recipe here.
In addition to drawing my inspiration from Nigella, I was also inspired by Tom's Kitchen, which I discovered during my visit to the Taste of London Festival in 2008. His version of the lamb shoulder with balsamic onion and mash was incredible. It definitely left an impression on me. Immediately, I had to find the recipe.
Since then I have been scouring the web for the recipe but to no avail. By sheer luck I discovered that the tiny village I live in has a mobile library that comes around every two weeks. And the niftiest thing of all? You can reserve books for free, whereas at standard libraries you have to pay for each reservation. One of the first books I ordered was Tom Aikens Cooking hoping the recipe would be in there. Bingo! Now I've made my own version of the slow cooked lamb shoulder recipe.
lamb shoulder and other lamb cuts explained
A slow cooked shoulder of lamb recipe is no easy task. First, you have to know a little bit about the different types of lamb cuts. All in all, there are roughly ten cuts of lamb. In addition, those ten cuts are categorised according to which part of the carcass they came from. Basically, there are two sections of the lamb: the foresaddle (front of the lamb) and the hindsaddle (back of the lamb).
The foresaddle cuts include:
lamb shoulder
neck of lamb
lamb rib
lamb breast
foreshank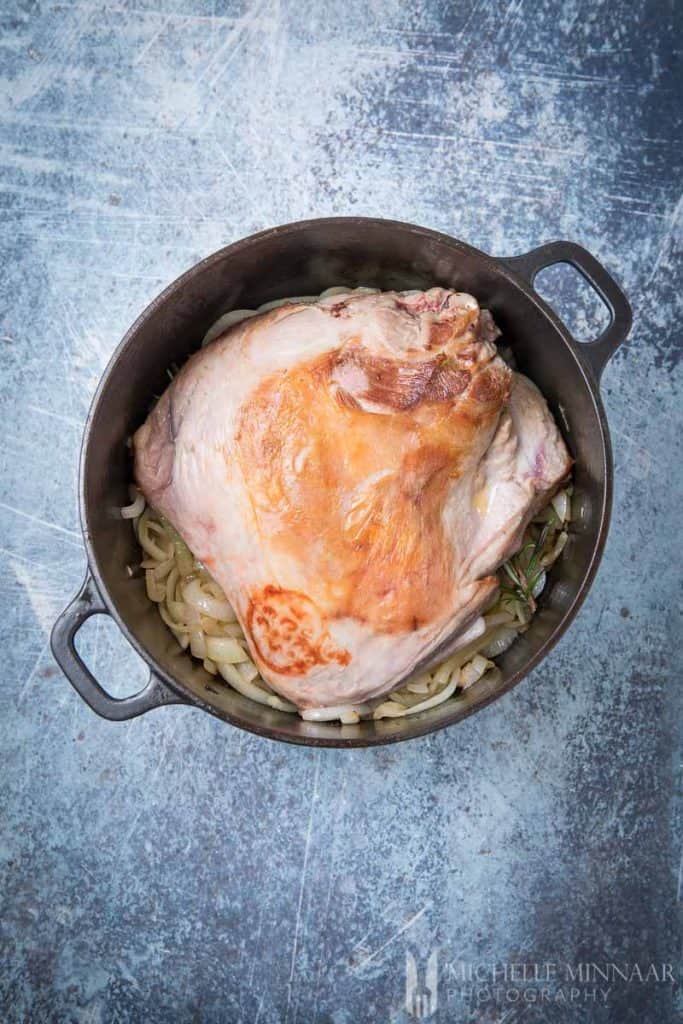 The hindsaddle cuts include:
lamb loin
leg of lamb
lamb sirloin
hindshank
lamb flank
I've cooked with most of these. For example, lamb shanks braised in red wine or braised lamb shank with thyme, roast carrots and baby onions. In addition, I've made curried lamb chops as well as the festive Indian roast leg of lamb and countless more lamb recipes. As you can see, I am a huge fan of cooking with lamb.
Now, as for lamb shoulder, I am not a newbie. I've made incredible sous vide lamb shoulder recipe which preserves the juices of the lamb, making it so tender. Of course, lamb experts will say that sous viding shoulder of lamb is the best way of preparing it because it is not the most tender cut of lamb. However, this slow-cooked shoulder of lamb recipe will enable the lamb to cook on low heat over seven hours. This will result in the tenderest lamb you'll ever have in your life!
boneless lamb shoulder slow cooker
One of the main questions that chefs at home face is as follows. Whether to bone/debone the lamb shoulder? That is the question. A complex one indeed, fortunately I do have the answer that you are looking for. My slow cooked shoulder of lamb recipe definitely calls for leaving the bone in, for two good reasons. First, the bone helps preserve the bold flavour of the lamb as well as making it so tender. Second, it makes the lamb meat more delicate, and it's so visually appealing to pull the meat off the bone. Don't you agree? In fact, I have a third reason, which is presentation and overall impression. The shoulder of lamb seems more festive when presented on the dish with the bone.
Nevertheless, you can opt for making this slow cooked shoulder of lamb recipe boneless. However, you will have to adjust the cooking times and limit the amount of dry heat the lamb is exposed to. Otherwise, you risk making the lamb meat tough and dry. If you opt for the boneless recipe, also make sure you've got a cooking thermometer at hand to monitor the cooking temperature. That's the only way to make sure that you won't overcook the lamb.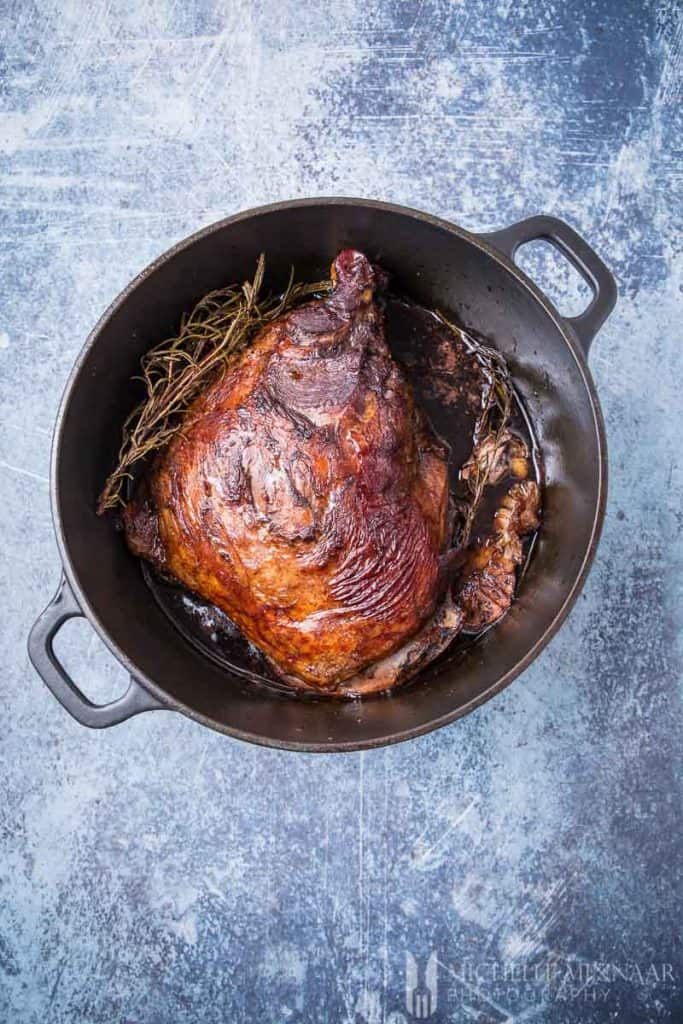 shoulder of lamb with balsamic onions
Lamb is such a robust ingredient, it pairs exceptionally well with herbs. These include traditional bold herbs like rosemary, thyme, oregano, as well as spices like cumin and many more. Most noteworthy, when I think of lamb, I think of the incredible jus that comes with lamb. This lamb jus pairs perfectly with balsamic onions, which are an integral part of balancing this dish. When you make these balsamic onions, follow the recipe. However, instead of keeping the onions whole, you can cut them into sections so that they are soft and tender.
serving and wine pairing
You can serve this slow-cooked shoulder of lamb on a bed of roasted sweet potato mash for a filling dish. Of course, serving traditional rosemary roast potatoes is also another excellent option. For a lighter alternative that's also lower on the number of calories, opt for a vegan cauliflower mash.
As for the wine pairing, I highly recommend going for a full-bodied, dry, heavy red wine. For example, this includes a glass of Château Chantelune. It is produced in the prestigious Margaux appellation in Bordeaux and is a blend of Merlot, Cabernet Sauvignon and Cabernet Franc. Can't go wrong with a wine that has elegant fruity aromas with a rich texture. Perfect for this melt-in-the-mouth lamb recipe.
Print
Slow Roasted Shoulder of Lamb
---
Description
This slow cooked shoulder of lamb is a definite melt-in-the-mouth recipe that needs roughly 7 hours to roast. Combines lamb with balsamic onions. Divine!
---
1

shoulder of lamb, weighing about

2.5

kg

150

ml (5 fl oz) olive oil

3

sprigs rosemary, washed

1

garlic bulb, halved
sea salt and black pepper

8

medium onions, peeled

125

ml (½ cup) balsamic vinegar

250

ml (1 cup) red wine

250

ml (1 cup) port

250

ml (1 cup) lamb stock
---
Instructions
Preheat the oven to 180°C (fan 170°C/350°F/gas 4).
Heat the oil in a large ovenproof casserole dish and brown the lamb shoulder on both sides.
Remove the lamb and season it generously on both sides.
Gently fry the onions in the same dish for 5 minutes, or until softened.
Arrange the garlic halves and rosemary on top of the onions then place the lamb on top.
Cook for one hour in the oven.
Remove the casserole from the oven, then pour in the red wine, balsamic vinegar, port and stock.
Reduce the oven temperature to 130°C (fan 110°C/265°F/gas mark ½), and return the meat to the oven.
Cook for 5 hours with the lid on.
Remove the lid and continue to cook for the last 1 hour.
Place the casserole on to a low heat to reduce any excess liquid. Baste the lamb with this during the reducing, along with the onions, Just be careful they don't stick or burn.
Notes
Serve the soft meat cut in pieces with the onions, some of the jus, a few cloves of garlic, and some mashed potato.
If you like a thicker sauce you can thicken it with a cornstarch slurry afterwards.
Haven't got any rosemary to hand? Not to worry, try one of these rosemary substitutes instead!
Prep Time:

30 minutes

Cook Time:

7 hours

Category:

Main Course

Cuisine:

French
Nutrition
Serving Size:

1 serving

Calories:

479

Sugar:

5.1 g

Sodium:

167 mg

Fat:

31.6 g

Saturated Fat:

7.8 g

Carbohydrates:

13.7 g

Fiber:

2.8 g

Protein:

29.5 g

Cholesterol:

97 mg
save the recipe to your pinterest board