How often does your family eat fish for dinner? In order to have a varied diet, I try to serve fish at least once a week. However, many people tend to avoid cooking fish at home. The reasons behind this are usually that many people find fish difficult to prepare. Especially when it comes to handling a whole fish and not just cooking with ready prepared filets. It can also be a question of price, as most fresh fish are unfortunately somewhat expensive, compared to other available sources of protein. Not to worry, the baked sea bass is not an expensive meal.
It would be a shame though, to completely rule out fish from your home menu. Therefore, I strongly recommend you mixing things up and to not be afraid to take on fish in your everyday cooking. Even if you have had some bad experiences with fish in the past, you shouldn't let that put you off. Go to your local fish monger and make sure you get a fresh catch! Plus, I am sure that this baked sea bass will capture your heart.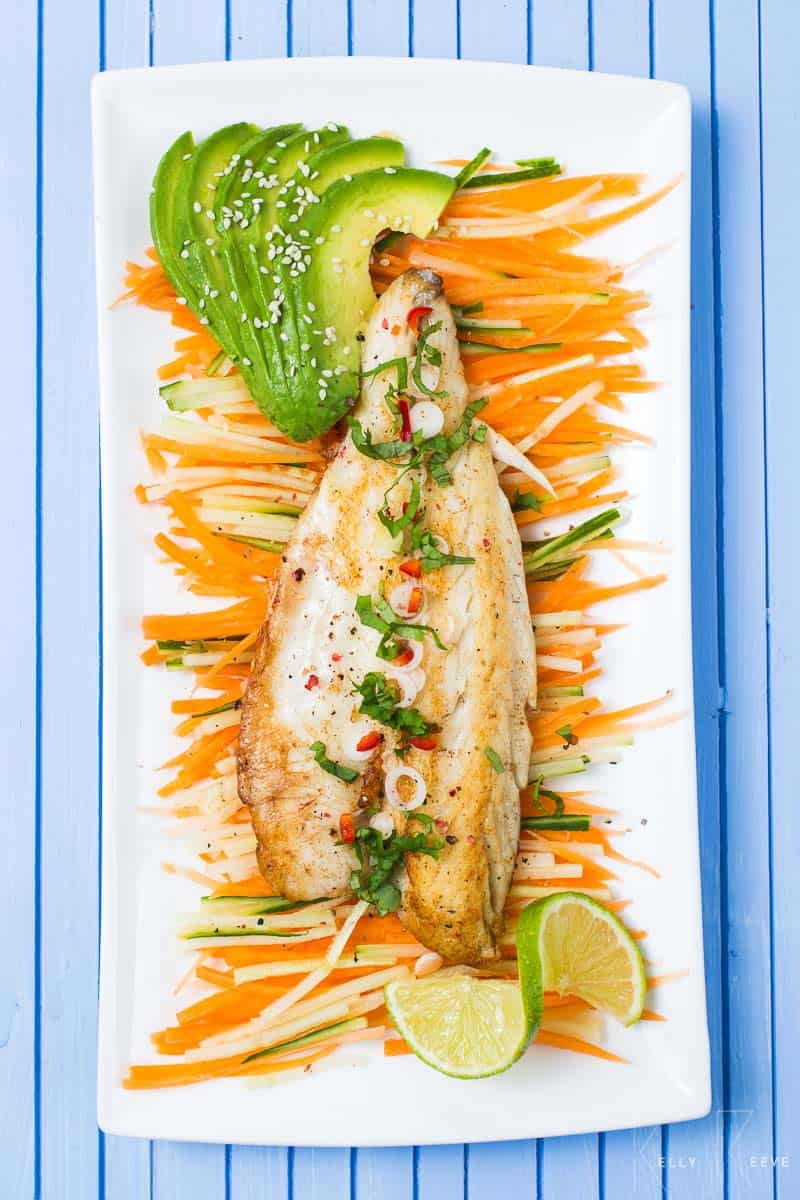 whole baked sea bass
Basically, any type of fish can be baked and there a several benefits of doing so. If you bake a whole fish, you can fill it with fresh herbs and spices. Thereby letting the flavours sink into the flesh during the cooking process. I have previously done this in my whole baked thai sea bass recipe.
Sea bass filets
However, for this baked sea bass recipe I decided to cook with fillets. It has its own benefits too. Here, you can cook the fish using very little fat. That's right, the baked sea bass only needs a tiny bit of olive oil for the cooking. Just make sure that the fish doesn't stick to the baking paper.
If you are afraid of getting the fish too dry, you can of course pan-fry the sea bass. I previously did a pan-fried sea bass with a lemon butter sauce and it was delicious – you can find the recipe here. You just need to add enough butter or oil to make sure that the fish doesn't dry out. Also, if you are not such a fan of the Asian flavours with fish, serve it with the garlic lemon butter sauce instead.
Other types of fish
If you can't get hold of sea bass, there are alternatives. Halibut is also a very good fish to bake because it doesn't dry out very easily and has a fine tasting, firm white meat that holds its texture nicely. You can also use more common fish like cod or haddock. You will still be able to get a good result using these.
Just as important, the textures of these fish are quite similar. When cooked right, you should have a fish separating easily into tender flakes. Finally, you can also try to make the dish with salmon. The salmon however, is a fattier fish with a different flavour its white counterparts. It will change the overall flavour of the dish. I would avoid using fresh water fish for this particular recipe. This is because they tend to have earthier flavour notes.
Carrot salad
In my opinion, fish should always be served with some sort of fresh vegetables. Not only to make it healthy, but also because it is nice to have something fresh and crispy alongside the tender fish. As a bonus, the colour combination looks beautiful on the plate. For the baked sea bass, I julienned the carrots to create a more delicate looking plate. To julienne means to cut the carrots into small, even matchstick-sized pieces. Next, marinate them in a simple Asian dressing of soy sauce, rice wine vinegar, lime juice and sesame oil. The carrot salad with an Asian twist makes a truly delicious side.
I also added julienned cucumbers to the carrot salad to have some freshness alongside the sweet carrots. In order to add a little more richness to the dish, I am also serving the baked sea bass with slices of fresh avocado. This helps balance out not only the flavours but also the textures of the dish. I am sure you will enjoy the tender flaky fish, with the fresh crunchy carrots and the soft richness of the avocado.
Seasoning
Sea bass in itself has a delicate but subtle flavour, so it is important to season it well. In this recipe, I have gone for the more Asian inspired flavours, with lime and coriander. However, if these are not your favourites, you can go down other avenues. The baked sea bass loves a topping of green herbs. So, if you want to go in a more traditional European direction, serve it with a butter sauce and lots of freshly chopped herbs. The classics for fish are of course dill, parsley and chives, but also watercress and chervil work well with sea bass and other white fish. As always, a generous pinch of salt and pepper, plus a little lemon or lime juice, makes the difference when cooking white fish.
Wine pairing
At home I made the baked sea bass as a Saturday night meal, as I find Saturday calls for something a little special. Therefore, you can also enjoy the baked sea bass with a nice glass of white wine. For the delicate fresh flavours of this baked sea bass dish, I will recommend a fresh light wine – it could be a French from the Loire valley or if you dare to try something a little different than the usual, an Austrian grüner veltliner. These tend to have a certain mineral "crispness" in the taste, which complements the baked sea bass beautifully. I hope you will take the time to enjoy this dish with your family next weekend!
What is your favourite way to enjoy seabass?
Print
Baked Sea Bass with Avocado and Carrot Salad
---
Author:

Michelle Minnaar

Prep Time:

30 minutes

Cook Time:

10 minutes

Total Time:

40 minutes

Yield:

4

1

x
4

x 110g sea bass fillets

15

ml (1 tbsp) olive oil
Sea salt and black pepper

2

avocados, peeled and chopped

½

cucumber, washed and julienned

2

carrots, peeled and julienned

1

garlic cloves, peeled and halved

15

ml (1 tbsp) sesame oil

30

ml (2 tbsp) light soy sauce

60

ml (4 tbsp) caster sugar

45

ml (3 tbsp) rice wine vinegar

1

lime, juiced and zested

30

ml (2 tbsp) coriander leaves, washed and chopped
---
Instructions
Preheat the oven to 180°C/350°F/gas mark 4.
Place the sea bass on baking paper on a baking tray, rub them with a bit of olive oil and season to taste.
Slice the avocado, cucumber and carrots to your preference and mix everything in a bowl.
Place the fish tray in the preheated oven for 5-7 minutes.
For the sauce, gently fry the garlic in sesame oil. Add the soy sauce, sugar, vinegar lime zest and juice.
Let the sauce bubble and then pass it through a sieve.
Divide the salad between 4 plates. Place the sea bass on top and drizzle with the sauce. Enjoy!
Notes
Any white fish will do in this recipe, such as cod and haddock.
Nutrition
Serving Size:

1 serving

Calories:

567

Sugar:

17.5 g

Sodium:

1204 mg

Fat:

36.3 g

Saturated Fat:

7 g

Carbohydrates:

40.6 g

Fiber:

8.9 g

Protein:

26.8 g
save the recipe to your pinterest board
A special thanks to Kelly Reeve for assisting with the recipe shoot.