This BBQ meatballs are super easy to prepare at home and uses very few ingredients. Who can possibly resist the sticky sauce that come with them?
Meatballs! Our mouths water as soon as we hear that name. Our stomach's rumble at the mere thought of BBQ meatballs and Thai Turkey Meatballs. Well… do you know where this luscious food originates from?
Meatballs can be made from various ground meats shaped like a ping-pong ball with lots of other ingredients added to them, depending on the finished taste you require. They are then cooked in a variety of ways with a plethora of sauces that can either be cooked with the meatballs or added to the pre-cooked meatballs.
In the case of the American BBQ meatballs, it's all the same, except individual variations of BBQ sauces are added. Let your imagination run wild and experiment with any ingredients you find exciting and add them to your BBQ meatballs, like bread crumbs, minced onion, eggs, butter, barbeque sauce, grape jelly...well, the list just goes on and on!
There are a lot of debates about the origination of the meatball and subsequently the American BBQ meatball. I decided to do some investigating and found some wonderful meatball ideas and information in the process…
What was your first thought when you heard the word meatballs? Did you think Italian…? Meatballs are actually made in many different ways, in different countries, with different names and it seems they do not originate from Italy.
People have loved eating meatballs through the ages and we find mention of them in the "Shandong Cuisine" of the ancient Chinese Qin dynasty of 221 -207 BC.That is so long ago it hurts my brain thinking of the civilisations and generations between then and now.
Meatballs have apparently appeared in ancient Arabic and Roman Cookbooks like "Apicius", so we can be forgiven thinking it originates in Italy. I do think the Italians can be accredited for introducing the dish into our culture and making it so popular.
Then there is some heated debate as to where the meatball influence came from next and it seems like the Nordic countries and Persia can simultaneously claim that prize.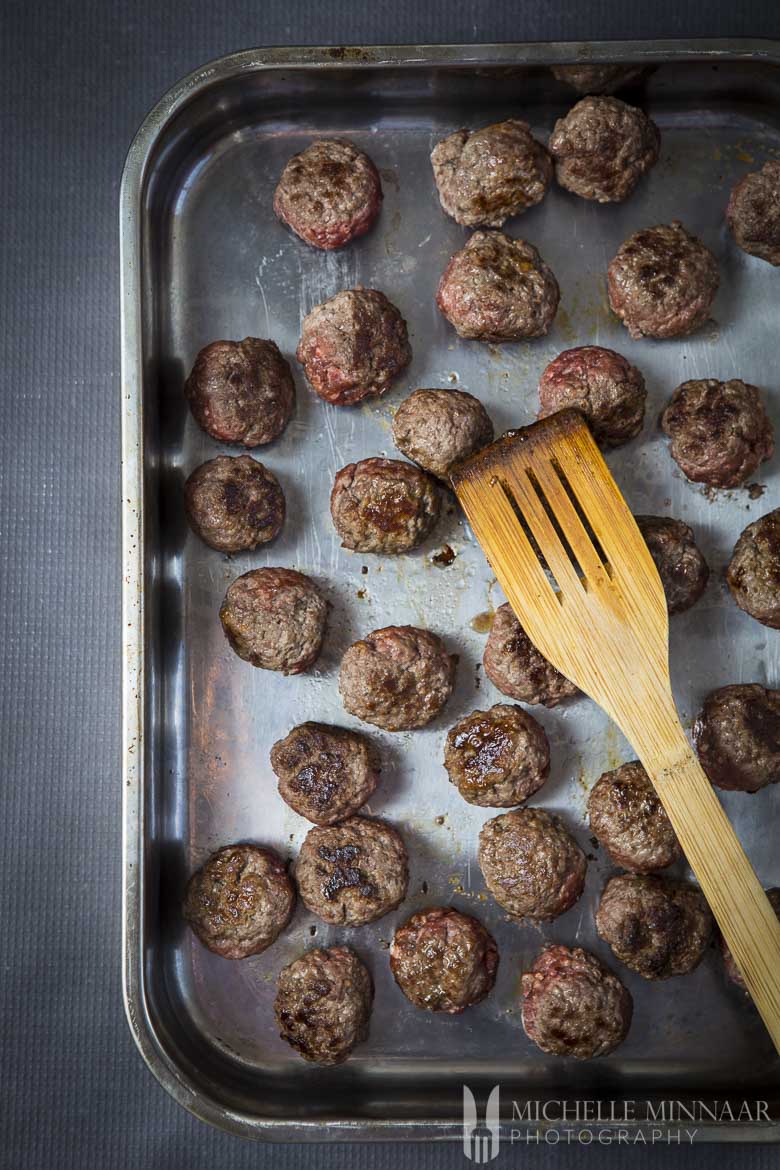 Meatballs in Scandinavian countries were considered a luxury as meat was rare and expensive at the time, they were served with creamy gravies. Persia which is now modern day Iran can also be attributed to spreading the popularity of meatballs early in the 19th century, especially in North Africa and the Middle East. To prevent wasting food people started using leftover meat to create a dish called "kofta". This spread far into the nearby regions and each culture added their own speciality spices, herbs and ingredients.
Meatballs were not common until the meat grinder was invented, which made the grinding of meat simpler and the availability of meatballs more commonplace.
Twenty-five countries in Europe, nine countries in Asia and certain countries in the America's have their own individual and unique recipes for meatballs. This includes a variety of spices, cooking methods serving methods and sizes.
In the European countries, meatballs are generally fried or deep fried. Some traditional European meatballs are:
Albanians fry meatballs with feta cheese inside. Danish Meatballs are traditionally made with pork and veal mixed with onions, eggs, salt and pepper. Called "Frikadeller" they are very small, flattened and pan fried. They are served on open sandwiches or with potatoes and gravy.
In Finland, they are made with ground beef or ground reindeer ( I have never eaten reindeer, that is definitely on my bucket list of things to eat) mixed with milk and breadcrumbs then soaked in a thick milk.
In France they contain bacon and in Germany, they contain anchovies or herring.
In Italy "Polpette " are the size of golf balls, served as a main course or in a soup, made with a blend of cheeses, mixed cured meats and fresh chopped herbs. Made from veal or beef and not served with sauce.
Chinese meatballs are typically boiled, deep fried or steamed and are all made with pork and served with soy sauce. This varies from Vietnamese meatballs which are made with beef, onion and peppers and served on a bed of rice noodles with tomato sauce. The Japanese have meatballs made from chicken and serve it on a skewer.
In the Middle Eastern countries such as Iran, Pakistan and Afghanistan meatballs are called "Kofta". Middle Eastern meatballs are made from ground beef or lamb they are served on a bed of rice, couscous or with bread. These countries use dried fruit or plum seeds as flavourings.
Pakistan uses hard boiled eggs to fill the inside of the meatball and they are then cooked in a spicy curry, which is the same in India. In India, meatballs are a delicacy just as we would consider caviar a delicacy.
In Greece, meatballs are called "Keftedes". Lamb is the main ingredient and they are seasoned with oregano, or garlic and fried. Keftedes are served as a main meal or starter with various sauces. These can be accompanied by rice or tomato sauce.
In Bangladesh "Chitol Macher Kofta" meatballs are made from minced fish. They can have many different seasonings including chillies, garlic, cumin, coriander, cumin, ginger and turmeric. They are fried and served in a thick gravy.
Spain has "Albondigas". Their meatballs contain a mixture of veal and pork. They are fried and served in a sauce. Popular sauces in Spain are tomato sauce, garlic sauce and almond sauce.
"Kottbular" meatballs from Sweden are made from pork and beef, then pan-fried and coated in a thin white gravy, they are usually served with pressed cucumbers, boiled potatoes or lingonberry jam.
Canadian meatballs are commonly made with ground pork, nutmeg, cinnamon and served in a cream gravy on a bed of mashed potatoes.
In the USA and Brazil, meatballs adorn spaghettis and pizzas. Most people believe that spaghetti and meatballs originated in Italy, there is no recorded history of this originating from Italy. This tradition is an iconic signature of the Italian-American cuisine. Italian immigrants in the USA were very poor in the early 1900's. Tomatoes were cheap and they added them to their spaghetti, making meatballs in the tomato sauce from leftover meats.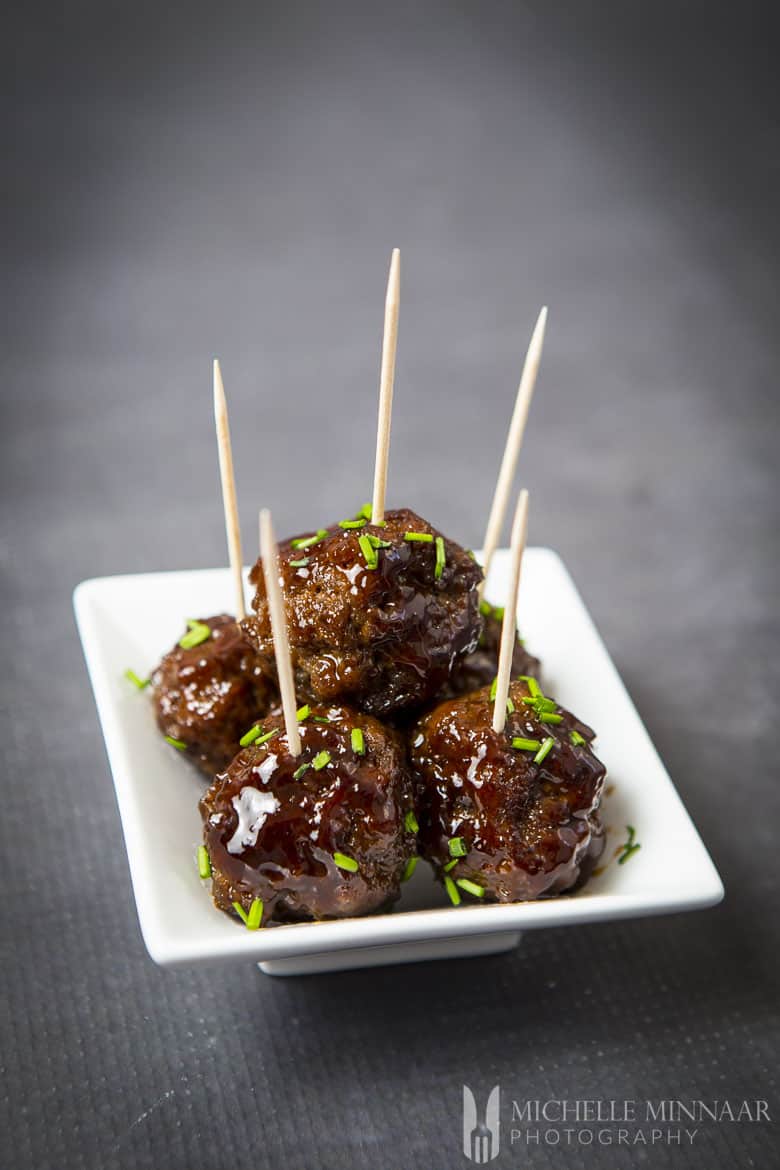 BBQ Meatballs are an American favourite served in numerous ways; as an appetiser, as sandwiches between two pieces of bread, with lettuce, and marinated sauce all over them, inside burgers too. Made from ground beef and served with a BBQ sauce, there are sweet and sour varieties. Sweet varieties use ingredients like brown sugar or grape jelly. Spicier varieties have ingredients like chilli flakes or Worcestershire sauce.
Americans love to learn the best culinary arts from the rest of the world and then give them their own signature twist, and meatballs are no exception. American BBQ meatballs can be barbequed or baked, fried or steamed with a BBQ sauce, either store-bought or homemade. They are wonderful to eat but simple and easy to cook.BBQ meatballs will add zing to your party menu.
Some people think they originate from the state of Virginia, but most say it's Texas. BBQ Meatballs are really popular in Texas and Texas BBQ Meatballs are made with canned evaporated milk and a homemade BBQ sauce.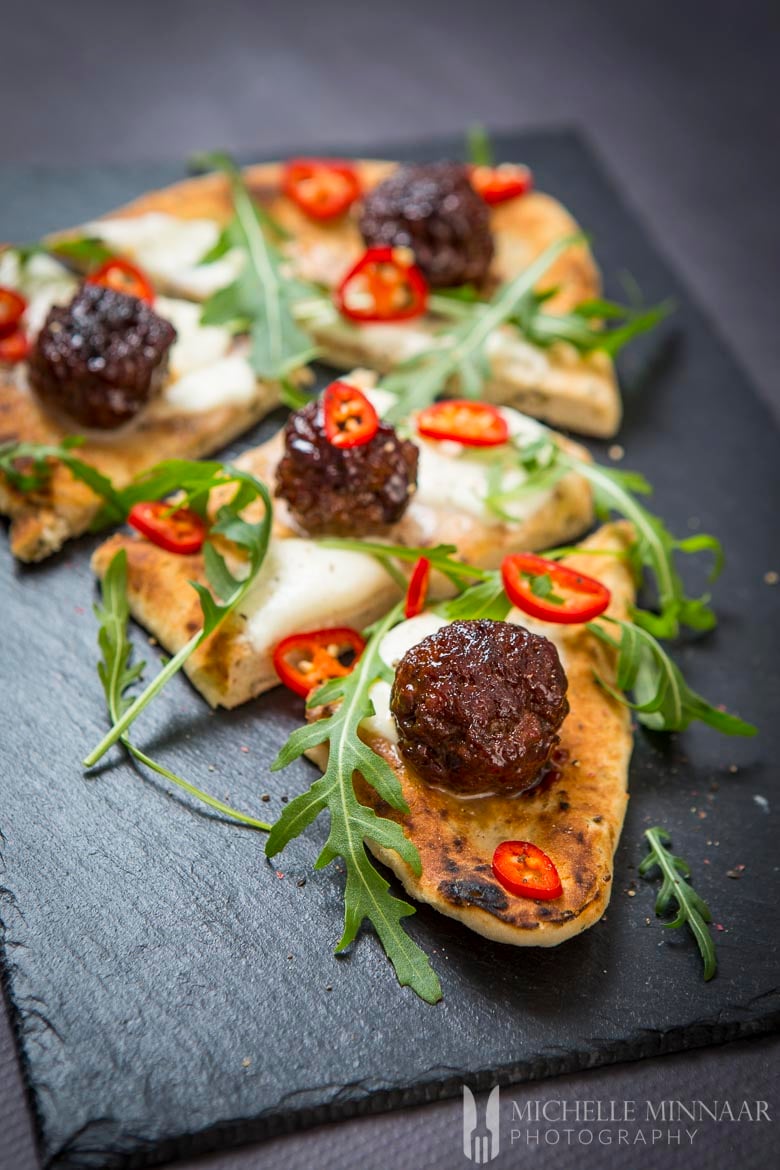 These meatballs can be wrapped up in bacon and drenched in BBQ sauce. Is your mouth watering yet? In many restaurants, you can find BBQ meatball sticks, where there are four or five meatballs on one stick, and you eat the meatballs off of the stick. They can be served inside onion rings, and with pineapples! There is just no end to all the drooling ways to serve this meal, and no matter how it's served, it's always delicious.
The one thing that makes American BBQ meatballs so special, ultimately delectable and easy to make is the BBQ sauce. This sauce gives a whole new dimension to the taste of meatballs!
There are so many exciting variations of meatballs. You could serve meatballs almost every day of the week and experience exotic new tastes at the same time. Your family wouldn't know the difference with all these enticing options.
Print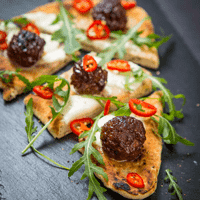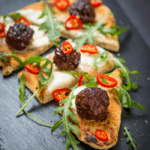 BBQ Meatballs
---
1

kg

(2lbs) minced beef

10

ml

(2 tsp) salt

10

ml

(2 tsp) garlic granules

30

ml

(2 tbsp) vegetable oil

250

ml

(1 cup) BBQ sauce

125

ml

(1/2 cup) brown sugar
---
Instructions
In a large bowl, mix the salt and garlic powder with the mince thoroughly.
Roll all the meat into 5cm (2in) balls.
Preheat the oven to 180°C/350°F/gas mark 4.
In a large nonstick frying pan, heat the oil then brown the meatballs in batches.
Place the meatballs in a single layer in a baking tray.
In the same pan, pour the BBQ sauce and add the sugar.
Heat the mixture and let it bubble. Keep on stirring until the sugar has dissolved.
Pour the sauce over the meatballs and make the meatballs in the oven for about 45 minutes or until the meat is thoroughly cooked.
Notes
Serve on toothpicks as canapés.
Serve with mashed potatoes and seasonal vegetables.
Alternatively, you can pan fry the meat instead of baking it in the oven.
Prep Time:

60 minutes

Cook Time:

30 minutes

Category:

Main Course

Cuisine:

American
Nutrition
Serving Size:

1 serving

Calories:

416

Sugar:

26.6 g

Sodium:

1245 mg

Fat:

10.1 g

Saturated Fat:

1.7 g

Carbohydrates:

27.3 g
save the recipe to your pinterest board