I know that this broad bean recipe sounds too simple to enjoy. However, it really isn't. This recipe proves that simplicity is sometimes the best in terms of delivering powerful flavours. What I love about this broad bean recipe is the fact that anyone can do it. It's just a matter of minutes! I mean, how hard is it to fry up some bacon in pan? This dish makes cooking manageable, even for the most inexperienced cooks. Therefore, you can ask your partner to help you prepare lunch or dinner any time, guilt-free. Let's face it, time is precious and we all rush nowadays to get things done. That's why we also need quick, easy and delicious recipes like this one, to help us a little. Enjoy!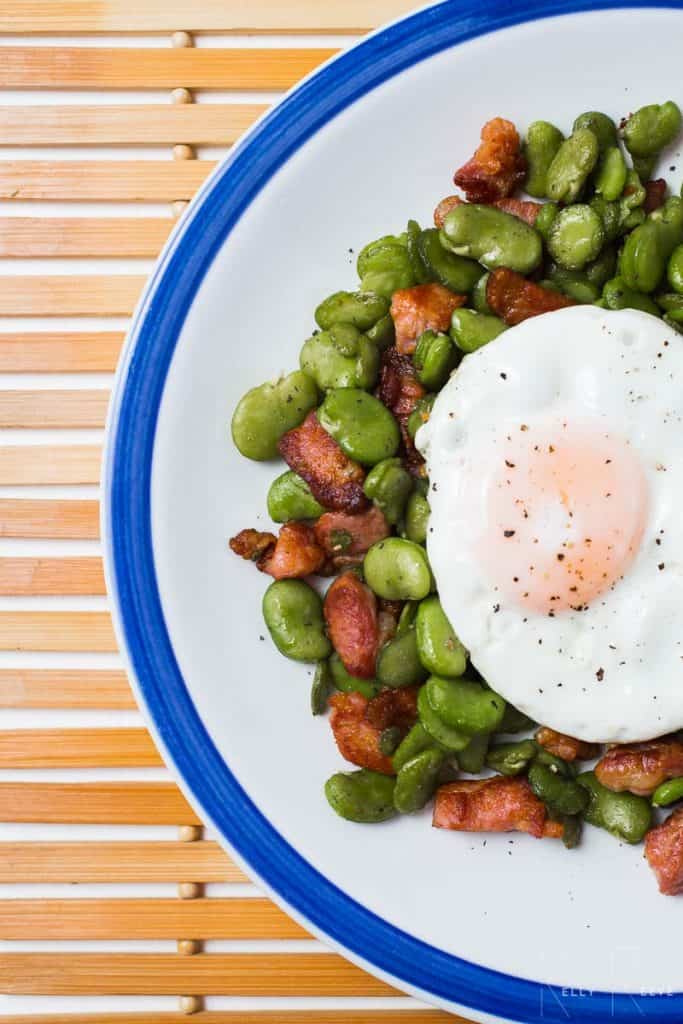 Dinner Renovations
Speaking of fast and delicious recipes, have you ever renovated or moved houses? It can be quite a pain and tiresome. My very talented food blogger friend, Ren Behan, came up with a solution to tackle the pressing issue of limited time. She wrote her blog on this issue while renovating her house. With her one-pan philosophy, she sets a great example by eliminating eating out or buying those unhealthy pre-cooked meals. Let's be honest, we all go for those in the end when we stress at work or have unfinished business to attend to at home. Trust me, there's a lot less nutritional value in pre-cooked meals.
Luckily, Ren Behan has created stress-free and simple recipes that are in line with the season of spring, just like this broad bean recipe. She emphasizes that, there is nothing more important than cooking a warm healthy meal in your kitchen. Especially after a dusty day of renovations. Ever had difficulties eating a lovely meal while renovations took place? Limited space or limited access to your essential kitchen equipment was most likely to blame.
Things that make a difference
Ren Behan advises how to overcome the challenges of the difficult period of renovations. She suggests that you can do the following:
First, get yourself an all-in-one cooker, a slow cooker/pressure cooker. You'll save space.
Second, keep your kitchen utensils in clear boxes, so you can easily see where things are.
Third, set-up a separate kitchen for your builders so they don't interfere and move stuff around.
Yes, this broad bean recipe is a one pot meal. Great for renovations!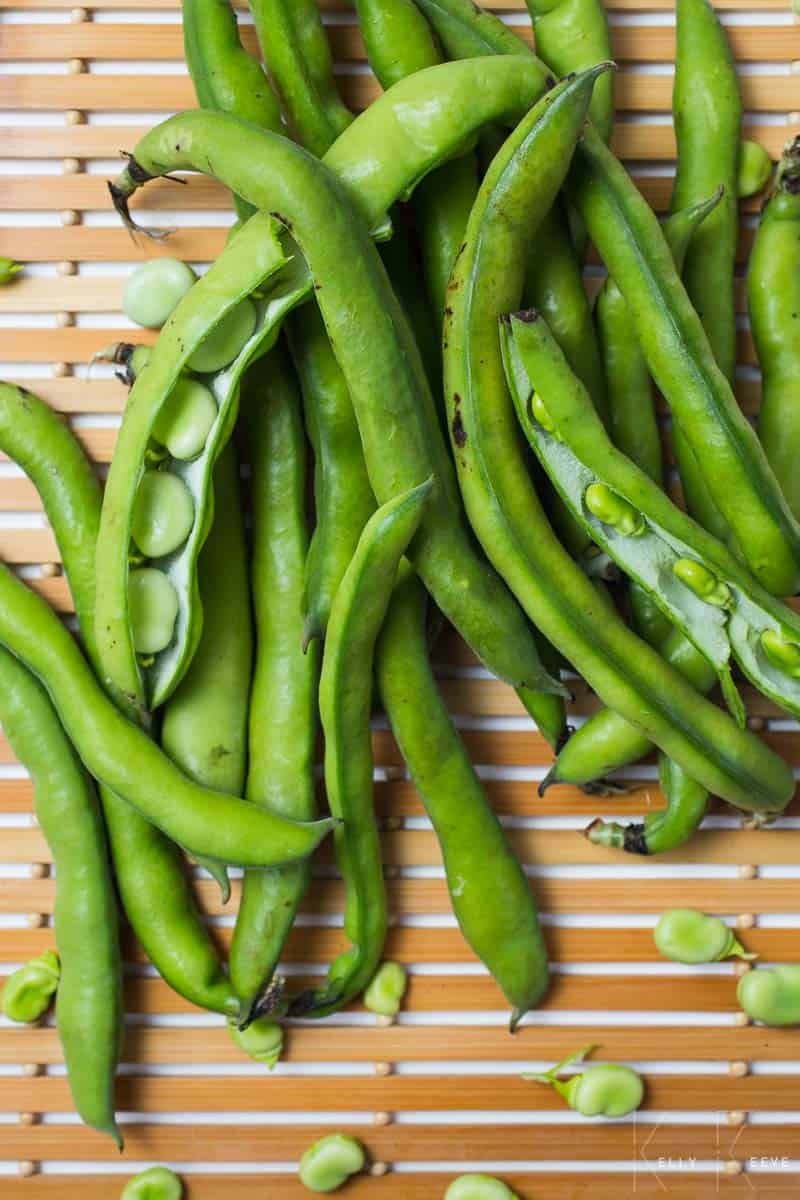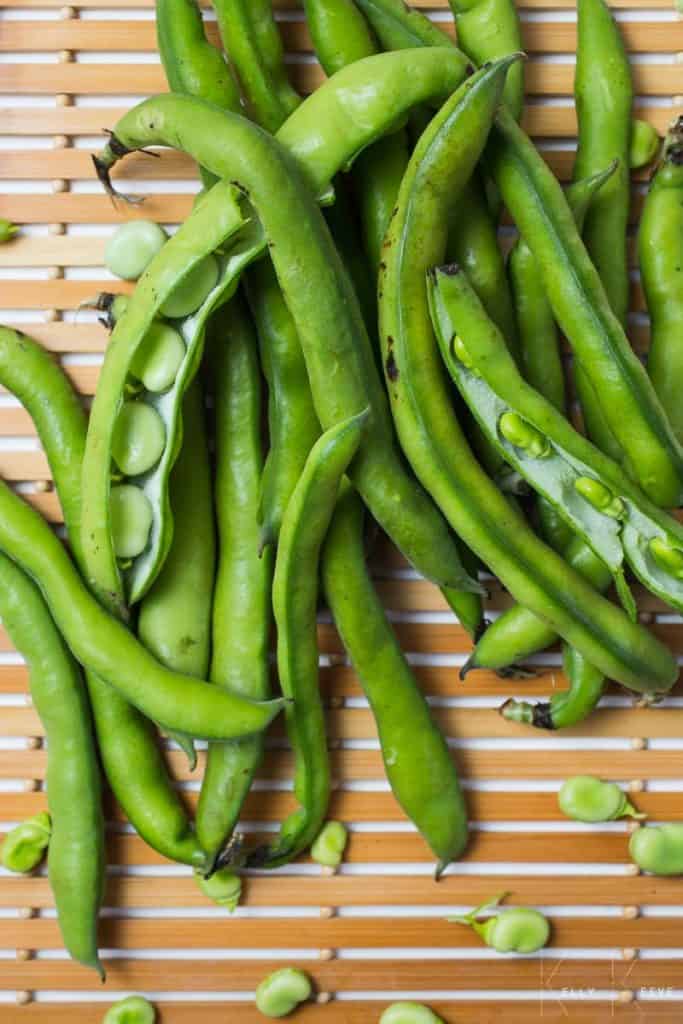 Broad beans
Up until a couple of years ago, even I have never heard of broad beans. Nevertheless, broad beans are somewhat exceptional and are subtle in taste. Sometimes, they even have a slightly bitter aftertaste. You might have heard some people refer to them as fava beans, horse beans or Windsor beans. Have a go! They are delicious.
A brief history of broad beans
Broad beans have been cultivated almost 8,000 years in the Middle East, before they arrived in Western Europe. It is rumoured that broad beans were the food of choice during the Bronze Age and the ancient Egyptian era. Would you believe that upper class Egyptians chose not to eat broad beans? Back then, they were known as peasant food. How ironic. Nowadays, I have difficulties finding fresh broad beans. Where do you get yours? Supermarket, local farmer's market or do you grow your own?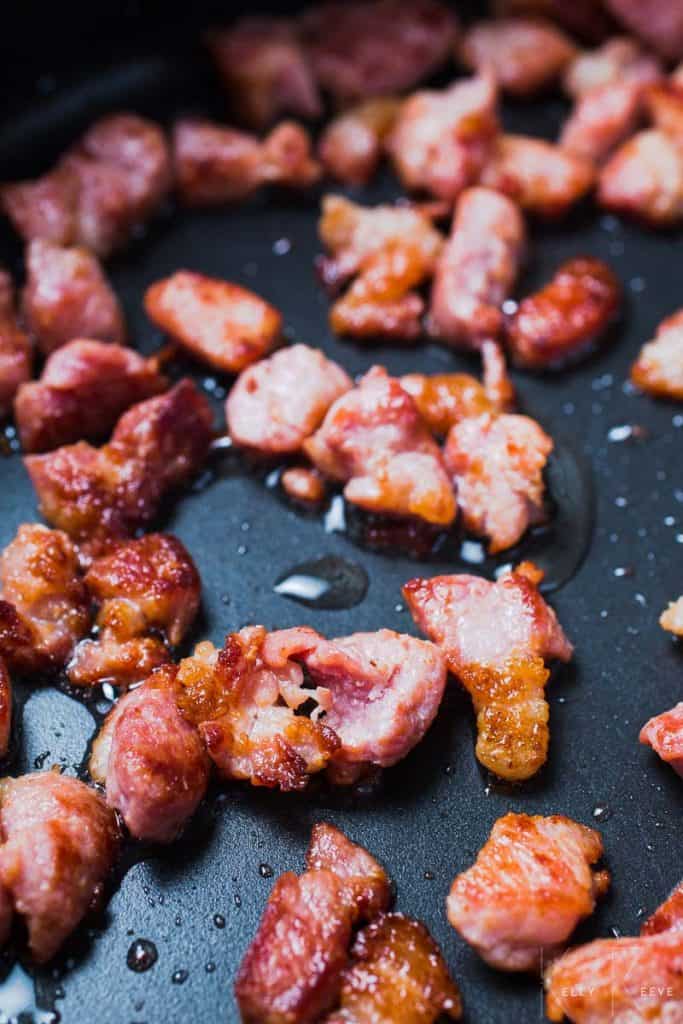 Bean substitutes for this broad bean recipe
There are plenty of bean substitutes you can use for the broad bean recipe. In fact, there are so many beans, that I am only going to mention those which are suited for this flavour profile.
Butter beans – this is an excellent substitute. I recently made the most beautiful butterbean salad with avocado, pesto and pumpkin seeds.
Red kidney beans – these are very high in fiber and often have a slightly sweet aftertaste. Yum!
Pinto beans – very similar to red kidney beans. Slightly stronger taste, but smaller in size.
Green beans – there are my favourite. There are long, fresh and crunchy. In addition, they are very versatile too!
You can also use green peas, lentils or chickpeas as a substitute to traditional beans. If you are considering chickpeas, make sure you roast them.
Add more flavours
First of all, this broad bean recipe calls for tossing the beans in the pan where you fry the bacon. The beans will absorb the smoky and salty flavour of the bacon. Excellent for any bacon fan! However, sometimes we can still crave more flavours. I recommend chopping up some garlic, and frying it for some a considerable time. Toss the broad beans with bacon in the garlic at the end.
You can also add cream, especially if you are using lentils as a substitute. This recipe is a very common quick family meal in France (lentils, cream and bacon). However, the best thing that works for me, especially if I want more protein out of my meal, is to add an egg. Not just any egg! If you have the means and time, consider making eggs benedict! As soon as you cut through the egg, the yolk will ooze out and create a sauce for your broad bean recipe. Works exceptionally well with the crispy bacon! Try it! You won't regret this.
Making a salad
There are plenty of directions you can take with this broad bean recipe in. You can add fresh herbs and vegetables to make a salad. For example, toss in some fresh asparagus, cherry tomatoes, watercress salad dressing with the broad beans with bacon. Top it off with some fresh coriander, parsley, or even fresh chilies. Delicious!
Second, you can also try making a mash out of these broad beans. Perhaps boil some celery and add it to the mash for more flavour. Here, you've got a great low-carb mash! Furthermore, you can stick the mash in the oven with some golden cheese on top.
Carnivore
Lastly, serve this broad bean recipe as a side. Therefore, this leaves room for adding delicious meat, grilled haloumi or even fish like miso salmon. Generally, I prefer to use fish. You can simply pan fry these:
Cod
Haddock
Salmon
Seabass
Shrimp
Scallops
I absolutely adore scallops. Moreover, they take roughly 30 seconds to cook! Enjoy!
Print
Broad Beans with Bacon
---
250

g

(1/2 lb) broad beans, peeled

250

g

(1/2 lb) bacon, cut into bite-sized pieces
---
Instructions
Boil the beans in salted water for 5 minutes or until just tender. Drain and set aside.
In a large frying pan, fry the bacon over a high heat to release the fat. You might need a splash of oil, depending on whether on the type of bacon you're using.
Continue frying the bacon until deeply browned.
Add the beans to the bacon and fry for 5 minutes, stirring frequently to cover them in the fat and flavour.
Notes
Here, it was served with a fried egg on top, which made for a fabulous brunch.
This is the simplest recipe but there are many ways you can jazz it up. E.g. Frying chopped onions and garlic with the mixture, adding some sherry and even a bit of cream! As it is it's pretty good too!
Prep Time:

30 minutes

Cook Time:

30 minutes

Category:

Dinner

Method:

Pan Fry

Cuisine:

British
Nutrition
Serving Size:

1 serving

Calories:

475

Sugar:

3 g

Sodium:

235 mg

Fat:

5.5 g

Saturated Fat:

1.3 g

Carbohydrates:

78.9 g

Fiber:

18.1 g

Protein:

27.8 g

Cholesterol:

10 mg
save the recipe to your pinterest board
P.S. This is a sponsored post.
A special thanks to Kelly Reeve for assisting with the recipe shoot.