Chicken soup made from the chicken carcass, why not? All the flavors of wonderful homemade chicken stock come together in this comforting chicken carcass soup recipe. This may be the best chicken soup recipe yet!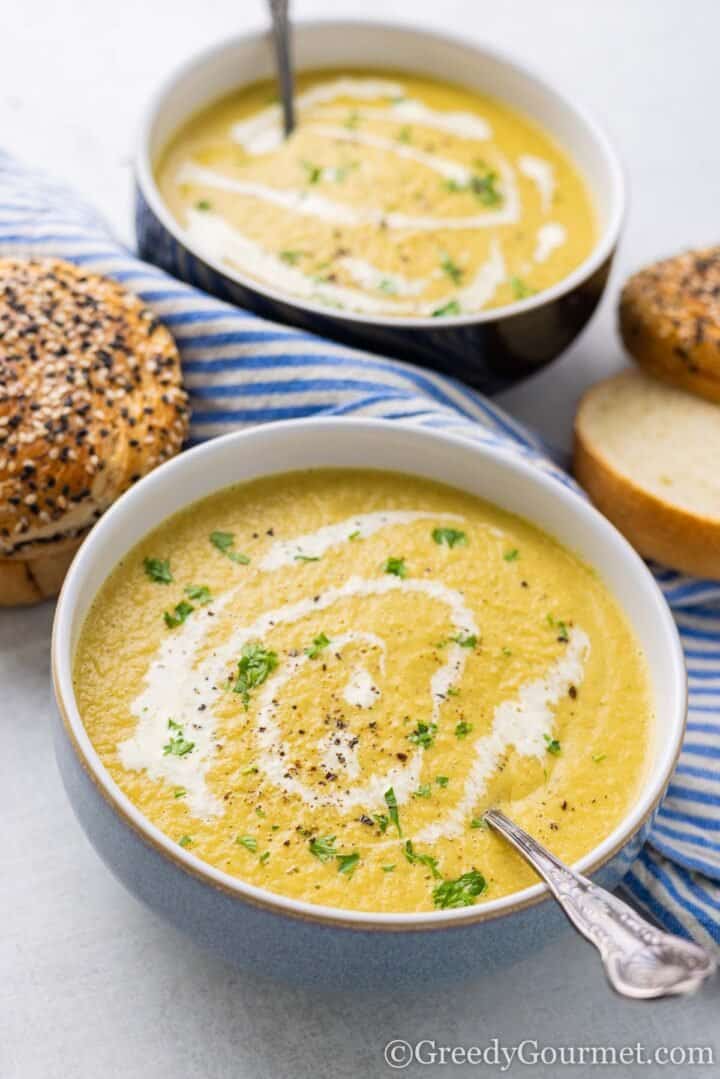 The secret to this savory soup recipe is the chicken bones, where lots of flavor and nutrients hide. Along with chopped carrots, celery, onions, garlic, leeks, and dried herbs, the layers of flavor in this soup are rich and plentiful in a relatively short cooking time.
This soup is similar in flavor to the classic chicken noodle soup recipe but with a twist. The ingredients, including some of the chicken meat, are blended together in a food processor for a creamy soup that you can make with or without any cream!
This chicken soup recipe is inspired by my leftover turkey soup recipe, another comforting soup recipe made with leftover meat. This chicken carcass soup recipe goes great with a fresh loaf of my healthy chia seed bread or any other chunky bread for a filling and complete meal that the whole family will love.
There's never a bad time for chicken soup, but this chicken carcass soup recipe is especially warm and satisfying when the weather cools down. Enjoy this soup when cold season is in full swing and a cup of plain chicken broth and chunky bread just won't cut it.
Why You'll Love This Recipe
It's healthy with lots of nutrients
It's delicious and kids love it
It's easy to make
It's creamy and irresistable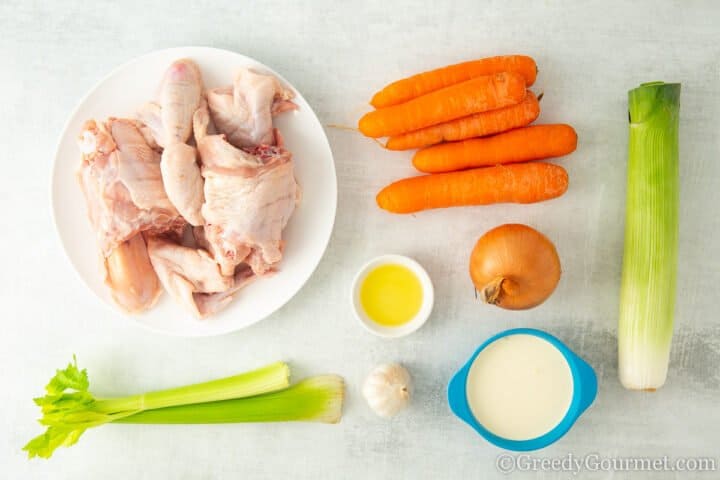 Equipment Needed to Make This Recipe
Top Tip
Break down the whole chicken carcass on your own to save some money when making this recipe. The grocery or butcher charges extra money to break down the chicken carcass, so by learning the basic of butchering, you can save some change. In addition you don't waste any part of the chicken carcass, as the whole bird can go into the pot.
How to Make This Recipe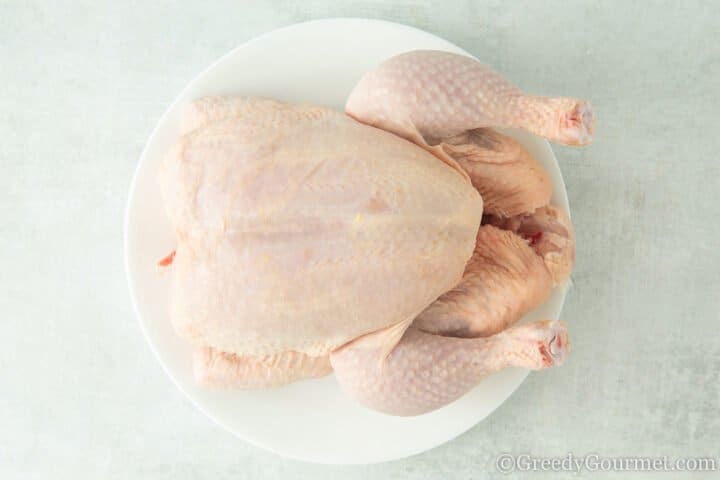 Butcher a whole chicken. Reserve the breasts and chicken legs for other recipes. It works out cheaper!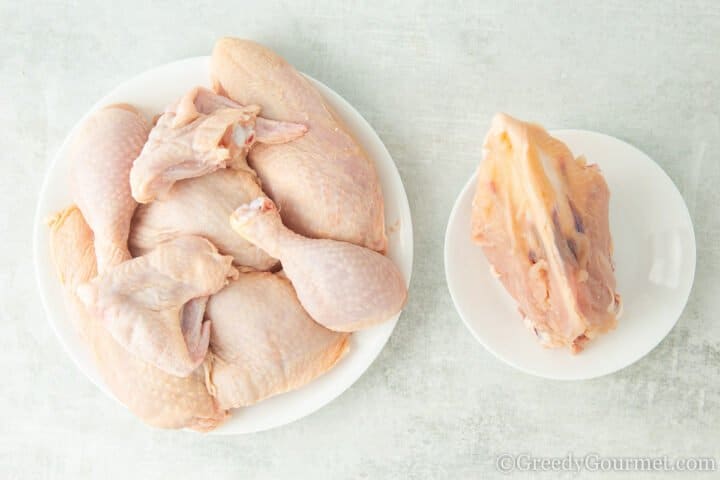 In this recipe I used the carcass and wings.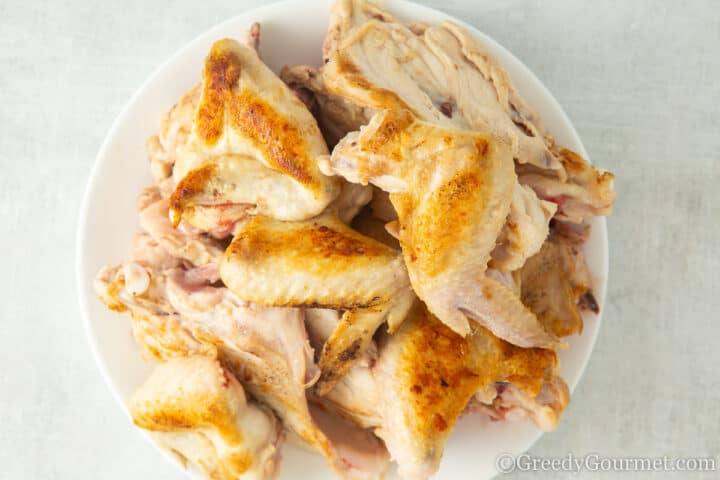 Brown the chicken pieces. Remove from the pot.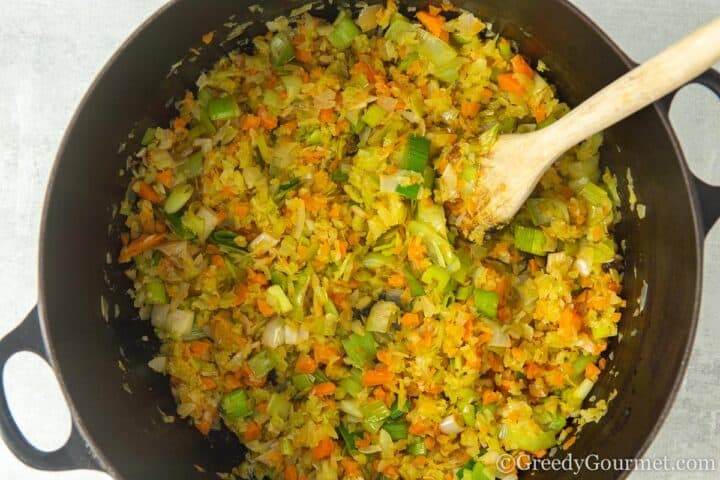 Soften the vegetables with an extra bit of oil.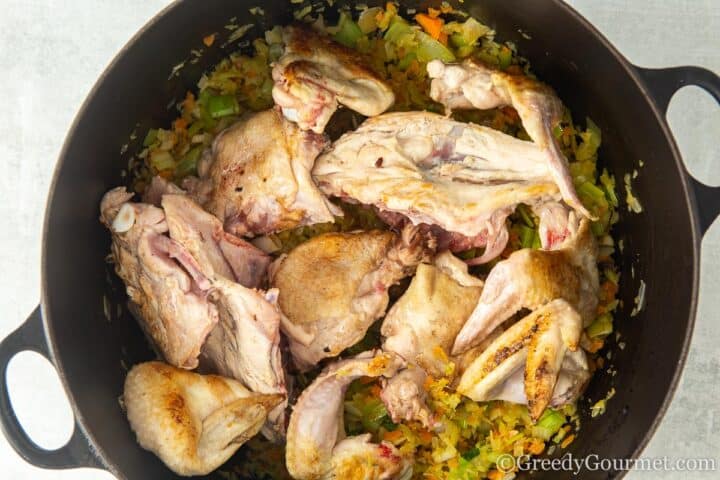 Add the browned chicken pieces.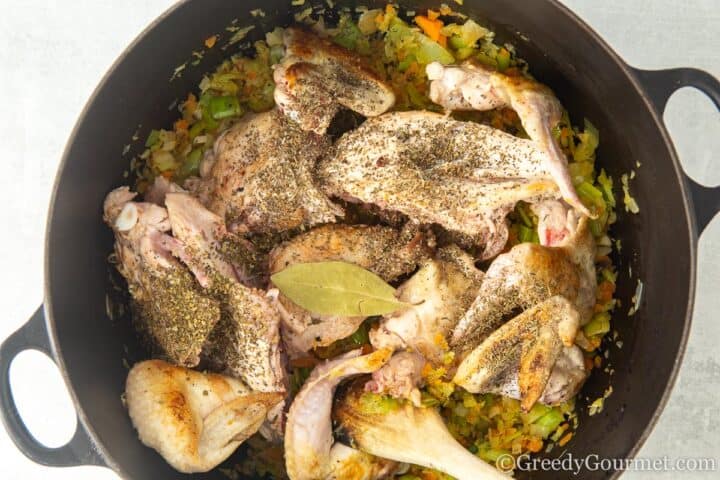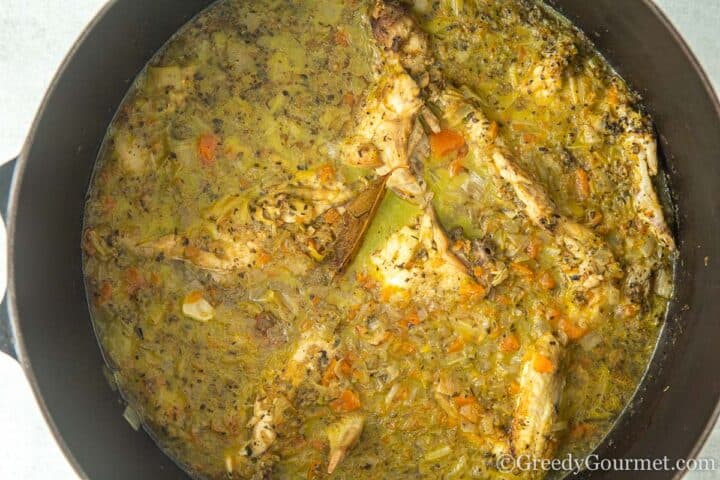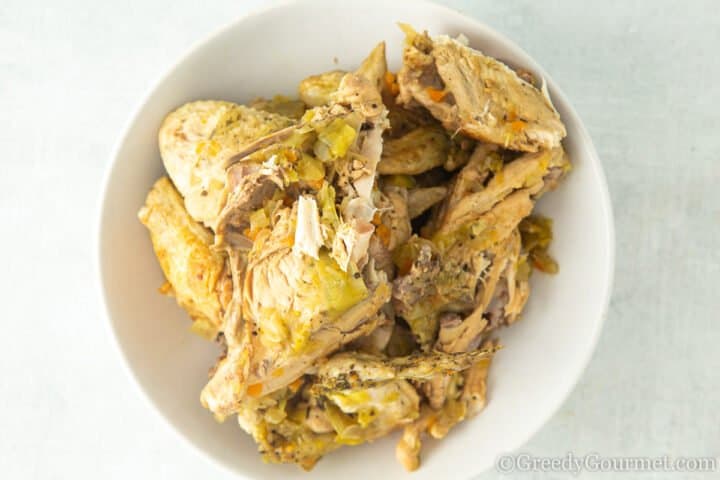 Remove the chicken pieces from the soup.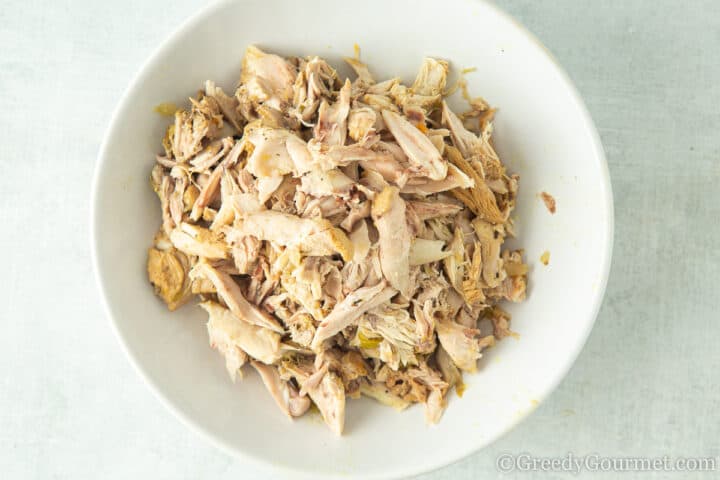 Pick the meat off the bones and chuck the former back into the soup. Blitz the soup if you like your soups smooth.
Top Tip
You can use leftover roast chicken instead of starting from scratch with raw chicken as a shortcut to your chicken carcass soup. If you use leftover chicken you won't get some of the extra flavor from browning the raw chicken in your pot.
Popular Substitutions for This Recipe
Chicken
You can make this chicken carcass recipe with leftover chicken instead of raw for a shortcut that will still taste good. Leftover chicken won't produce the same layers of flavor as starting from scratch, but it is a great shortcut. If you can use leftover chicken that has been roasted, there will be richer flavor.

This recipe can also be made with leftover meat from a turkey after Thanksgiving for some variety away from turkey sandwiches
Vegetables
This soup can be made with any combination of vegetables. Instead of carrots, try parsnips, they have the same sweetness as a carrots when you cook them. You can add in fennel instead of celery in a pinch as well and the cooking time will stay the same.
Dried herbs
You can add or omit any combination of dried herbs for you chicken carcass soup, just keep the ratios the same and adjust for flavor as you go. Try rosemary or marjoram for even more flavor, or one or two more bay leaves.
Variations to This Recipe
Add egg noodles to your chicken carcass soup. Who wouldn't love some cooked noodles in this super good soup?
Make this recipe in a slow cooker instead of on the stove. I suggest browning your meat on both sides before placing it in the slow cooker for the extra flavor.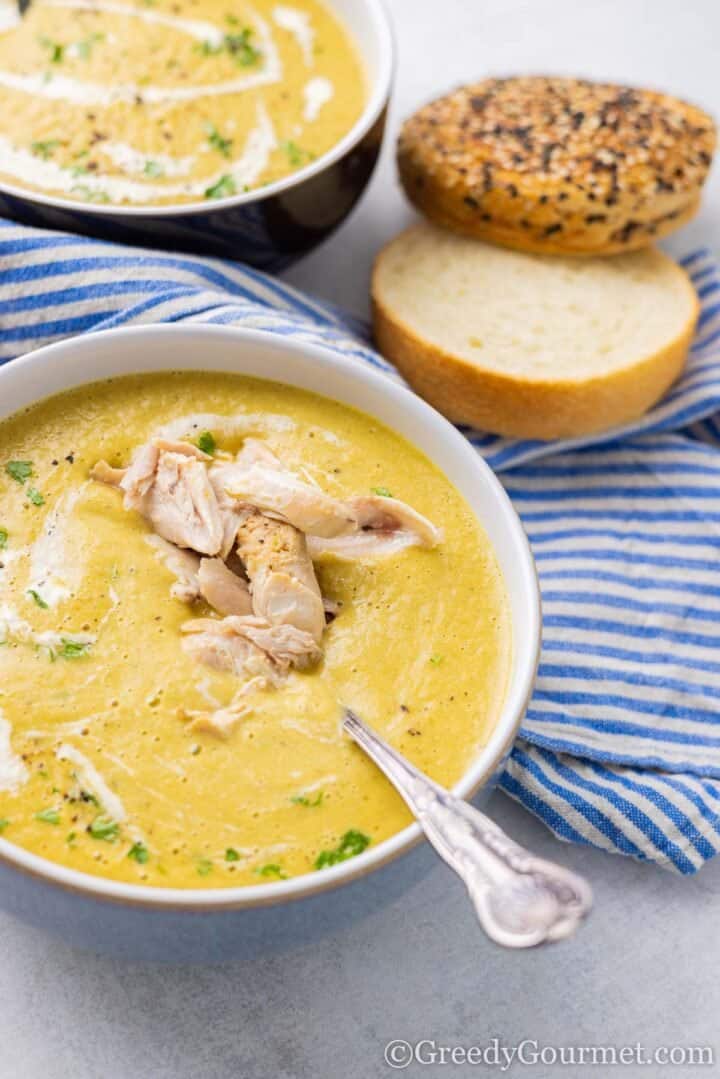 What to Serve With Your Chicken carcass soup
This healthy and very delicious chicken carcass soup is a complete meal in and of itself, but it goes great as an appetizer or course in a meal. Here are some recipes that will go with this hearty soup.
Sides
Accompany your chicken carcass soup with some delicious sides for a smorgasbord of flavors and textures
Salads
A nice crisp and cold salad goes great before or after enjoying a hot bowl of chicken carcass soup
How Do I Store Leftovers?
Store this recipe in an airtight container in the refrigerator once it is cooled down.
Can I Freeze This Recipe?
Yes, you can freeze this chicken carcass soup recipe. In an airtight container, store in the freezer once completely cool for four to six months.
How Long Will This Food Last in The Refrigerator?
This recipe will last for five days in the refrigerator when stored correctly.
Other Soup Recipes You'll Love
Print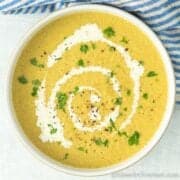 Chicken Carcass Soup Recipe
---
Author:

Michelle Minnaar

Total Time:

1 hour 45 minutes

Yield:

6

servings

1

x

Diet:

Gluten Free
Description
The secret to this chicken carcass is the chicken bones, where lots of the flavour comes from, along with vegetables and spices this is a tasty recipe!
---
15

ml (1 tbsp) vegetable oil

900g

(2lbs) raw chicken carcasses, including 4 wings

15

ml (1 tbsp) butter

1

onion, chopped

3

garlic cloves, crushed

2

leeks, chopped

3

celery stalks, chopped

3

carrots, peeled and chopped

1

bay leaf

1g

(

1 tsp

) dried oregano

1g

(

1 tsp

) dried thyme

1g

(

1 tsp

) dried basil

6g

(

1 tsp

) salt

2

litres (8 cups) water

125

ml (½ cup) double [heavy] cream (optional)
salt and pepper
parsley, chopped
---
Instructions
Heat the oil in a large heavy bottomed saucepan. Brown the chicken pieces on all sides, in batches. Remove from the pan and set aside. 
Melt the butter in the same pan and gently fry the onion for 3 minutes, or until translucent. 
Add the garlic, leeks, celery and carrots and stir fry for 10 minutes until softened and reduced in size. 
Place the chicken back in the pan, along with the bay leaf, oregano, thyme, basil, salt and water. 
Bring to the boil over a low heat, skimming off any scum that rises to the surface.
Cover and simmer over a low heat for 60 minutes.
Lift out the chicken pieces with a slotted spoon. When it's cool enough, pick the meat off the bones and throw away the skin and bones. Leave some shredded chicken on the side to add to the soup when it is done. 
Place the remaining meat plus the soup in a food processor or blender. Process until smooth. This may have to be done in batches.
Return the soup to the pan. If it is too thick, thin is down with a little more stock and water. If you are using cream, stir it in and heat through, but do not let the soup boil.
Season to taste with salt and pepper. Stir in the reserved chicken. Sprinkle with parsley and serve with your favourite crusty bread. Enjoy!
Notes
This is a versatile recipe you can chop and change according to what's at hand. If using fewer ingredients, add less water. Just ensure water covers all contents though. You can experiment with other vegetables as well, e.g. peppers and fennel, which will lend a different flavour to the soup.
If you want to save money, it's best to buy whole chickens and butcher them yourself, which leaves you with raw carcasses and a great excuse to make this soup. 
If you prefer to have a clear soup with even some noodles in it, follow this Turkey Soup recipe (https://www.greedygourmet.com/recipes-by-dish/soups/leftover-turkey-soup/) and replace the turkey with chicken.
This recipe can easily be prepared in a slow cooker. 
Prep Time:

15 minutes

Cook Time:

1 hour 30 minutes

Category:

Soup

Method:

Boil

Cuisine:

British
Keywords: chicken carcass soup recipe, chicken carcass recipe, easy chicken soup from carcass, overnight chicken carcass soup, what to do with chicken carcass, creamy chicken soup from carcass, slow cooker chicken carcass soup