Once you have a baby you can kiss restaurants goodbye. I can't remember the last time Neil and I enjoyed a relaxed meal where the food was exquisite.
What I do remember is a fiasco or two with a baby in tow. Last year June we decided to take a road trip through Ireland when Gabriel was only 14 months old. To give him credit, he was a good traveller and we were even lucky enough to get him sleeping during meal times so that we could enjoy our food in peace. Other times we were less lucky, for example in Dingle. It was just before dinner time so all proper restaurants were closed and we had the choice of a few run of the mill pubs. After tossing a coin we decided on one only to find it really busy inside. Gabriel just had a nap and was getting fidgety on Neil's lap (no space for a buggy), ready to crawl all over the place and explore. When he didn't get his way he yelled, to which we responded with a dummy. With an act of indignation he tossed the dummy under the table of an uptight, retired American couple sitting next to us. After scrambling to get the dummy we popped the dummy right back in his mouth only to notice the old-timers look daggers at us. So?! Times were desperate and it was a good exercise in building his immune system! We ended up taking turns eating while the other one walked outside with Gabriel…
During spring this year we went with my parents to the Lake District. Gabriel recently turned into a lovely, terrible two year old and when he got an inkling we were about to enter a building/shop/pub/whatever he threw temper tantrums. A plan was needed. One couple stayed with Gabriel in the people carrier while the other ate in the pub and then swap duties. The pub's staff dubbed us as "Strange People" as stated on the bill. I kid you not.
Therefore I am glad and proud to be able to make dishes like this one. It looks posh and complicated to make but in actual fact it's dead easy. With Gabriel keeping us chatty company we can enjoy a five-star dinner in our own home without worrying about anything else…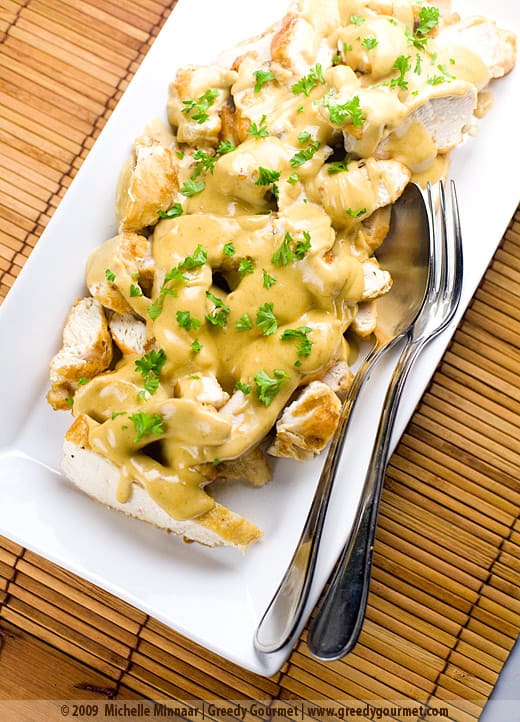 Print
Chicken with Creamy Marsala Sauce
---
6

chicken breast fillets

45

ml (3 tbsp) plain flour

30

ml (2 tbsp) olive oil

25g

(

2 tbsp

) butter
salt and ground pepper

175

ml (6 fl oz/¾ cup) dry Marsala

60

ml (4 tbsp) lemon juice (optional)

175

ml (6 fl oz/¾ cup) double [heavy] cream
chopped parsley for garnish
---
Instructions
Put each chicken breast between two sheets of clear film and pound with a rolling pin to flatten out evenly. Cut each steak in half or into quarters, cutting away and discarding any sinew.
Spread out the flour in a shallow bowl. Season well with salt and pepper and coat the meat.
Heat the oil and butter in a wide, heavy-based saucepan or frying pan until sizzling. Add as many pieces of chicken as you can, and sauté over a medium heat for about 3 minutes on each side until crispy and tender.
Transfer to a warmed serving dish with tongs and keep hot. Repeat with the remaining chicken. Lower the heat.
To make the sauce, mix the Marsala and lemon juice in a jug, add to the oil and butter in the pan and raise the heat. Bring to the boil, stirring in the sediment, and then add the cream.
Simmer; stirring constantly until the sauce is reduced and glossy. Taste for seasoning.
Spoon the sauce over the chicken, garnish with the lemon wedges and parsley and serve at once.
Notes
Serve with boiled new potatoes and your favourite steamed vegetables.
As you can see in the photos, I've sliced the chicken breasts thinly, placed them in a serving dish and drizzled the sauce on top. It makes a great centrepiece for a dinner party!
You can use turkey steaks too instead of chicken breasts.
Prep Time:

20 minutes

Cook Time:

10 minutes
Nutrition
Serving Size:

1 serving

Calories:

259

Sugar:

7.9 g

Sodium:

630 mg

Fat:

10 g

Saturated Fat:

4.8 g

Carbohydrates:

14.1 g

Fiber:

2.4 g

Protein:

20.1 g

Cholesterol:

72 mg