Ginger prawns, when done properly, are a classic that go hand-in-hand with soy sauce. Especially in Chinese cuisine. Ginger prawns are not usually accepted by the likes of children, as it's too spicy for them. Still, I'd recommend serving them, because both ginger and prawns are very nutritious and full of vitamins. Perfect for the back to school period, don't you think? Plus, the preparation time is really favourable to us, busy adults. The ideal cooking time for prawns is roughly 3 minutes, depending on size of course. In contrast to making a stew, the ginger prawns will take no time at all.
However, you should take care with ginger prawns. The soy sauce can either make or break the dish. This goes with any other type of sauce served with the ginger prawns. If you've got a sauce that's full of stabilizers or is too salty, it might not be the best idea to use it. At times like these, I even consider making my own soy sauce. However, this is a long and tedious process. Even though I love those umami flavours of the soy sauce, I simply don't have time for that now. Therefore, we should appreciate those who take the time to produce a high quality and delicious soy sauce. I might give it a go one day, who knows. For now, I choose to select the right type of soy sauce, which is from Lee Kum Kee.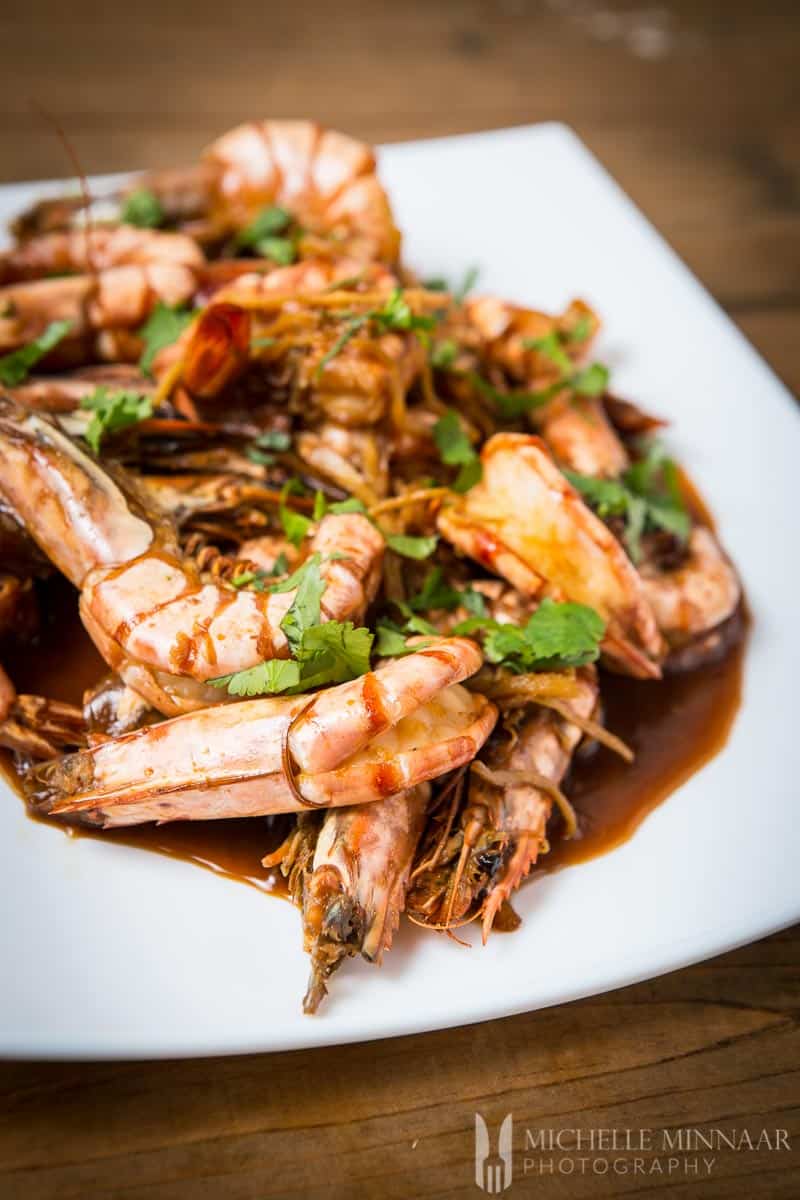 Lee Kum Lee
The Lee Kum Lee family-owned company is almost 130 years old! It dates back to 1888, when Lee Kum Sheung, a restauranteur in a small eatery in Southern China came across something while cooking. Like everything else, usually the best inventions are the ones which are made by accident. While Mr. Lee was making oyster soup and leaving it for a while, he accidently discovered a delicious thick sauce forming on top of the soup. Hence, oyster sauce came to existence along with the Lee Kum Lee company. Over some time, four generations have created over 220 different sauces across five continents, which has caused a revolution in Chinese cuisine. Authenticity and quality are of the utmost importance.
Since then Lee Kum Lee sauce have been the popular choice amongst consumers worldwide. Here are just a couple of reasons why. First, they never use GMO soy beans, and only source the beans of the highest standards. Second, they pay attention to the small details that really matter. For example, they take care for having all soy beans relatively in the same size. Why is this important? It ensures that all beans soften at the same time. Now that's what I call dedication to excellence. Lee Kum Lee also performs over 900 food tests on the soy sauce, so you know that your soy sauce for the ginger prawns is of the best quality. That's why they are the number one soy sauce brand in all of Hong Kong. For more information on Lee Kum Lee and its products, click here.
Soy Sauce Deluxe
I recommend using the Soy Sauce Deluxe for the ginger prawns. Not only does it a have that smoothness that a soy sauce should have, it also has those strong umami flavours that will work perfectly with the ginger prawns. In addition, the soy sauce underwent a double fermentation process. This makes the sauce fuller, richer and more intense in terms of flavour. Definitely suitable for those who appreciate a stronger soy bean aroma. Amongst other Lee Kum Lee sauces, I recommend this one the most for the ginger prawns. It will counter the spice levels and the tanginess given by the ginger. However, due to its intensity, it also goes well with beef, fish and plain old noodles! So, don't be afraid to experiment and try it out on some heavier meats too!
If you wish to go for even higher levels of intensity, you can always ramp it up with some heat, meaning chili. If you feel like using your grill one last time before the summer is over, then go for the grilled soy marinated prawns. Don't forget to marinate them with the Soy Sauce Deluxe!
other versions
If you enjoy the rich taste of umami, then Soy Sauce Deluxe is the one for you. If this taste of taste is not exactly your thing, don't worry. There are other versions out there, with which you can play around. For example, you can try any of these delicious high-quality sauces:
Premium Light Soy Sauce – good for salads and using as a substitute if you're dieting.
Red Braising Sauce – good for meats such as beef or pork.
Sweet Soy Sauce – for dim sum and rice. Also, good to add to dishes with really high spice levels.
Premium Dark Soy Sauce – intense and more bitter in terms of taste. Good for frying.
the making of soy sauce
Now that we've got the soy sauce conversation going, you're probably more curious about how soy sauce is made. If you have the patience to make your own soy sauce, then I officially admire you. It's definitely not the easiest thing out there, but it must be worth it. The best part is, that you can make you own bio version of soy sauce. First, you source the soy beans. This should be fairly easy, as they generally are accessible in Asian shops. Then, you soak the beans in water and after you steam them. Wait until they cook.
Now it gets a bit complicated. Once this step is done, you'll need to mix the beans with some koji, which is culture stock. Ferment a couple of times and draw out the raw sauce. Next, you' ll need to place the sauce in the sunlight for a couple of months. Complicated enough yet for you? Once the fermentation process is done, you'll need to sterilize the soy sauce and then bottle it up and store. Told you, this is not for amateurs!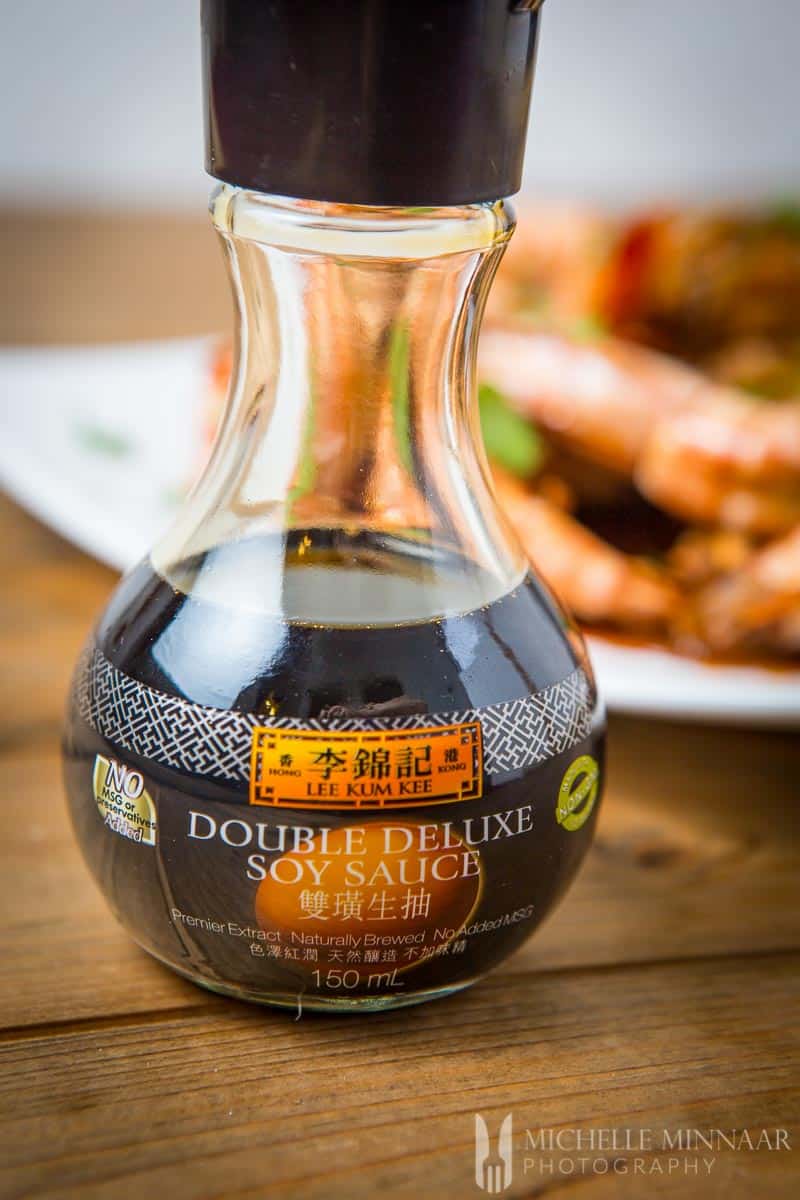 other sauces and spices
If Asian is not your thing and you are not so keen on the ginger prawns, you can always go for the traditional pan-fried garlic butter prawns. Nothing is easier than that! Other versions you can try:
Print
Ginger Prawns with Soy Sauce
---
60

ml (4 tbsp) Lee Kum Kee Double Deluxe Soy Sauce

30

ml (2 tbsp) caster sugar

30

ml (2 tbsp) mirin

15

ml (1 tbsp) oil

10

cm (4in) ginger, peeled and julienned

20

shell-on prawns, cleaned
---
Instructions
In a small bowl, mix the soy sauce, caster sugar and mirin together. Set aside.
Heat the wok and fry the ginger for 2 minutes.
Add the prawns in a single layer and cook until the prawns' edges start turning pink.
Turn the prawns around with tongs and pour the sauce mixture in.
Cook until the prawns turn all pink and are cooked through.
Serve immediately with egg fried rice and greens.
Prep Time:

15 minutes

Cook Time:

10 minutes
Nutrition
Serving Size:

1 serving

Calories:

674

Sugar:

76.4 g

Sodium:

31932 mg

Fat:

10.5 g

Carbohydrates:

90.5 g

Protein:

63 g
save the recipe to your pinterest board