Tender, juicy and unbelievably tasty, grilled lamb loin chops are a quick and easy meal that will please the whole family.
With the help of a secret marinade, these chops will melt in your mouth and leave you wanting more. Want to know how it's done? Let's find out.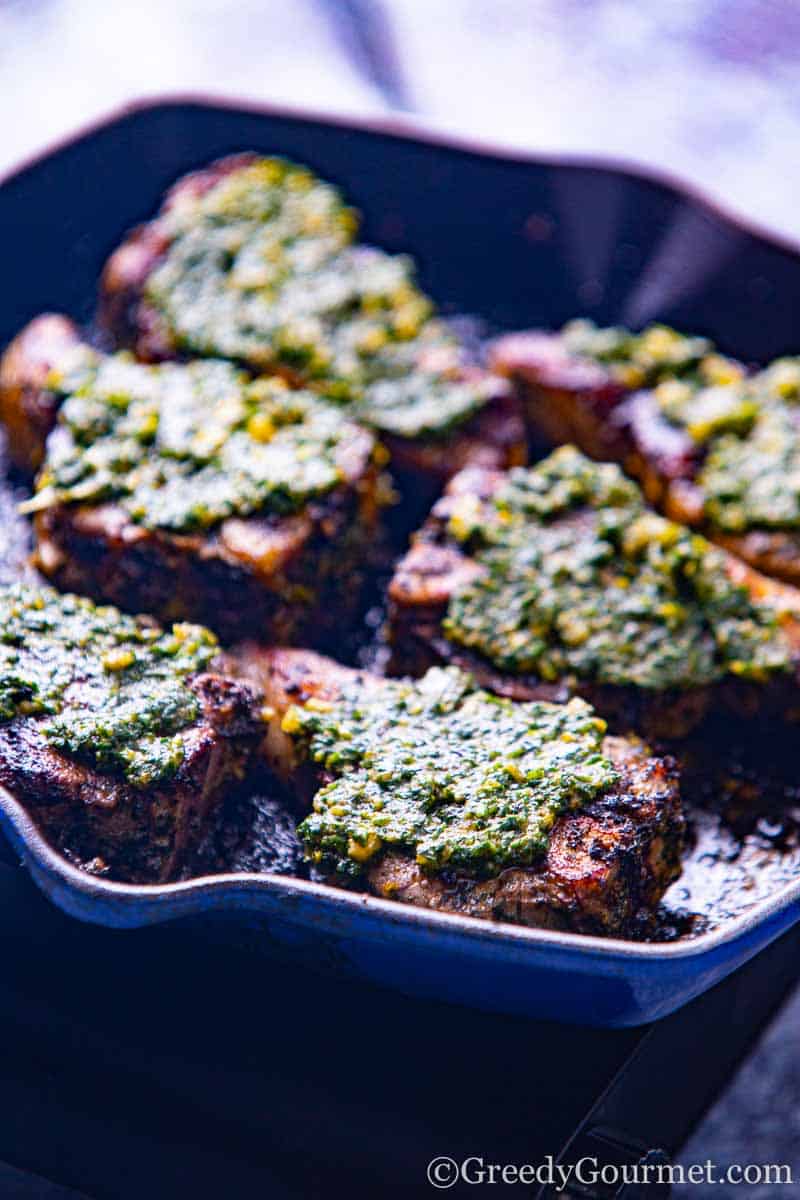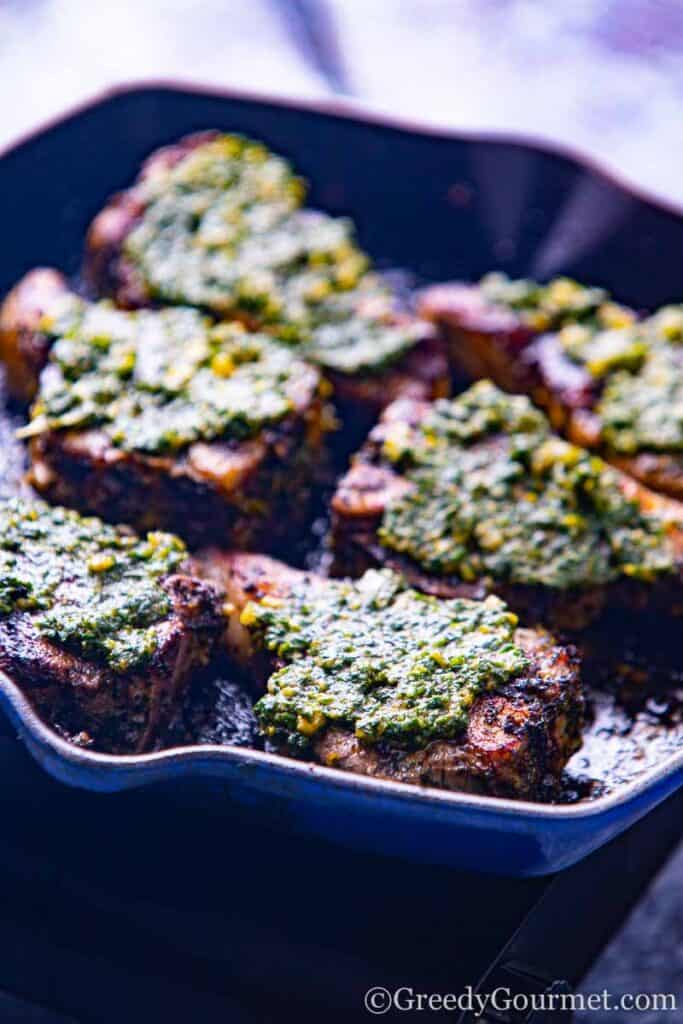 K-Mojo Digimaster
The perfect kitchen tool for all those annoying little jobs, the K-Mojo Digimaster makes a Greedy Gourmet's life so much easier!
It grinds, chops, kneads, blitzes, beats, whisks, emulsifies and does all those chores that take the fun out of cooking. It does them all in seconds and with minimum fuss!
Not only is it functional and fast, it's also got the looks. It's not like one of those bulky, fugly food processors from the 80s. This powerful, sleek gizmo looks great in my kitchen – modern, compact and stylish. Exactly what you want from a 21st century cooking gadget.
For this recipe, I used the K-Mojo to make the chermoula sauce. It took seconds. Literally seconds. All the ingredients in… blitz, blitz, blitz… done.
That's what it's all about. Quick. Easy. Delicious!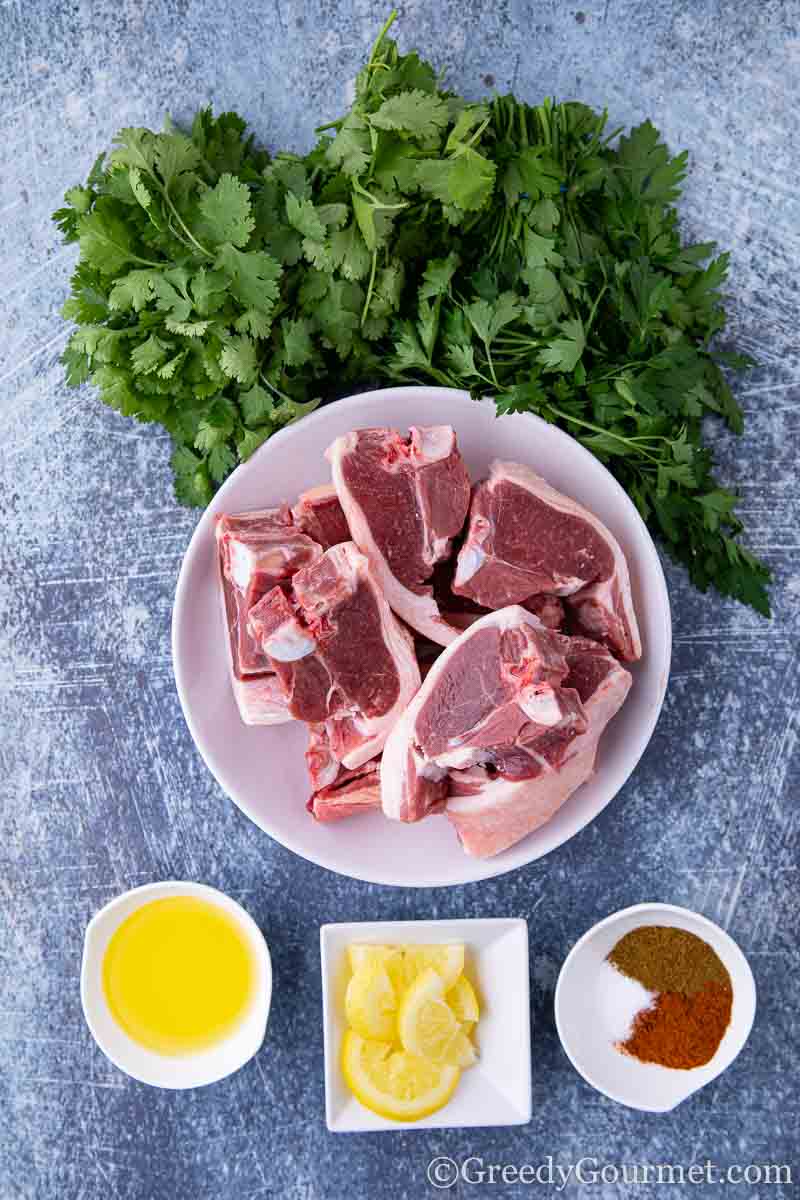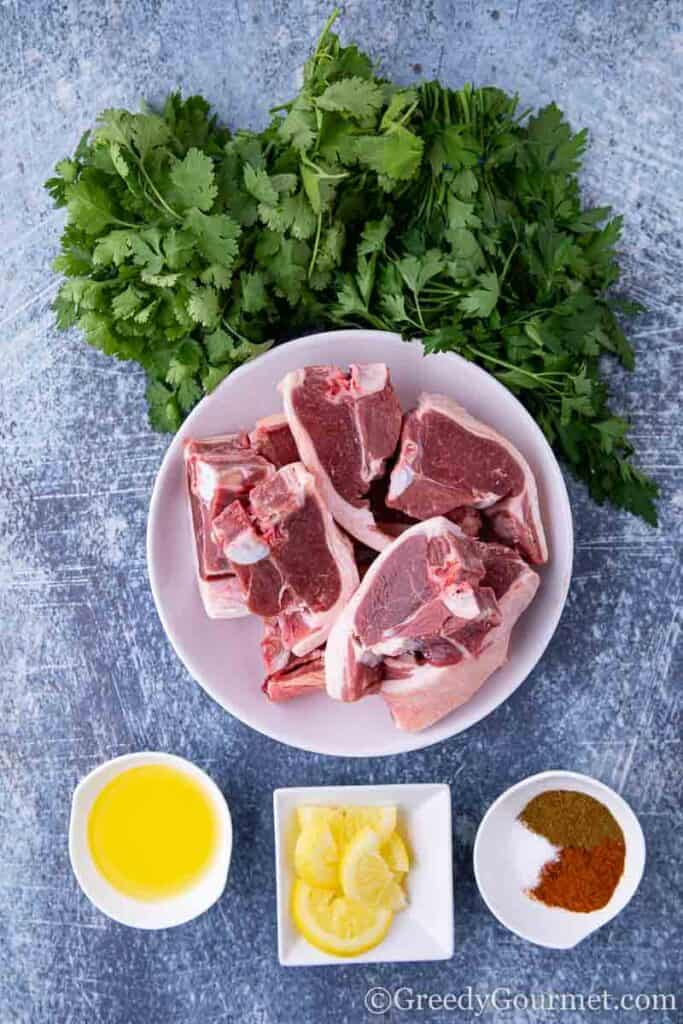 How to grill lamb chops
You need to cook these bad boys hot and fast! That's how you're going to get maximum flavor.
Using a grill or barbecue is the best way to get a high heat. You're only going to need to cook your grilled lamb loin chops for a matter of minutes – they'll be on the grill for no longer than 8 minutes, 3–4 minutes on each side.
Grilled lamb loin chops that are cooked fast and hot are much more flavorful. This is because when meat is seared or browned, the amino acids and sugars are heated together, causing caramelization. This is known as the Maillard reaction.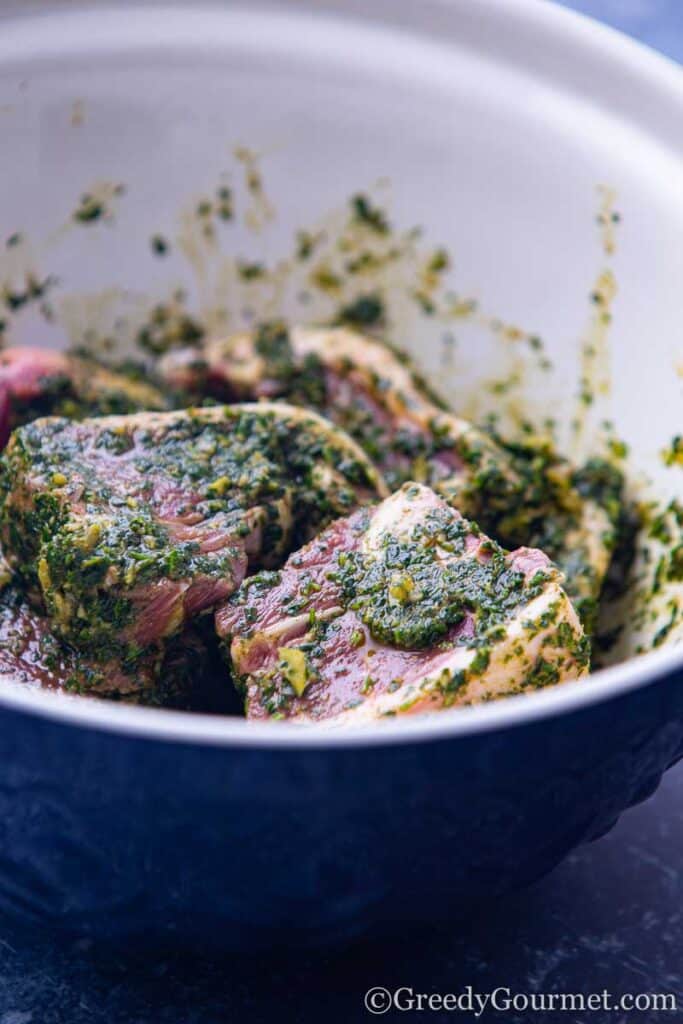 How to season lamb
As long as you cook it properly, all you need for delicious meat is simplicity. Seasoning it with salt and pepper is an easy way to get a great taste. Just a sprinkling of kosher salt, a few turns of ground black pepper and a drizzle of olive oil are enough to make lamb loin chops on the grill taste wonderful.
Of course, you can start to add extra herbs and spices for a more interesting combination of flavors.
For me, fresh rosemary is a fantastic herb to use with lamb. Rosemary has a beautiful woody aroma and taste that really makes lamb sing. Oregano is another great herb that works wonders with many different types of meat, especially lamb.
Another great herb to serve with lamb is mint. Mint sauce, in particular, adds a completely different dimension to lamb.
As for spices, lamb tastes great when cooked in earthy spices. Cumin, paprika and coriander all make lamb extra tasty.
In fact, that's exactly why I've picked these three spices in particular for this recipe. For me, chermoula is the perfect marinade for grilled lamb loin chops.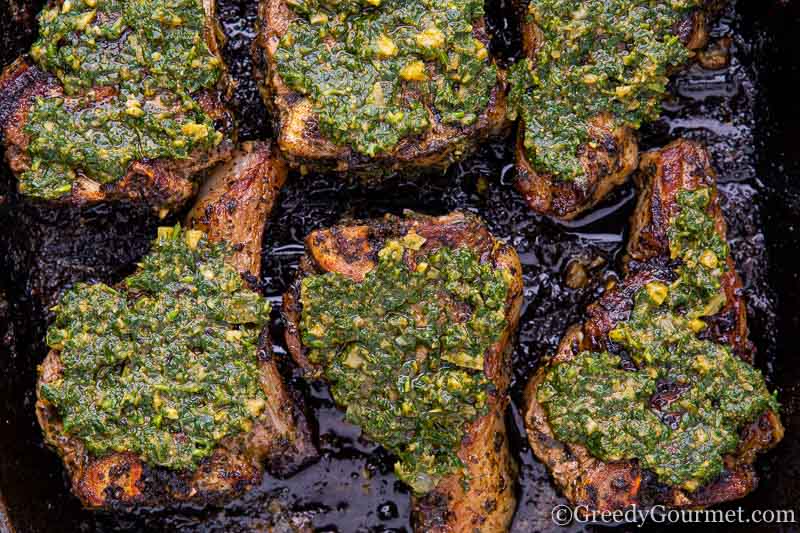 Should you salt lamb chops?
While lamb loin chops are delicious on their own, adding salt to lamb chops imparts lots of flavor. 
The best way to salt lamb chops is to add the salt around 40 to 50 minutes before you cook them. This way, the salt has time to break down the proteins in the meat and to draw the moisture to the surface. You'll end up with an extra tender lamb loin chop with a much more concentrated flavor.
Of course, this recipe calls for using a marinade, but salting lamb chops is a good alternative if you can't get hold of the ingredients for the marinade.
Do you need to marinate lamb chops?
I've heard some people say that marinating lamb isn't a great idea. It's simply not true!
As you'll see from this recipe, marinating lamb gives it an amazing flavor, not to mention a melt-in-the-mouth texture that's absolutely to die for!
Leaving meat – whether it's lamb, beef, chicken or any other type – to marinate for an extended period of time takes the flavor and tenderness to another level. It works on a molecular level – there's real science behind this! 
The proteins in the meat are broken down, so that when the meat cooks, the meat keeps its moisture and the taste of the marinade goes deep into the meat.
For this recipe, I've chosen chermoula as the marinade. If you've never heard of it, you're in for a treat! It's an incredible North African spicy marinade with a flavor that's perfectly in harmony with lamb. You're going to love it!
In fact, find out all about it by checking out my chermoula recipe.
How long should you marinate lamb?
For smaller cuts of meat, marinating for around 4–5 hours is a good amount of time. Larger cuts, like lamb shoulder or lamb leg can be marinated for 24 for optimal taste and texture. 
You can marinate lamb for up to 2 days. I wouldn't marinate it for much longer than this however, as the taste and texture will be affected.
What's the difference between lamb chops and lamb loin chops?
When we say 'lamb chops' we often talk about lamb rib chops. This cut of lamb is fattier than lamb loin chops and, obviously, contains a rib bone.
Lamb loin chops are cut from the waist of the lamb. They are leaner, tend to be thicker and meatier, and are often less expensive.
How do you know when lamb loin chops are done?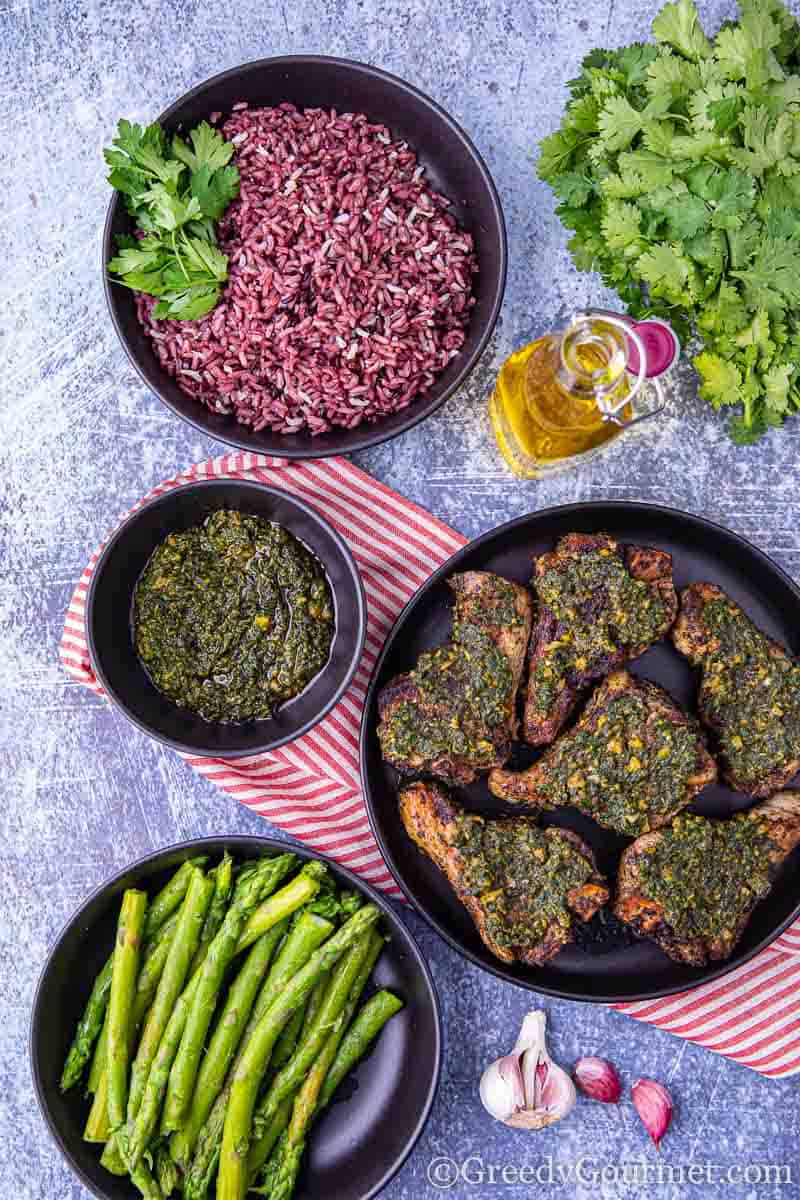 It all depends on how you like your meat. The best way to check when your grilled lamb chops are done is to use a meat thermometer. Generally it should take about 3–4 minutes per side.
For rare, cook until the grilled lamb chops are 60ºC (140ºF). For medium rare, cook until the grilled lamb chops are 60–65ºC (140–149ºF). For medium grilled lamb chops cook to 65–70ºC (150–158ºF).  For well done, cook your grilled lamb loin chops to 70ºC (158ºF).
Is lamb good for you?
Lamb is absolutely good for you! It's often thought of as being bad for you, which leads to many people shunning this criminally underrated meat.
Okay, let's get the bad out of the way. It is high in saturated fat. This is probably the reason it's been given such a bad reputation. 
However, saturated fats are fine in moderation. In fact, some research casts doubt on just how harmful saturated fats actually are.
When you take into account all the positive health benefits, it's clear that this delicious meat certainly is not bad for you. It's absolutely packed with essential vitamins and minerals, all of which are very important for a healthy, balanced diet.
When it comes to protein-rich foods, it doesn't get much better than lamb. A 100g serving of lamb contains 25g of protein. That's 50% of your daily recommended intake, from just 100g!
Protein is huge when it comes to bone and muscle development, as well as the overall health of your immune system.
Speaking of the immune system, vitamin B12, iron and zinc are massively important and lamb contains all three. These are three big factors when it comes to having good defences against illness – something that really needs to be considered when we talk about food that is healthy and food that isn't. 
Another thing that makes this grilled lamb chops recipe healthy is the spice mix. Chermoula contains cumin, paprika and coriander, all three of which have anti-inflammatory and antioxidant properties. Incorporating spices into your diet is a great way to sure up the immune system and help to prevent certain diseases.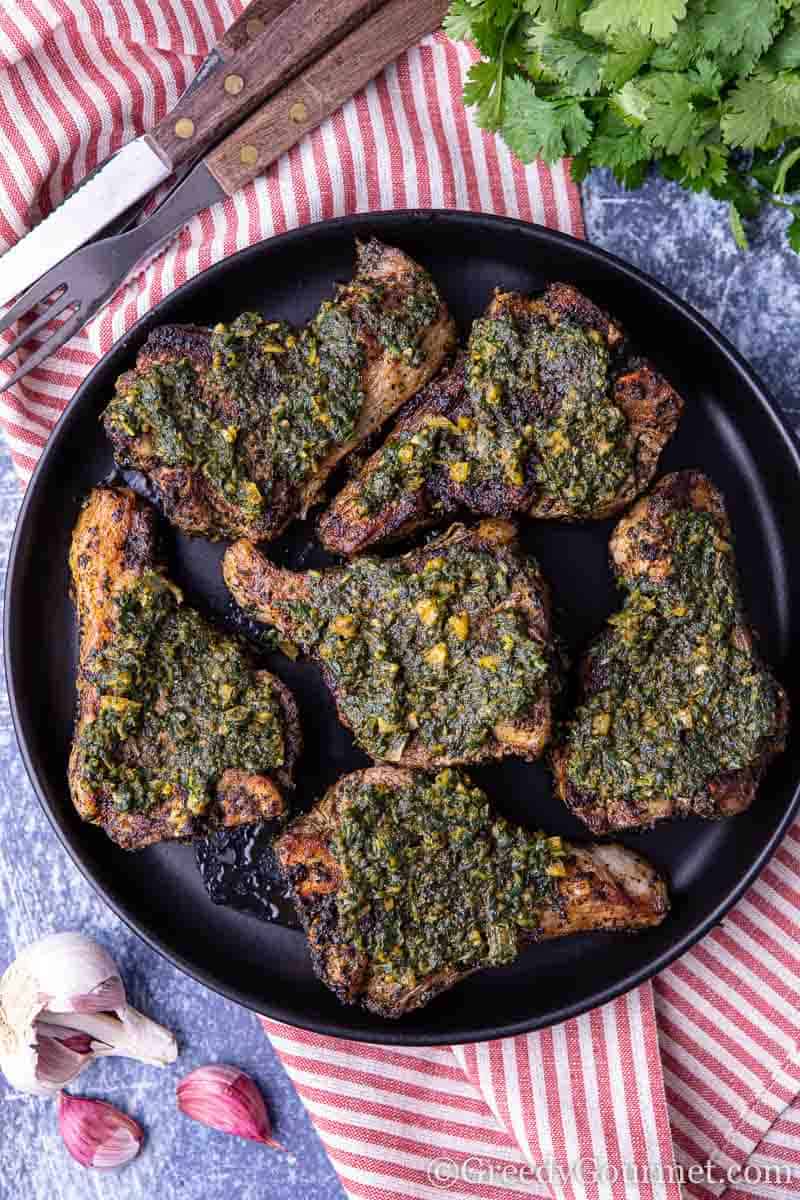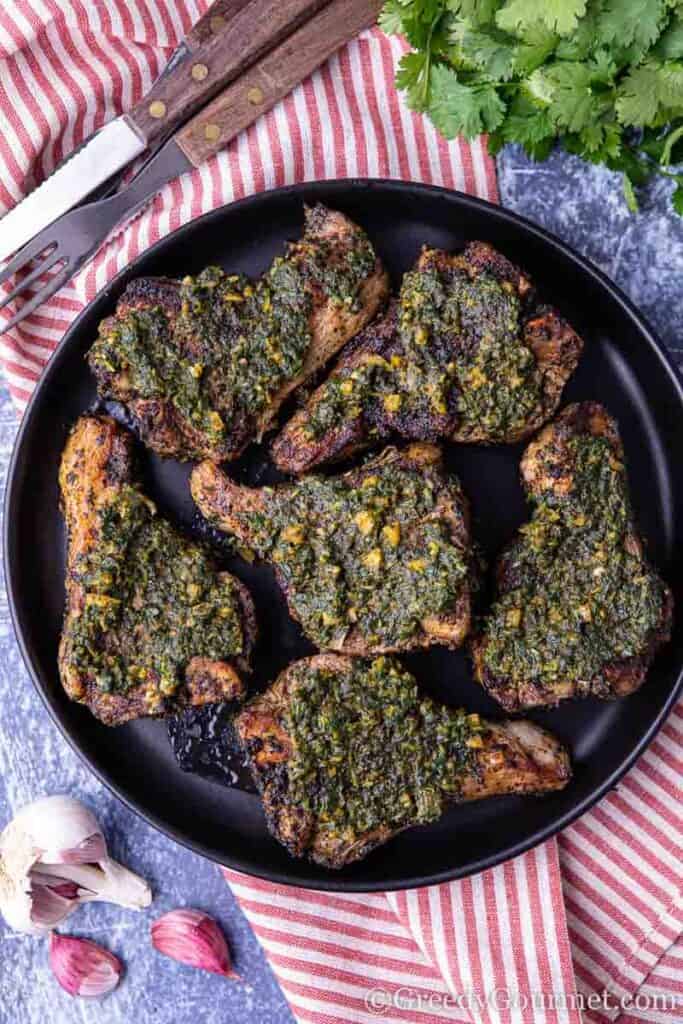 What to serve with grilled lamb loin chops
Want to know the best food to serve alongside these amazing chops? Check out these recipes:
More luscious lamb recipes
Can't get enough of this underrated meat? Try these on for size:
Competition Question: What is your favourite lamb marinade?
Print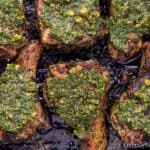 Grilled Lamb Loin Chops
---
Author:

Michelle Minnaar

Total Time:

20 minutes

Yield:

4

servings, 3 prawns each

1

x

Diet:

Gluten Free
Description
These Grilled Lamb Loin Chops are first marinated in Moroccan Chermoula sauce before being cooked. Serve with salad, chips and more Chermoula sauce.
---
Chermoula Sauce
300g

(

3 cups

) fresh coriander/cilantro

100g

(

1 cup

) flat leaf parsley, leaves only

8

garlic cloves, peeled

5g

(

1 tbsp

) dried cumin

5g

(

1 tbsp

) sweet paprika

60

ml (4 tbsp) extra virgin olive oil

2g

(

1 tsp

) salt

1

whole (or

10

slices) preserved lemon
Meat
---
Instructions
Place all the ingredients in your food processor.
Give the ingredients a blitz. If the mixture is too thick, add a splash of water to loosen it up.
Empty the sauce into a large mixing bowl and toss the lamb chops in the chermoula marinade, ensuring to cover all surfaces.
Marinate at least 8 hours, or preferably overnight.
Place the lamb chops on a hot barbecue or griddle pan.
Cook for 3-4 minutes on each side for medium rare. Alternatively, cook to desired doneness. This depends on the thickness of the actual chops as well.
Once cooked, serve or top with more sauce. Serve with wild rice or new potatoes, plus asparagus or your favourite greens. Enjoy!
Prep Time:

10 minutes

Cook Time:

10 minutes

Category:

Main Course

Method:

Grill

Cuisine:

American
Keywords: grilled lamb loin chops, lamb chop recipe, lamb recipe, bbq lamb, marinated lamb, lamb marinade recipe, chermoula lamb, moroccan lamb recipe