With the upcoming cold weather, serving hot smoked salmon instead of the usual cold smoked salmon is more appealing. The hot smoked salmon tastes very similar to having salmon straight off the grill.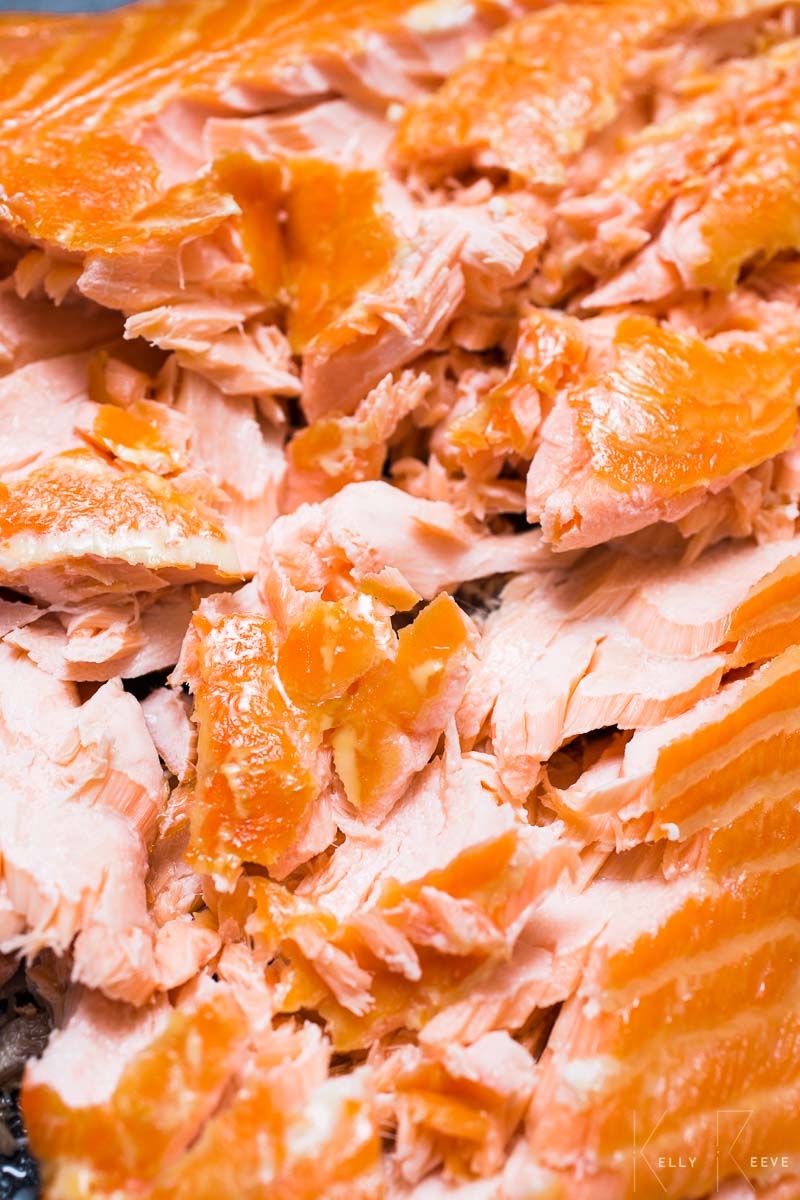 However, this time it's coming directly from the smoker, with all the intense smoky flavours incorporated into the fish. This elegant, smoky fish with a subtle hint of sweetness is very easy to prepare and cooks relatively fast.
Plus, when you serve it with the right ingredients, it is a gourmet dish that can last up to three days in your refrigerator!
types of salmon
There is no better fish for applying the smoking technique than salmon. Its high fat content captures the smokiness from the smoker and retains it.
Now, you're probably wondering what type of salmon should you use for this hot smoked salmon recipe. It all depends on your preferences.
First, you'll need to differentiate whether you want wild salmon or farmed salmon, latter being the most common in Europe. You can get wild salmon sourced from the Pacific Ocean.
Here are the types of salmon that you might come across:
Silver salmon – or Coho salmon. Bright silver skin, very delicate texture and red flesh.
Red salmon – or Sockeye salmon. Red orange flesh with very intense umami flavours.
Chum salmon – or Dog/ Keta salmon. Very sharp teeth and less fatty than other salmon.
Pink salmon – or Humpback salmon. Most common in the Pacific. Visible hump on back and low-fat content.
Chinook salmon – or King salmon. The best of all salmon, due to high fat content. This is the one to look for.
Atlantic salmon – most commonly sold in European fish markets. Most-likely farmed.
So, which one did you find in your supermarket? Were you lucky enough to find the King salmon?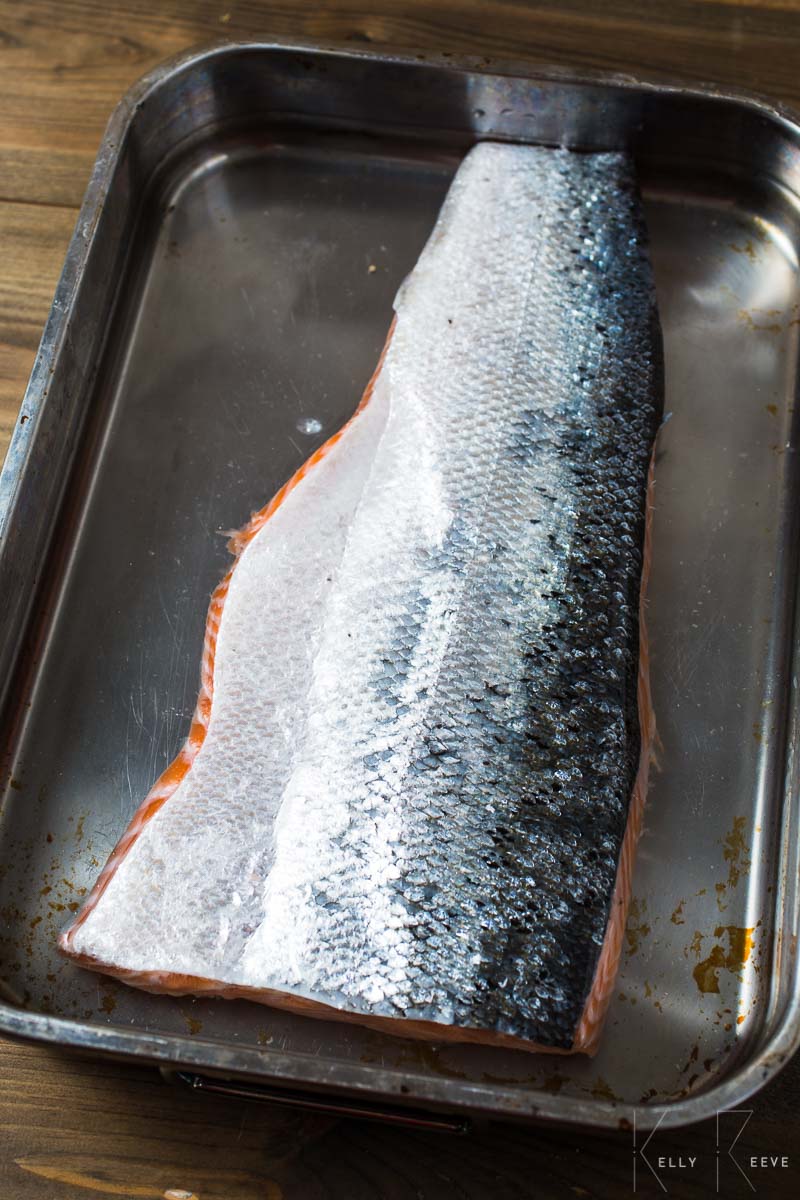 not salmon
If you are not so keen on using salmon, there are other varieties of fish you can smoke. Fish that work especially well with the smoky flavours are mackerel, trout and haddock. When you cure these fish first in a brine, the smoke will give the fish a really unique flavour.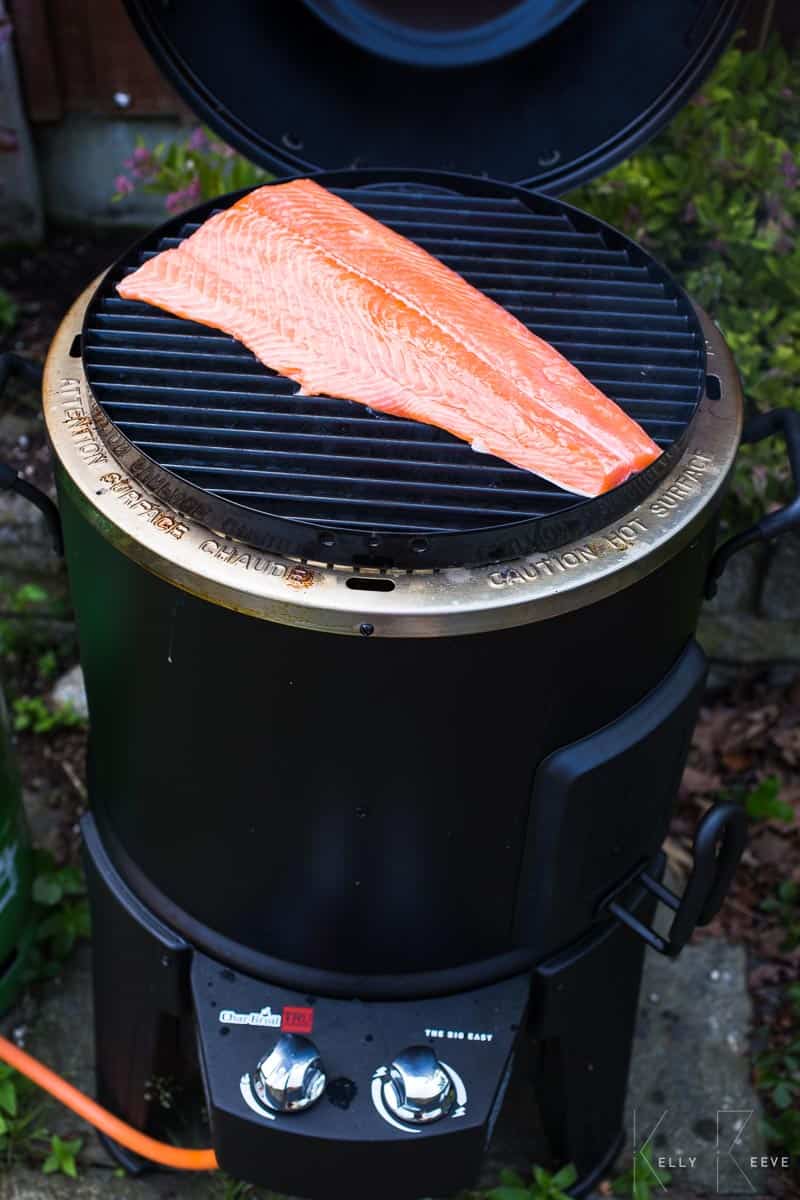 smoking
Smoking is an ancient technique, which acts as a preservative for ingredients, which includes different types of meats and fish. If you use a brine or dry rub, it's a fantastic way to incorporate some added flavours into your salmon.
This hot smoked salmon recipe calls for a brine that is a mixture of salt and sugar. You'll need to brine the salmon overnight.
When it comes to modern age, the first-time people ever came across smoked salmon was roughly in the 1940's in the US. I am sure you've heard of lox. Lox is a thin piece of brined salmon which has been cured in salt.
Of course, now I am talking about the cold smoked salmon. However, if you research the smoking process, you can go all the way back to the Middle Ages. 
If you want to find out more on the subject, then check out my watercress salad with smoked salmon recipe.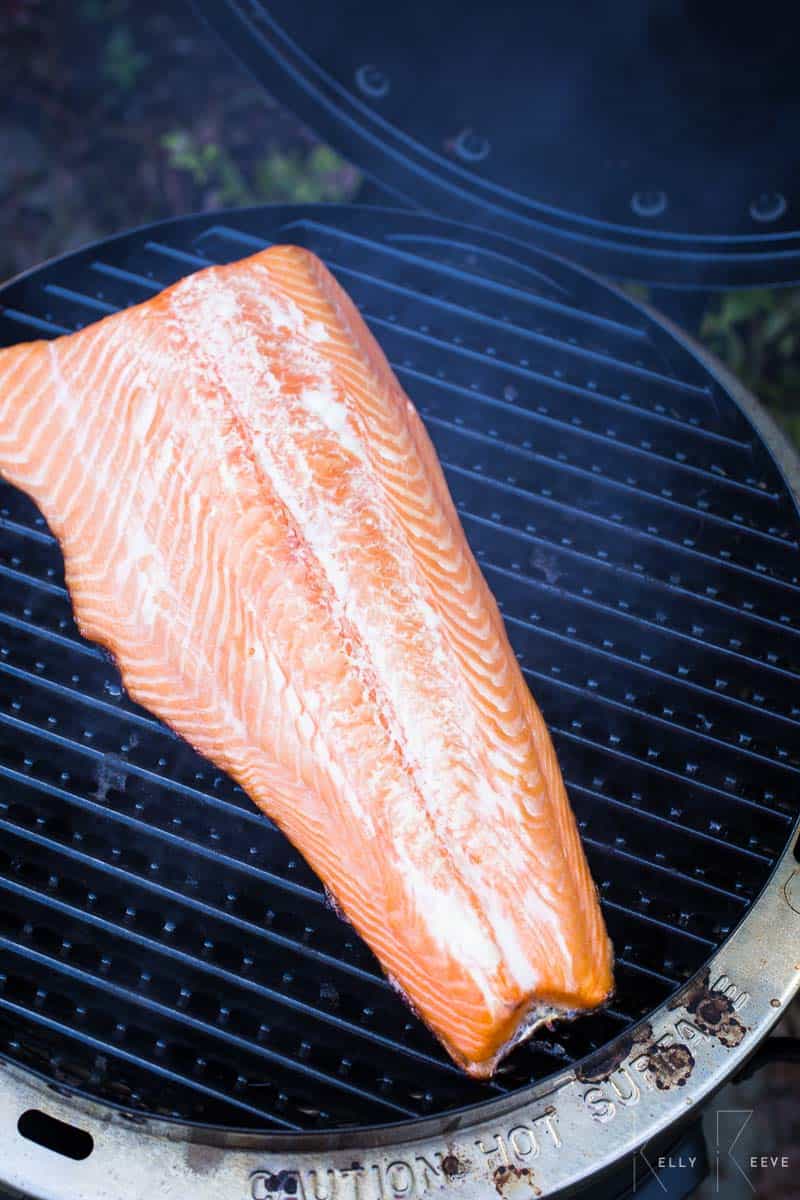 why apple wood chips?
There are many types of woodchips you can use for smoking. Of course, this depends on your taste in terms of the level of intensity of smokiness you want your ingredient to have.
There are three different types of woods you can select: mild, medium and heavy woods, with heavy woods giving the most intense smoky flavours.
Let's start with the heavy woodchips. To get the most smoky flavour possible, you should use mesquite wood. This would work really well for a barbeque or bbq smoked ribs.
Oak and hickory are the classic woodchips for medium intensity. These are great for larger cuts of meat, as they have a strong smoky flavour.
Try it with cuts of beef or pork. Lastly, there are mild woods, such as fruit woodchips. The apple woodchips are the best in my opinion because they give subtler smoky flavours.
Excellent with fish or more delicate meats. The best thing about using apple woodchips is that you'll find hints of sweetness from the fruit in your hot smoked salmon.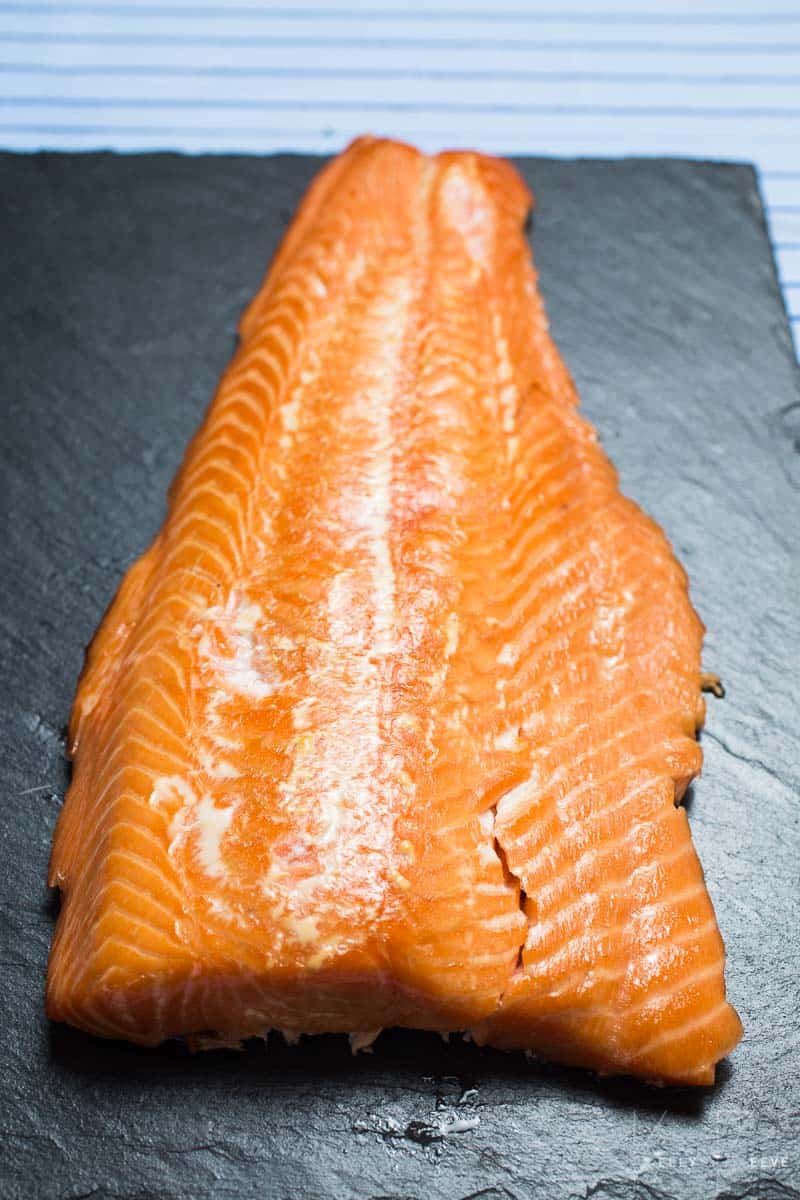 soak in water
Here's a handy trick. It's best to soak the woodchips in water for a while. I know that there has been buzz on the internet that people shouldn't soak woodchips.
Well, I think that it's an urban legend, as soaking the woodchips gives a great result! As woodchips are quite small, they ignite faster than other types of woods.
Therefore, the water preserves them from burning up too quickly, which in turn will save you money.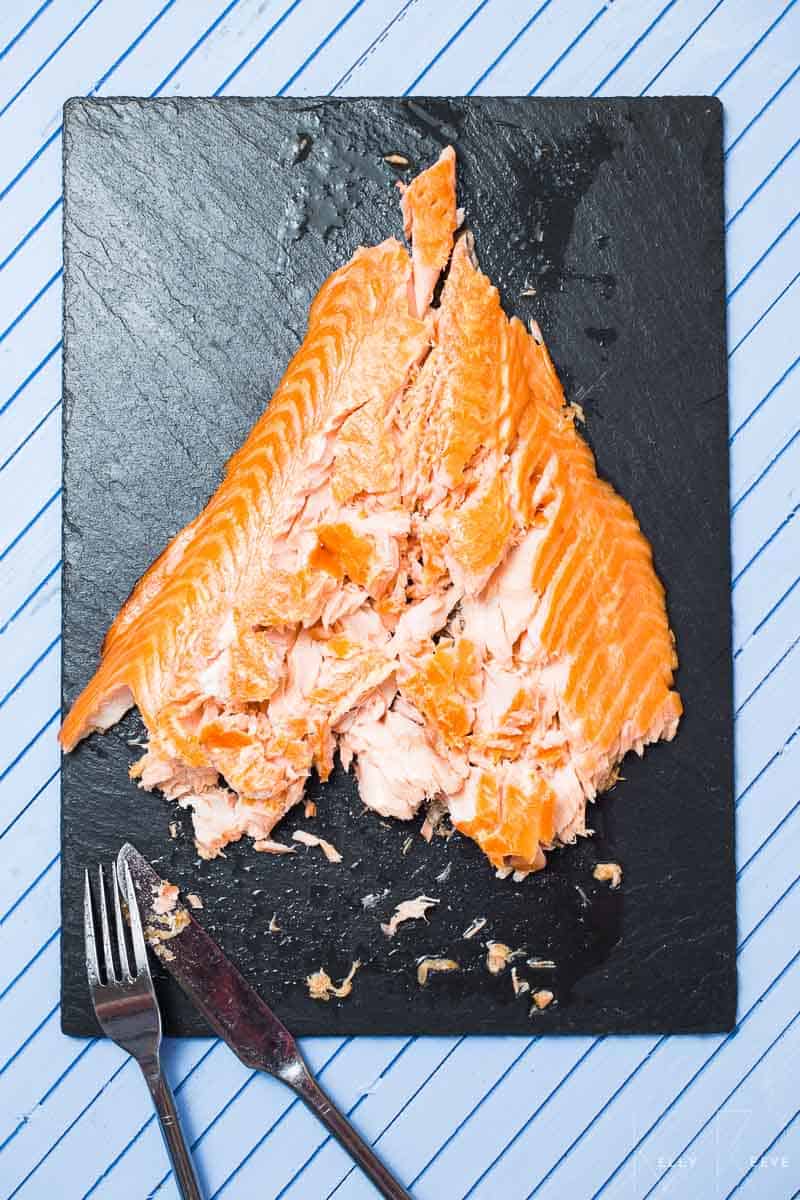 serving
As you can see, I tore the hot smoked salmon into pieces and served it with some rocket salad and ranch dressing. The ranch dressing tastes perfect with the hot smoked salmon, thanks to the former's creaminess which complements the fattiness of the fish.
It helps to cut through the bitterness from the rocket salad. Feel free to substitute the rocket with a salad leaf of your choice. Also, since you are already using the smoker, why not smoke or grill a couple of vegetables too, like asparagus or some spring onions.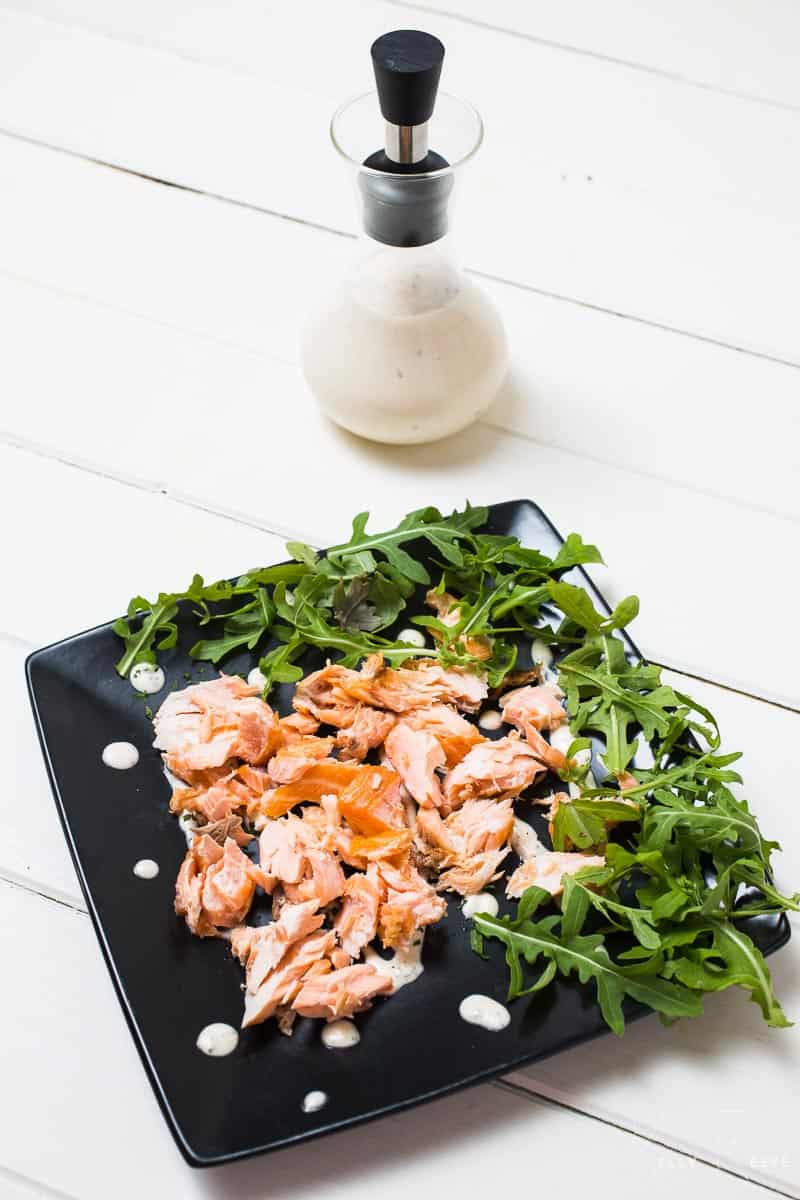 more ideas
This hot smoked salmon is great if you have left overs. You can reuse the salmon bits in a wrap, like I did here with the smoked salmon wrap with avocado.
Or, just use salmon pieces in a cucumber salmon sandwich. You can even use it in the filling for this salmon terrine!
Print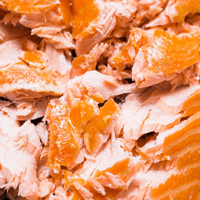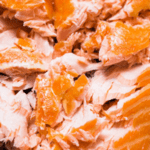 Hot Smoked Salmon
---
Description
Hot Smoked Salmon might seem intimidating to prepare at home but is actually dead easy. For this recipe you need a smoker, wood chips and fish. That's it!
---
500

ml (2 cups) water

125

ml (½ cup) sea salt flakes

125

ml (½ cup) sugar

1

kg (2.2lbs) side of salmon
Apple wood chips
---
Instructions
Pour the water, salt and sugar in a large shallow tray and stir until the salt and sugar have dissolved.
Place the salmon skin-side up into the mixture. If the fish isn't completely submerged, make some more brine to add.
Brine the salmon for at least 8 hours or overnight.
Preheat the Char-Broil Big Easy Smoker on the High setting and fill the smoking box with wood chips.
Wait for 10 minutes until the chips begin to smoke, then change the heat setting to Low.
Pat the fish dry then place it on the grill and smoke. Try to keep the temperature inside the smoker between 65-70°C(150-160°F) until the thickest part of the fish registers 70°C(160°F). Cooking time takes around 30 minutes but could vary from smoker to smoker.
Remove the salmon from the smoker and let it rest before diving in. It keeps in the fridge for up to 3 days.
Prep Time:

30 minutes

Cook Time:

10 minutes
Nutrition
Serving Size:

1 serving

Calories:

315

Sodium:

9172 mg

Fat:

13.8 g

Saturated Fat:

2.7 g

Carbohydrates:

14.4 g

Protein:

30.4 g

Cholesterol:

88 mg
save the recipe to your pinterest board

A special thanks to Kelly Reeve for assisting with the recipe shoot.