This slow cooked lamb shanks braised in red wine recipe is comfort food at its finest!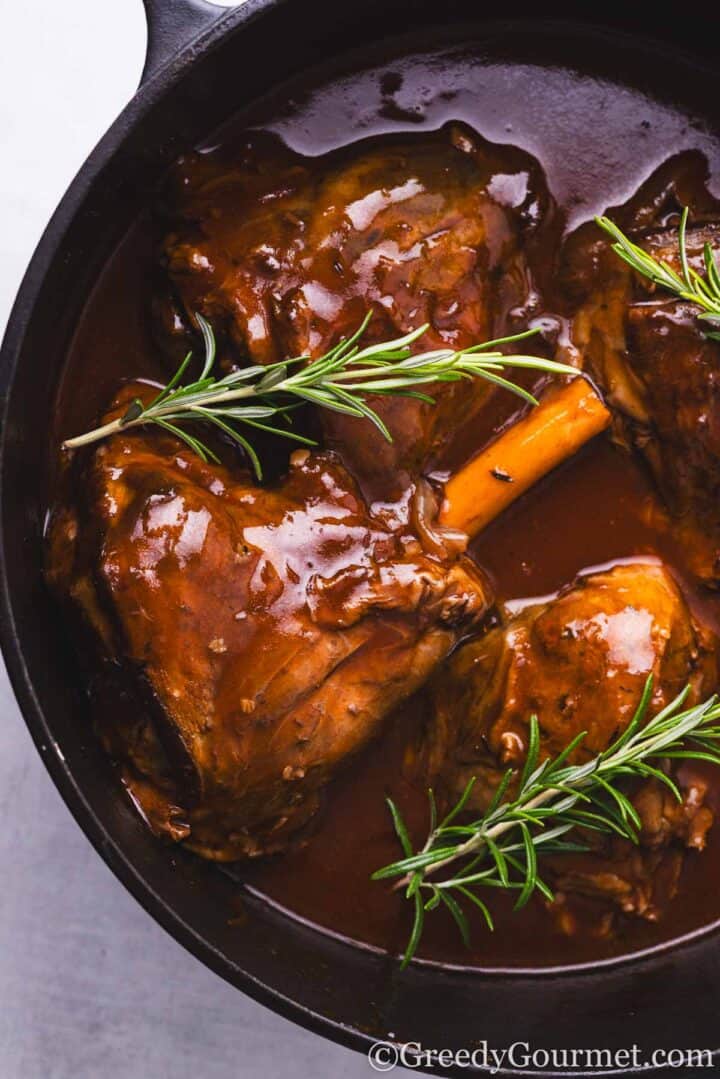 A genuine one-pot wonder, this recipe makes for the perfect Sunday lunch. So, follow the recipe below, take my tips on board, whip up mash and some greens, and enjoy one of the most satisfying slow-cooked meals you'll ever have!
Why you'll love this braised lamb shanks recipe
The flavours of the lamb meat and rich red wine sauce are delicious.
Slow-cooking shanks give you melt-in-the-mouth fall-off-the-bone lamb.
Sauce lovers will be in heaven! This sauce is out of this world.
Everything is cooked in one pot, making everything so much easier.
This recipe is perfectly suited to leftovers. It tastes even better the next day!
Equipment you'll need
Heavy-bottomed ovenproof pan – go for a high quality cast iron casserole dish or Dutch oven. Something that can withstand a high heat on the hob, as well as in the oven. For me, it doesn't get much better than a La Creuset casserole dish. It will last a lifetime and you'll get excellent results every time. You can also use a slow cooker, but I prefer a Dutch oven.
How to make lamb shank braised in red wine sauce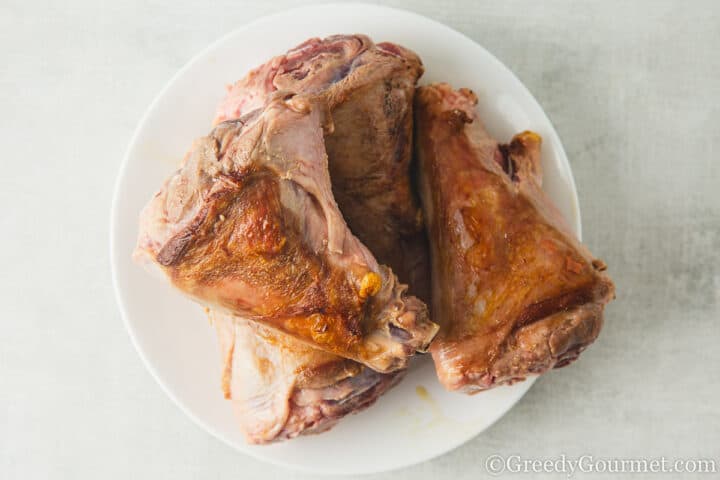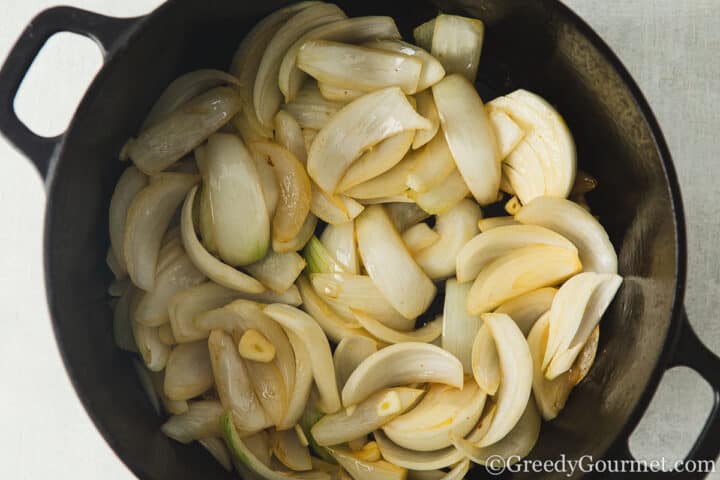 Fry the onions and garlic in the same pot.
Place the lamb shanks back in and pour in the wine. Let it sizzle away for a few minutes.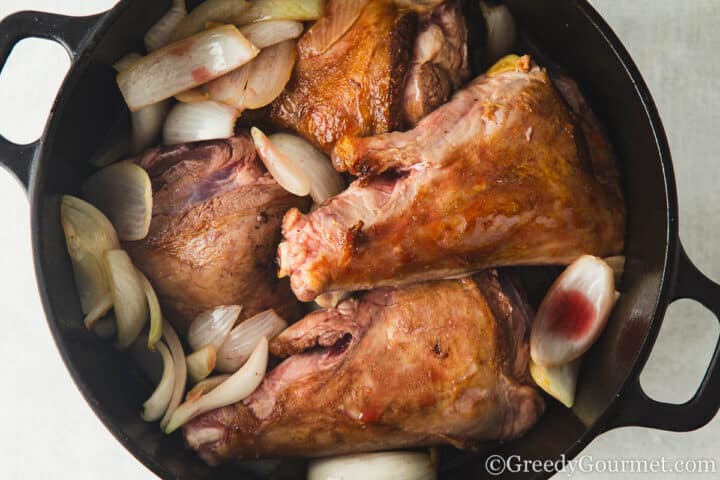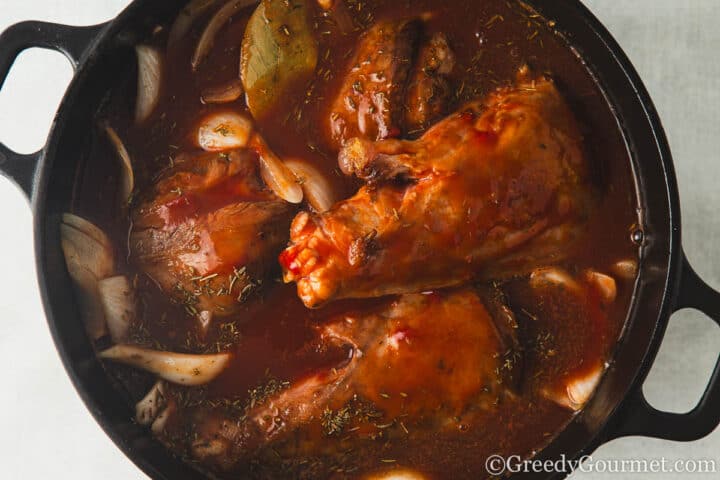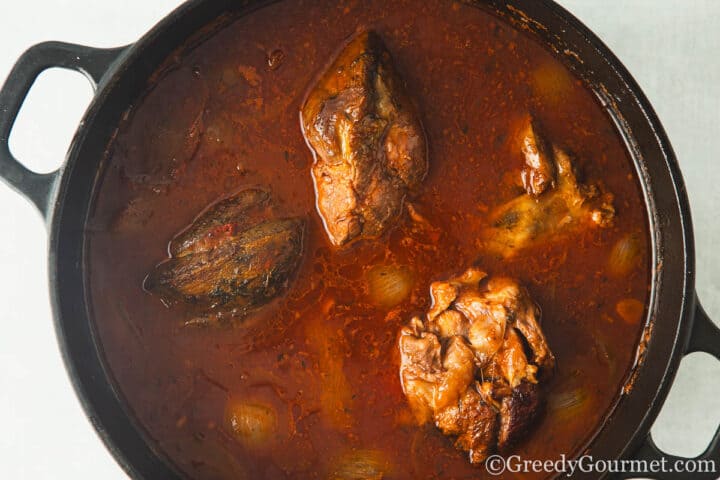 Top Tips
The key to browning lamb shanks, or meat in general, is to give them plenty of space in the pan. Crowding the pan when cooking lamb shanks on a high heat means there's nowhere for the vapour to evaporate, which means you won't achieve the Maillard reaction – the excellent browning process that brings a lot of flavour.
What to serve with this lamb shank recipe
Sides
Mashed potatoes
Serve lamb shanks with delicious creamy mashed potatoes for the perfect pairing. Try my extra special roasted garlic mashed potatoes or make my French-style Mousseline potatoes if you prefer something decadent and creamy.
Rice
You can go right with simple steamed rice. Add a healthy twist with my sweet potato rice recipe.
Polenta
Polenta is an excellent alternative to the likes of mash potatoes and rice.
Wine pairing
Rich lamb stew needs a dry red wine with enough acidity to cut through the meat's richness. Something like an Italian Chianti would be perfect.
Other great wines with lamb shanks include Merlot, Cabernet Sauvignon, Pinot Noir, and Malbec.
Variations to this recipe
Booze free
Wine adds flavour, but you can ignore it from this lamb shanks recipe. Just replace it with like-for-like amounts of stock (lamb, vegetable, or chicken stock will do), or add extra water.
Add the secret flavour maker
Add a dash of Worcestershire Sauce to this dish to elevate the flavour. Need an alternative? I've got a list of the best Worcestershire Sauce substitutes.
Another way to bring a little magic to any lamb stew is to add a single anchovy into the pot after you've fried the onions and garlic and added the wine. It might sound strange, but trust me. It's amazing!
Change the method
This recipe calls for cooking in the oven at a low temperature. However, you can also use a slow cooker. If you decide to use a slow cooker, don't overfill it. Fill the slow cooker halfway to 2/3 full.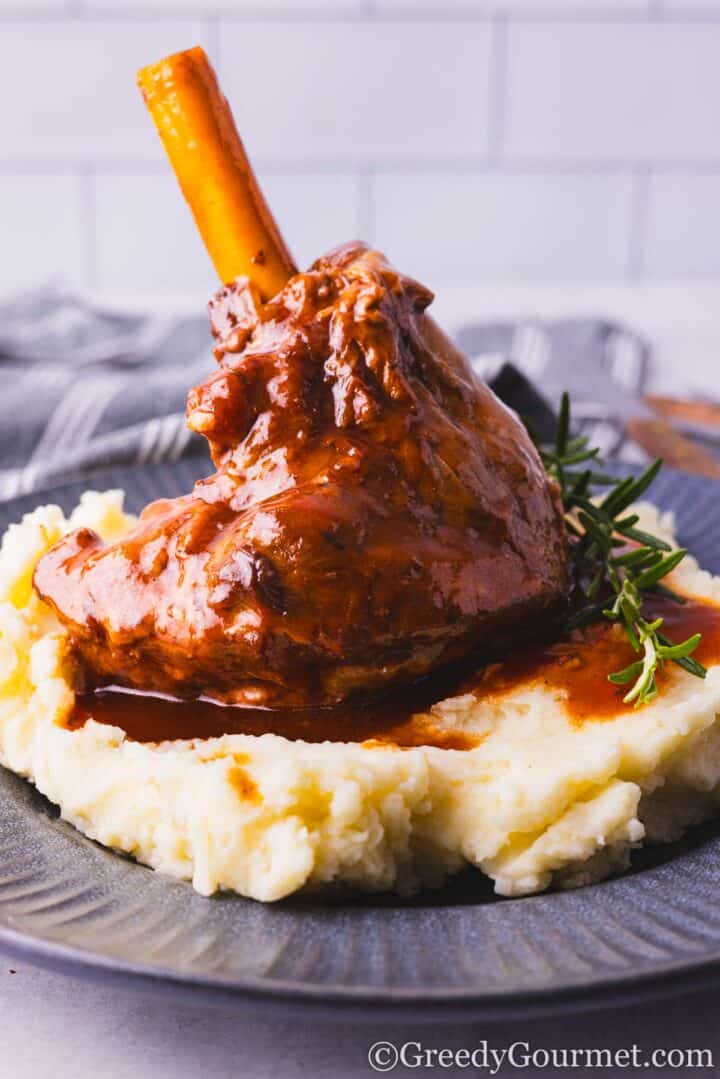 Popular substitutions for this recipe
Replace the fresh thyme with fresh rosemary if you prefer. Or you could use both or even other fresh herbs like fresh parsley.
You can replace vegetable oil with olive oil
You can swap tomato paste for the tomato puree. Use three tablespoons of tomato paste for the 125ml (1/2 cup) of tomato puree.
For those who enjoy onions, you can substitute the onion with 8 whole, peeled shallots. After cooking, remove them along with the lamb, skip the sauce blending step (step 9), and proceed directly to thicken the sauce with the cornflour (step 11).
You can use a blend of beef and vegetable broth (stock) for this recipe or even chicken broth.
Top Tips
After braising the lamb shanks, you might find that the lamb shanks will leave a crispiness on the bottom of the saucepan. This is flavor heaven... don't waste it!
Scrape down the sides with a firm spatula – deglaze the pan with a bit of water or balsamic vinegar if you have to. Then, use this incredible cooking liquid to add flavor as you fry the onions.
Pat lamb shanks dry before adding them to the pan.
Season lamb shanks before adding them to the pan.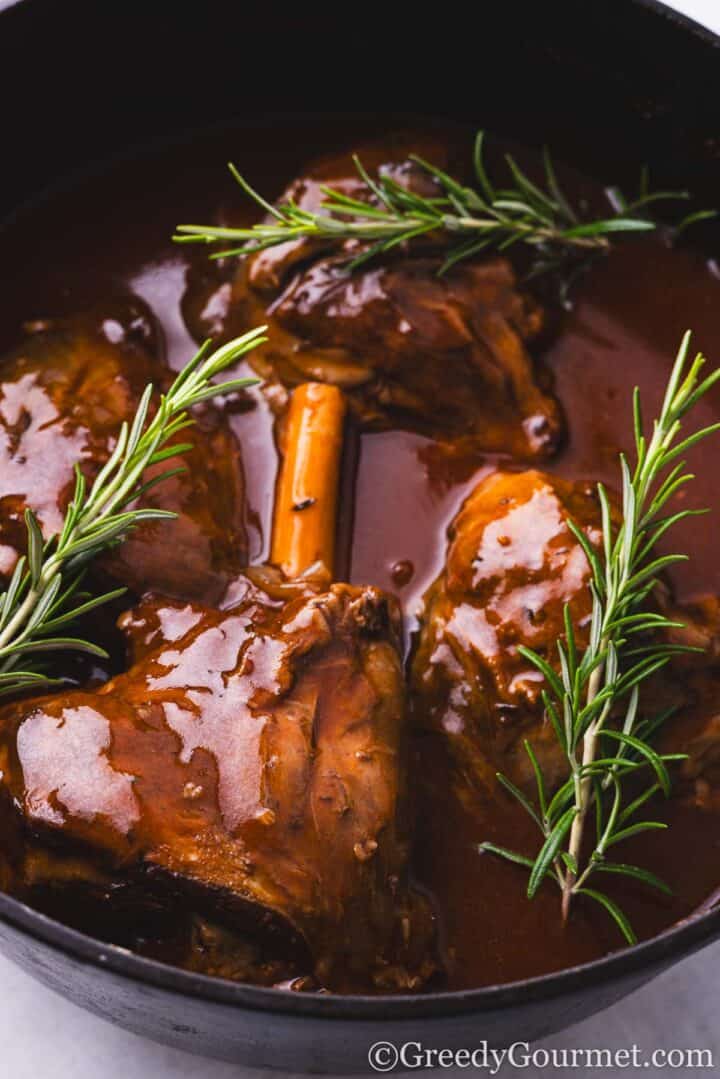 What is braising?
Braising combines two cooking methods – cooking high and hot, and cooking low and slow, to get the best-tasting, perfectly tender meat.
The idea of braising lamb is to cook it high to get the browned 'Maillard reaction'. This ensures you get those luscious roasty, barbecued flavours. Once you sear the lamb, you then slow cook it in liquid to maintain its succulence.
What cut of lamb is a shank?
Lamb shanks come from the bottom section of the upper leg bone. I've tried cooking them in various ways, but for me, they're most definitely at their best when they're slow-cooked.
That's because when shanks are cooked low and slow, they are simply sensational. The meat literally falls off the bone!
The bones themselves have a big part to play in the flavour and texture of the sauce. The shank helps to create a vibrant sauce with a silky smoothness.
What wine is good for braised lamb shanks?
A full-bodied, dry red wine is the best wine to use when braising lamb shanks. A Merlot, Pinot Noir or Cabernet Sauvignon would be perfect.
You don't need to break the bank! Great wine is for drinking, not for cooking. On the other hand, it should be good enough. Only cook with it if it's decent enough to drink.
How do you thicken braised lamb sauce?
This recipe calls for using cornstarch to thicken the sauce. Mix a bit of cornstarch with braising liquid until a paste is formed, then stir the paste into the dish to make a thickened red wine sauce.
What's the best vessel for braising lamb shanks?
I recommend using a Dutch oven. They are expensive but think of them as an investment.
A good Dutch oven is heavy-duty and hard-wearing – treat it well, and will last decades! You'll use it a lot, too – it's perfect for everything from stews to curries.
You can use them for intense high-heat cooking on the hob and even pop them in the oven without any bother. Honestly, I don't know what I'd do without mine!
How do you store braised lamb shanks leftovers?
Allow any leftovers to cool completely. Then, transfer everything into an airtight container and place the container in the fridge.
Lamb shank leftovers should last 3-4 days. On the second day, it'll taste even better!
Can you freeze braised lamb shanks?
Yes, you can. Freezing braised lamb shanks will mean you'll lose some taste and texture, so only freeze this recipe as a last resort.
Allow the dish to cool thoroughly, then place the leftovers in a freezer-safe airtight container. Freeze lamb shanks for up to 3 months.
When defrosting, place the container in the fridge overnight.
How do you reheat lamb shanks?
The best way to reheat braised lamb shanks is in your Dutch oven. Reheat on a medium heat on the hob, while stirring occasionally until piping hot.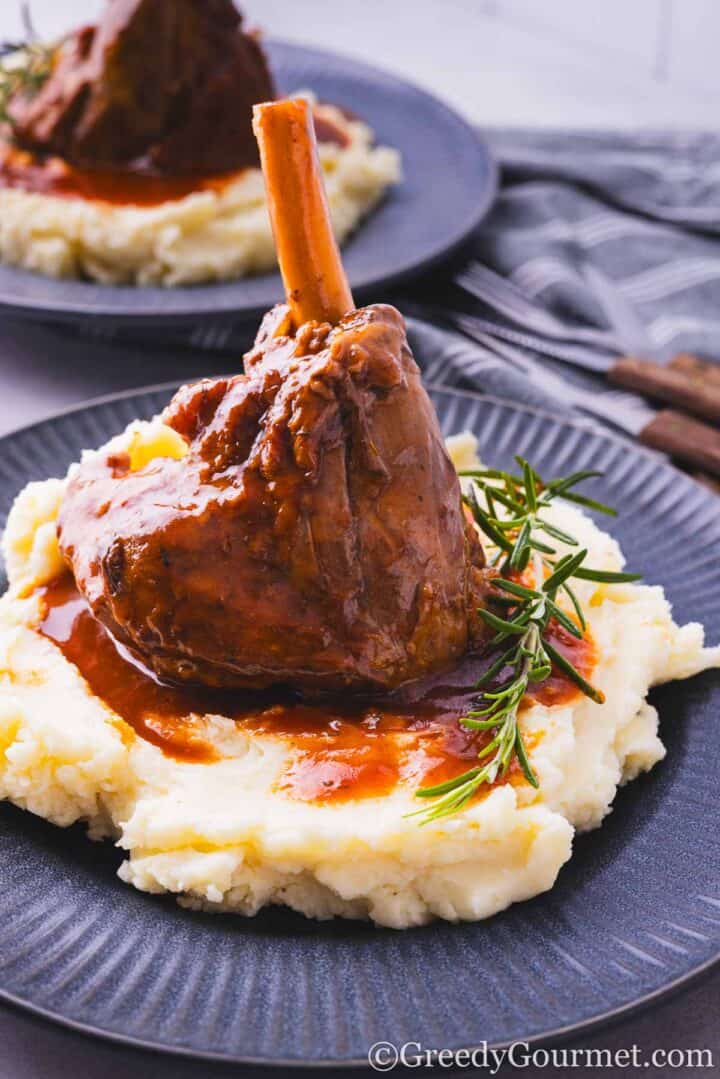 More luscious lamb recipes
Can't get enough delicious lamb? Not to worry... I have a long list of incredible lamb recipes for you:
Print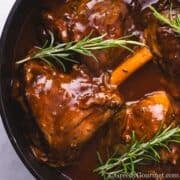 Lamb Shanks Braised in Red Wine
---
Author:

Michelle Minnaar

Total Time:

4 hours 15 minutes

Yield:

4

portions

1

x

Diet:

Low Lactose
Description
Elevate your dinner with our Lamb Shanks Braised in Red Wine Recipe. Tender, succulent, and rich, it's a luxurious culinary experience!
---
60

ml

vegetable oil

4

lamb shanks

1

onion, peeled and halved

8

garlic cloves, peeled

500

ml

red wine

500

ml

lamb or beef stock

120

ml

tomato purée

60

ml

brown sugar (optional)
A few sprigs of thyme leaves or 1 tsp dried thyme

60

ml

cornflour
Salt and pepper to taste
---
Instructions
Preheat your oven to 180°C (fan 160°C, 350°F, gas mark 4).
Heat 60ml of vegetable oil over medium heat in a heavy-bottomed ovenproof pan.
Add the lamb shanks to the pan and brown them on all sides, ensuring a rich, golden color.
Introduce the onion and garlic to the pan, cooking for a few minutes until they become fragrant and slightly softened.
Pour in the red wine, lamb or beef stock, tomato purée, brown sugar (if desired), bay leaves, and thyme. Increase the heat until the contents start to simmer.
Once simmering, remove the pan from the heat, cover it with a lid, and place it in the oven.
After 1 hour, lower the oven's temperature to 150°C (fan 130°C, 300°F, gas mark 2) and continue braising for another 2-3 hours, or until the meat is tender and falls off the bone.
Remove the pan from the oven. Carefully transfer the lamb shanks to a plate and keep them warm. Discard the bay leaves and any thyme sprigs.
Pour the sauce from the pan into a blender or food processor and blend until it reaches a reasonably smooth consistency.
Return the sauce to the pan, season it with salt and pepper to taste, and gently reheat it.
Mix a little water with the cornflour in a separate cup and slowly incorporate it into the sauce while stirring constantly. Continue stirring until the sauce thickens to your desired consistency.
Serve the lamb shanks with the sauce in a gravy boat on the side.
Notes
For a hearty meal, consider serving this dish with roasted potatoes, parsnips, your favorite green vegetables, or even Yorkshire puddings.
For those who enjoy onions, you can substitute the onion with 8 whole, peeled shallots. After cooking, remove them along with the lamb, skip the sauce blending step (step 9), and thicken the sauce with the cornflour (step 11).
Prep Time:

15 minutes

Cook Time:

3-4 hours

Category:

Dinner

Method:

Braise

Cuisine:

English
Keywords: lamb shanks braised in red wine, lamb shanks braised in red wine in oven, braised lamb shanks, lamb shank recipe, braised lamb shanks red wine and rosemary, red wine for lamb shanks