Mie Ayam, almost completely unknown to the Western palate, is a chicken and mushroom soup with noodles. Different. Simple. Delicious.
The only Indonesian recipe that is commonly known that I'm aware of is Nasi Goreng, which has been done to death in magazines and other media. Basically, it is Indonesia's version of fried rice using kecap manis, shrimp paste tamarind and chilli. And Isso Baduma which you can find here.
Indonesian Cookbooks
Here are 10 fun facts about Indonesia:
Indonesia is the largest archipelago in the world with 17 508 islands of which 6000 of them are inhabited by people.
It is the 4th largest country in the world with a population of around 250 million.
With a population that large Indonesia is ethnically diverse, with around 300 distinctive native ethnic groups and over 740 different languages and dialects spoken.
Indonesia has the largest Muslim population in the world.
The currency is called the Rupiah.
Indonesia was a regional superpower before it was colonized by the Dutch.
Indonesia is a country rich with myriad cultural influences from outsiders. This is apparent in the language, which has absorbed many loanwords from Sanskrit, Arabic, Persian, Portuguese, Dutch, Chinese and various others.
Java Island is recorded as the home one of the early human in the world which is Homo Erectus Palaeojavanicus.
One of its reptiles, the Komodo dragon, is the largest lizard in the world, growing up to 3 meters (just under 10 feet) in length and weighs up to 70kg (154lbs).
Indonesia is one of the world's largest suppliers of nutmeg.
Sometimes I wonder why some cuisines turned out to be more popular than others. Sure, Italian food is great but why is Thai food all over the place whereas Indonesia and Philippines feature almost nowhere? Is it just one great public relations exercise? Migration is certainly a factor and tourism in Thailand is booming even with its questionable politics. Indonesia looks idyllic and if you check out travel websites you'll see Hilton Bandung costs in the region of £90 per night. Even with the failing sterling at the moment it's a bargain to live in the lap of luxury.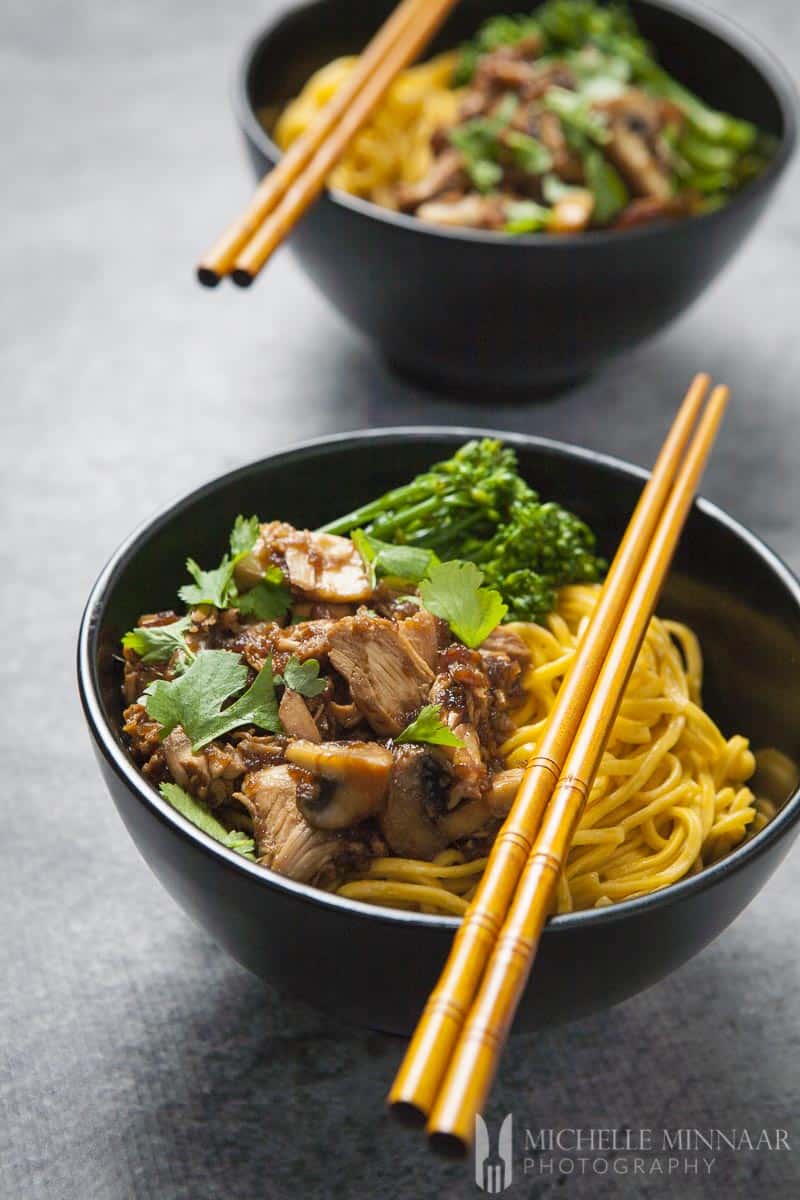 One day I'll visit this beautiful country. One day. For now I'll have to settle cooking its food at home, which proved to be somewhat tricky because 1) most online recipes are in gobbledygook and 2) ingredients are not easy to come by, especially if you don't have an Asian shop on your doorstep. Luckily, I could source kecap manis, which is a sweet soy sauce.
As always, I've put my own spin on this dish. You don't have to make the stock from scratch and can use a stock cube instead at the last minute. If you use a whole chicken, there is plenty of chicken left which can be enjoyed in other ways. During my research I've come across versions where the stock was added to the noodles, in others it was served in a separate bowl with the greens. Do whatever makes you happy!
What is your favourite Far Eastern recipe?
Print
Mie Ayam
---
Description
 Mie Ayam, a lesser known dish, in Indonesian cuisine but simply unmissable.
---
5

ml (1 tsp) vegetable oil

30

ml (2 tbsp) butter

1

onion, peeled and chopped

6

garlic coves, peeled and crushed

2

carrots, peeled and chopped

2

celery stalks, chopped

1

whole chicken, raw

2

l (2pt) water
salt and pepper, to taste

1

onion, peeled and finely chopped

2

cloves garlic, peeled and crushed

2.5

cm (1in) ginger, peeled and grated

45

ml (3 tbsp) sesame oil

400g

(1lb) mushrooms

30

ml (2 tbsp) oyster sauce

60

ml (4 tbsp) kecap manis

250g

(

8oz

) egg noodles
broccoli, cooked
spring onions, for garnish
coriander leaves, for garnish
---
Instructions
Sweat the onion, garlic, carrots and celery in the oil and butter in a large saucepan until softened.
Add the chicken then top with the water.
Bring to a simmer and keep cooking for at least 1 hour or until the chicken is cooked.
Remove the chicken and let it cool down. Discard the chicken skin, spread the meat and set aside.
Strain the stock and return to the saucepan.
Heat the sesame oil in a wok or non-stick pan and saute the onion, garlic and ginger until softened.
Add the mushrooms and stir for 5 minutes until browned.
Lastly, add the cooked chicken to the mix and add the oyster sauce and kecap manis.
Cook for 3 minutes and stir thoroughly.
While the stir-fry is cooking boil the noodles according to package instructions.
After draining add some sesame oil and mix to lubricate the noodles.
Divide the noodles into 4 bowls, top with the chicken and mushroom mixture, add the greens, add the chicken stock and garnish with spring onions and coriander leaves.
Notes
Shop bought chicken stock can be used to save time. Two cooked chicken breasts are enough to serve 4 people in this recipe. You can serve the stock/broth with the noodles or separately in smaller bowl or cup with the greens and spring onions – your choice.
Prep Time:

15 minutes

Cook Time:

95 minutes

Category:

Main Course

Cuisine:

Indonesian
Nutrition
Serving Size:

319.4g

Calories:

387

Sugar:

17.4 g

Sodium:

1058 mg

Fat:

13.5 g

Saturated Fat:

4.6 g

Carbohydrates:

44.4 g

Fiber:

3 g

Protein:

24.2 g

Cholesterol:

77 mg
save the recipe to your pinterest board