Now this little gem of a salad is perfect for catching those last rays of sun, and prolonging the summer. As many people do, I enjoy the change of the seasons. However, there is still something melancholic of seeing summer come to an end. To hold the image of summer in place just a little bit longer, you can serve this salad for your family. Even if it's too cold to have dinner on the terrace, it still looks like sunshine on a plate.
About this salad
How can you resist that vibrant orange colour of the papaya against the deep green of the rocket salad? Simply beautiful with the parma ham, one of the best combinations! Whether you serve this dish for guest or just the family on a weeknight. Of course, once again, it's a simple recipe, quick and easy to prepare. Most importantly, you can shop for this recipe in most supermarkets nowadays.
Papaya Fruit
Nowadays you can get papaya at most large supermarkets' exotic fruit sections. The papaya is ripe and ready when it feels soft. Much in the same way that an avocado feels when it is just ripe. When preparing your papaya, you can treat it a little bit like a melon. Peel the fruit whole, then cut it in half and scoop out the plentiful seeds with a spoon. The seeds are edible too, but the taste is quite bitter, so they head for the bin. After that, you can cut up the fruit.
Papaya is a super food with a whole range of beneficial qualities, such as strengthening the immune system, preventing heart diseases, arthritis, and even cancer. All the more reason to make this amazing fruit as part of your daily diet.
Parma Ham
Parma ham comes from the province of Parma in central northern Italy. The history of the Parma ham dates back centuries. Traditional preparation means salting the ham and letting it rest for about two months. Next, the ham is cleaned for salt and left hanging to dry. The maturing process can take up to 18 months, for the unique taste to develop to its full potential. Please look at some of my other recipes featuring delicious Parma ham also to find out more detailed information on the subject.
Delicious snack #1: Parma ham and mozzarella bites
Delicious dessert #2: Parma ham melon salad

Different ideas for Parma Ham
Who would have thought that Parma ham is so versatile? In its fresh form, you can serve it basically just as it is.Make a little antipasti plate, with Parma ham, a little bit of cheese, some olives and sundried tomatoes. Enjoy with a glass of chilled white wine and take a break from the everyday life.
Another variation, that you may have come across in Italy, is pizza with Parma Ham. You can make this yourself easily. Simply a normal pizza dough rolled out and baked with topping of tomato sauce and mozzarella. Next, when the pizza is done, top it off gently with rocket salad and slices of fresh Parma ham. Add some cherry tomatoes cut in half to give acidity and sweetness. These servings beam of Mediterranean sunshine.
However, as autumn is approaching rapidly there are other ways to use Parma ham more in tune with the season. If you make a creamy cauliflower soup, for example, you can take it to the next level with Parma ham. How? Simple. Oven bake some slices on baking paper so they completely dry up. Then crack the baked ham into little pieces and sprinkle on the soup. You now have a beautiful hearty soup, topped off with intense flavoured salty Parma ham sprinkles. Add a little fresh watercress as well and you have a restaurant dish.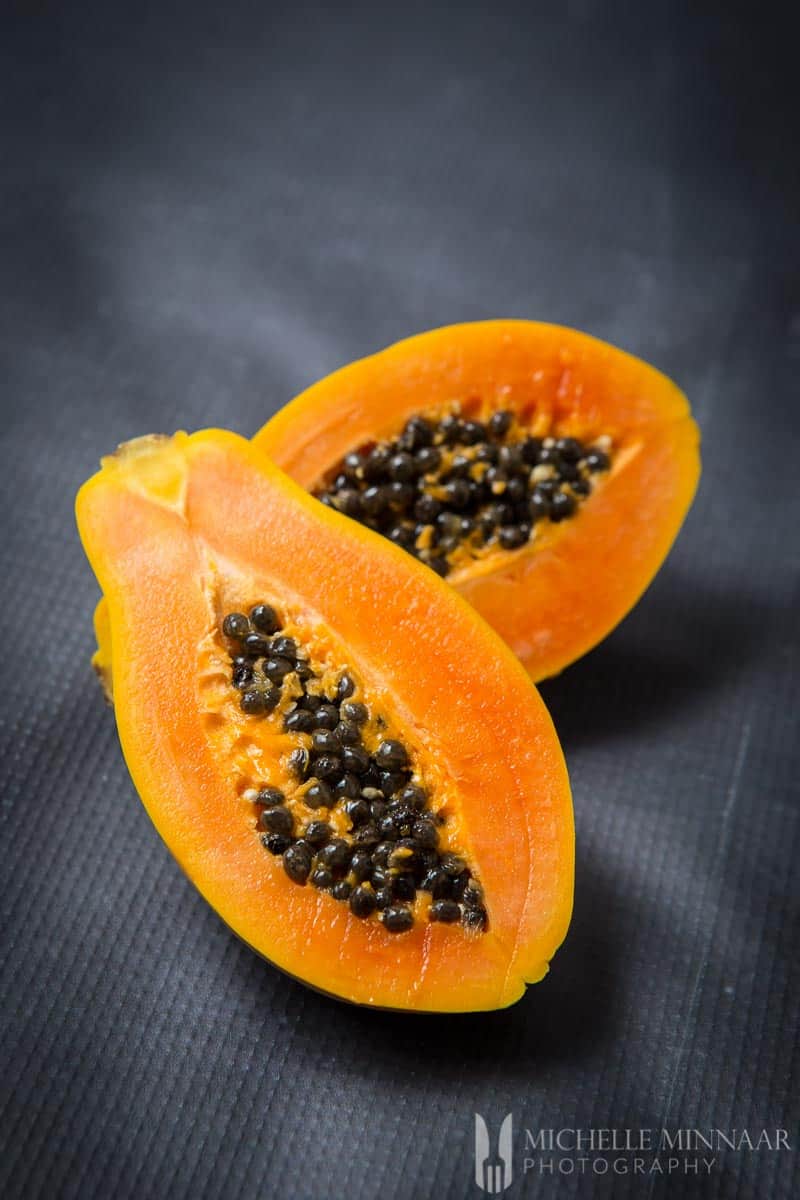 Cooking methods
Although Parma ham is excellent simply served freshly cut, you can also use it for cooking. The best way to incorporate Parma ham is to oven bake it. Not just by itself, but wrapping it around other ingredients, thus enhancing their flavours. An excellent example is asparagus wrapped in Parma ham. Parma ham also works well with other sources of animal protein, such as chicken breasts, pork medallions and even cod fish.
Best parings for Parma ham
If you want to use the Parma ham fresh, the best pairings are other fresh ingredients. The classic is with melon, but actually you can make the classic a bit more exotic by switching the melon with papaya. Otherwise, fresh tomatoes and fresh mozzarella also work well with the rich and salty taste of the ham. When it comes to hot dishes, my favourites are asparagus or figs wrapped in Parma ham and then baked. When baked or grilled, the salty and savory flavour of the ham intensifies and lifts the other ingredients.
Still, what better pairing with parma ham than a good glass of heavy red wine from Italy? I can just imagine myself sipping such wine overlooking the sunset in Italy.
Serving
You can serve the rocket salad with Parma ham alone as a lunch or a light dinner. Perhaps with just a slice of baguette on the side. Otherwise, you can also make it into to a fuller meal, and serve the salad as a side for a grilled chicken breast. I have recently used it as a side dish for a family barbecue, providing a fresh edge to the smoky grilled meat.
What is your favourite way to enjoy Parma ham?
Print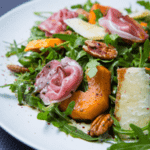 Rocket Salad with Parma Ham, Papaya, Parmesan and Pecans
---
70g

(

2 oz

) rocket/arugula leaves, washed

6

Parma ham slices

1

papaya, peeled and seeds removed and sliced

10

pecan nuts

6

slivers of Parmesan
---
Instructions
Place all the ingredients in a big salad bowl and mix.
Divide evenly between two plates and drizzle with your favourite salad vinaigrette. Serve immediately.
Prep Time:

10 minutes

Category:

Main

Cuisine:

International
Nutrition
Serving Size:

1 serving

Calories:

308

Sugar:

12.5 g

Sodium:

1363 mg

Fat:

15.4 g

Saturated Fat:

5.5 g

Carbohydrates:

21.5 g

Fiber:

4 g

Protein:

21.8 g

Cholesterol:

59 mg
save the recipe to your pinterest board
P.S. This is a sponsored post.