Do you know the feeling of being pressed for time on a daily basis? I know I do, and somehow have to get a million things done in mere 17 waking hours. That's why I think it's okay to cut a corner or two and save time. One way to do this is to have some good ingredients ready in the freezer for one of those days where you just don't have the time to spend hours in the kitchen.
Nowadays, there are some great options out there. I recently prepared a traybake with vegetarian sausages from Goodlife for the family as an easy, but still healthy weekday supper. The delicious delicious sausages didn't even need defrosting and all I had to do was to prepare the vegetables and slam it in the oven. Easy! This freed up time to get other things done around the house in the middle of a busy week.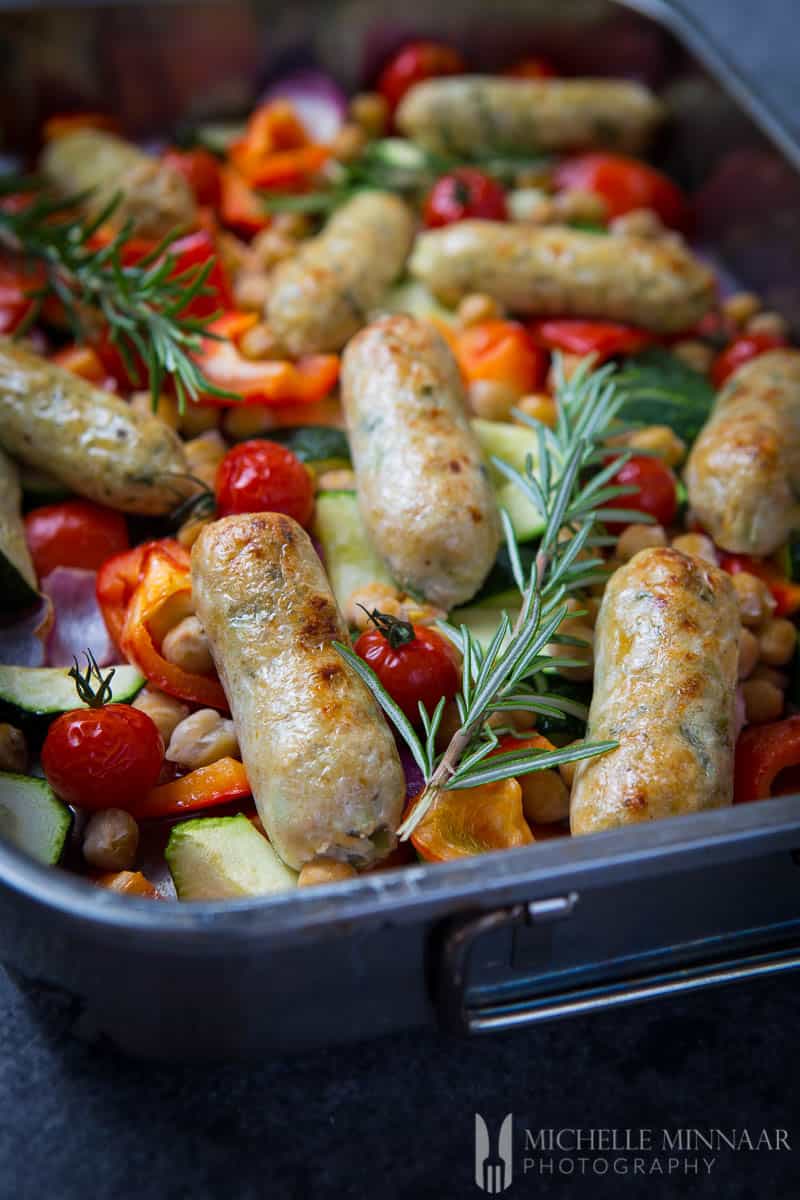 goodlife
At Goodlife they have, for more than 25 years, had a passion to find the very best ingredients that British agriculture has to offer. This means that the vast range of vegetarian products now available, contains the very best, local ingredients out there. Goodlife works closely with the farmers who supply them, in order to ensure, that they get those veggies at the best possible time of the season. This way the taste and nutrition is preserved at their best. Their mission is to hero the vegetables and put them on the center stage. All products are artificial additives, colouring and preservative free!
goodlife products I used in the recipe
For my sausage traybake I used Goodlife's cauliflower & cheddar vegetarian sausages as well as the leek and Caerphilly Glamorgan vegetarian sausages with wholegrain mustard to give variation, and I have to say, the result was fabulous! You can learn more about them here, and take a look at the other products available.
The amazing thing about these sausages is that even though they don't contain any meat they are so full of flavour that you don't miss it at all! For example, the bold flavour combination of cauliflower, mature cheddar and a touch of truffle oil gives such a rich taste. It really makes it a lot easier to lead a vegetarian lifestyle.
where to get Goodlife products
So where can you get hold of these vegetarian treats? You can find Goodlife products in selected Morrisons stores in the vegetarian freezer aisle towards the bottom of the shelf. If you are in doubt just ask for them in the store. You can also find an extended list of retailers on the Goodlife website. This way you will be able to find the store nearest to you that stocks the Goodlife products. I can only recommend you to try them out.
need meat?
For this traybake I used vegetarian sausages but if you can't live without your meat, you can of course opt for the traditional ones. However, as I pointed out the Goodlife vegetarian sausages are so tasty, that you don't need any meat at all! If you do swap them out for meat sausages, just keep a couple of things in mind. Firstly this will mean slightly longer cooking time. So make sure to test the sausages with a thermometer to ensure they are safe to eat. They need to be cooked all the way through. Furthermore, you should go for low fat sausages to make sure the dish doesn't get greasy.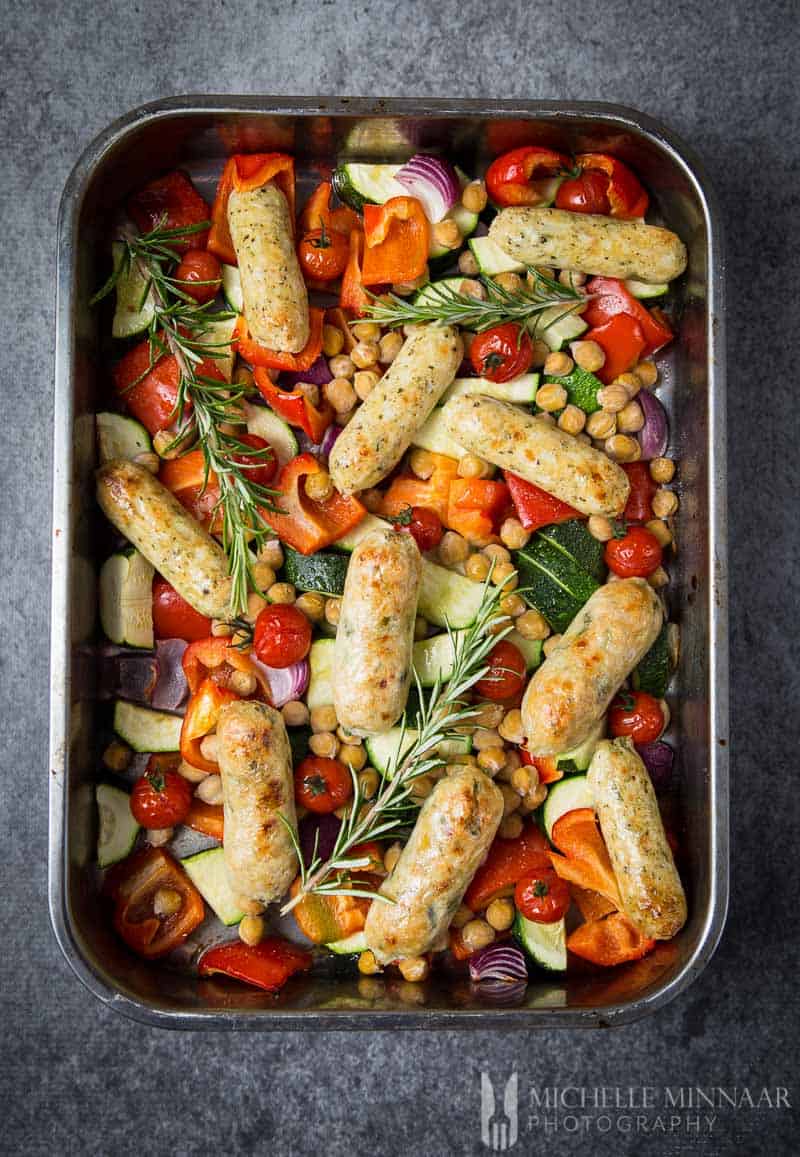 roasted veggies
For my sausage traybake I used onions, tomatoes, peppers, courgettes and chickpeas. But you can change it up in pretty much any way you want. It's also a good way to clear out the fridge of veggies that need to be used up.
Keep a close eye on the roasted veggies, if you overdo them, you can take the caramelization process over the top. If that happens, the veggies might stick to the pan or tray and eventually burn. Every now and then, add a splash of water. This will also help your sausages to cook faster, and remain juicy. It's a trick commonly used in Germany, where they cook their sausages using water vapour.
more veggies
For the tray bake you can use pretty much any vegetable you want. Of course the sturdier root vegetables fare better when baked in the oven. Try to vary it up with parsnips, carrots or Jerusalem artichokes. These have a great nutty flavour that goes very well with rosemary.
a handy trick to getting more flavour
Instead of chopping up that garlic just crush it lightly the with palm of your hand and put them in whole. If the cut pieces get burnt during the cooking process they will turn bitter. On the other hand by putting the garlic cloves in whole, they will cook softly and turn sweet. When cooked you can pop them out of their skins and eat them with the veggies. And of course, as always, you shouldn't be shy with your herbs!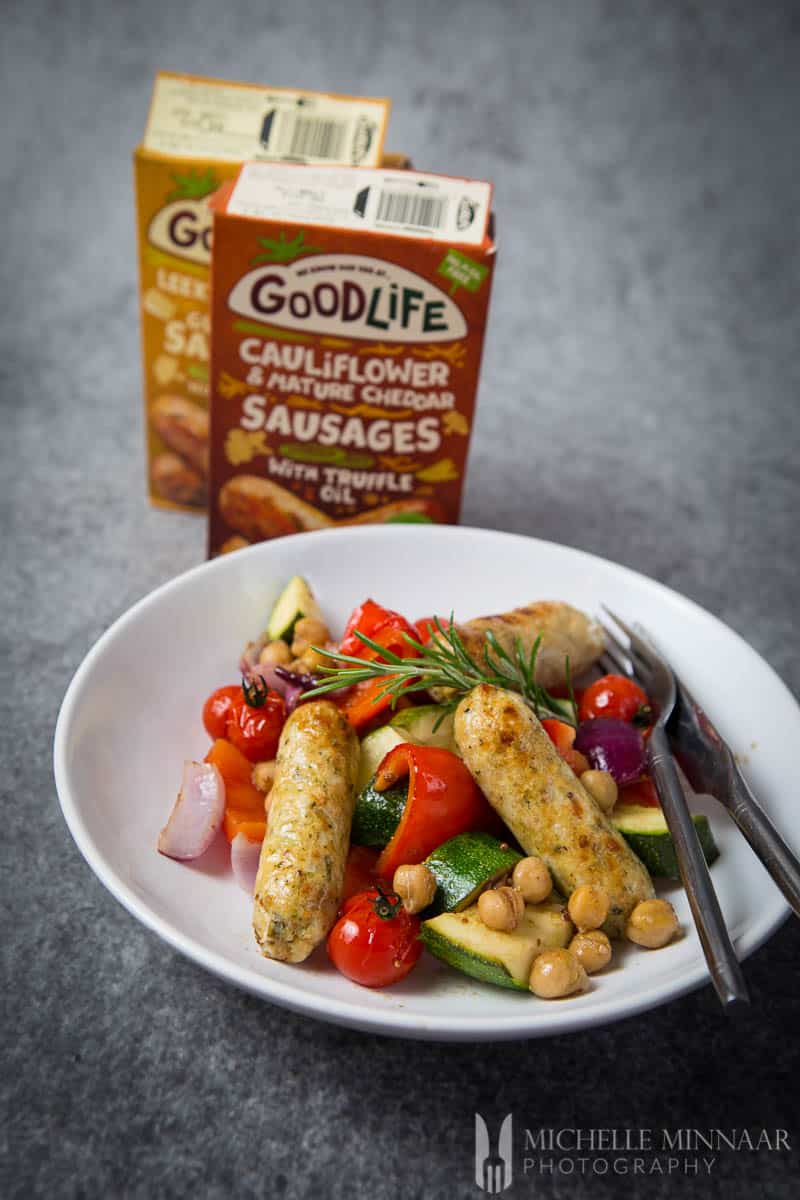 dressing
The simple dressing contains balsamic vinegar, olive oil, mustard and honey. It's a little bit like a French vinaigrette except they don't use honey for that. The honey dressing is of course optional, but I really think it helps bringing the dish together. You can vary of the dressing by using a good British apple cider vinegar instead of the balsamic one. Also, the type of honey you choose can actually impact the flavour more than you might think. I recommend playing around with this and find the taste that's right for you. As always, I recommend the addition of a few finely chopped fresh herbs. For this recipe I find rosemary or thyme paired especially well.
Print
Sausage Traybake with Vegetables and Chickpeas
---
Description
This sausage traybake recipe is vegetarian and crammed with mediterranean vegetables and chickpeas. It is easy to prepare and super healthy to boot!
---
2

red onions, peeled and quartered

2

red peppers, washed and cut into chunks

450

g

(1lb) cherry tomatoes, washed

2

large courgettes, washed and chopped roughly

1

tin (400g) cooked chickpeas, drained and rinsed

30

ml

(2 tbsp) vegetable oil
Salt and pepper, to taste

8

Goodlife Cauliflower & Mature Cheddar Sausages

30

ml

(2 tbsp) olive oil

15

ml

(1tbsp) wholegrain mustard

30

ml

(2 tbsp) balsamic vinegar

15

ml

(1 tbsp) honey
---
Instructions
Preheat the oven to 200°C/390°F/gas mark 6.
Pour the onions, peppers, tomatoes, courgettes and chickpeas in a large roasting tin and toss in the oil. Season to taste.
Place the frozen sausages on top of the vegetables and then place the tray in the oven and bake for 15 minutes.
Mix the olive oil, mustard, vinegar and honey in a cup.
Remove the tray from the oven, then pour the dressing over the sausage dish and give everything a good stir to coat the ingredients evenly.
Return the tray to the oven and bake for another 15mins or until the sausages are done.
Notes
The honey in the dressing is optional.
In this recipe vegetarian sausages are used but meaty ones can be used as well, which means slightly longer cooking times. Be sure to test with a thermometer to ensure they are safe to eat!
Prep Time:

15 minutes

Cook Time:

30 minutes

Category:

Traybake

Method:

Roast

Cuisine:

American
Nutrition
Serving Size:

1 serving

Calories:

439

Sugar:

23.4 g

Sodium:

567 mg

Fat:

19.5 g

Saturated Fat:

2.9 g

Carbohydrates:

56.5 g

Fiber:

16.1 g

Protein:

17 g
Keywords: sausage traybake recipe, vegetarian sausage tray bake, mediterranean veg tray bake
save the recipe to your pinterest board
P.S. This is a sponsored post.