A rich, delicious leftover recipe, this savory bread pudding casserole recipe is incredibly tasty and surprisingly easy to make. It's perfect for making the most of those festive leftovers!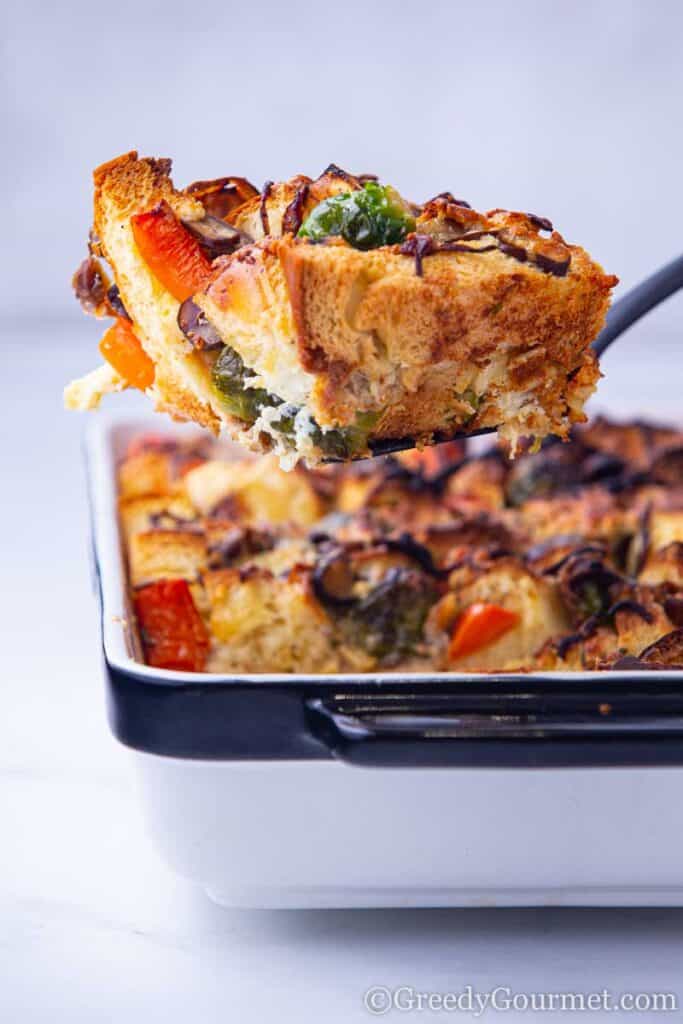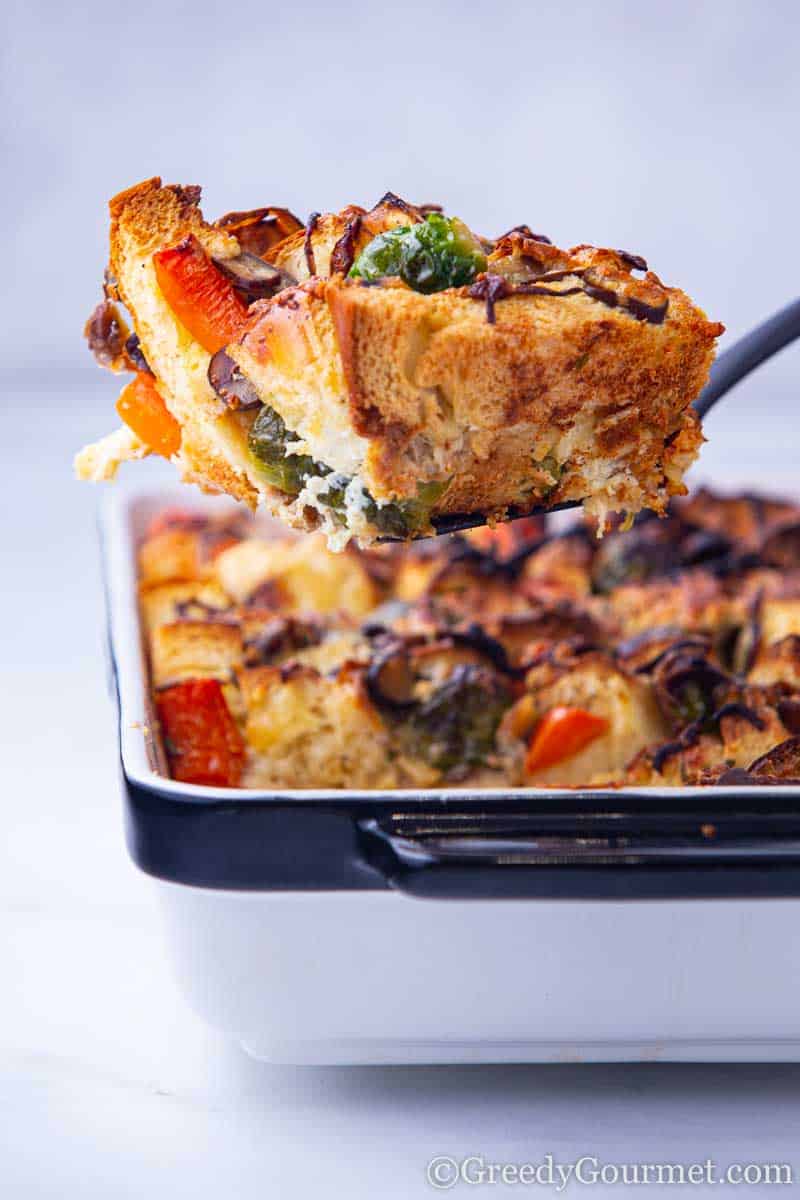 So, set aside all those extras from the holiday season. By the time you've whipped up this delicious savory bread pudding, you'll realise that festive food often tastes better the second time round!
Parmigiano Reggiano
To make this savory bread pudding, you'll need to get your hands on a special ingredient – a tastemaker that's going to elevate a very tasty casserole to a memorable dish that will become a new favorite.
Have you cooked with Parmigiano Reggiano cheese before? It is the only cheese that is legally allowed to be called Parmesan in the EU and other places where the law applies.
If you haven't, you're about to discover a magical ingredient that can really transform a dish. If you are already familiar with it, you'll know just how special it can be.
The origins of Parmigiano Reggiano go all the way back to the Middle Ages. The original cheesemakers of this incredible cheese were Italian monks. They were searching for a way to make it last longer, so they made the wheel size larger and let the cheese mass dry.
The first written evidence of Parmigiano Reggiano can be traced back to 1254, where a notarial deed found in the State Archives of Genoa mentions the caseus parmensis ('the cheese from Parma').
Once it was more durable, Parmesan could travel further. The fact that it could tickle taste buds far and wide was a major selling point, as was the precise production process.
In fact, the raw milk used to make Parmesan has to be made in a certain way. Its unique and intense taste comes from using cattle that have been fed on a specific diet. At least 50% of their forage has to have been grown in the dairy farm and at least 75% within the production area.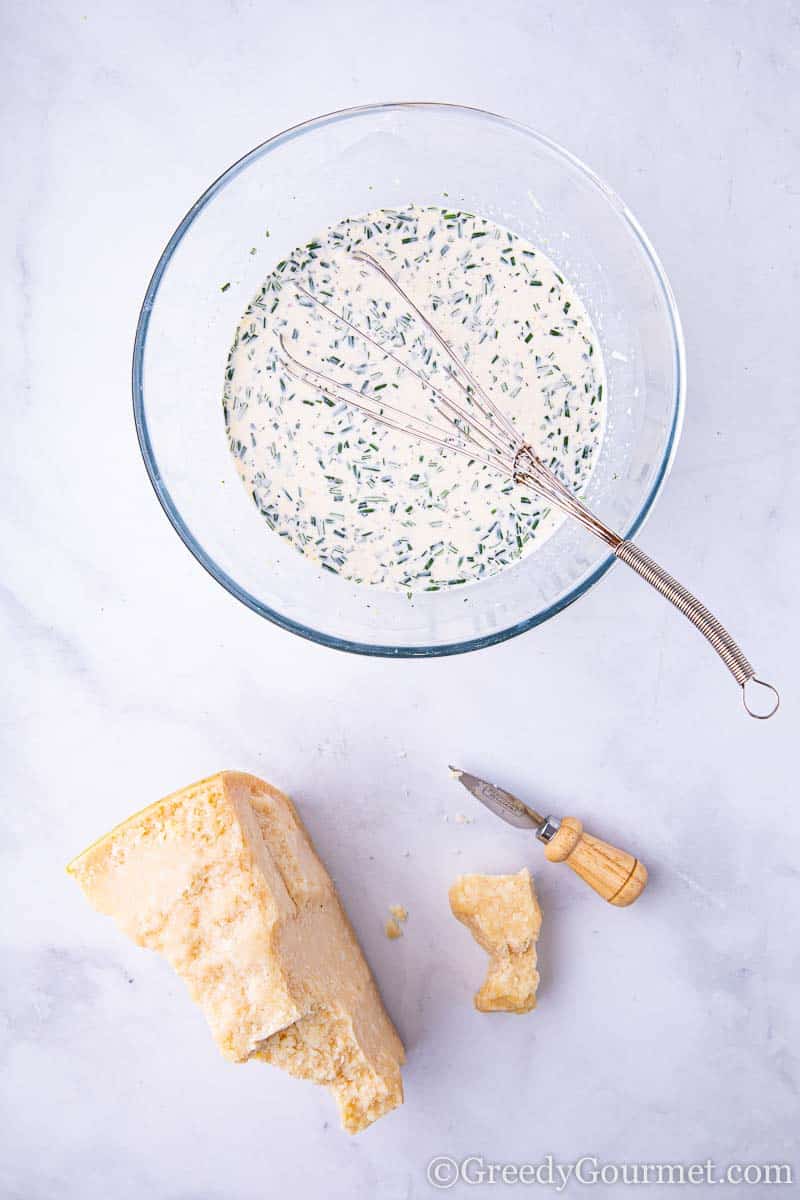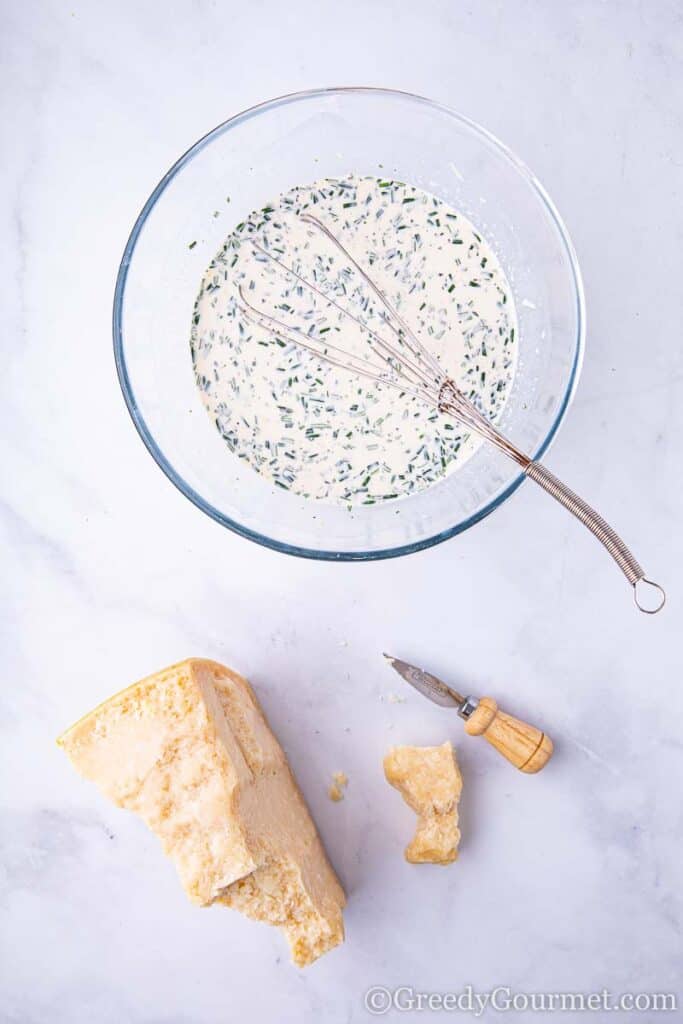 It's all overseen by the Parmigiano Reggiano Consortium. Founded in 1934, the consortium protects, defends and promotes all things Parmesan.
They even give every Parmesan wheel its unique stamp of approval. So, you'll know when you've bought the real thing.
Parmigiano Reggiano really is one of the most versatile ingredients in the kitchen. Whether you want to make an aperitif, a quick snack, as part of a cheeseboard or mixed into a big hearty dish, this terrific ingredient will work wonders.
With notes of fruits, nuts, rich beef stock and subtle spices, your palette will be dancing with just a touch of Parmesan. Plus, it's perfect for the holiday season!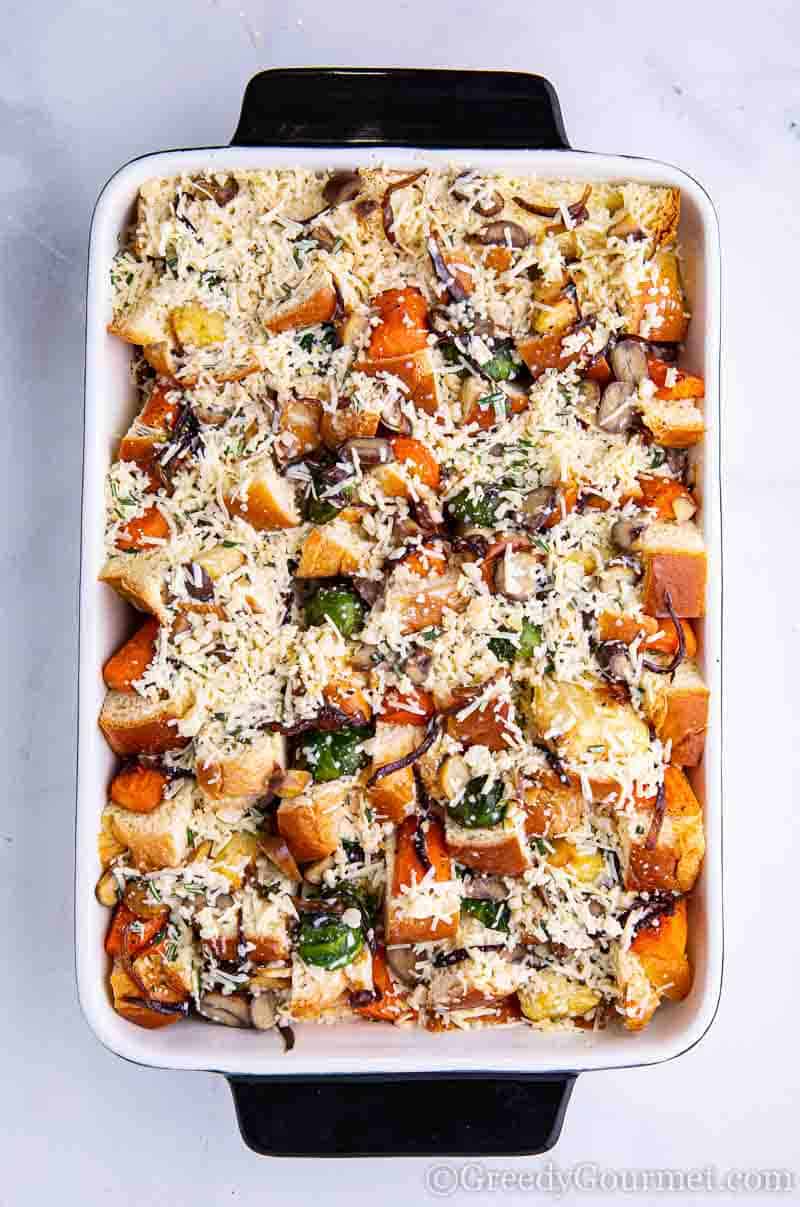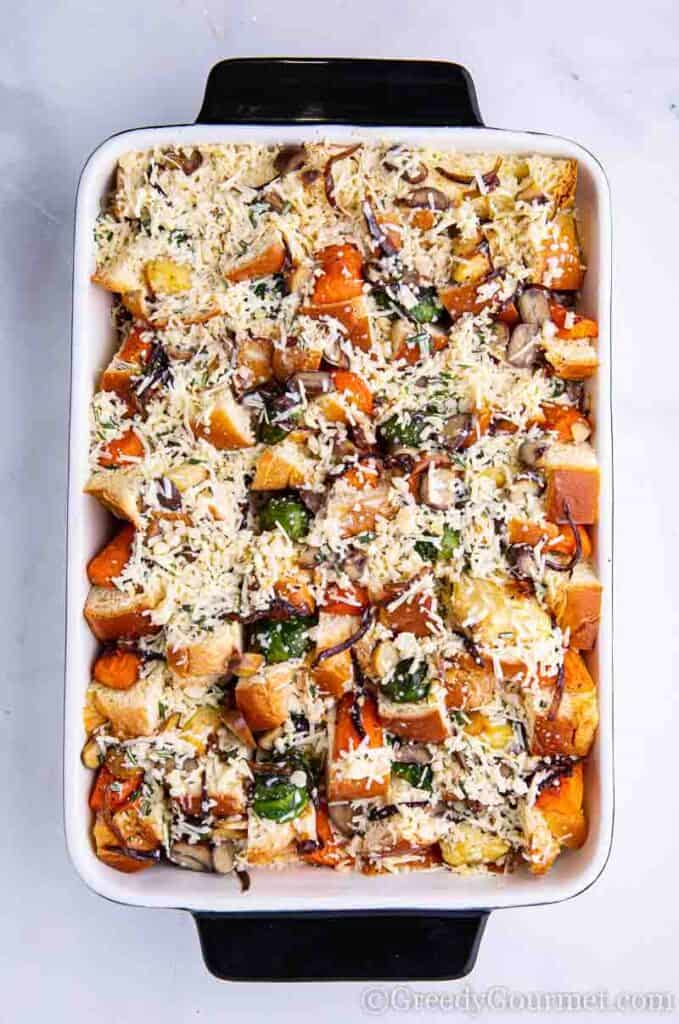 How to make savory bread pudding
Savory bread pudding is the perfect way to use up all those leftovers. You can take any extras from your festive feast – think parsnips, carrots, brussels sprouts, chestnuts, potato, swede, beetroot, kale, mushrooms, celeriac, broccoli, cauliflower… the list is almost endless – and combine for a heavenly casserole.
Savory bread pudding will make the perfect Boxing Day breakfast, brunch or lunch! You could even make it after Thanksgiving!
The base of your savory bread pudding is brioche bread. This is the perfect bread to use as it will soak up all the juices, without getting soggy. You'll want to first line your casserole dish with the brioche bread cubes. The layering of the brioche bread is important, to pay close attention to the recipe below.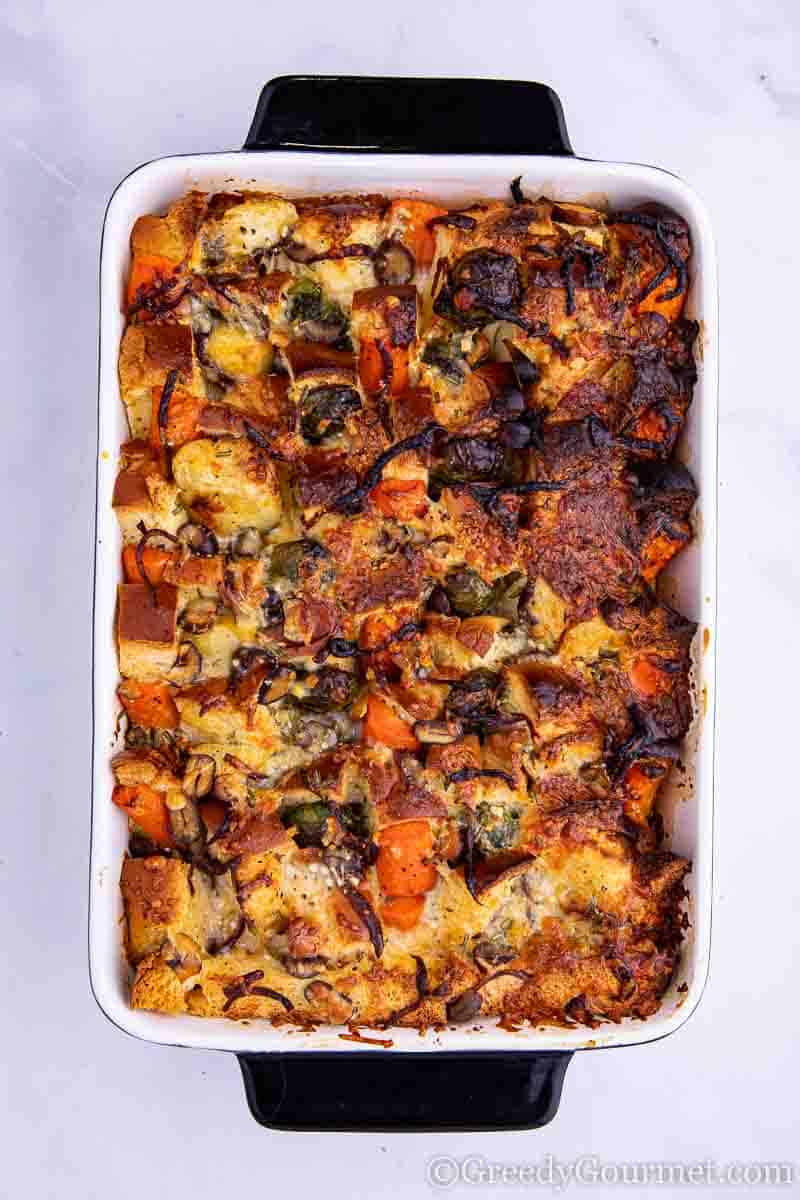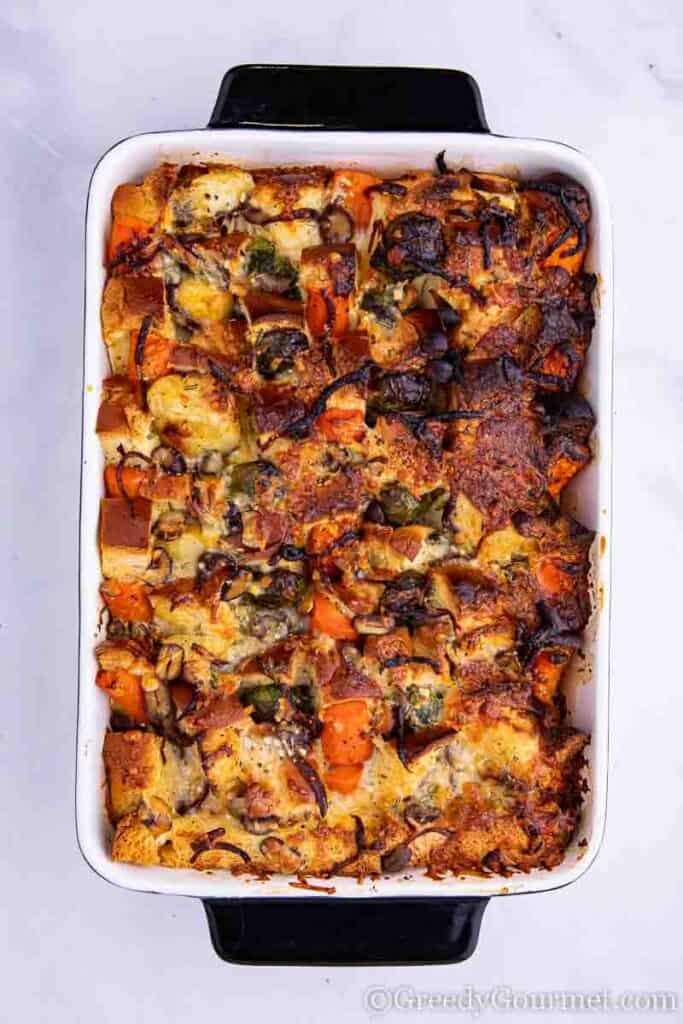 Next, you'll whisk up the egg mixture in a large bowl. Once you've made the mixture, it's poured evenly over the brioche bread and voilà! It's ready for the oven.
When the savory bread pudding is half done – after 15 or 20 minutes – you're ready to make your creamy mushroom sauce. This super tasty sauce takes little more than 5 minutes and adds so much to the savory bread pudding.
It's as easy as frying some mushrooms in melted butter in a large skillet, adding garlic granules or crushed garlic cloves, then cream, cheese and, finally, a little sprinkle of parsley. You could also add fresh thyme or rosemary.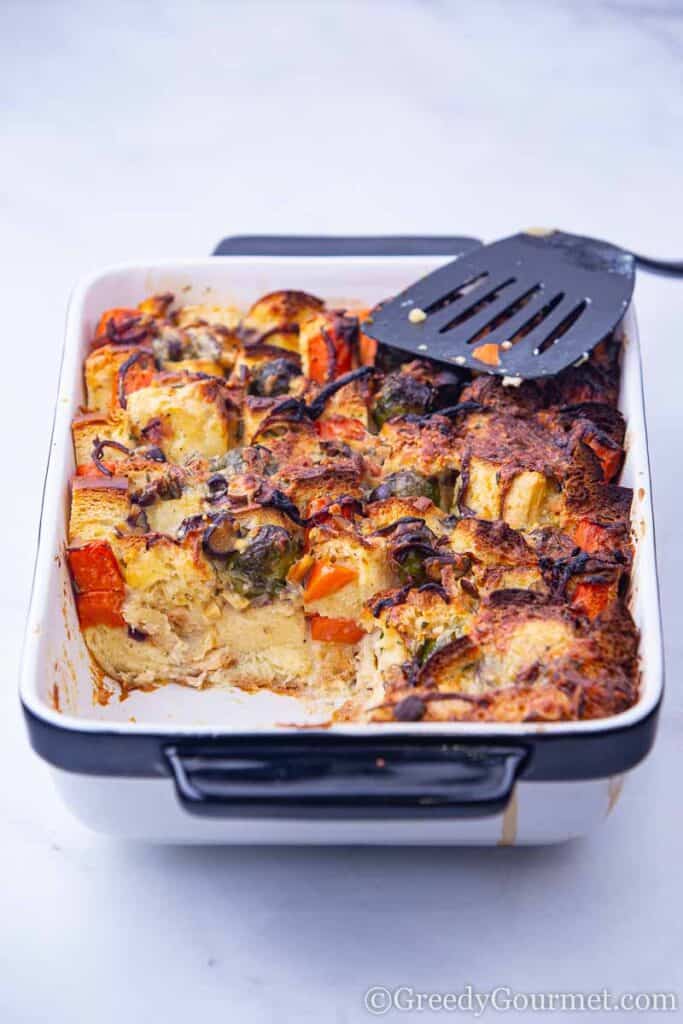 How do you store savory bread pudding?
If you end up having leftovers of this leftover recipe, just place them in an airtight container and refrigerate for up to 3 days. Reheating savory bread pudding in the oven will taste just as delicious.
Can you freeze savory bread pudding?
Of course, you might want to store any leftovers for that extra bit longer. Well, savory bread pudding is really easy to freeze. Just place it in a freezable airtight container – it'll keep in the freezer for up to 3 months.
Can you prepare savory bread pudding in advance?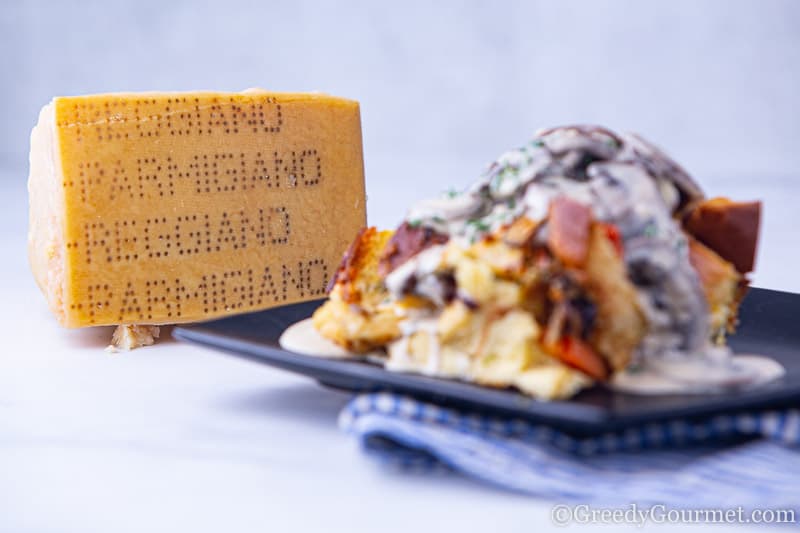 If you want to get all of the hard work out of the way, you can always refrigerate your ready made savory bread pudding overnight, ready to be heated on the day you want to eat it.
Just make sure you bring your refrigerated savory bread pudding to room temperature by taking it out of the fridge 20 minutes before you want to heat it in the oven. This way, it'll end up with a better texture.
What can you do with leftover parmesan?
If you find that you've made more Parmesan than you can use, why not try another delicious dish? 
If you enjoyed this savory bread pudding recipe, you'll love my Parmesan baked cod recipe. It's easy to make and tastes like a dream! 
An excellent side dish is Parmesan parsnips!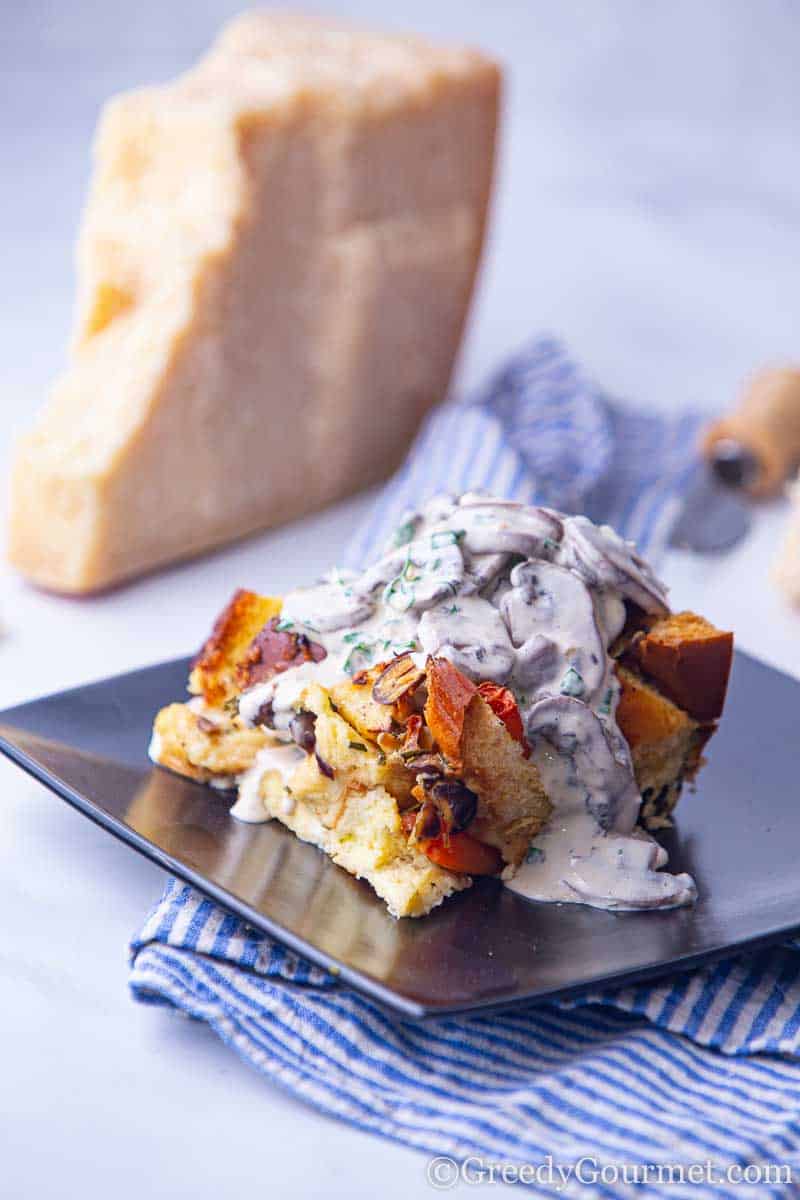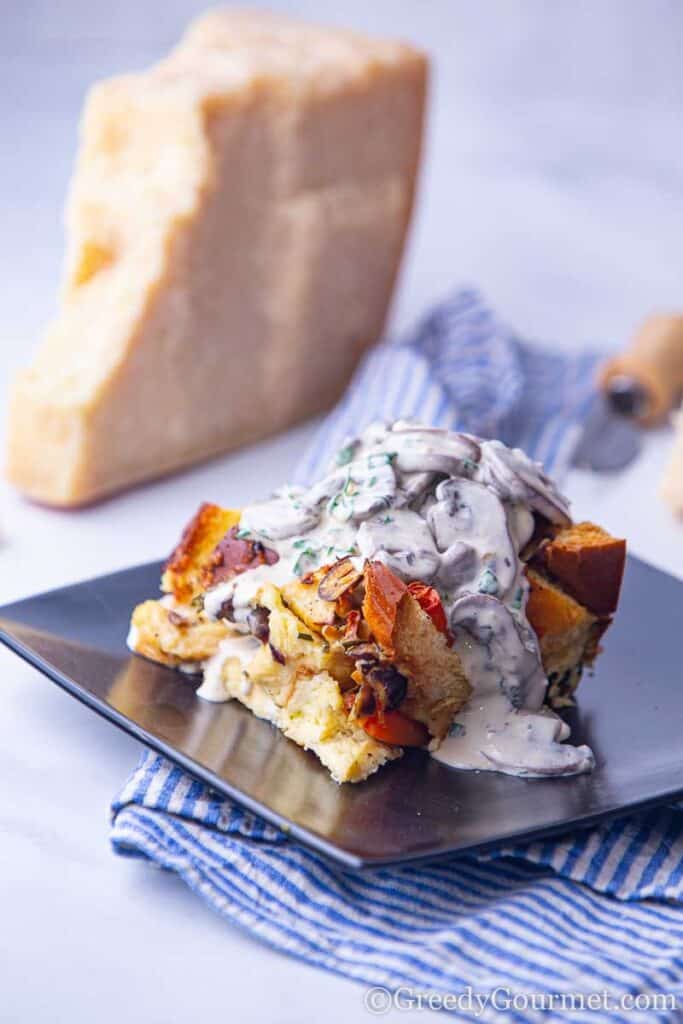 More one tray wonders
Print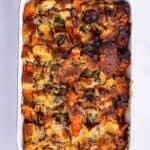 Savory Bread Pudding with Parmigiano Reggiano
---
Author:

Michelle Minnaar

Total Time:

1 hour

Yield:

6

servings

1

x

Diet:

Vegetarian
Description
Savory Bread Pudding is a great recipe if you have lots of leftover vegetables from a roast dinner. It makes one hearty and budget-friendly dinner.
---
Bread pudding
15

g

(1 tbsp) butter

600

g

(1 1/2 loaves) brioche bread

900

g

(2lbs) leftover roast vegetables (we used parsnips, carrots, brussels sprouts, onion and chestnuts)

430

ml

(1 3/4 cup) milk

125

ml

(1/2 cup) heavy cream

4

eggs

1

g

(1/2 tsp) garlic powder

1

sprig fresh rosemary, leaves only finely chopped

90

g

(1 cup) grated Parmigiano Reggiano cheese

175

g

(3/4 cup) grated Cheddar cheese
salt and pepper, to taste
Creamy mushroom sauce
30

g

(2 tbsp) butter

300

g

(1 1/2 cups) mushrooms, cleaned and sliced

2

g

(1 tsp) garlic granules

250

ml

(1 cup) heavy cream

60

g

(2/3 cup) grated Parmigiano Reggiano cheese

3

g

(2 tbsp) fresh parsley, washed and finely chopped
---
Instructions
Preheat the oven to 220°C / fan 200°C / 425°F / gas mark 7.
Grease a large ovenproof casserole dish with butter, then set aside.
Cut the brioche into thick, diagonal slices, being careful not to cut it all the way to the bottom. (This should hold the bread together for when you cut it in the opposite direction.) Now cut the brioche in the opposite direction, cutting all the way through. You'll end up with 5cm (2in) thick brioche pillars.
Place two pillars of brioche flat at one end of the casserole. This allows you to lean the pillars at an angle.
Alternating between the brioche pillars and the leftover vegetables of your choice, create layers of bread interspersed with vegetables in a balanced manner.
Place the milk, cream, eggs, garlic powder, rosemary and both cheeses in a bowl then whisk until well incorporated.
Pour evenly over the bread casserole, coating all off the bread with the eggy mixture.
Bake in the oven for 30 minutes.
Fifteen minutes before the casserole is due to come out of the oven, prepare the creamy mushroom sauce.
Melt the butter in a large frying pan then fry the mushrooms at a high heat for 3 minutes.
Add the garlic granules and cook for another minute.
Pour in the double cream, stir and let it bubble for a minute.
Sprinkle in the Parmigiano Reggiano cheese, and stir until it's melted.
Stir in the parsley and pour into a gravy boat.
After the casserole has cooked for 30 minutes, remove from the oven and serve immediately with the sauce. Enjoy!
Notes
This recipe is ideal when you want to use up your leftovers after Thanksgiving, Christmas or Sunday roast.
In our case, we used parsnips, carrots, brussels sprouts, onion and chestnuts that were leftover from our Christmas dinner. That said, you can also use butternut squash, sweet potato, swede, beetroot, kale, mushrooms, celeriac, broccoli, cauliflower, you get the idea! Use whatever ratios you please but stick with the weight to bread ratio!
Quite frankly, you can cut the bread into any shape or form you like, provided that it is chunky!
If you can't get hold of fresh rosemary you can use 1g (½ tsp) dried rosemary instead or check out one of these rosemary substitutes.
Find you have plenty of double cream leftover? Don't let it go to waste! Try some of my other double cream recipes!
Prep Time:

20 minutes

Cook Time:

40 minutes

Category:

Main Course

Method:

Bake

Cuisine:

American
Keywords: savory bread pudding, bread pudding recipe, savory French toast casserole, Parmigiano Reggiano recipe, parmesan recipe, creamy mushroom sauce
P.S. This is a sponsored post.