Sometimes my body yearns for something fresh and healthy, especially after making my famous brie tartiflette yesterday yet again. This shredded rainbow salad is an excellent vitamin boost for these cold rainy days. You can serve it as a vegan meal on its own or as a side dish with protein.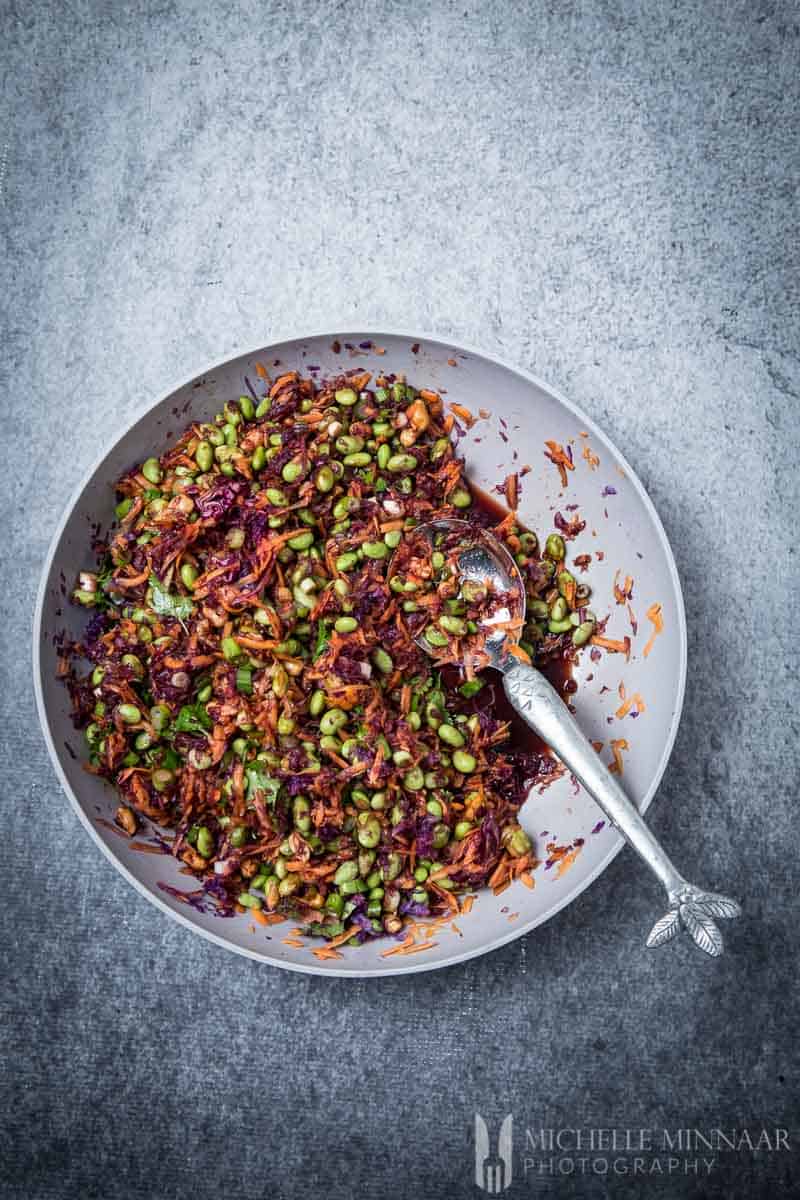 What I love about this shredded rainbow salad is that you can make a large batch and reuse for lunch the next day! Also, it looks so pretty on the plate with tall the colours, doesn't it? A fair warning, you'll need a high-quality grater for this recipe. Yes, this recipe involves a fair amount of grating but the preparation time is roughly half an hour or less, depending on how fast you are with the grating. The more helping hands there are the quicker the dish will come together!
shredded rainbow salad with Microplane
Are you one of those people that love to use fancy and efficient kitchen tools? Then you'll love Microplane. Microplane, a division of Grace Manufacturing Inc., is a family-owned business and is the premier brand worldwide for exceptionally sharp culinary tools.
They offer over 40 Microplane kitchen tools for each need you may have in the kitchen, so you can select which tool you are missing most. As for me, I've been looking for a gourmet zester forever and I've finally found one!
Originally a woodshop, in 1994 out of pure frustration over dull kitchen equipment, a Canadian homemaker developed the new Microplane tool. With its speed, precision work and efficiency, Microplane tools soon became an essential part in everyone's kitchen. I bet that even you have your favourite tool you rely on.
Personally, I have at least ten in my kitchen that use regularly. How many times have I cut myself accidentally because of a dull kitchen knife? I can't tell you enough, but sharpness makes all the difference in the world when it comes to avoiding accidents in the kitchen.
With Microplane's sharp culinary tools, they have completely revolutionised the way chefs and home cooks grate and zest at home. It allows ordinary people to cook and bake gourmet style by getting the best flavours out of the ingredients.
what makes Microplane so sharp?
The main difference between the Microplane blades and competitors is that they are not stamped, which makes the latter dull and can lead to serious accidents. With Microplane's photo-etching process, the blades are extra sharp on the edge of each tooth.
With over 50 years of experience with photo-etching- technology, Microplane's tools are long-lasting and superior in terms of quality.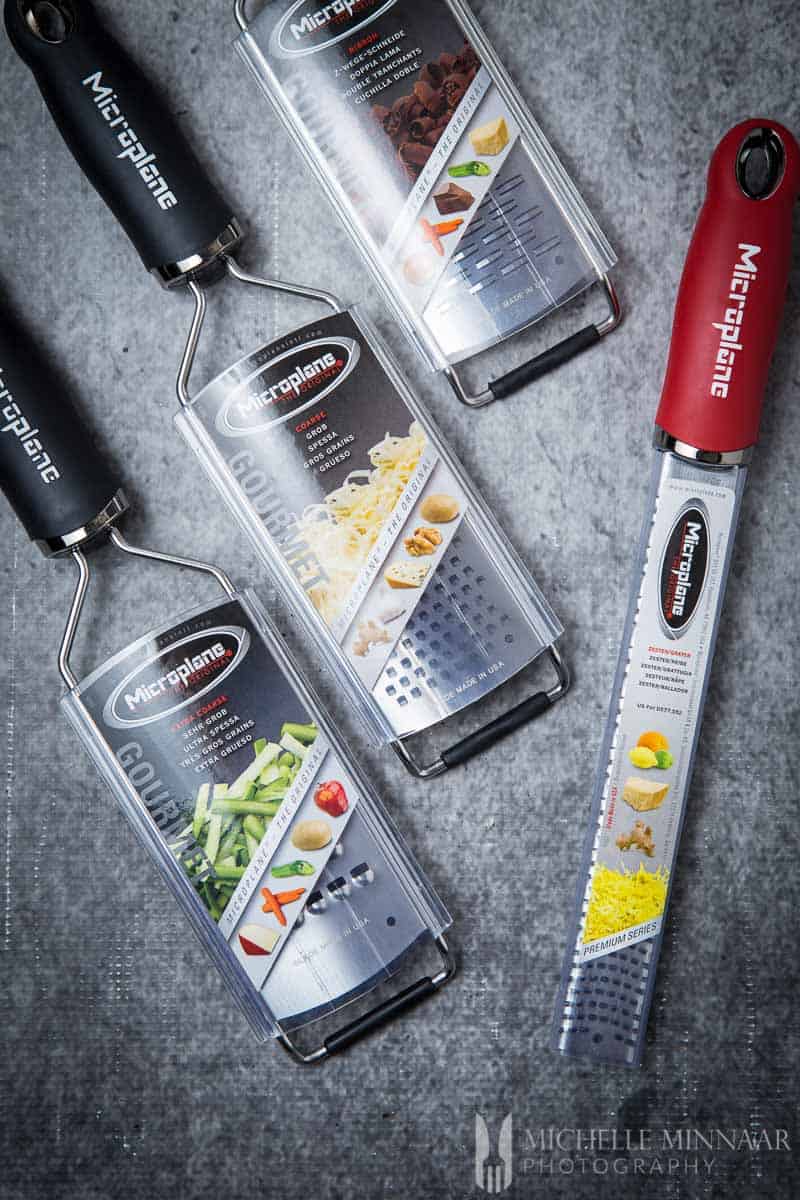 Some very useful Microplane tools from the Gourmet Series line are for example:
Gourmet series ribbon grater and attachment: this tool shreds foods into ribbons.
Gourmet series extra coarse grater: perfect for coleslaws or hashbrowns.
You can use these tool on apples, cabbage, carrots, chocolate, coconut, hard and soft cheeses, onions, and courgettes. Gourmet Series tools are from US stainless steel and have a soft touch handle with a non-skid foot.
benefits of ultra-sharp blades
I enjoyed the benefits of using ultra-sharp blades in this recipe. Just take a look at the precisely cut vegetables in this shredded rainbow salad. There are many benefits that comes with sharp blades, these are:
grating without any significant effort
food is cut precisely and not torn
flavours are evenly distributed
natural aromas are released enhancing the overall taste
optimal results every time
A bit of advice before you start using such sharp tools. Watch your fingers and don't cut too fast! Use protection gloves and food guards for your personal safety. You can also find these amongst Microplane products.
edamame beans
Edamame beans make a nutritious addition to this shredded rainbow salad. Not only are they filling but they are very high in protein and fiber. Perfect for vegan salads!
Edamame beans are very common in East Asia and you can usually find them being served as a snack in most Asian restaurants. Basically, they are immature soybeans in a pod.
In Japan, you blanche edamame beans with salt or you dip them in soy sauce. The term 'edamame' in Japanese means stem bean, because in supermarkets the beans are still attached to the stem.
vegetables
As you can see, I've tried to shred as many things as I can for this shredded rainbow salad. I shredded red cabbage, onions, carrots but you can shred so many more things! You can also try shredding celery, fennel, white cabbage, shallots, kohlrabi, beetroot, etc.
I love shredding vegetables and eating them raw. I think we don't get enough raw food in our lives today. You can also inspire yourself by my rainbow quinoa salad and toss in some quinoa and chickpeas in there. So, which vegetables will you use for this shredded rainbow salad?
asian twist
You've probably already gathered, that this recipe is taking on an Asian direction with the dressing. It's a nice way to incorporate those lovely umami flavours with soy sauce and sesame oil.
The chili is completely optional, although I do prefer to give the salad a bit of a kick in the end. However, if you feel that you have enough heat coming from the ginger, then you don't need to add the chili sauce. Instead, you can also add a bit of lime juice and increase the acidity to balance out the flavours.
carnivore
Again, you can serve this shredded rainbow salad as a side or serve it as a main. If you absolutely need to add meat to this salad, then I recommend either shrimp or some teriyaki chicken. Simply toss a couple of these babies on top and give the salad a nice stir. For vegan alternatives, I would use smoked tofu.
more ideas
Do you know what could be excellent with this salad? A nice dry light beer. Obviously, I wouldn't recommend eating the salad with beer for lunch, especially when you are at work. However, the beer can be a nice pairing for the salad at dinner time. You can put your feet up on the couch while eating leftovers. Enjoy!
Print
Shredded Rainbow Salad with Edamame
---
600

g

(1 1/2lb) frozen edamame

1/2

red cabbage, grated

4

large carrots, peeled and grated

12

spring onions, washed and finely sliced

125

ml

(1/2 cup) coriander, washed and finely chopped

125

ml

(1/2 cup) dried salted peanuts

60

ml

(4 tbsp) honey

60

ml

(4 tbsp) oil

60

ml

(4 tbsp) rice vinegar

30

ml

(2 tbsp) soy sauce

15

ml

(1 tbsp) sesame oil

15

ml

(1 tbsp) fresh ginger, finely grated

5

ml

(1 tsp) chilli sauce

1

garlic clove, crushed
---
Instructions
Boil the frozen edamame for 5 minutes in salted water then drain. Set aside to cool while you prep the other vegetables.
Mix the cabbage, carrots, onions, coriander, peanuts and edamame in a large bowl.
In a small bowl, mix the salad dressing ingredients together, i.e. honey, oils, vinegar, soy sauce, ginger, chilli sauce and garlic.
Pour the dressing over the salad, give it a good stir and serve immediately.
Notes
If you are gluten intolerant please use tamari instead of soy sauce
Prep Time:

30 minutes

Cook Time:

5 minutes

Category:

Salad

Method:

Boil

Cuisine:

Japanese
Nutrition
Serving Size:

1 serving

Calories:

419

Sugar:

17.1 g

Sodium:

1328 mg

Fat:

24.8 g

Saturated Fat:

3.2 g

Carbohydrates:

35 g

Fiber:

7.7 g

Protein:

18.6 g
save the recipe to your pinterest board