Smoked chicken drumsticks might sound like something you order from a restaurant but if you are armed with your own smoker, you can prepare them at home!
A long time ago (1997, eek!), I visited Disney World in Orlando. I'll never forget it. No, not the rides but the gigantic smoked turkey legs it sold. In typical Greedy Gourmet-style, that's the memory that stuck with me through all these years and I've been yearning to eat it again. Obtaining turkey legs in the UK is not impossible but because of their sheer size can be quite clunky to work with if you don't have an industrial smoker.
Scaling down to chicken drumsticks is a practical compromise, which isn't really one at all. If you like to regularly smoke your chicken, you'll know that smoking the meat enhances its umami flavours. However, this is where the smoking technique comes in. If you master the timing on how long to smoke the chicken drumsticks for, you will be in for a treat. The smoking process turns normal chicken drumsticks into something unique and sophisticated and they can be simply served with something like coleslaw.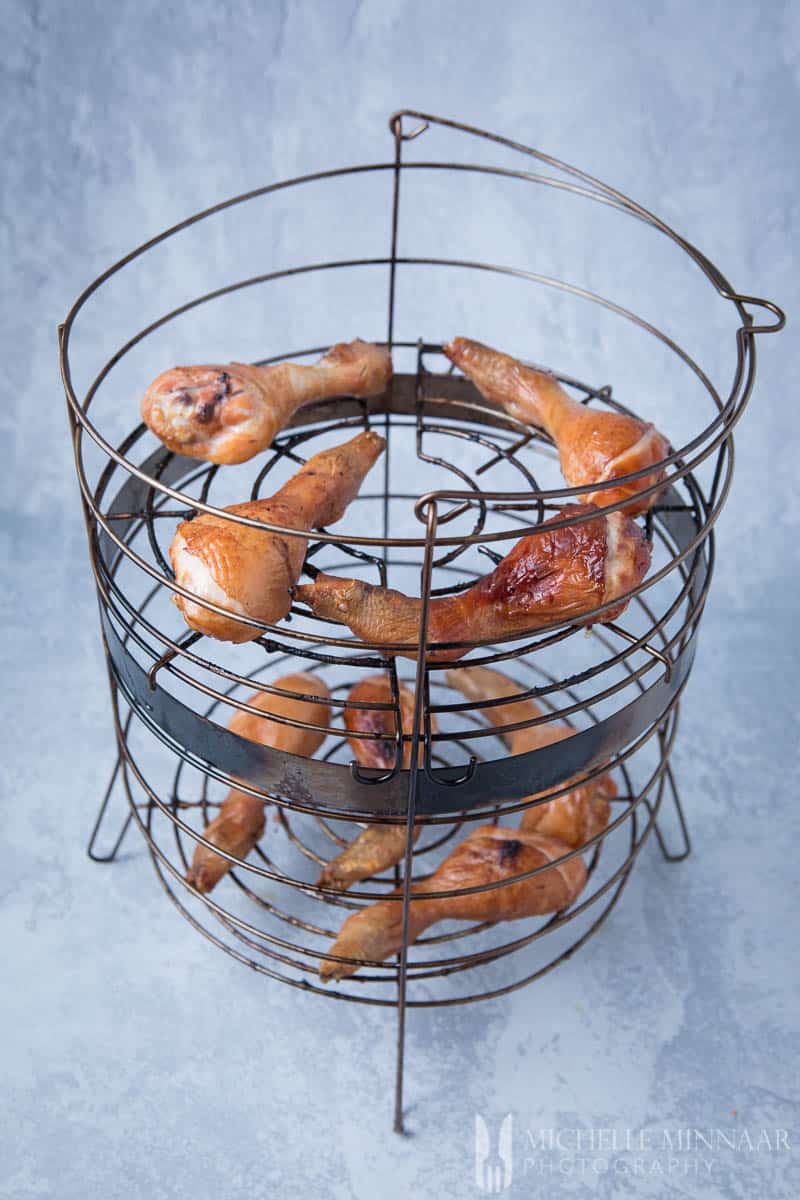 best smoked chicken drumsticks recipe
A lot of cooks hesitate to smoke chicken because they think it is difficult or involves a lot of preparation. This definitely isn't the case. In truth, smoking meat is ridiculously easy, especially if you've got a grill with a smoker function. Even if you opt for the classic smoker without a grill, smoking chicken only involves some patience. If you've never smoked chicken or any type of ingredient, you need to learn about the smoking method first.
Smoking meat is a time old technique that originated centuries ago. Smoke was used to preserve meat for long journeys and long seasons without any food, especially during the Middle Ages. Today, the smoking technique is more often used for flavouring and browning food. For example, when you eat a delicious sausage, the extra rich flavours come from smoking the sausages in a smoke house. The same goes for smoked cheese, you get that extra blast of flavour in your mouth that makes the cheese so special. This same level of impact can be found by smoking to a simple chicken legs recipe. With a bit of smoke, you can turn plain chicken legs into an exciting main course! To learn more about smoking, click here.
So, for the smoking process, all you have to do is put the chicken legs inside and set for how long you want the chicken to smoke for. However, before you move forward with smoking, I highly recommend making a brine for the chicken. In the proces,s your brined chicken drumsticks won't turn dry.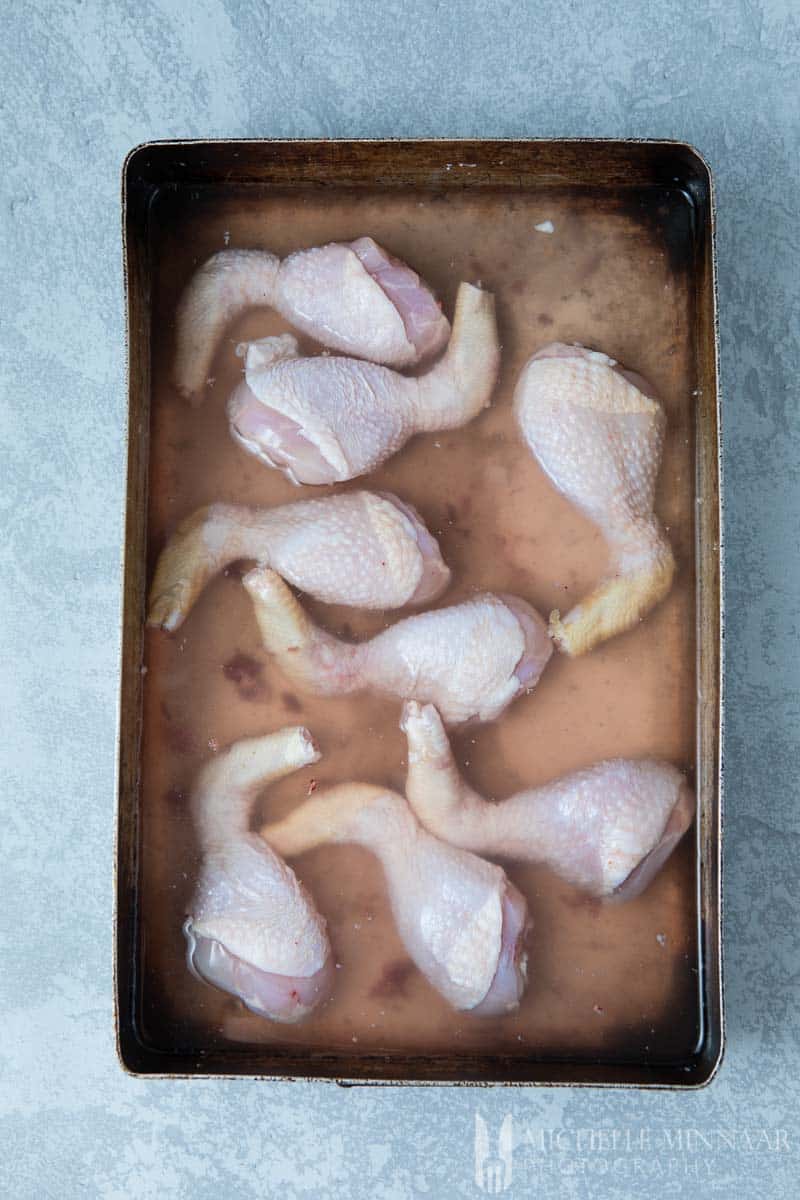 how to make smoked chicken drumsticks brine
The number one fear cooks get with smoked chicken or smoked ribs, is that the meat will dry out after smoke exposure. The solution is to cleverly prepare a brine for the chicken. Do you know how to brine a chicken? It's very straightforward. All you need is salt and sugar and a deep tray to place the chicken legs in. To learn how to make the perfect brined chicken drumsticks, click here. The brine itself will reabsorb into the chicken muscle tissue, making it nice and moist. You'll need to brine the chicken legs for a couple of hours for the perfect result.
My advice is to prepare the brine in the morning before you go to work. By the time you come back, your brined chicken drumsticks will be ready for you! You can also choose to make brined chicken breasts or brined chicken wings, as the brine is good for any cut of meat.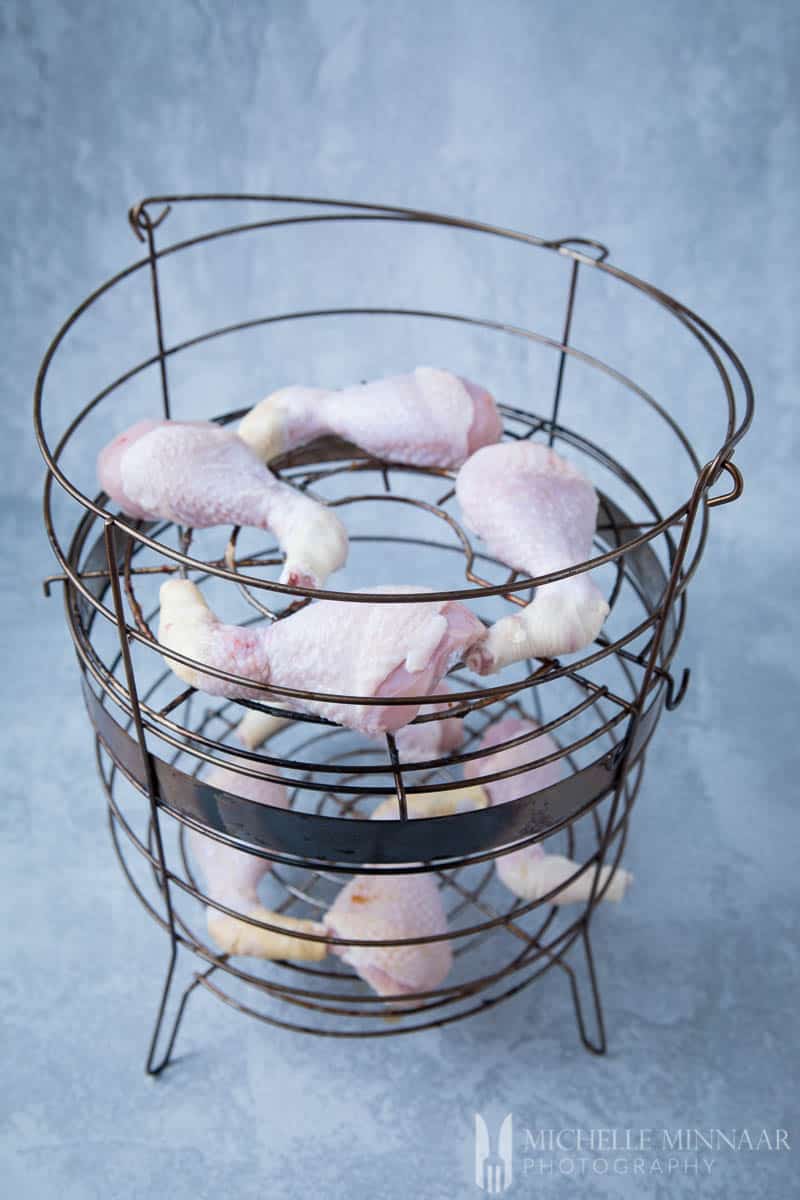 the best woodchips for smoked chicken
Once your chicken is brined, it's time to smoke it! If you are a newbie when it comes to smoking chicken, you need to take care which woodchips you use. The best type of woods for poultry and lighter meats are woodchips from fruit trees. I recommend the following woodchips:
apple woodchips – for a mild and slightly sweet flavour. Works with pork too.
cherry woodchips – sweet and fruity. Perfect for poultry.
hickory woodchips- considered as the best wood for smoking. It has stronger sweet flavours.
maple woodchips – more mellow than hickory wood.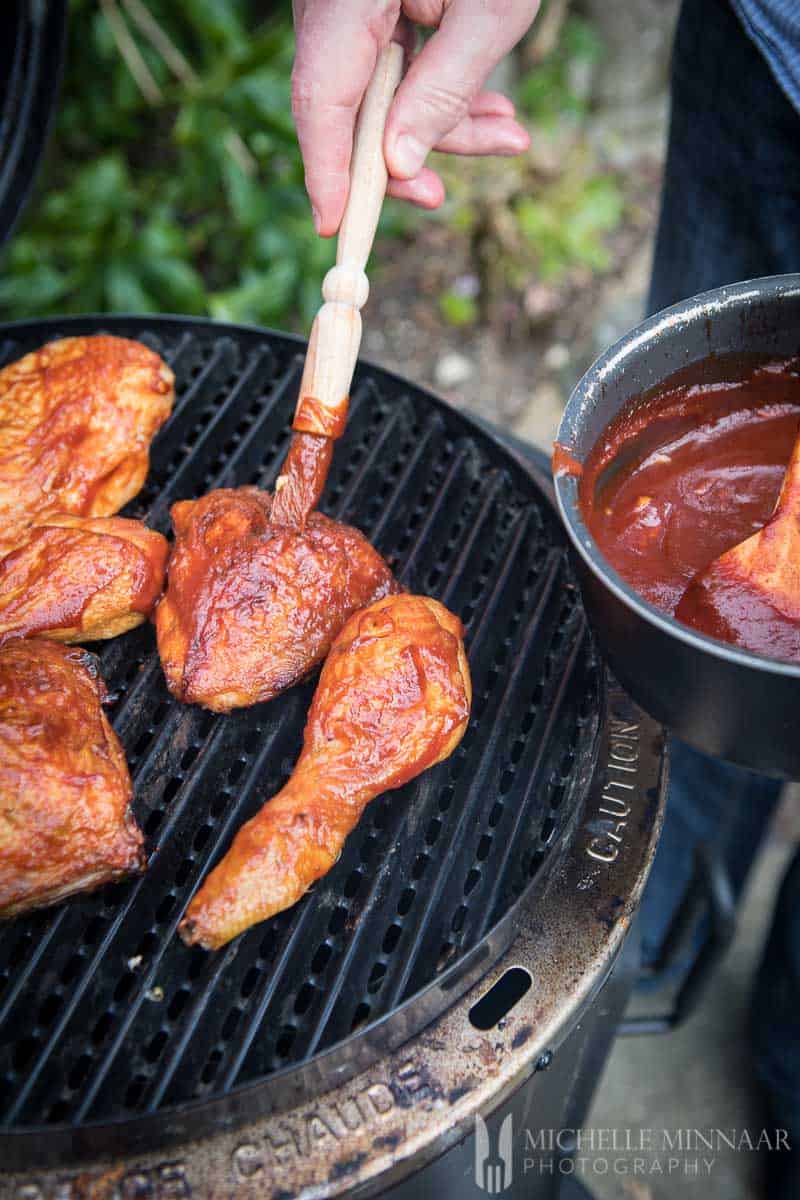 I wouldn't recommend using heavier woodchips like pine, evergreen, cedar or redwood. These are too intense and generally, do not work with poultry. Spruce and fir woodchips also have sap so don't ever use these for smoking.
Nevertheless, once you select your type of wood, it's time to smoke the chicken. If you are wondering how long to smoke chicken, the results vary. To smoke a whole chicken, you need about 30-45 minutes per pound. Of course, this also reflects the level of smokiness you want.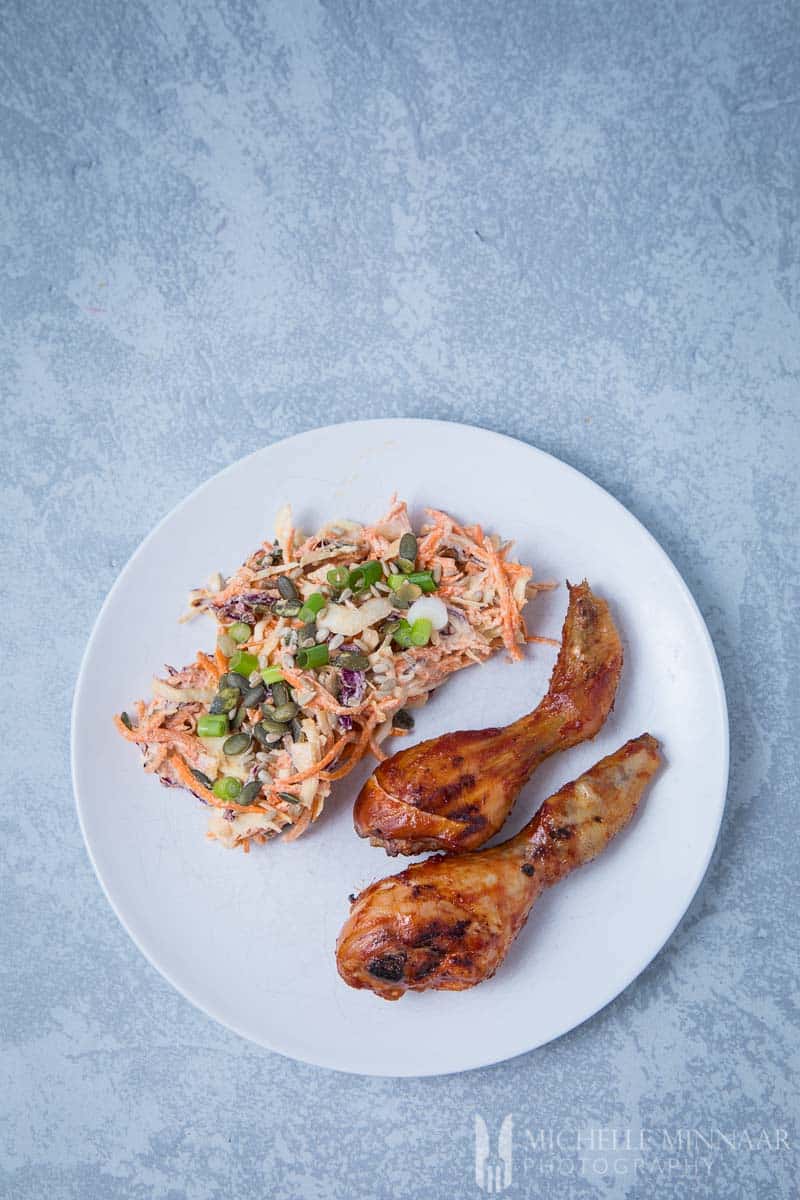 smoked chicken drumsticks BBQ style
Now, if you are wondering how to make BBQ style smoked chicken legs, the answer is to select the right BBQ sauce. The more intense the sauce, the better the outcome! Just take a look at my oven baked BBQ chicken, doesn't it look stunning? The trick is in the sauce. If you make the sauce yourself from scratch, you'll have the best smoked chicken drumstick BBQ style possible. Give this luscious and thick gluten free barbecue sauce recipe a go. You can also apply it on other types of BBQ recipes such as: BBQ chicken kebabs, BBQ smoked ribs or BBQ pulled lamb.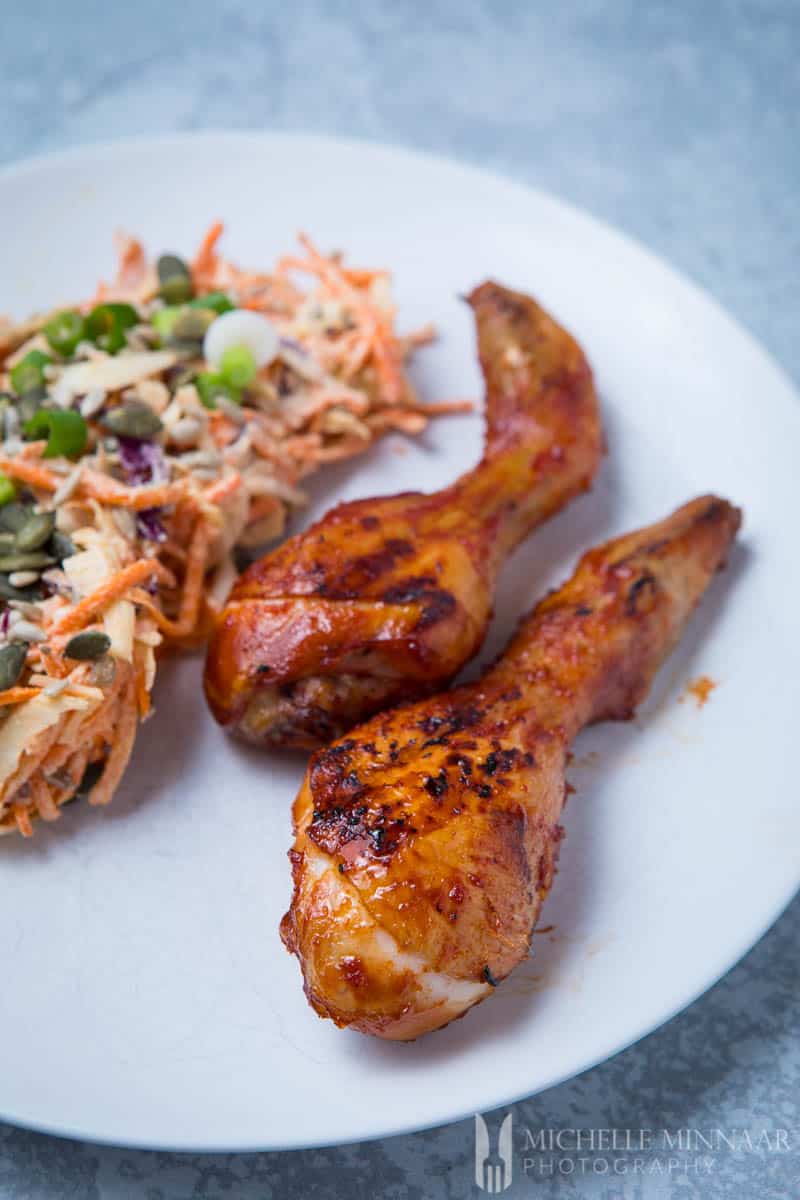 easy smoked chicken legs recipe
Once your beautifully smoked chicken drumsticks are done, you'll need a refreshing side. Since the chicken will be packed with intense and rich flavours, you should pair it with some acidic side like this courgette pickle. For a bit of crunch, this vegan coleslaw is perfect because it's not so filling and heavy like a traditional coleslaw recipe. For a bbq worthy side dish, serve these baked sweet potato fries instead. They are the perfect finger food during garden parties and barbecues.
If you happen to have leftover smoked chicken drumsticks, tears the chicken into smaller pieces. You can reuse them in a flavourful Chinese chicken soup recipe or use them in a sandwich or an Asian chicken tortilla wrap. Just use the sauce from this Asian-style chicken drumsticks recipe.
What would you use smoked chicken drumsticks for?
Print
Smoked Chicken Drumsticks
---
Description
Smoked chicken drumsticks are the best for making finger-licking delicious party food for BBQs! Learn how to make juicy smoked chicken legs BBQ style.
---
8

brined chicken drumsticks
Salt and pepper
Apple or cherry wood chips
---
Instructions
For a very basic brining method, check out my How To Brine Chicken article.
Preheat the Char-Broil Big Easy Smoker on the High setting and fill the smoking box with wood chips.
Wait for 10 minutes until the chips begin to smoke, then change the heat setting to Low.
Arrange the chicken drumsticks on the top and bottom shelf of the wire basket and place in smoker.
Close lid and cook until the chicken's internal temperature is 75°C (165°F). This takes about 30-35 minutes.
Remove the chicken from the smoker and wrap the chicken in foil, letting it rest for about 20 minutes before eating.
Notes
To cook the chicken evenly, halfway through the cooking time you can place the bottom pieces in the top shelf and vice versa.
I preferred using the low setting because cooking meat can sometimes lead to rubbery/tough textures.
The cooking might differ from the above because it depends on the size of the chicken and heat setting you use. For best results, use a meat thermometer!
Prep Time:

15 minutes

Cook Time:

35 minutes

Category:

Main Course

Cuisine:

American
Nutrition
Serving Size:

1 serving

Calories:

344

Sugar:

5.8 g

Sodium:

136 mg

Fat:

21.1 g

Saturated Fat:

6 g

Carbohydrates:

7.7 g

Fiber:

1.4 g

Protein:

31.7 g

Cholesterol:

143 mg
save the recipe to your pinterest board