This recipe is another little gem that you can easily pull out of the hat when needed. If you keep a couple of packs of filo pastry in your freezer, this dish can be put together in no time. I bet it will end up being one of your new midweek favourites because it is certainly one of mine at the moment. The family loves them, and the kids will also enjoy helping out in the kitchen. It sort of looks like a little present or a little rose. It's a very light and versatile dish, which could be suitable for vegetarians too. Just substitute the filling and you've got yourself a light veggie dish.
how it is made
The techniques needed for this dish are quite simple, so let the little ones join in too. Filo pastry can be formed into pastry cups to hold the filling, or simply folded around the filling of your choice. That paper thin crispy pastry gives a beautiful crunchy texture to go with the soft filling inside. For my chicken tarts, I filled the filo pastry with cut up chunks of cold smoked chicken, mixed with a dash of mayonnaise, topped with peaches, chives and sesame seeds.
filo pastry
Filo pastry is widely known in Balkan and Middle Eastern cuisines. The history of filo pastry goes back all the way to the 13th century. It is believed to originate from what is now known as modern day Turkey, and filo is prevalent in Turkish cuisine today, used in both sweet and savory dishes. Perhaps you have heard of Baklava, which is s Turkish dessert cake made from filo pastry.
Of course, it is possible to make your own filo pastry, but it can be tricky to get the sheets thin enough. I recommend that you buy the frozen or refrigerated kind to make things easier. Besides, the quality of the store-bought pastry is good, and the consistency better than what you could hope to achieve on your own. Be careful when working with filo pastry though and you need to move quickly! Otherwise, you risk the pastry drying out because it does so very quickly. You can cover the package with a damp cloth while working to keep them moist. Brush the layers with oil or butter to make them brown in the oven. The chicken tarts only need to cook for a short time in the oven so keep an eye on them.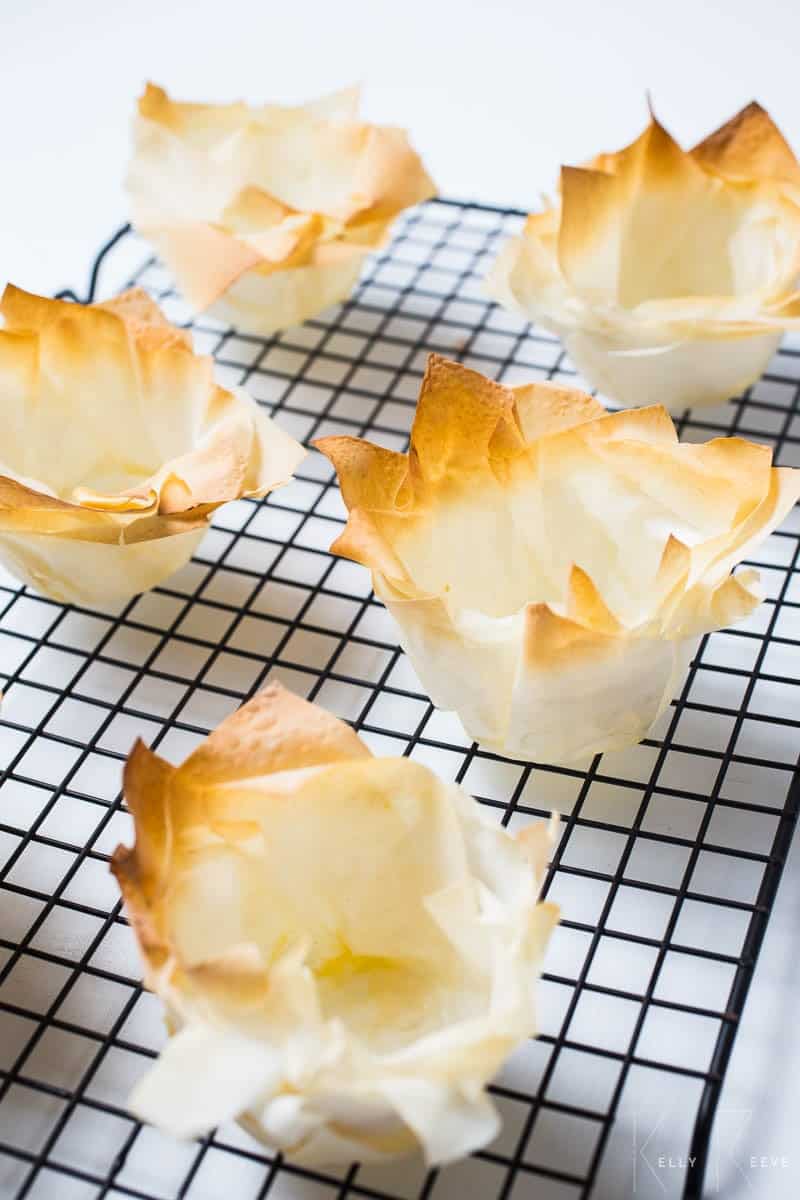 filling
For this recipe, I made a filling of smoked chicken and peaches, with chives and sesame seeds. You wouldn't think it but the smoked chicken meat pairs well with the sweetness from the peaches. Plus, the crispy filo pastry housing makes it all come together. I find the combination delightful and the chicken tarts are perfect for enjoying the end of the summer. It's even tastier once you smoke your own chicken. You can check out my smoked chicken recipe here.
vegetarian-friendly fillings
Besides, the filo pastry is so versatile, that the chicken tarts is just one thing you can do. There are endless possibilities to play with the filling here. How about a salmon and spinach combo? The two ingredients suit each other well and taste great inside the crispy filo shell.
Or, make it even more healthy with a combination of summer vegetables. I could imagine slices of zucchini, bell peppers and eggplant fried off quickly in a pan with some olive oil and spices. Next, bake the vegetable mixture in the filo pastry. Think of flavour combinations you like because most of them will work inside the filo pastry. You can also make a meat filling and create a twist on the traditional mince pies and Cornish pasties. Let me know what you come up with and leave a comment below.
serving
The tarts themselves are quite light, thanks to the paper thin filo pastry. The chicken tarts make an ideal cold starter or even a light lunch served with a simple green salad on the side - some rocket, cucumber and cherry tomatoes with a little oil and vinegar - and you have a beautiful plate in front of you. Or, if you are looking for bolder flavours, serve it for example with my smashed cucumber salad.
Unfortunately, these tarts don't store well and are best eaten straight away.
food storage
Talking about storing food, I found this site full of handy tricks. You probably don't know all of them. I certainly didn't, so check it out. There is nothing worse than having to throw away good ingredients, just because you left them too long in the fridge. In addition, the right storage techniques will save you money as well.
If you check out these food storage hacks I found the first one especially helpful. I can't believe I didn't think of it before! If you chop up the excess veggies, blanch them and freeze them, you can have little bags of veggies ready in the freezer at any time, for whatever purpose. Before, I would usually never go for those 2 for 1 bargains in the supermarkets, because I was afraid I would never use it all up. But with this tip, from now on I now deliberately scoop up extra veggies when they are sold at a good price. Try out these techniques out and make your food and budget last longer.
Print
Smoked Chicken Filo Tarts with Peach
---
2

skinless cooked smoked chicken breast fillets, chopped in small pieces

150

ml

(2/3 cup) mayonnaise

1

lime, grated and juiced

2

ripe peaches, washed, stoned and sliced
Salt and pepper, to taste

25

g

(2 tbsp) butter, melted

3

sheets filo pastry, measuring at 45 x 28cm (

18

x 11in)

5

ml

(1 tsp) toasted sesame seeds

5

chive stems, finely chopped
---
Instructions
Preheat the oven to 200°C/400°F/Gas 6.
In a mixing bowl, combine the chicken, mayonnaise, lime rind and juice, peaches and season to taste. Chill the mixture for at least 30 minutes.   
Brush a muffin tin with 12 cavities with a little of the melted butter. Cut each sheet of filo pastry into 12 equal rounds large enough to line the tins, letting the top edges just stick out a little bit above the rims.
Place a round of pastry in each tin and brush with a little butter, then another round of pastry. Brush each with more butter and add the last layer of pastry.
Bake the filo tarts for 5 minutes or until the pastry is golden brown. Leave in the tin for a short while before transferring the cases to a wire rack to cool.
When you are ready to serve the tartlets, spoon the chicken mixture into the filo tartlets.
Garnish with sesame seeds and chives.
Notes
If you can't get hold of smoked chicken, poach chicken breasts in chicken stock instead and let them cool before use.
Add a bit of curry powder to give these tarts an Asian twist.
Prep Time:

30 minutes

Cook Time:

5 minutes
Nutrition
Serving Size:

1 serving

Calories:

126

Sugar:

3.2 g

Sodium:

229 mg

Fat:

6.5 g

Saturated Fat:

1.8 g

Carbohydrates:

14.3 g

Protein:

3.3 g

Cholesterol:

13 mg
save the recipe to your pinterest board
A special thanks to Kelly Reeve for assisting with the recipe shoot.