The smoked salmon wrap is easy to prepare, healthy and guiltlessly delicious. If you have trouble getting your kids to eat fish, try this smoked salmon wrap.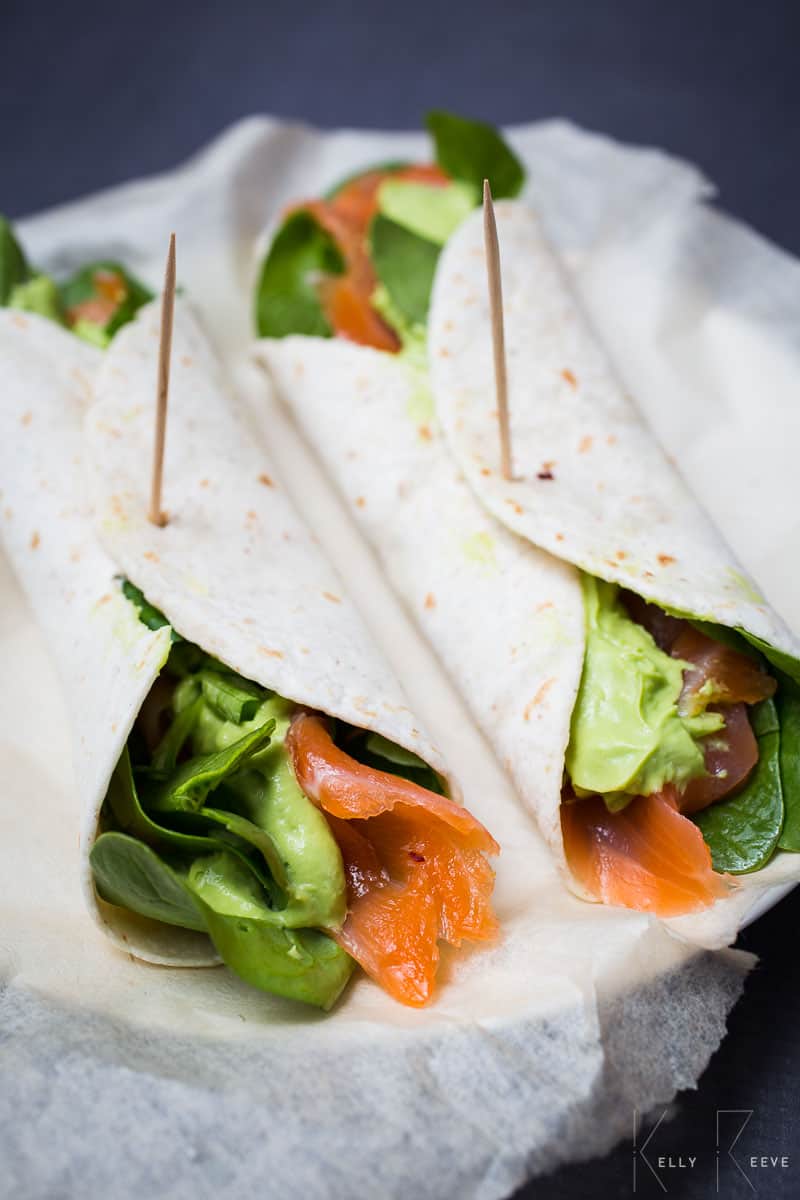 Smoked Salmon
Smoking fish as a way of conservation is an ancient technique that's been around for centuries. As it's still as popular today as ever, serves to testify that there is something good about it.
Especially with salmon, you really get those rich fatty flavours out. The typical smoked salmon you can buy in the stores is cold smoked.
It means that the smoking process is under relatively low temperatures, no more than 30°C, allowing the fish to obtain a smoky flavour, while it remains moist with a smooth texture.
If you decide to use a hot smoked salmon for this recipe, the fish will be drier and flaky. That's not necessarily a bad thing, however I prefer the smooth richness of the cold smoked salmon.
Not a fan of the smoked foods?
If you don't like the smoky flavour, there are other ways to go. For instance, you can use gravlax, which is a Scandinavian delicacy, that you may already know.
It's made by curing the salmon in a salt and sugar solution. You then slice it very thinly before serving. This is also available in the shops, so don't have to cure the fish yourself.
Ceviche is another method gaining massive popularity on the international cooking scene. The recipe originally comes from South America, and with this technique you cure the fish in citrus juices, which actually "cooks" the fish.
However, this obviously leaves a very acidic result, which is not for everyone. If, however, you prefer to eat your salmon completely cooked, you can of course pan-fry it.
Break up the meat into flakes to put in the wrap. Another option is for you can steam the salmon. This leaves a lot of moisture and flavour in the fish.
It's a cooking method I personally enjoy using. However, for quick lunches, I prefer to pan-fry. It's faster.
Other types of fish you can use
There are plenty of fish in the sea, as they say, so if salmon is not to your liking there are other alternatives you can turn to. Halibut, for instance, or tuna will also do very nicely in combination to a creamy filling in a wrap.
Cod will also work. Just a simple pan-fry will do the trick. You could even use raw tuna cut in a sashimi style if you're up for it. Leave a comment and let me know what alternatives you come up with!
The sauce
I love using the avocado dip for the smoked salmon wrap. It gives it a lovely creamy texture. You can even control the amount of filling you want inside the wrap.
That's the best part. Since I love the avocado dip, I tend to include it as much as possible inside the smoked salmon wrap. It goes so well together!
If you don't have time to do the avocado dip, you can also simply slice up some avocado and put directly into the wraps. Of course, it's important to get a nice ripe avocado regardless which way you go here.
You can tell by how soft the avocado is in the top. Trust me, an unripe avocado is not what you want to eat. I often buy a handful at the same time, and try to get some very ripe, and some not so ripe.
This way I can leave a couple on my kitchen counter. In a few days, when I've eaten the first ones, the next will be ripe and ready to go. Check out the avocado dip recipe for more information on how to pick the perfect avocado.
Sauce substitutes
For other types of flavours, you can also try making the walnut and watercresss pesto or the watercress sauce as a filling for the smoked salmon wrap. You can also try making guacamole!
Salad
I like spinach for this particular recipe, but you can also use other types of salad. Rocket salad for instance has a lovely bitterness, sometimes almost sharp, that cuts nicely through the richness of the smoked salmon and the sauce.
The common corn salad, also known as lamb's lettuce, is also very nice in wraps. It has a discreet bitterness, that goes well with the smoked salmon.
Even normal lettuce or romaine lettuce, are not bad, if you like these better, or if you can't get another type.
Other flavour combinations
It's actually a very versatile dish, and you can be creative and mix it up as you like. For instance, try to put in slices of pear, in combination with fresh watercress and blue cheese.
This may sound strange, but it's delicious! I think you will be surprised, how good that actually is! You can also try making these wraps at home for more flavour combinations, e.g. Salmon avocado and pear tortilla wraps & Brie grape tortilla wraps.
Why wraps?
Wraps are quick and easy to prepare, as well as practical to pack up and take with you, making them the ideal meal on the go. Whether you are going on a long car ride, enjoying a lovely picnic in the sun, or just need some quality lunch at work, the wrap is an excellent choice.
And here is a tip for you: You can even cut them up in to smaller pieces and serve them as party snacks!
Other recipes you might be interested in:
For more smoked salmon goodness, check out this salmon terrine!
Print
Smoked Salmon Wrap with Avocado
---
4

tortilla wraps

4

slices (120g/4oz) smoked salmon

120

ml

(8 tbsp) avocado dip

40

g

(1 1/3oz) salad leaves

2

spring onions, finely chopped
Salt and pepper, to taste
---
Instructions
Place 1 slice, 30ml (2 tbsp), 10g (⅓ oz) and half a spring onion in the center of each tortilla and wrap to desired shape.  
Nutrition
Serving Size:

1 serving

Calories:

361

Sodium:

3775 mg

Fat:

15 g

Saturated Fat:

3.8 g

Carbohydrates:

20.5 g

Fiber:

7.4 g

Protein:

35.7 g

Cholesterol:

39 mg
save the recipe to your pinterest board

A special thanks to Kelly Reeve for assisting with the recipe shoot.