Sharing an office with a 20-month old is anything but dull. Extreme vigilance is required if you don't want to trip over a ball (or 5), books, pieces of Lego and wooden bricks, an old telephone, plastic trucks, a tub of Play-Doh and a xylophone. Just when I think he's busy amusing himself with building Lego towers, I sneak off and place my bum on the swivel chair. Unfortunately, as soon I start navigating the PC with my mouse, the cursor suddenly jerks 180 degrees in the other direction as my right arm gets tugged by a little hand.
"Bajeljahljada."
Don't ask me what it means, because I swear the boy has devised his own language, called Afrish. While I speak Afrikaans to him and Neil English, neither of us understand him as yet. He's on planet Gabriel.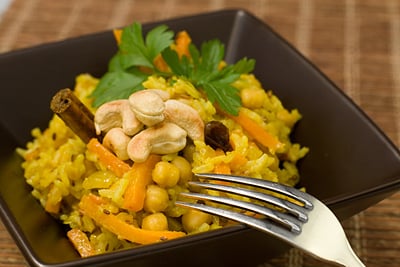 Print
Spiced Chickpea, Carrot, Raisin & Cashew Rice Pilaf
---
225g

(

8 oz

) basmati rice
seeds from

4

–

5

cardamom pods

1

cinnamon stick, bruised

10

ml (2 tsp) cumin seeds

2

bay leaves, bruised

1

onion

2

carrots

30

ml (2 tbsp) olive oil

2

garlic cloves, peeled and crushed

5

ml (1 tsp) grated fresh root ginger

5

ml (1 tsp) turmeric

5

ml (1 tsp) ground coriander

1.25

ml (¼ tsp) cayenne pepper

400g

(

14 oz

) can chickpeas (garbanzo beans), drained

50g

(

2 oz

) raisins

750

ml (1¼ pints) vegetable stock

30

ml (2 tbsp) lemon juice

5

ml (1 tsp) salt

50g

(

2 oz

) cashew nuts, toasted

30

ml (2 tbsp) chopped fresh coriander
pepper
fresh coriander sprigs, to garnish
---
Instructions
Wash the rice in a sieve under cold running water until it runs clear; set aside.
Dry-fry the whole spices and bay leaves in a small frying pan for about 2 minutes until they start to pop and release their aroma.
Peel and finely chop the onion; peel and dice the carrots. Heat the oil in a large saucepan, add the onion, garlic, ginger, carrots and ground spices and fry for 10 minutes until the vegetables are golden. Add the dry-fried spice mixture to the pan with the rice and stir-fry for 1 minute until all the rice grains are glossy.
Add the chick peas, raisins, stock, lemon juice and salt to the pan. Bring to the boil, stir once and cover with a tight-fitting lid. Simmer over a low heat for 10 minutes, then take off the heat and leave undisturbed for 5 minutes.
Fork through the cashew nuts and coriander. Check the seasoning and serve at once, garnished with fresh coriander sprigs.
Notes
Personally I enjoyed a generous dollop of plain yoghurt with this vegetarian meal.
Instead of using canned chickpeas you can soak 200g (7 oz) of dried chickpeas overnight and boil them for about an hour or so until they are tender. Simply follow the rest of the recipe.
Feel free to use any of these bay leaf substitutes instead if you're struggling to find any.
Prep Time:

15 minutes

Cook Time:

20 minutes
Nutrition
Serving Size:

1 serving

Calories:

541

Sugar:

11.9 g

Sodium:

608 mg

Fat:

18.5 g

Saturated Fat:

4 g

Carbohydrates:

83.3 g

Fiber:

7.6 g

Protein:

14.7 g