Think of these venison meatballs as the ultimate meatball recipe that you should master for the future! Who can resist rich and juicy venison meatballs with a lovely glaze that consists of wine, port and berry jam? I wouldn't be surprised if these meatballs would tempt you to buy venison mince and the rest of the ingredients right this second! Try out this Scottish recipe and enjoy the hearty and warm cuisine that Scotland has to offer. Something about this dish just resonates the image of a fireplace and a fantastic cosy ambience. Can you see it too?
I recommend making a large batch of these venison meatballs as they do tend to disappear rather quickly and unexpectedly. The best part is, that this meatballs recipe freezes very well so you can reuse them in different types of meals. You can use venison meatballs in Scottish cuisine, Indian cuisine, Asian cuisine and many more. They make perfect comfort and lazy food if you ask me!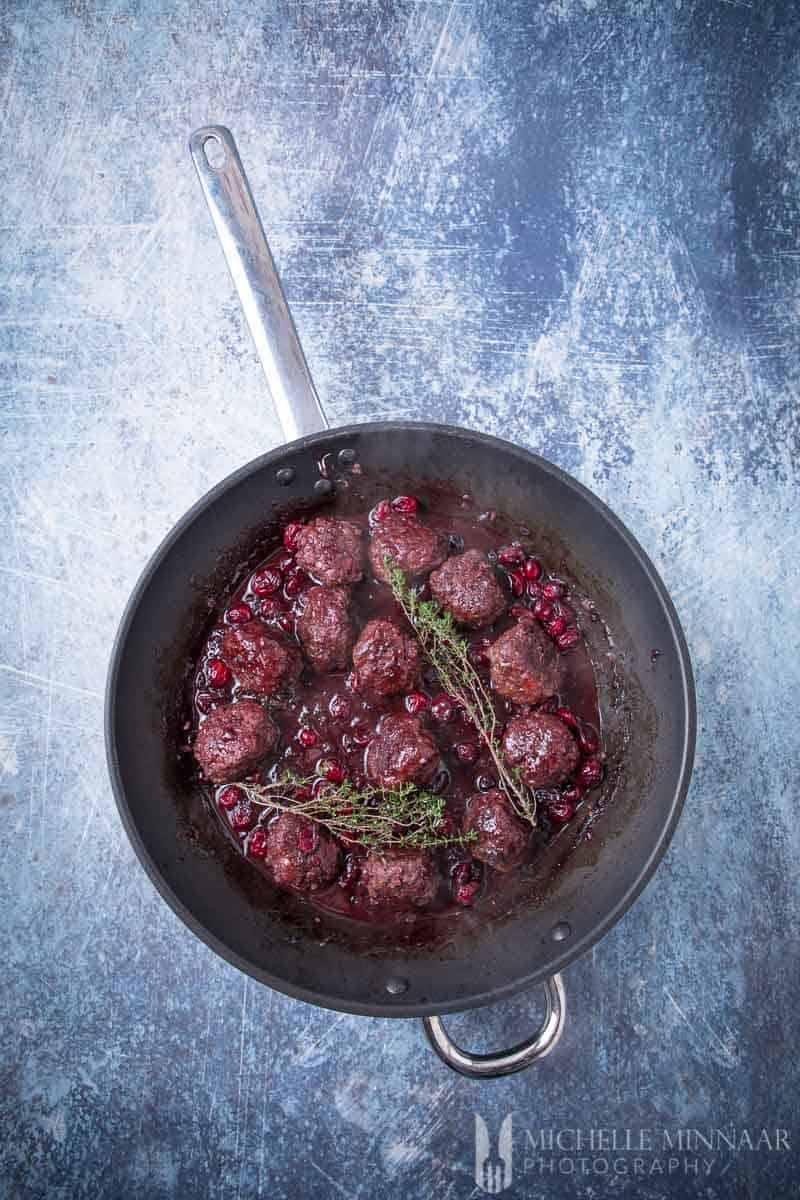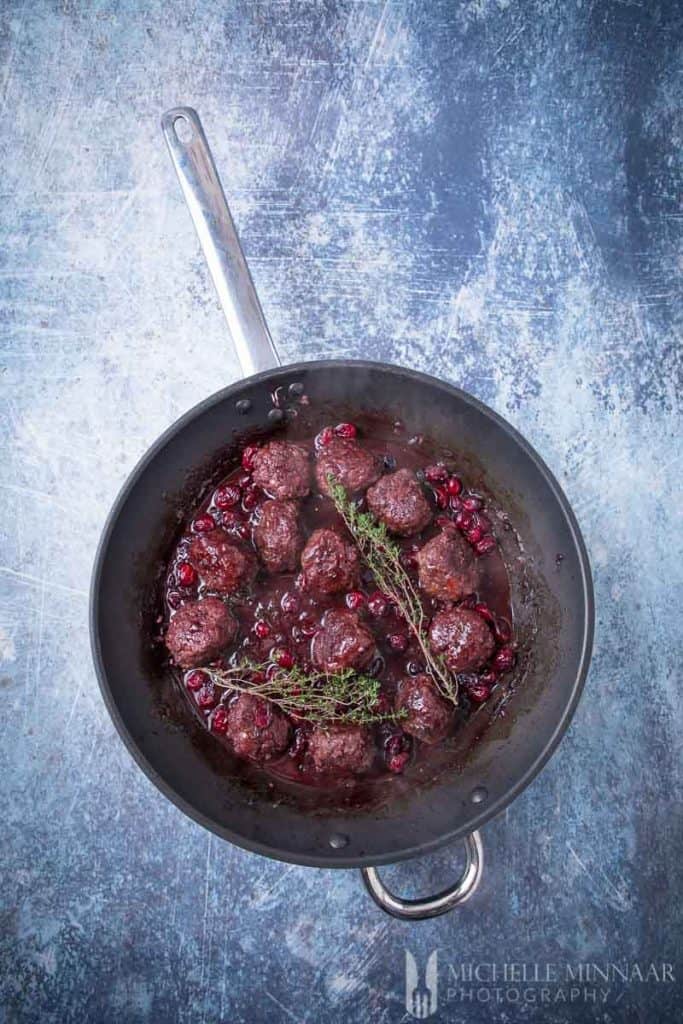 venison meatballs recipe with berry sauce
These easy-to-prepare-at-home venison meatballs are just what you need when the weather turns bad! It's a definite winter warmer recipe that will make you grab seconds. Just take a look at these shiny venison meatballs – they are simply finger-licking delicious! So, enjoy learning how to make these luscious and juicy venison meatballs and say goodbye to the traditional and usual meatball recipe. I bet you've hardly eaten venison meatballs before!
Venison is an excellent type of meat, rarely found in large supermarkets. It's an inviting prospect being able to cook with a premium ingredient like venison. For those of you who are unsure what venison is, it generally refers to the meat of a deer. Similarly to beef, it comes in different cuts. Therefore, you can enjoy venison in different forms. Some of my ultimate venison recipes include:
As you can see, there are many types of cut you can cook with, including venison mince.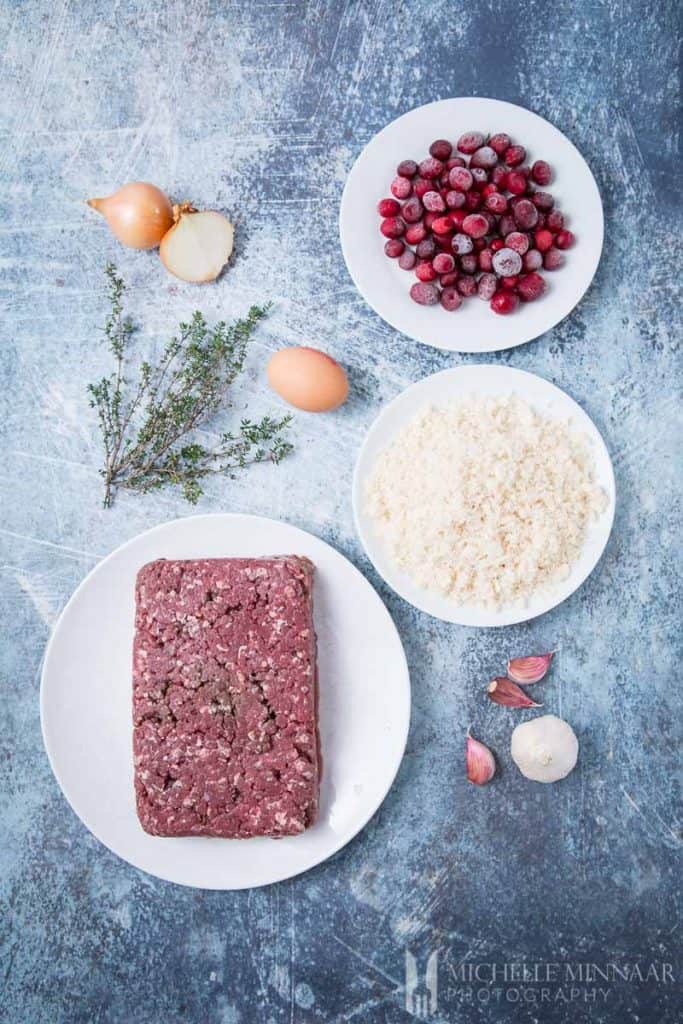 substitutes for venison mince
Venison mince is vastly underrated in my opinion. I've cooked with venison mince before and made a spicy venison chilli. It is a clever spin on a traditional chilli recipe that calls for beef mince. If you have some leftover venison mince from this recipe, freeze the mince and make the venison chilli at a later stage.
If you can't source venison chilli, then the best substitute is beef mince. These two types of mince are interchangeable to make meatballs. These are some of my stellar beef meatball recipes:
Another excellent alternative to venison mince is lamb mince. Beware, lamb is for the bold and brave, for those who like that distinct taste of lamb. If you have leftover lamb mince, feel free to give these recipes a go:
In summary, you can use venison in any type of meatball recipe as it is very versatile. So, for future reference, feel free to consider different cuisines and tastes you can accomplish using venison meatballs.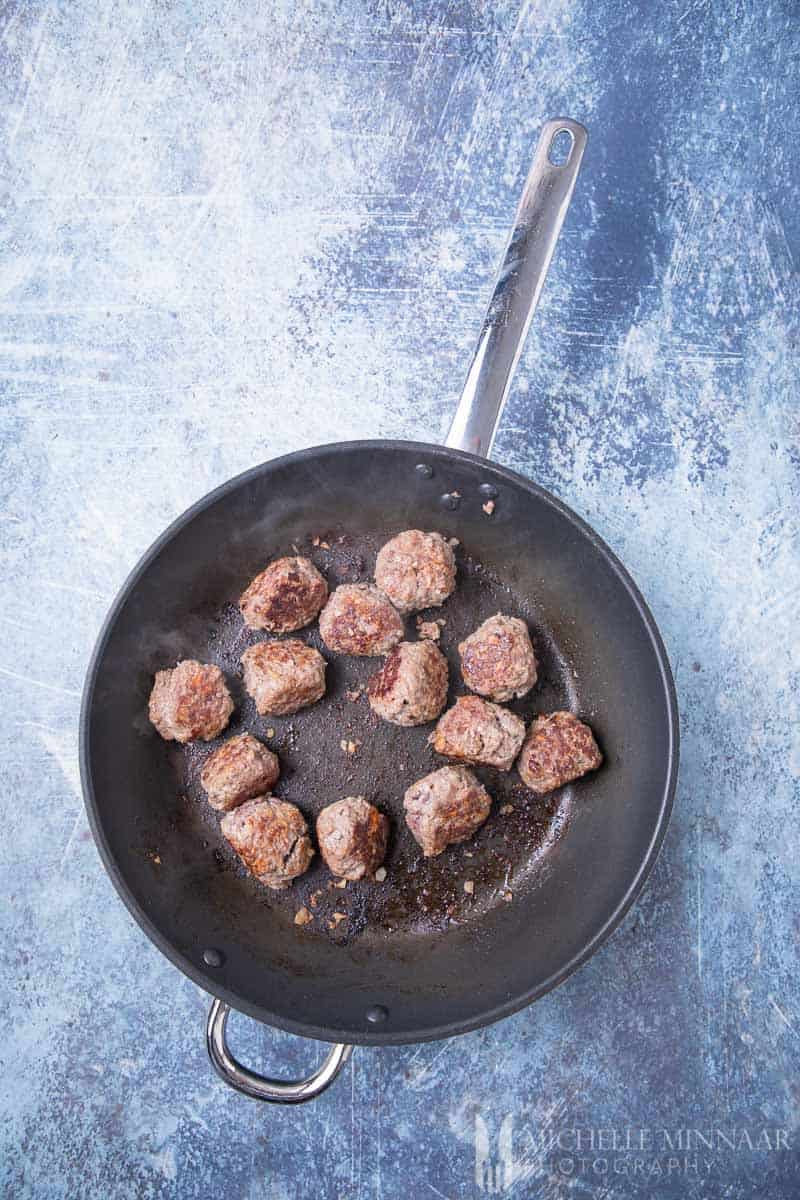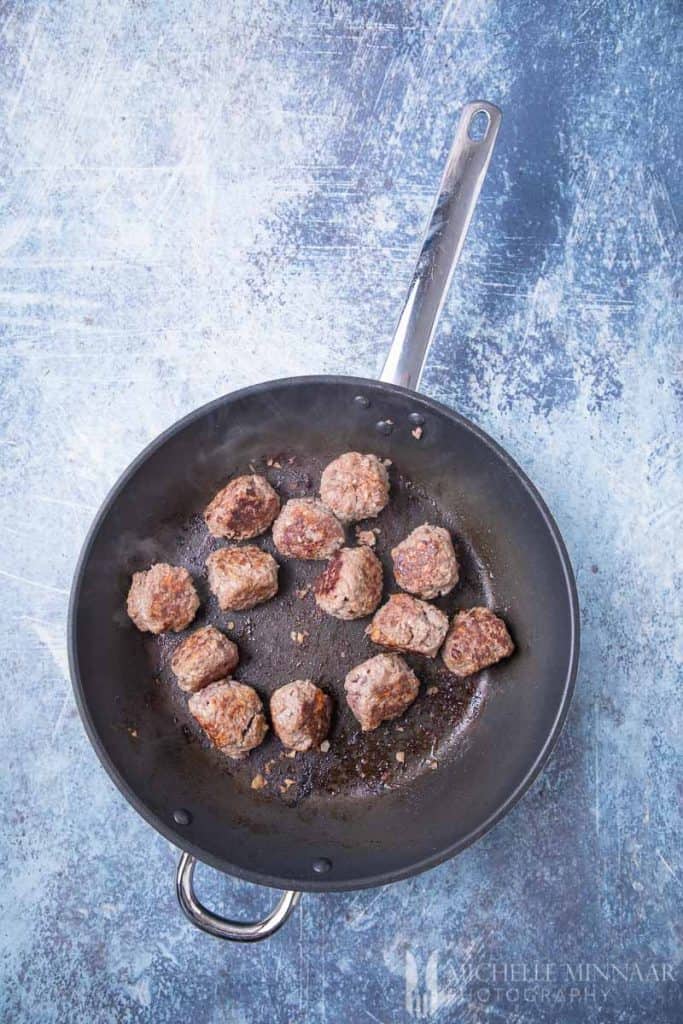 how to cook with venison mince
If you feel that venison is too gamey for you, there is a very simple way of tackling this issue. In fact, it's often done in many Middle Eastern recipes which call for lamb mince. Similarly, lamb mince can be overwhelming for some, so certain cooks add beef mince (50:50 proportion). Generally speaking, you can follow the same principle for your venison meatballs. To make them slightly milder, I highly recommend combining the venison mince with beef mince.
how to cook a venison meatballs recipe
I don't know about you, but I've always had trouble making the perfect meatballs. A couple of years ago, I always had issues with the meatballs holding their shape. Over the years, I've tried my hand at more meatball recipes with different types of meat. In essence, there are two main tricks that produce the best meatballs ever, no matter what type of meat you use. First, cut the garlic, onions or shallots evenly. Dice them in very small pieces. Sometimes, if you don't dice the onions, the large chunks will make your venison meatballs fall apart. So, remember to cut everything in small and even pieces.
Another trick that will help your venison meatballs stay put is to add breadcrumbs. Breadcrumbs will bind the mince and the ingredients together while retaining the moisture.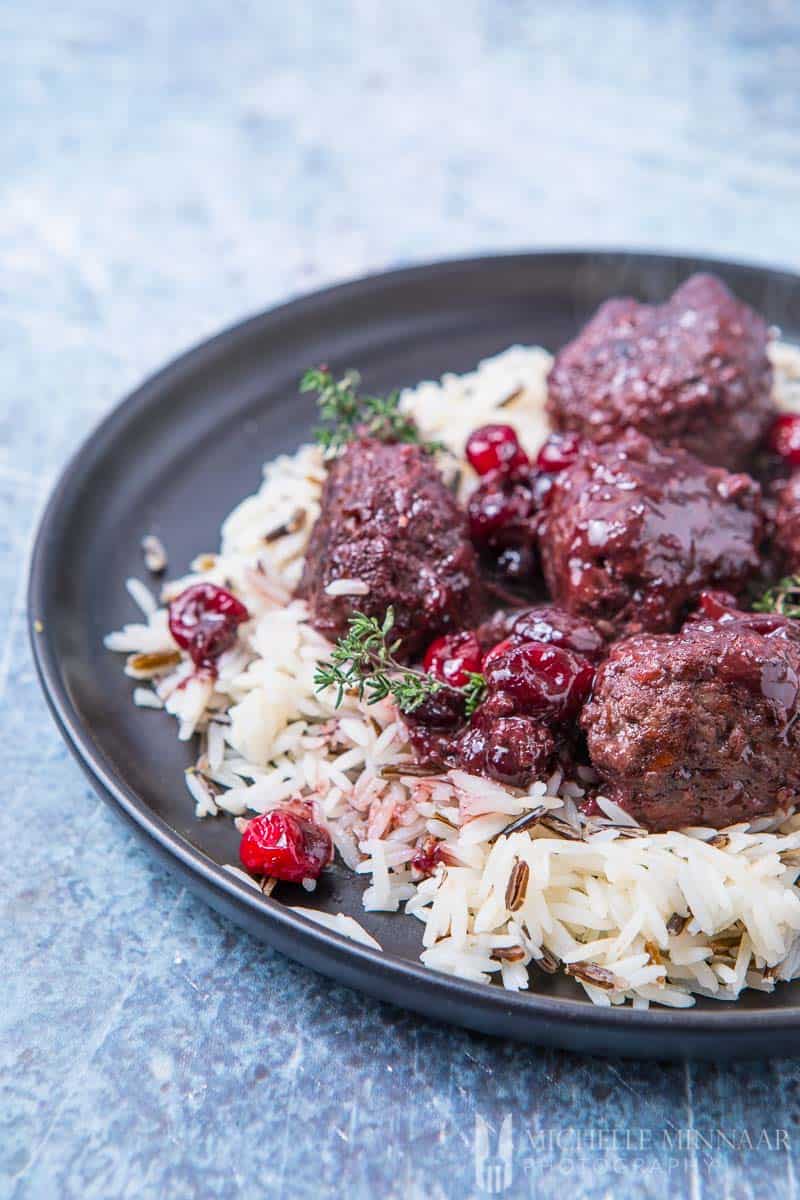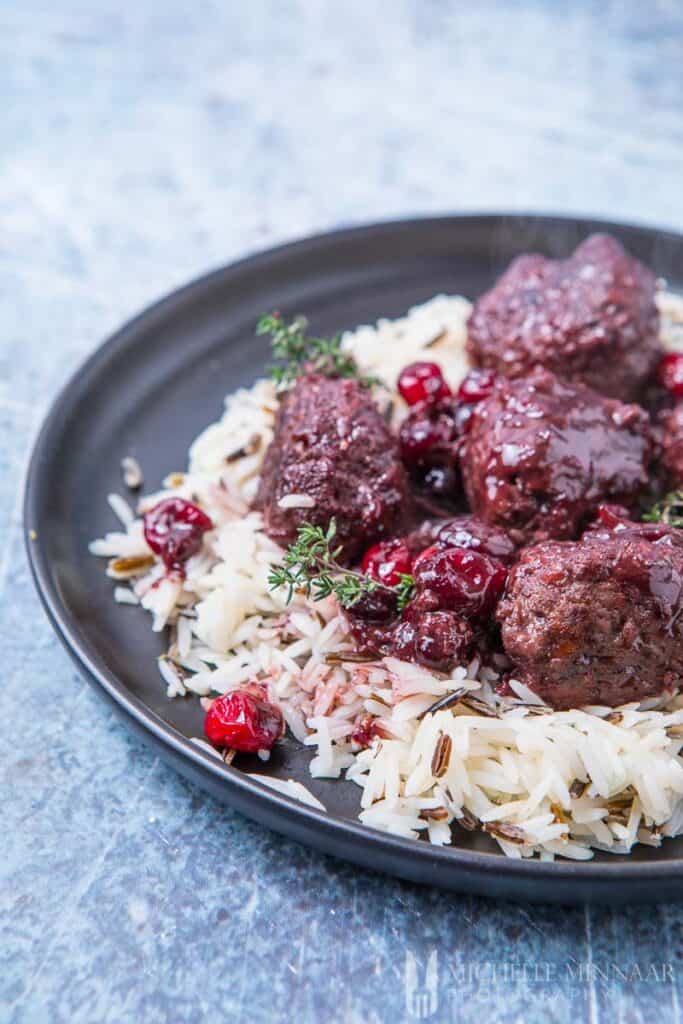 venison meatballs with berry sauce
With venison meatballs being quite rich and intense in flavour, they work perfectly with a lighter and fruity sauce. That being said, use cranberry jelly, red wine, port and fresh cranberries for that zing! You can use fresh or frozen cranberries. Nevertheless, if you can't get your hands on cranberries, any type of berries will do. The best alternative would be to go for blackberries or a frozen forest-berry mix. Plus, you can use the leftovers in a delicious berry smoothie or a sweet berry-based dessert.
serving
As with any hearty venison meatballs recipes with a fruity sauce, it's best served with rice and topped with fresh herbs like thyme. Also, you can substitute the rice with a creamy potato mash – you can't go wrong with that!
Print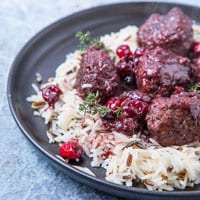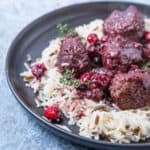 Venison Meatballs
---
Description
Make this easy homemade venison meatballs recipe in just a few steps. Use fresh cranberries, cranberry jam, port and wine to make the tasty berry sauce.
---
45

ml (3 tbsp) vegetable oil

1

large (1 cup) onion, peeled and finely chopped

3

garlic cloves, peeled and finely diced

1

kg (2 1/4lbs) venison mince

250

ml (1 cup) breadcrumbs

1

egg, whisked

250

ml (1 cup) cranberries

250

ml (1 cup) red wine

90

ml (6 tbsp) port

30

ml (2 tbsp) cranberry jelly

1

beef stock cube, crumbled

2

thyme sprigs
---
Instructions
Using a large frying pan, gently fry the onion and garlic in 15ml (1 tbsp) of oil until softened. This should take about 5 minutes.

Remove from the heat and place in a large mixing bowl and wait for the mixture to cool down.

Add the breadcrumbs, venison and egg to the onions, season generously with salt and pepper, and mix until all ingredients are well incorporated.

Shape the meatballs to be about 5cm (2in) in diameter. Continue doing so until all the mince is finished.

Heat the remaining oil in the frying pan and brown the meatballs on all sides.

Add the cranberries and fry for 2 minutes.

Add the wine, port, jelly, stock and thyme and let the sauce reach a slow simmer.

Continue to cook the meatballs in the sauce until they're cooked through, which would take about 10 minutes.

Serve on a bed of wild rice or creamy mashed potatoes.
Notes
The cranberries used can be fresh or frozen. If using the latter, thaw them first.

If you can't get hold of cranberry jelly, you can substitute it with red or blackcurrant. In fact, any berry-based jam will do!

Can't get hold of venison? This recipe works with beef as well.
Prep Time:

20 minutes

Cook Time:

45 minutes

Category:

Main Course

Cuisine:

Scottish
Nutrition
Serving Size:

1 serving

Calories:

210

Sugar:

3.4g

Sodium:

154mg

Fat:

8.8g

Saturated Fat:

1.8g

Carbohydrates:

19.7g

Fiber:

2.3g

Protein:

4.9g

Cholesterol:

27mg
save the recipe to your pinterest board