Thus far 2018 has been an unusual year, weather wise. Since I moved here it was the first time I've experienced snow in March. It's supposed to be spring but certainly doesn't feel like it. Let's have a hearty venison sausage casserole, shall we?
This recipe is a beautiful winter warmer dish, that uses only the best ingredients such as wild mushrooms and chestnuts. The best part is, that you can use left over venison sausages for breakfast the next day! I've already made a lovely pork sausage casserole, but never before have I used venison sausages for a casserole.
This year, I will be exploring all types of venison dishes. It is a flavourful substitute to pork, which I have completely given up as a part of my vegetarian conversion process. So, before I give up on venison altogether, I want to enjoy it to the max. So, keep an eye out on all my future venison posts. Also, If you know some delicious venison sausage recipes, please do share for inspiration recipe so that I can try making some at home!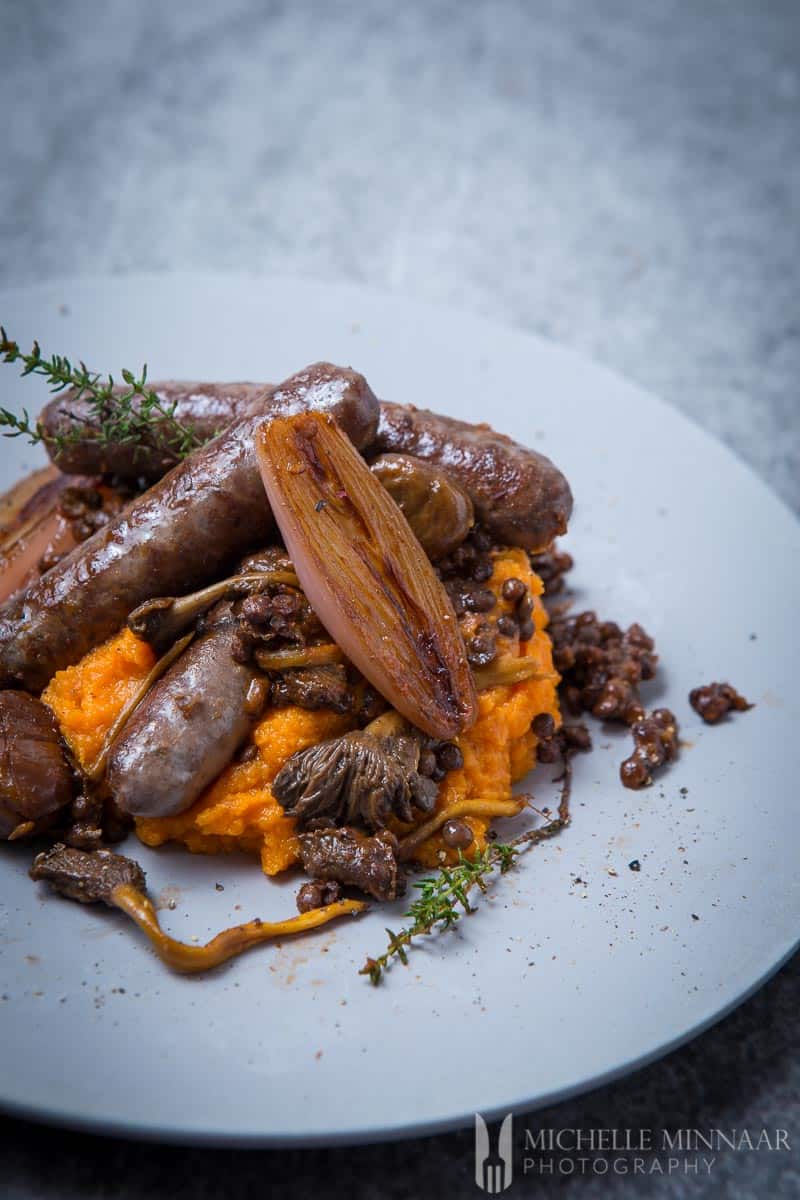 venison sausages
There is nothing better than biting into a luscious venison sausage. Venison sausages are widely underused in the UK, as we tend to opt for classic pork sausages instead. The British are definitely known for their delicious sausages which use many types of herbs and filling. However, most of these are made up of pork. In essence, the best substitute then is a traditional pork sausage. However, I do encourage you to try something different and make this amazing venison sausage casserole!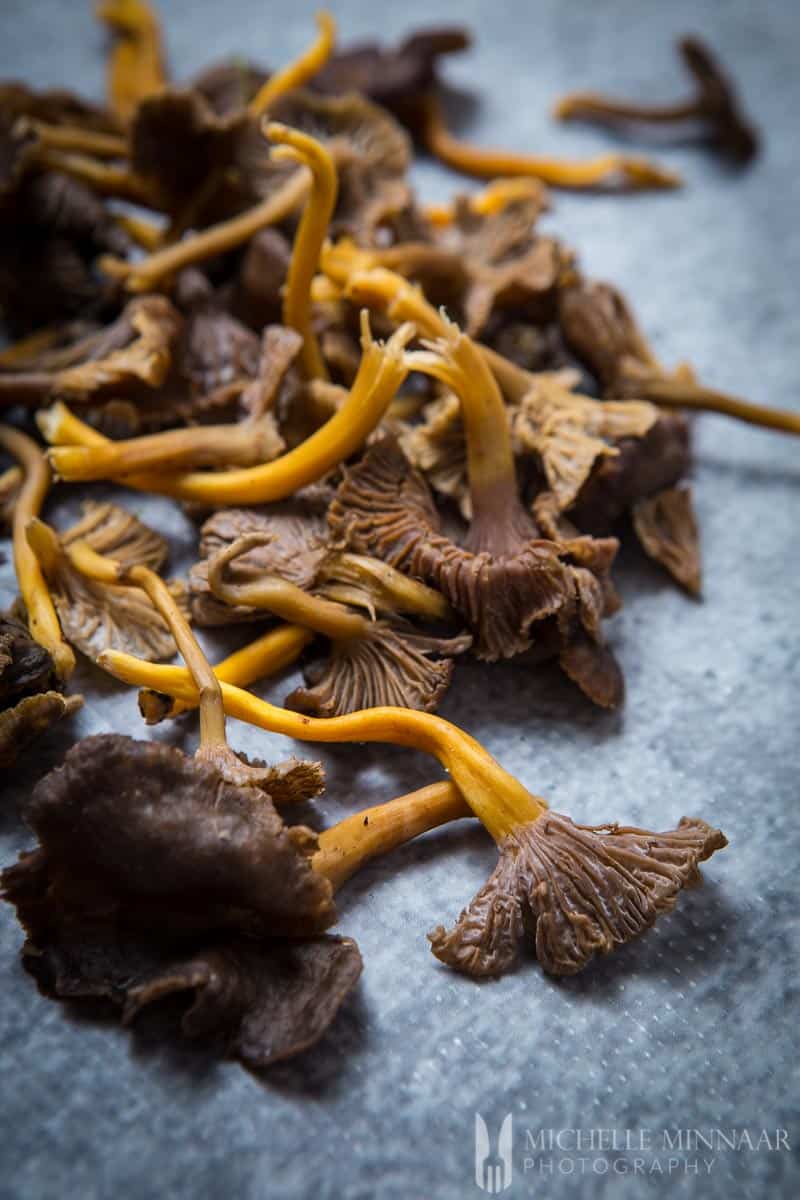 not with sausage
If you don't feel like cooking with venison sausages for whatever reason, then why not just go for a beautiful cut of venison instead? Pure luxury! I know, because I've recently made a delicious venison steak with black berry sauce, and it felt like I was eating an expensive restaurant meal! If, however, you want to respect the nature of this casserole recipe but still want to use fresh cuts of venison, then I've got a solution for you. You can use the venison steak, cut into small cubes for a lovely casserole. If you've got leftovers, just make the venison kebabs for a starter.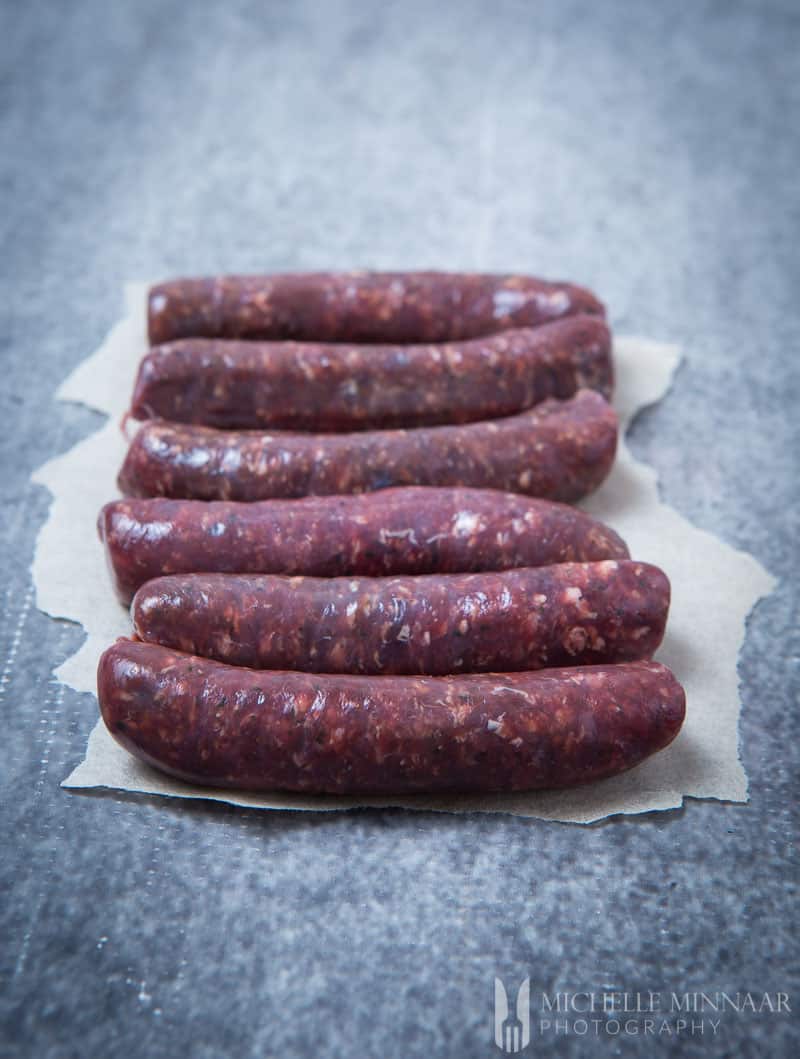 time for mushrooms
This recipe calls for any type of mushroom you may have at your disposition. I love using wild mushroom as they look very appetising on the plate and are more earthy in flavour. Other alternatives are porcini, shiitake and portobello mushrooms. There is a lot of freedom when it comes to the selection of the type of mushroom. Please, I beg you, don't use canned mushrooms!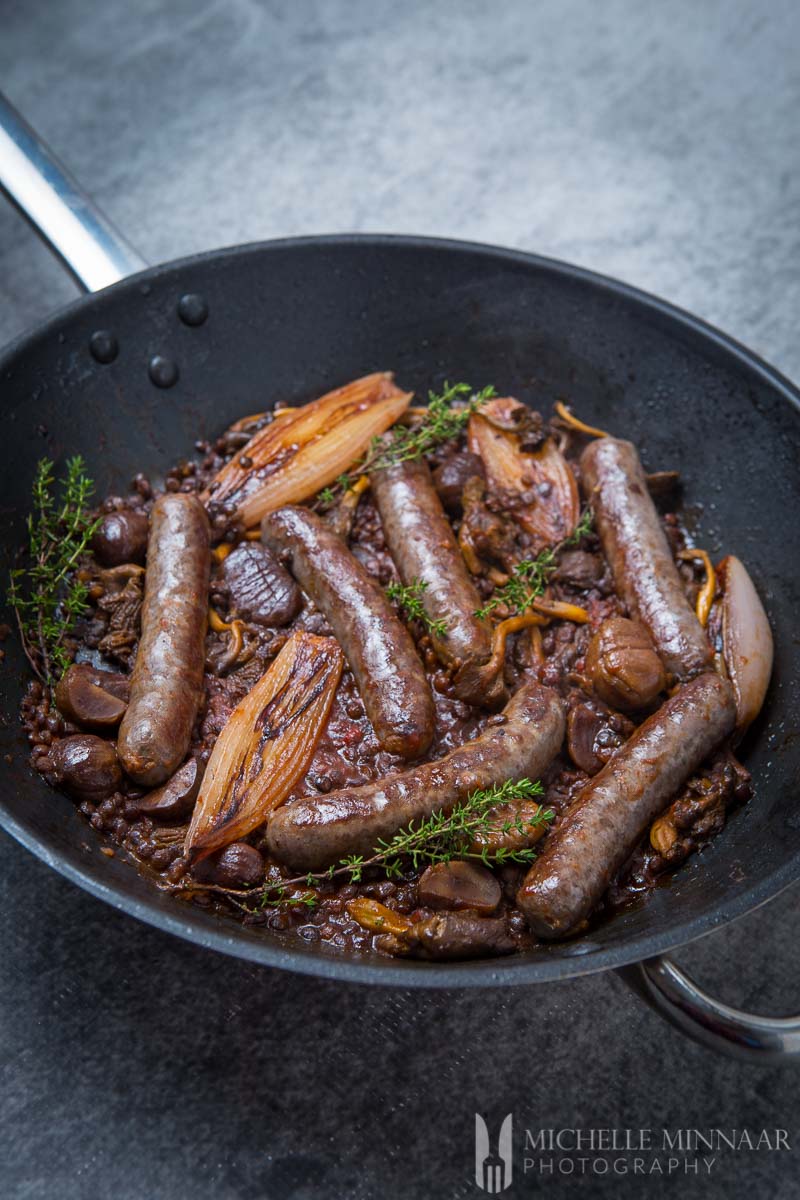 stock vs red wine
As you know, I will always be an ambassador for using fresh beef stock. Especially since fresh beef stock retains all of the important nutritional value that you won't find in the store bought versions. Also, keep in mind that if you want to keep a healthier lifestyle, it's best to rid of using store bought stock of any kind. This is due to all the artificial flavour enhancers and other additives that we can't pronounce which are on the label. My advice? ?Make your own beef stock from scratch!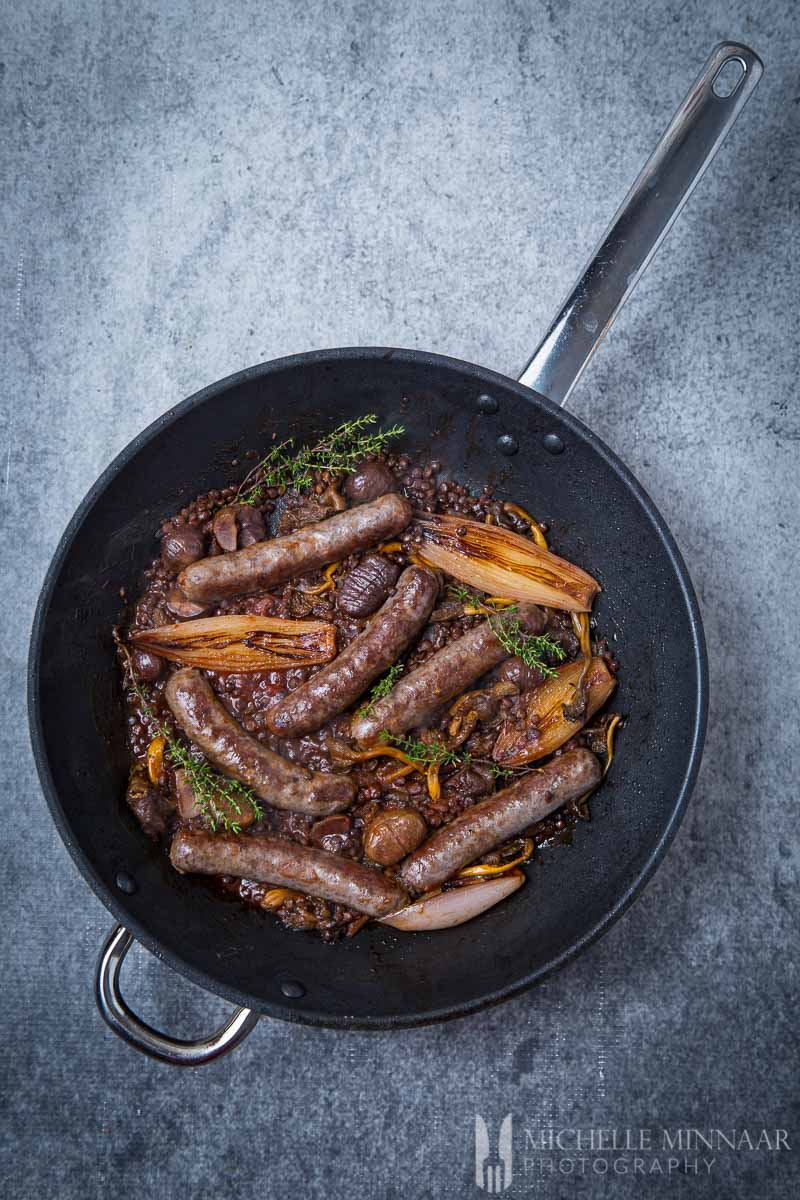 Now, referring to beef stock, it is the ingredient that gives the venison sausage casserole a a lovely depth of flavour and it also marries all the other ingredients together. However, your taste buds might want to add red wine as the base for a deeply rich casserole. Red wine and venison go hand in hand, and with the addition of the red wine , the venison casserole will take on a wonderful French spirit. I've used red wine for a very similar casserole recipe which was a chicken mushroom and red wine casserole. Plus, it gives you a great excuse to sneak a good glass of red while you work hard in the kitchen.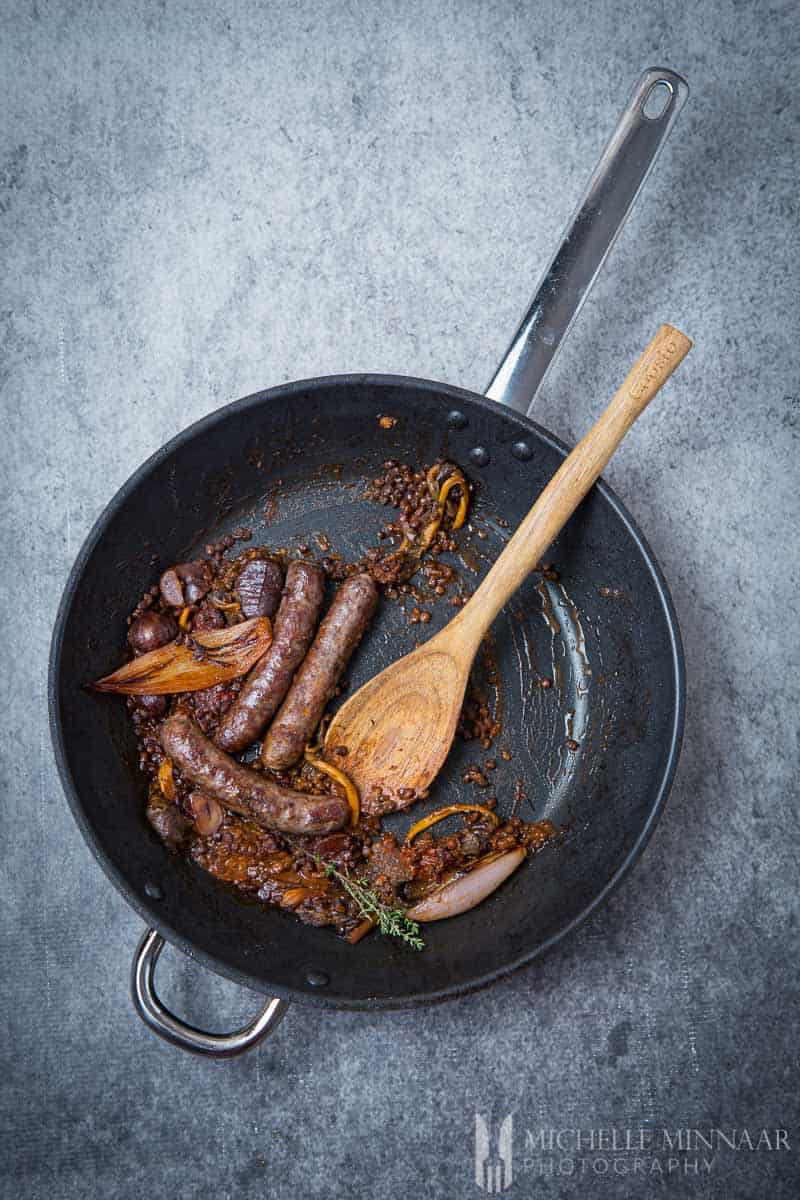 venison sausage casserole with mash
This venison sausage casserole is best served with sweet potato mash. Luckily for you, I have a recently published a grand roasted sweet potato mash recipe. I'm sure you will fall in love with it, like I did. The roasted sweet potato mash is very complementary to the umami flavours from the venison sausage. The salty and umami flavours need a bit of balance, so the sweet undertones of the sweet potatoes even things out. Let's not forget about the earthiness which comes from the wild mushrooms.
You can also serve the venison sausage casserole with a sweet potato gratin. Beware, this sinful yet so fulfilling gratin will make your family beg for more. Make sure you make a larger batch because I guarantee you that there will be demands for seconds. If you are not so keen on using sweet potatoes, a traditional mash will certainly do the trick. For a more lazy version, just make some rosemary roast potatoes.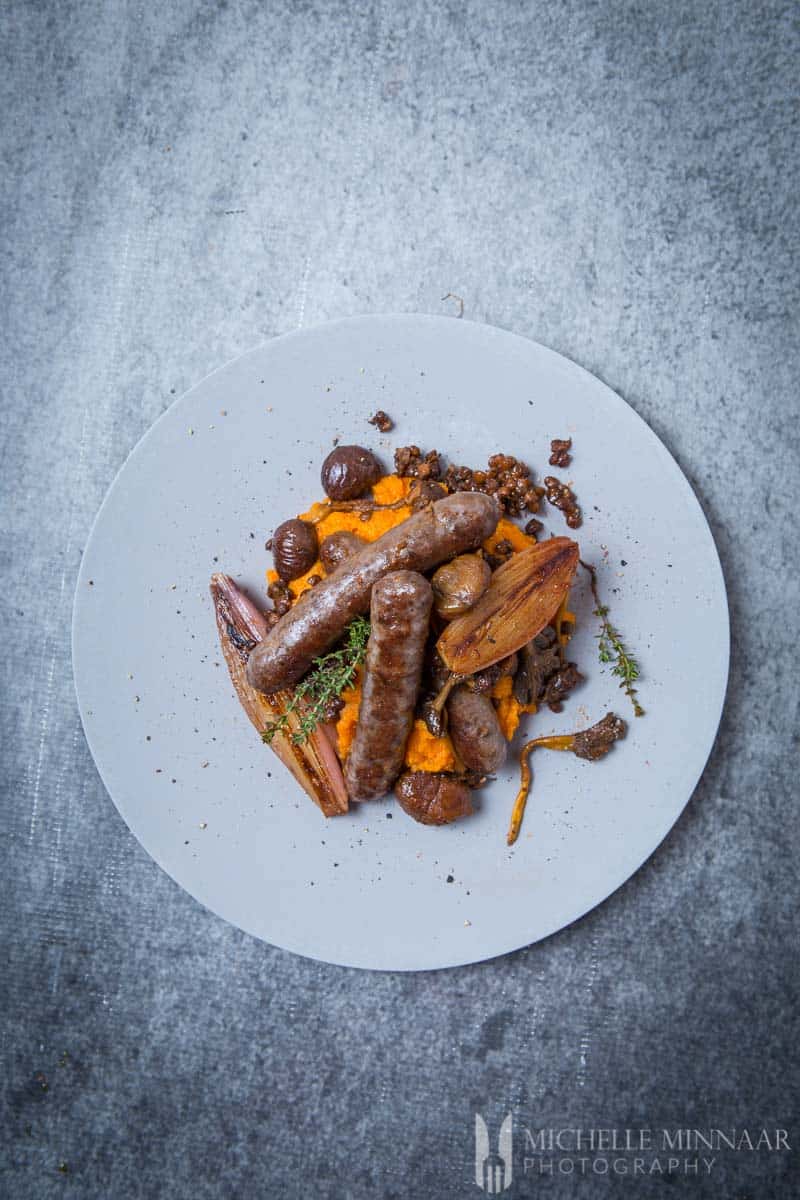 other serving options
The best part about this venison sausage casserole is its versatility and compatibility with other ingredients. Instead of making a rich creamy mash, you can also opt for serving it on a bed of quinoa or couscous. Quinoa is gluten-free so if you have any gluten intolerances, this would be the best choice. The quinoa is much lighter than the potato mash and it adds an element of crunch that we all love.
To lighten things up, you can also serve a savoury version of a creamy apple salad with pecans and dried cherries. Yes, this salad is savoury and it works very well with heavier dishes due to the acidity levels from the apples. Bon appetit!
What is your favourite venison recipe?
Print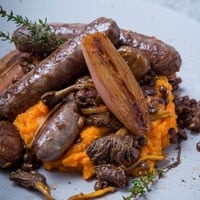 Venison Sausages with Mushrooms, Lentils & Chestnuts
---
30

ml (2 tbsp) vegetable oil

600g

(

8

thick) venison sausages

4

shallots, peeled and halved

250g

(

8 oz

) mushrooms

180g

(

6 oz

) cooked chestnuts

250g

(

8 oz

) cooked lentils

125

ml (½ cup) beef stock

30

ml (2 tbsp) tomato puree

30

ml (2 tbsp) cider vinegar

30

ml (2 tbsp) honey

3

sprigs of thyme [optional]
---
Instructions
Fry the sausages on a high heat in the oil in a large saucepan until browned on all sides.
Add the shallots and lower the heat.
Once the shallots have softened, add the mushrooms and continue to stir everything until the mushrooms are almost cooked.
Next add the chestnuts, lentils, stock, puree, vinegar, honey and thyme.
Turn up the heat and let the casserole bubble away while stirring vigorously.
After around 5 minutes, most of the liquid would have evaporated and thickened.
Serve with sweet potato mash.
Notes
Different types of vinegars can be used, such as sherry and balsamic.
For some darker flavours substitute the stock with red winer.
Prep Time:

15 minutes

Cook Time:

45 minutes

Category:

Main Course

Cuisine:

English
Nutrition
Serving Size:

1 serving

Calories:

642

Sugar:

11.5 g

Sodium:

816 mg

Fat:

14.1 g

Saturated Fat:

1.6 g

Carbohydrates:

75.9 g

Fiber:

22.1 g

Protein:

53.1 g
save the recipe to your pinterest board