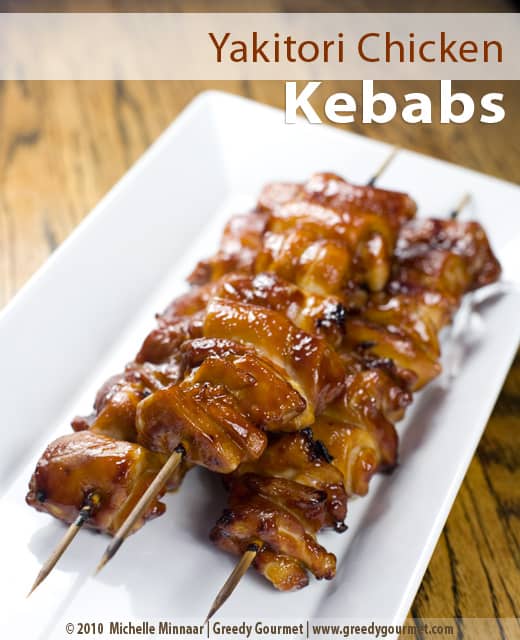 Usually when people think of Japanese food they think of Sushi but I can assure you there is a lot more to this wonderful cuisine than meets the eye.
Since this is the first time I used Japanese soy sauce in a recipe, let's talk about the different kinds. As an illiterate Westerner I thought all soy sauces are the same and like all products they come in varying degrees of qualities. After some reading I know differently.
Originally, the Chinese developed soy sauce. There is light soy sauce whose flavour can be described as "straight", whereas dark soy sauce's is more "rounded". Of course, when neighbouring Far Eastern countries heard of the Chinese's creation, they copied and created their own versions. For a mind-boggling read on all things soy sauce, check out Wikipedia.
So what exactly is the difference between Chinese and Japanese soy sauce?
Most Chinese soy sauce is produced using a shorter brewing process, as well as having a higher salt content than the Japanese type. Some are chemically produced whereas others are only partially brewed. Many contain caramel colouring (E150), added sugar, monosodium glutamate (MSG) and preservatives, which may give the sauce an artificial taste. Authentic Japanese soy sauce, also referred to as "shoyu", is brewed with cultured yeast for many months. The latter generally has a lower salt content and includes roasted wheat which in turn improves the flavour, aroma and colour of the sauce.
There you have it guys. Happy cooking!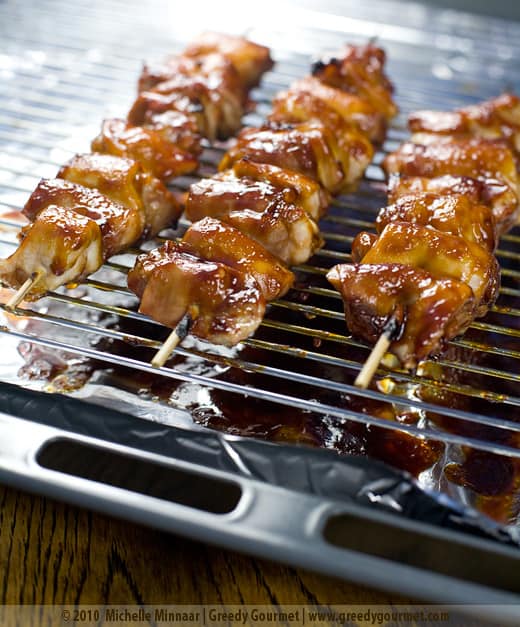 Print
Yakitori Chicken Kebabs
---
6

boneless chicken thighs

150

ml

(1/4 pint) Japanese soy sauce

90

g

(1/2 cup) sugar

25

ml

(1 1/2 tbsp) sake or dry white wine

15

ml

(1 tbsp) plain all-purpose flour
---
Instructions
Soak 12 wooden skewers in water for at least 30 minutes. Make the sauce. Stir the soy sauce, sugar, sake or wine into the flour in a small pan and bring to the boil, stirring. Lower the heat and simmer the mixture for 10 minutes, or until the sauce is reduced by one-third. Set aside.
Cut each chicken thigh into bite-size pieces and set aside.
Preheat the grill/broiler or prepare the barbecue.
Thread the chicken on to the drained skewers. Grill/Broil under a medium heat or cook on the barbecue, brushing generously several times with the sauce. Allow 5-10 minutes, or until the chicken is cooked but still moist.
Serve with yakitori sauce.
Notes
Bite-size chunks of turkey breast, lean boneless pork or lamb fillet can be used instead of chicken. Small, whole button mushrooms are also delicious for a vegetarian alternative.
Serve with rice or noodles.
Prep Time:

20 minutes

Cook Time:

20 minutes
Nutrition
Serving Size:

1 piece

Calories:

81

Sodium:

189 mg

Fat:

4.86 g

Saturated Fat:

1.358 g

Protein:

7.96 g

Cholesterol:

29 mg