The first time I've come across asparagus wrapped in Parma ham was during a friend's garden party. Nowadays, people would call it a barbecue, I guess. Anyways, this was years ago. She made a lot of party food to keep us entertained. You know, the type of food you can eat in one bite and goes great with a pint. Asparagus wrapped in Parma ham caught my attention as the crisp flavour beautifully complements the salty and smoky Parma ham. Once you start with one, it's really difficult to stop. Just grab two or three when no one is looking! Did I mention it takes under ten minutes to prepare it? Enjoy!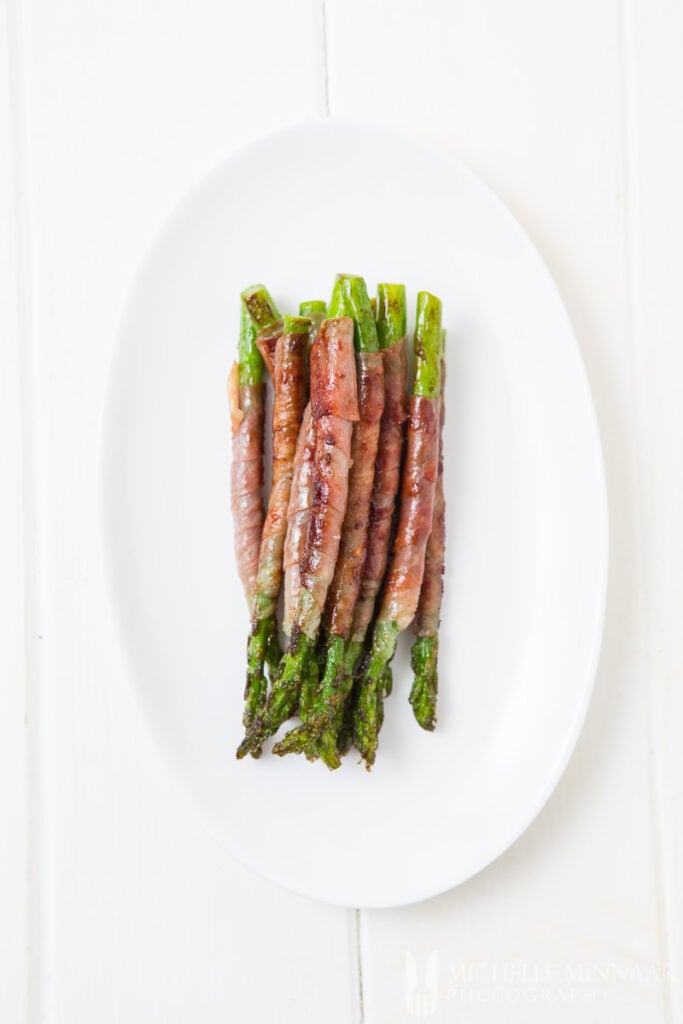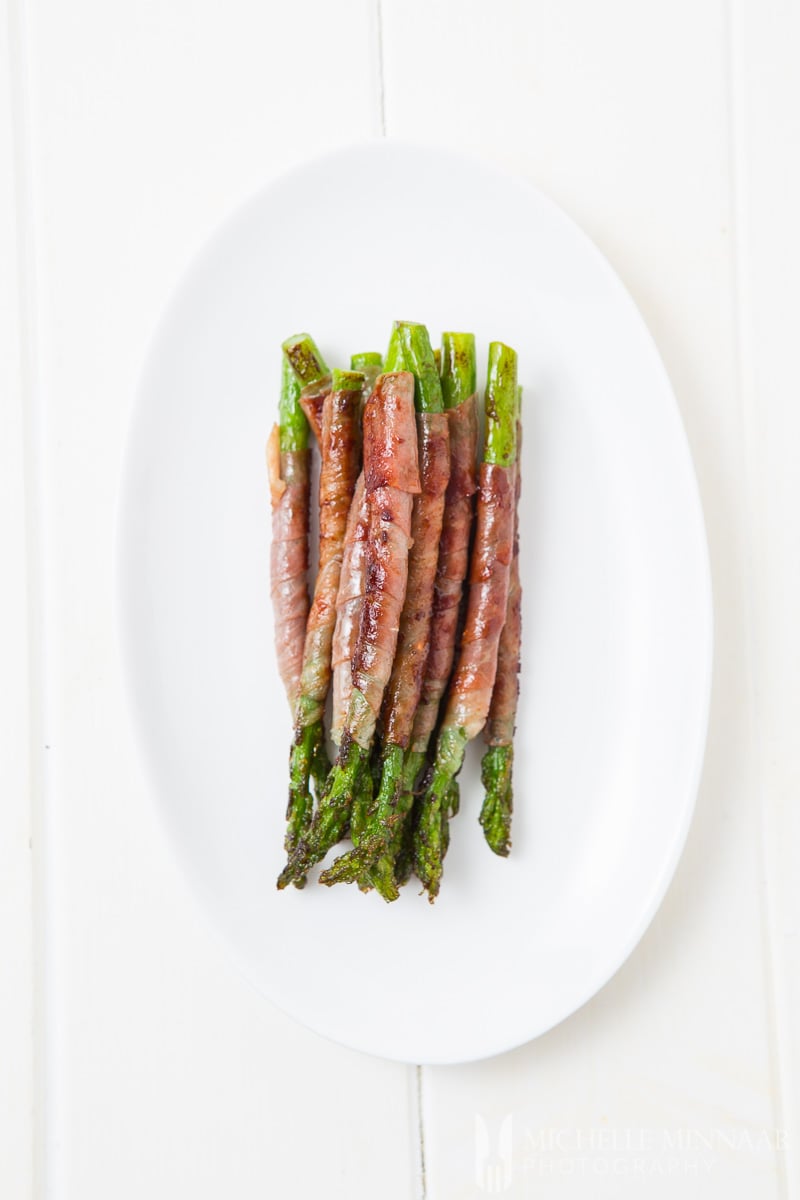 History of Parma
I don't recall when this trend of asparagus wrapped in Parma ham came out. It surely wasn't a long time ago. Moreover, I remember a summer where literally everyone served the asparagus wrapped in Parma ham. What I can tell you, is that Parma ham goes way back. In fact, all the way to the Roman era. As you might have guessed, the origin of Parma ham is Italian.
Parma ham, or otherwise called, Proscuitto di Parma originated from the year 100 B.C. Obviously, it got its name after the town called Parma. It's a mid-sized town, located just below Milano in northern Italy. Back in the day, the ham was air cured and topped off with oil. The oil would preserve the ham and it could go on without spoiling for ages. Furthermore, it is a common practice to dip the ham in a salty cure. That's how we get our delicious Parma ham. It's more complicated and ancient than it appears!
Substitutes for Parma Ham
Of course, you don't have to use Parma ham if you can't get a hold of it. If it's not available in the supermarket, go for Jamon Serrano ham. Serrano ham is from Spain, whereas Parma ham is from Italy. They are both dry-cured for a couple of months. However, they differ in the duration of the curing period. Serrano ham takes 24 months to cure, while Parma ham is cured up to 12 months. Hence, the Parma ham is less intense, less salty and smoother. Excellent addition to the asparagus. The Serrano ham is obviously more salty and intense.
You can also use these hams:
Jambon Sec – from France. Smooth and less intense.
Bayonne ham – also from France. Same flavours.
Prestuntois – from Portugal, oily in texture.
Do you have any favourites? Simply using bacon will also do the trick as a substitute for the asparagus wrapped in Parma ham recipe. We all love the salty and crispy texture of the bacon, once fried. The bacon will give off a lot of grease and leave a beautiful crisp on the outside once grilled. If you are a fan of bacon you should try Koto Bacon.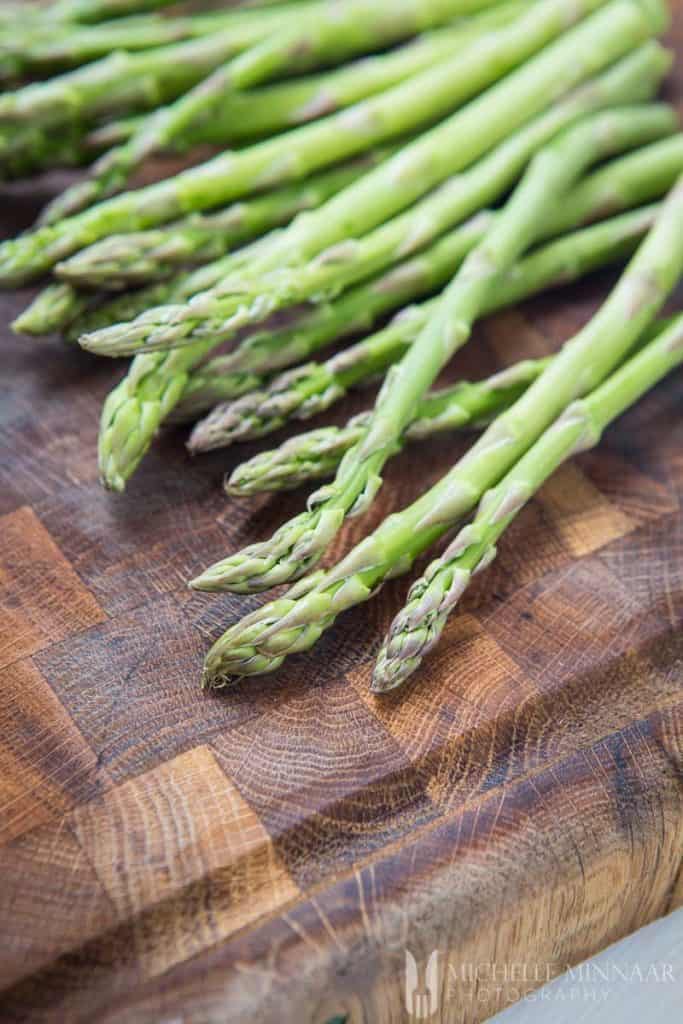 Asparagus
This beautiful spring vegetable is the hero of this recipe. Egyptians grew asparagus all the way back in 3000 B.C. They are famous for having an almost woody, nutty flavour. Furthermore, they are crispy if not cooked well enough. They are also low in calories and are an excellent addition to any main course. Traditionally, people go for the green asparagus. Did you know that you can also get white asparagus? The difference between the two is how they grow. The white asparagus doesn't develop any chlorophyll as it's grown in the darkness or shadier climates. In my opinion, the white asparagus is creamier and smoother. In any case, you can use both types for this recipe.
Grow your own
Asparagus is a very common vegetable that people like to grow in their gardens. There is nothing better than freshly grown young asparagus. Simply plant asparagus seeds in the spring. If you want your asparagus to have a greener colour, plant it in a place so it's more exposed to the sun. Be aware, that it takes two years before you harvest your first asparagus. Harvest season is usually in late spring. Take a sharp knife and cut! Imagine serving your own asparagus for the asparagus wrapped in Parma ham recipe. That's something to brag about!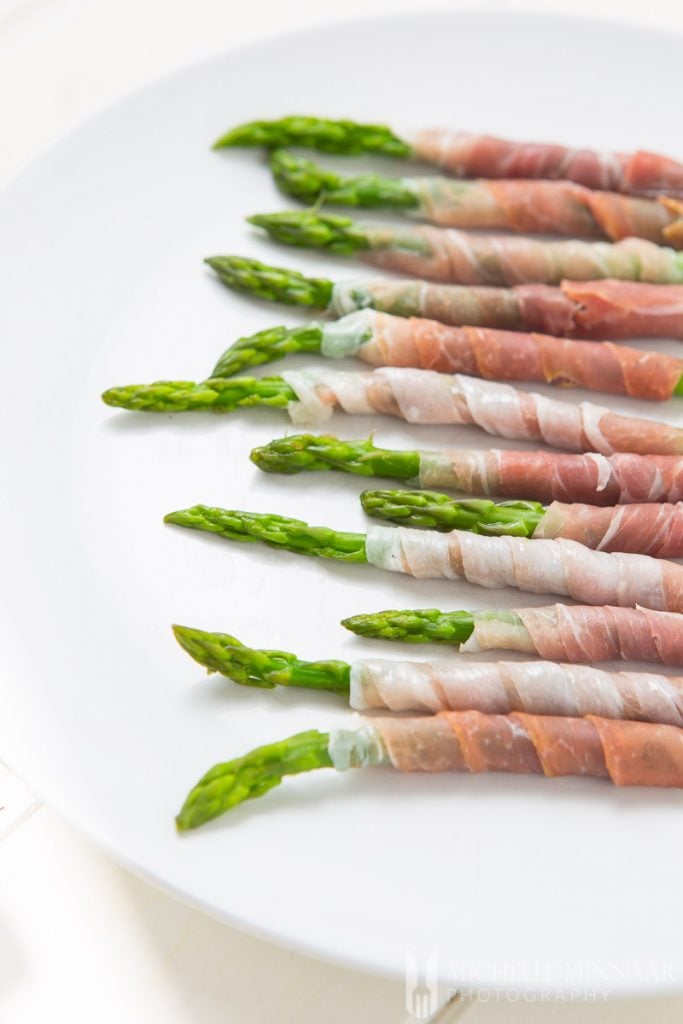 Substitutes for Asparagus
I usually go for sweeter substitutes, as I think it goes really well with the salty nature of the Parma ham. Why don't you try figs instead of the asparagus wrapped in Parma ham. The honey sweet flavours of the figs will make you an addict. You can also use:
Prunes
Dates
Zucchini
Peppers
Broccoli
Obviously, you can make this dish healthier if you substitute with other veggies. Nonetheless, I believe that there is nothing better than the asparagus wrapped in Parma ham, unless it's substitutes by something sweet.
Grill
Give the asparagus a good char. Don't be afraid to leave it on there for a longer period. It will take some time to soften the asparagus wrapped in Parma ham. I also enjoy a little browning on the outside to give it that smoky barbecue flavour we all love. You can grill the asparagus wrapped in Parma ham on an open-fire grill or a portable grill. If you have sophisticated oven, turn on the grill function. The result will be less smoky, but roughly the same. This is an excellent way to keep your guests nibbling on bits and bobs. In fact, if you are having a garden party, why not serve my oven-baked barbecue chicken recipe as well. Try grilling the chicken alongside the asparagus wrapped in Parma ham, it's a great combination.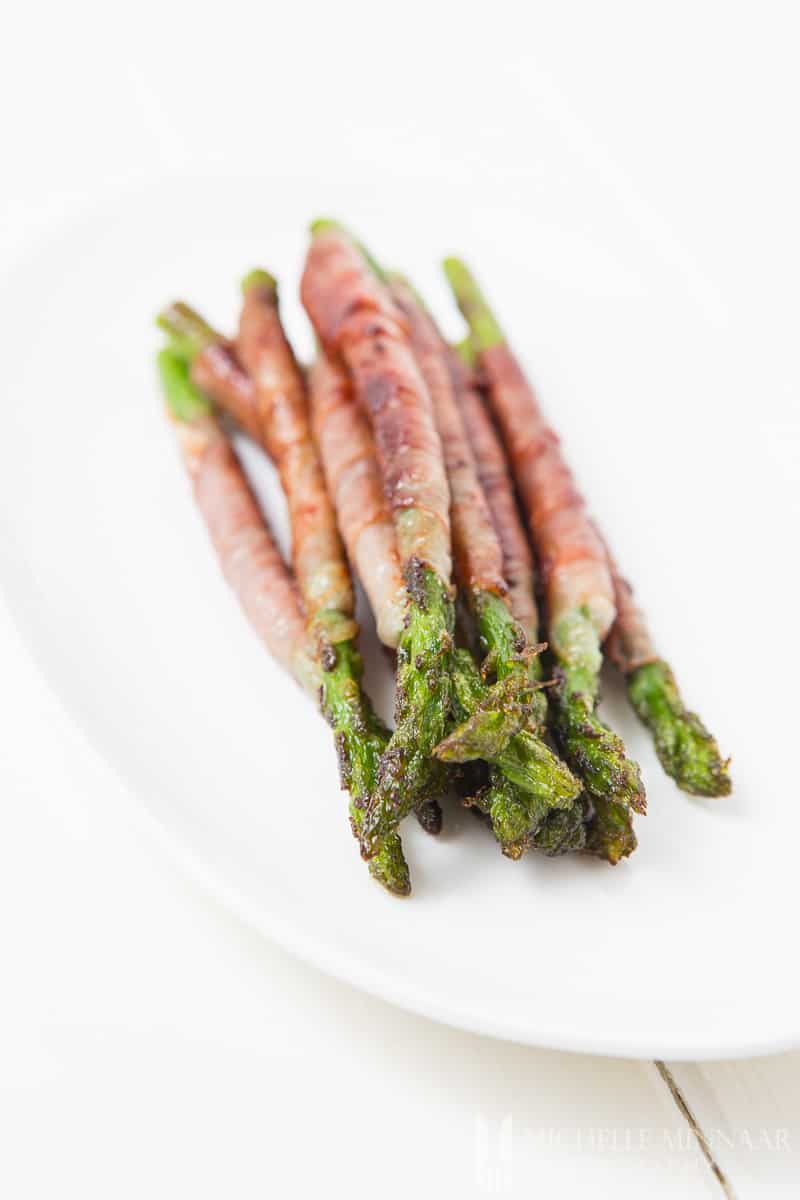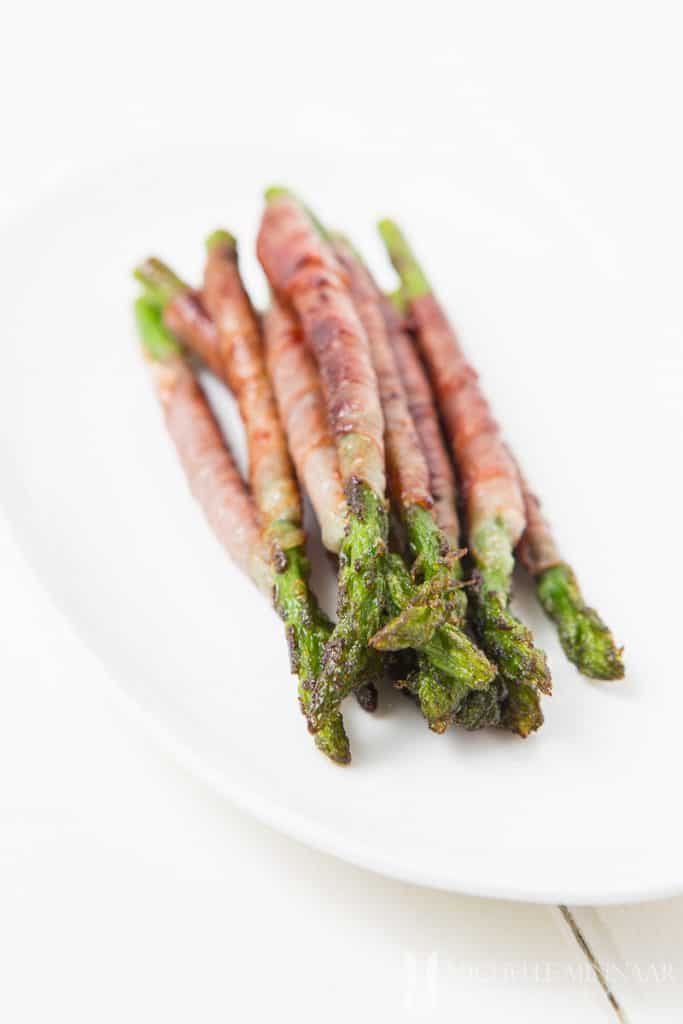 Other ideas
Instead of making asparagus wrapped in Parma ham, you can wrap it in dough. However, this limits you to oven-baking. It's very difficult to do it on an open grill as the dough will just stick or melt off. You can also try putting cheese in between the asparagus and the Parma ham. It adds a beautiful creamy texture. Or try it in a salad!
For similar recipes, see:
https://www.greedygourmet.com/recipes-by-cooking-times/30-to-60-minutes/hoisin-honey-glazed-chipolatas/
https://www.greedygourmet.com/recipes-for-diets/omnivore/koto-bacon/
https://www.greedygourmet.com/recipes-by-cooking-times/more-than-3-hrs/bbq-pulled-lamb/
Print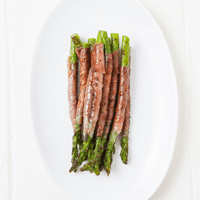 Asparagus Wrapped in Parma Ham
---
24

asparagus spears, washed and trimmed

8

slices Parma Ham

15

ml (1 tbsp) vegetable oil
---
Instructions
Cook the asparagus spears in salted boiling water for 2 minutes.
Drain and then refresh them in cold water.
Pat the asparagus dry.
Cut each Parma ham slice lengthwise into 3 even strips.
Wrap each asparagus with one strip of Parma ham.
Heat the oil in a frying pan and gently fry each spear until the ham is crisp and browned.
Serve immediately.
Prep Time:

10 minutes

Cook Time:

10 minutes

Category:

Starter

Cuisine:

International
Nutrition
Serving Size:

1 serving

Calories:

151

Sugar:

2.7 g

Sodium:

733 mg

Fat:

8.4 g

Saturated Fat:

2.4 g

Carbohydrates:

7.7 g

Fiber:

3.8 g

Protein:

12.5 g

Cholesterol:

32 mg
save the recipe to your pinterest board