Did you like the grilled sweetcorn with feta and chilli? What a delicious and light end of the summer snack. Perhaps it was too light for meat lovers?
Well, a bacon wrapped sweetcorn will solve this problem easily. Again, super easy to prepare. Simply wrap the bacon around and place the whole thing on the grill.
You can also sprinkle with feta if you wish. Bacon and feta relatively go well together. Besides, you can put bacon on anything right?
bacon wrapped everything
When was the last time you had something wrapped in bacon? The beauty of bacon wrapped sweetcorn is that it's super versatile recipe that's not necessarily applicable only to sweetcorn.
You might have heard of bacon wrapped prunes, figs, or dates. Yes, bacon works wonders with sweeter fruits. However, it also works really will with vegetables like onions, bell peppers, and especially asparagus.
hard sweetcorn
When grilling your bacon wrapped sweetcorn, you need to be aware of two things. First, the grill needs to be sufficiently hot. Those charcoals need to be glowing white and red like there's no tomorrow.
Second, you have to give the bacon wrapped sweetcorn enough time to cook. The sweet corn itself has to be thoroughly cooked through.
Otherwise, it will be hard and unpleasant to eat. Here's a funny thing. If you've got grandparents or kids who seem to be losing their teeth, hard sweetcorn is probably not the best idea for them.
A little trick is to either prebake the sweetcorn or parboil it so it gets soft. Sometimes, when people place it on the grill, it doesn't get cooked evenly.
So, parboiling is a good method of making sure, that the corn is nice and soft and doesn't pull a couple of teeth out.
parma ham
To make this bacon wrapped sweetcorn more refined, you can try to wrap it in Parma ham. Parma di crudo is a thin beautiful piece of meat that just melts away on the tongue as you eat it.
In terms of parma ham and sweetcorn, you definitely need to precook the sweetcorn, as the parma ham is much thinner than bacon and more delicate.
It takes only a couple of seconds to cook. You don't want to end up with burnt parma ham.
In addition, Parma ham works well with melon. Therefore, you can serve the parma ham & melon salad like a refreshing dessert element.
go vegan
Not a fan of bacon? For a vegan option, just grill the sweetcorn alone. Drizzle a dash of olive oil and top off with some lovely fresh herbs, like coriander.
You can also try cutting aubergines or courgettes into long slices, and wrap them around the sweetcorn. A lovely vegetarian and vegan substitute.
Treat them like parma ham in terms of cooking. They are also quite delicate ingredients, and it's better off if you precook the sweetcorn.
parmesan on top
If you really want to jazz things up you can sprinkle parmesan or some other delicious cheese on top of the bacon wrapped sweetcorn. Cheese and sweetcorn make a very delicious pairing.
You can also serve without the bacon and have a perfect vegetarian friendly dish to serve for non-meat eaters at parties. Try the parmesan, it's great.
jalapenos
You can also put thinly sliced jalapeños on the bacon rashers before wrapping the sweetcorn cobs. The jalapenos provide a tangy, spicy and yet refreshing flavour.
Just be careful though, some jalapenos are super spicy and might not be suitable for some guests.
grilled platter and BBQ stuff
You can serve the bacon wrapped sweetcorn as a standalone dish. However, if you are a big family, or you have guests over, why not make the sweet corn the center piece of a grilled vegetable platter?
Simply cut up a bunch of other vegetables, such as courgettes, aubergine and bell peppers. Or you can also serve them with traditional BBQ recipes which you can find here.
Serve the sweetcorn as a side dish with some delicious ribs on the grill. There are so many things you can do. Generally, I like to make the grill platter, because there is always something for everyone.
Plus, it's a good way of finding out what the favourite dish of the grill party was. Usually, that component disappears from the plate within only a couple of seconds off the grill.
Recipes that will complement this one are spicy smoked ribs and tobacco onions.
Print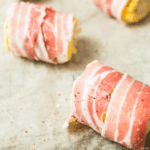 Bacon Wrapped Sweetcorn
---
4

sweetcorn cobs, halved

8

rashers of streaky bacon
---
Instructions
Wrap each halved cob with a rasher of bacon.
Place under the grill or on the barbecue for 5 minutes on each side or until the bacon is fully cooked.
Serve immediately as a side dish at a barbecue.
Prep Time:

5 minutes

Cook Time:

10 minutes
Nutrition
Serving Size:

1 serving

Calories:

181

Sodium:

800 mg

Fat:

11.6 g

Saturated Fat:

4.6 g

Carbohydrates:

5.3 g

Protein:

12.7 g
save the recipe to your pinterest board
A special thanks to Kelly Reeve for assisting with the recipe shoot.