Lusciously sweet with a hint of zest, grape chutney is an amazing accompaniment to a cheese and wine pairing or your favourite cold cuts.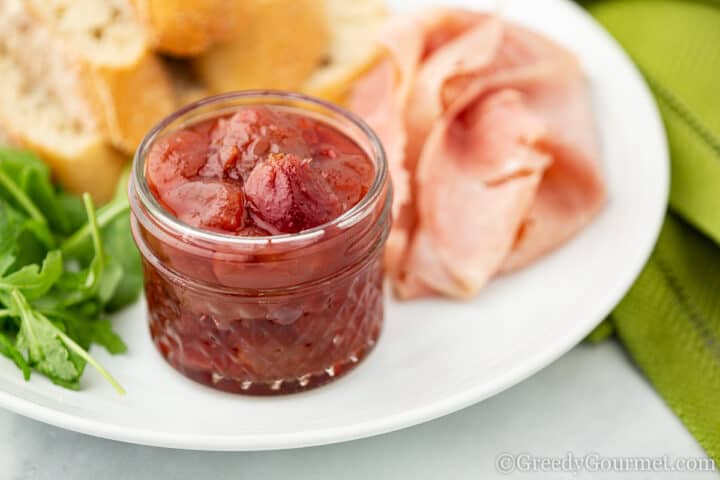 So, when you find yourself with a glut of grapes, get out your chutney pot and get cooking!
Products you need for this recipe
There are a few things you'll need to make this recipe.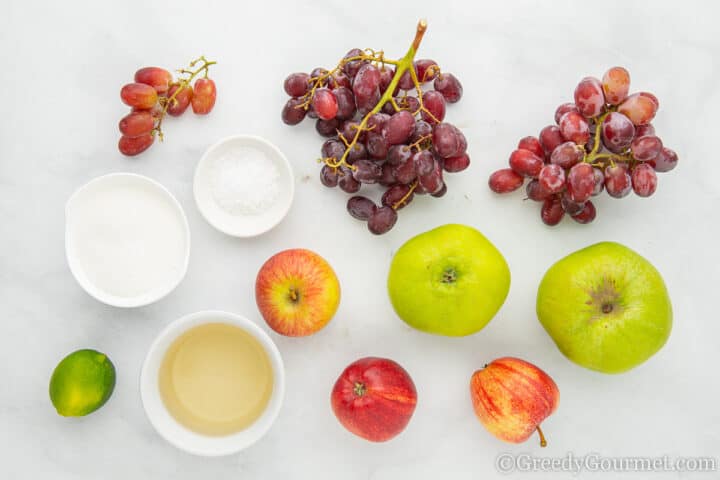 Grape chutney recipe
This chutney recipe is so simple and really delivers on the flavour front. Juicy sweet grapes, tart apples, a burst of citrus from the lime and the all-important vinegar to bring some much-needed balance.
All the flavours work together to create a chutney that can be paired with your favourite food to take it to another dimension!
It's simple to cook and takes not much longer than an hour. It's all cooked in one pot – really easy regardless of your level of experience and skill in the kitchen.
Very easy, very satisfying and an absolute must-cook recipe.
Many chutneys use onion to bring some savoury/sweetness to the table. There's no onion in this recipe though and no spices. Sweet grapes, tart apples and zesty lime is all you need for this one.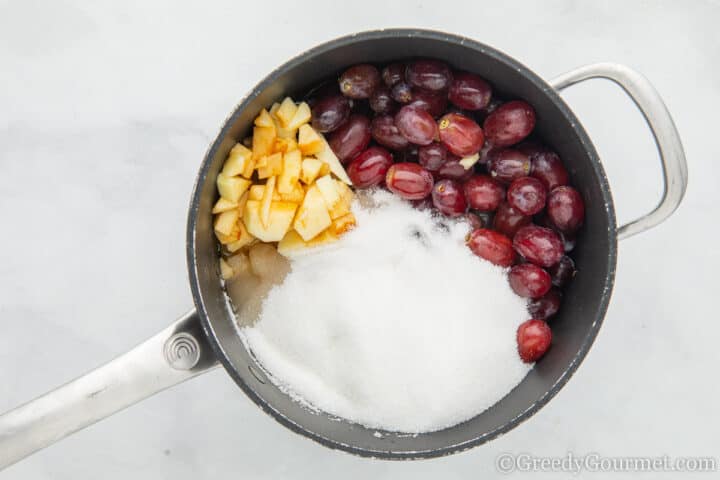 When are grapes in season?
The UK grape season is relatively short, ranging from September to October. So, whether you're growing, picking or buying, make the most of them!
What can I do with too many grapes?
When you find yourself with an abundance of grapes, there are a few things you can do.
– Slice them and add them to sandwiches or wraps. Add grapes to any type of meat or cheese-based sandwich. Try my brie and grape tortilla wraps!
– Freeze them. Frozen grapes make a great refreshing snack, particularly in the summer. You can also use them as tasty ice cubes or add them to your favourite smoothie.
– Make a chutney! Of course, the best way to get the most out of your grapes is to make a grape chutney. Minimal prep, very easy and very tasty… plus, it goes with so many different types of dishes.
 
Aside from this recipe, you can also make a white grape and mint chutney or a black grape and rosemary chutney.
Do you need to sterilise the jars for this apple and grape chutney?
Absolutely. Whenever you make a chutney, you need to sterilise the jars first.
First, you'll need to wash the jars and lids in hot soapy water. Leave to dry upturned on a wire rack. 
When the jars have dried, you can sterilize them in the oven at 160ºC for 15 minutes. Place the lids in boiling water for this period of time.
You could also sterilize the jars in boiling water. Use tongs to lower them into the pan.
What do you do with green sour grapes?
Grapes that are too sour to eat are perfect for chutneys. You can also roast them, add some spice and add them to anything from roast meats to cheese and crackers.
What type of grapes can be used?
You can use any grape type for this chutney, but preferably seedless. I prefer darker grapes – dark red or purple – as the chutney will look extra special.
Are grapes good for you?
Yes, they absolutely are! They are high in natural sugar, so eat in moderation, but grapes also contain high amounts of potassium and calcium among other essential minerals.
What are the best apples to use?
You want a good cooking apple with a pleasant tartness and a subtle sweetness. 
Bramley and Granny Smith are the standard cooking apples. Less sweet than some, with a delicious tartness, they would be great to add to grape chutneys.
You could also use Honeycrisp or Braeburn.
Golden Delicious is a good option if you prefer a sweeter chutney. They are less stable than other apples, so will soften nicely when cooked.
What vinegar should I use?
In terms of flavour, the best type of vinegar for this dish is white wine vinegar. You can also use red wine vinegar, especially if you opt for darker grapes.
Other types of vinegar that you could use include rice vinegar and apple cider vinegar.
Does grape chutney need to mature?
Yes, you need to let it mature for at least 1 month. You can leave the jars for 2 months and it will be even better!
Do you cook chutney on a medium heat?
Not quite medium. More like a low/medium heat, to allow it to simmer away.
What can I serve with grape chutney?
There are so many different types of food that can be elevated by a spoonful of this delicious grape chutney. Here are just a few  food pairing suggestions:
– Warmed with a bit of butter with roast pork
– Avocado
– Blue cheese
– Chicken
– Hard cheese, like Manchego or cheddar
– Peanut butter
– Soft cheese, like brie or goat cheese
– Walnuts
How long do you cook grape chutney?
You'll need to cook it for a total of one hour. First, you'll simmer it for 45 minutes. Then, after you've added the lime juice and zest, you'll cook it for a further 15 minutes. The grapes will be soft and the chutney will be thick and luscious.
Can I add mustard seeds?
You can add mustard seeds for that warm, earthy flavour. However, I've kept the ingredients in this recipe quite standard, for a simple, fruity flavour. You can, of course, add extra spice if you like.
How do you know when this grape chutney is ready?
The texture and consistency should be thick. The best test for doneness is to use your spoon to draw a channel in the chutney. If it takes a few seconds for the vinegar to run into the channel, then it's ready.
If the vinegar runs into the channel straight away, it needs a little more time. Put it back on the heat and let it simmer for a few more minutes. Then, try the test again.
How do you make a spiced grape chutney?
There are a few spices you can add to this recipe to give it an extra edge. You can use spices like cumin or even a spice mix like panch phoron.
 
For a fresher and lighter alternative, you can try to make angoor chutney, which is a raw Indian recipe. 
Simply place 225g (½ lb) grapes, 4g (2 tbsp) cilantro, 1g (½ tsp) cumin seeds (toasted beforehand in a frying pan), 1g (½ tsp) grated fresh ginger root, 1 small green chilli and 15ml (1 tbsp) lemon juice in a blender and process. 
Use a bit more lemon juice if the chutney is too thick. Refrigerate before serving.
What other flavours go well with grapes?
If you are feeling adventurous you can add a bit of rosemary or mint to the chutney. Add a bit at time and taste as you go along. 
Do keep in mind that flavours will become more potent when the chutney matures for a month.
How do you store grape chutney?
Store your jars in a cool, dark place. They will stay fresh for up to 18 months. 
Once you open the jars, store them in the fridge and use them within 1 month.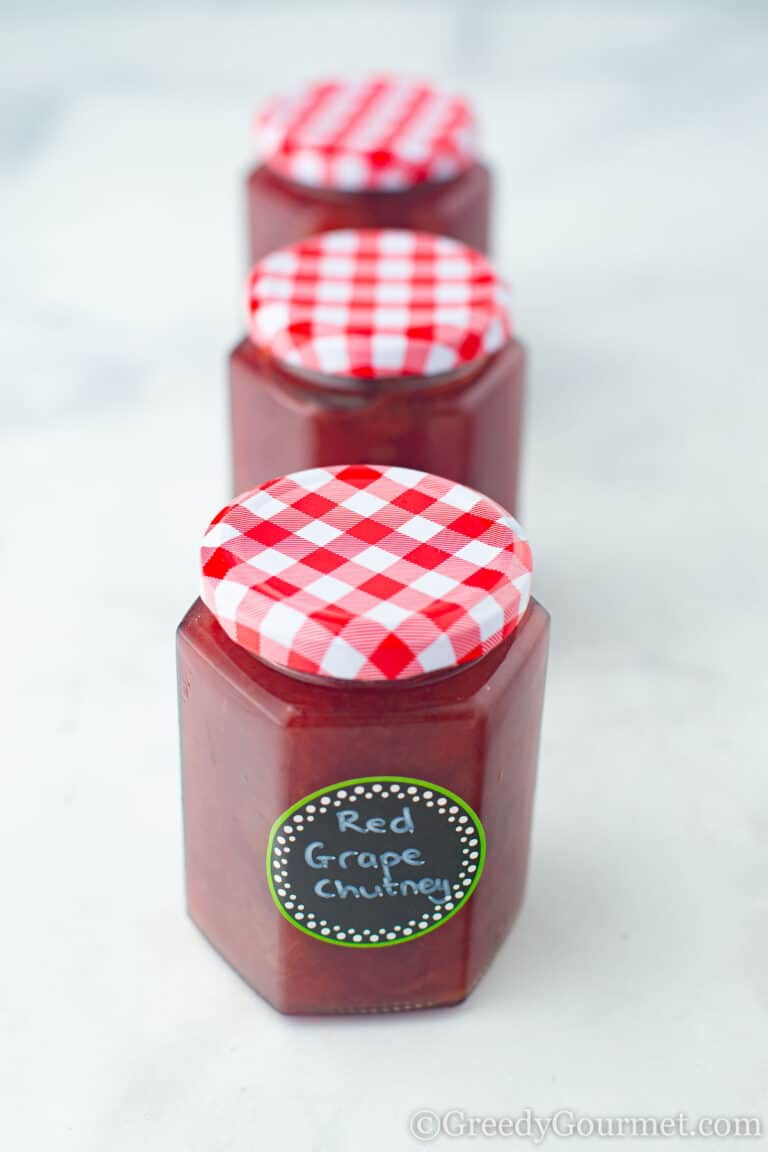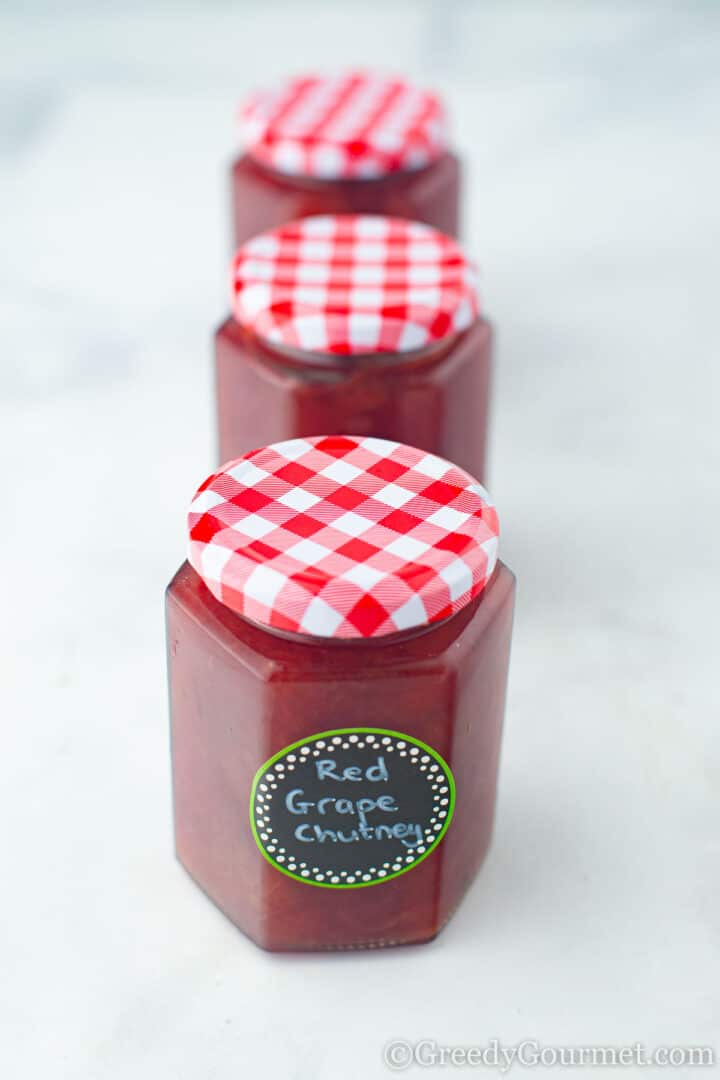 Grape chutney wine pairing
I would recommend a dry white wine to pair with this apple and grape chutney.
Something like a cool crisp Riesling would be perfect. You could also go for a California Chardonnay or a Pinot Noir.
If you prefer red wine, go for a Shiraz or a Chilean Merlot – fruity, full-bodied and perfect when paired with savoury/fruity flavours.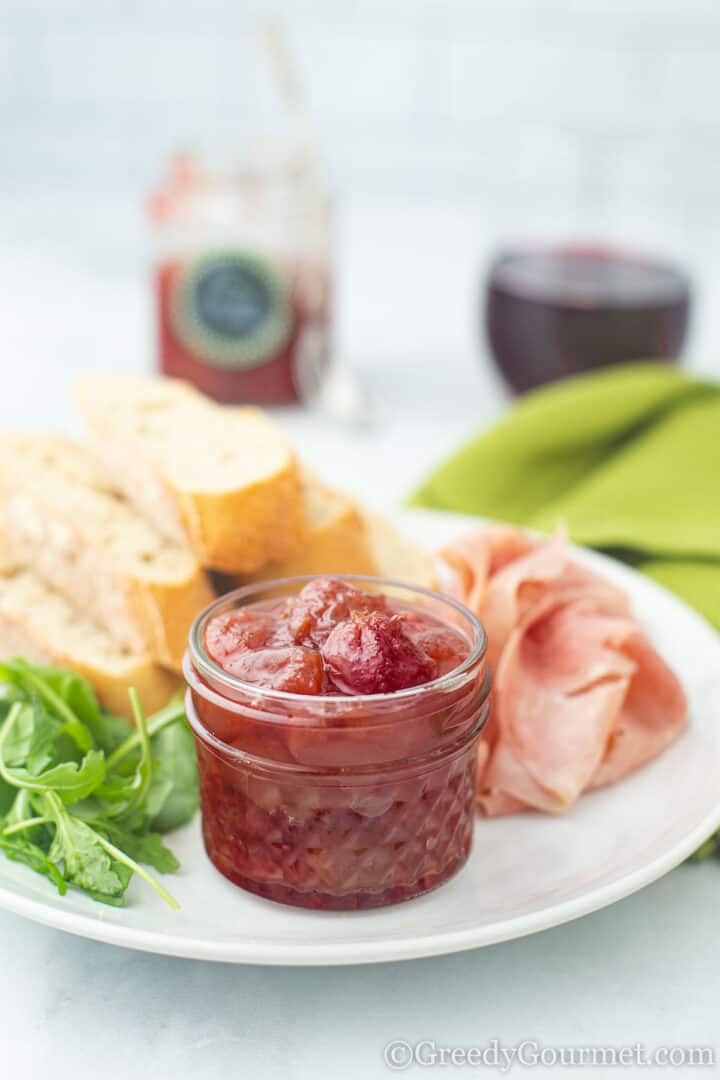 More marvelous chutneys
If you love your chutneys, you'll want to check out these fantastic recipes. There's a chutney for every occasion!
Mrs Balls chutney
Blueberry chutney
Strawberry chutney
Tomato chutney
Tamarind chutney
Raisin chutney
Print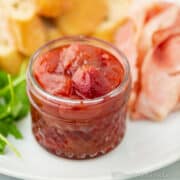 Grape Chutney
---
Author:

Michelle Minnaar

Prep Time:

30 minutes

Cook Time:

1 hour

Total Time:

1 hour 30 minutes

Yield:

1.2

kg (2½ lb)

1

x

Diet:

Vegan
Description
Do you have spare grapes lying around? This easy grape chutney recipe goes well with meat and can be served as part of a cheeseboard.
---
900g

(2lb) seedless grapes, chopped

900g

(2lb) apples, peeled, cored and finely chopped

450g

(

2¼ cup

) granulated sugar

500

ml (2 cups) white wine vinegar

1

lime, juice and zest

1g

(

¼ tsp

) salt
---
Instructions
Place the grapes and apples in a large heavy bottomed pan with the sugar and vinegar then bring slowly to the boil. 
Reduce the heat to a gentle simmer and cook for 45 minutes, or until the fruit is soft and the chutney on the thick side.
Stir in the lime juice, zeste and salt. 
Cook for another 15 minutes, or until the chutney is thick.
Tip the chutney into freshly sterilised jars, then cover and seal. 
Leave to mature for at least 1 month before eating. Enjoy!
Notes
900g of grapes are approximately 6 cups.
Tart cooking apples, such as Bramleys, are preferred in this recipe.
As an experiment, I kept the grapes whole in this recipe. Final thoughts? I think it's better to chop/halve the grapes for a better texture and a more uniform chutney. Still tastes great though!
Category:

Condiment

Method:

Boil

Cuisine:

American
Keywords: grape chutney, grape chutney recipe, red seedless grape recipe, red grape chutney recipe, how to make grape chutney, what goes well with grape chutney