With a perfect balance of savory, sweet, smoky, spicy and nutty flavors, muhammara is the dip that keeps on giving!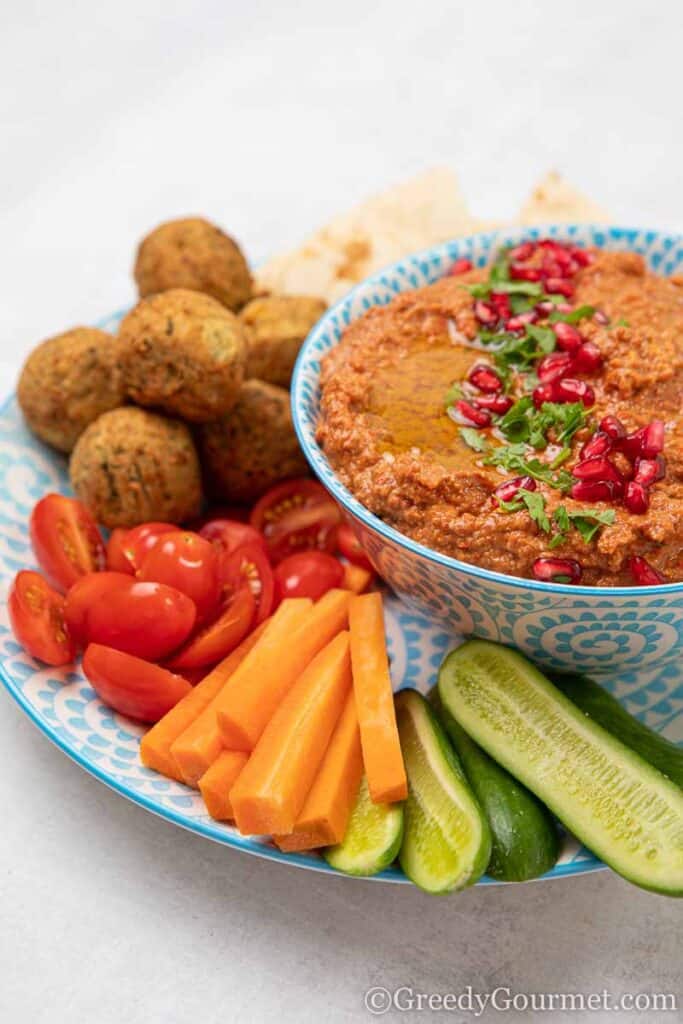 It's a very simple recipe that combines roasted peppers, walnuts and select spices, for a one of a kind taste that's perfect for the party season.
Products you need for this recipe
There are a few kitchen items and ingredients that you'll need for this muhammara recipe: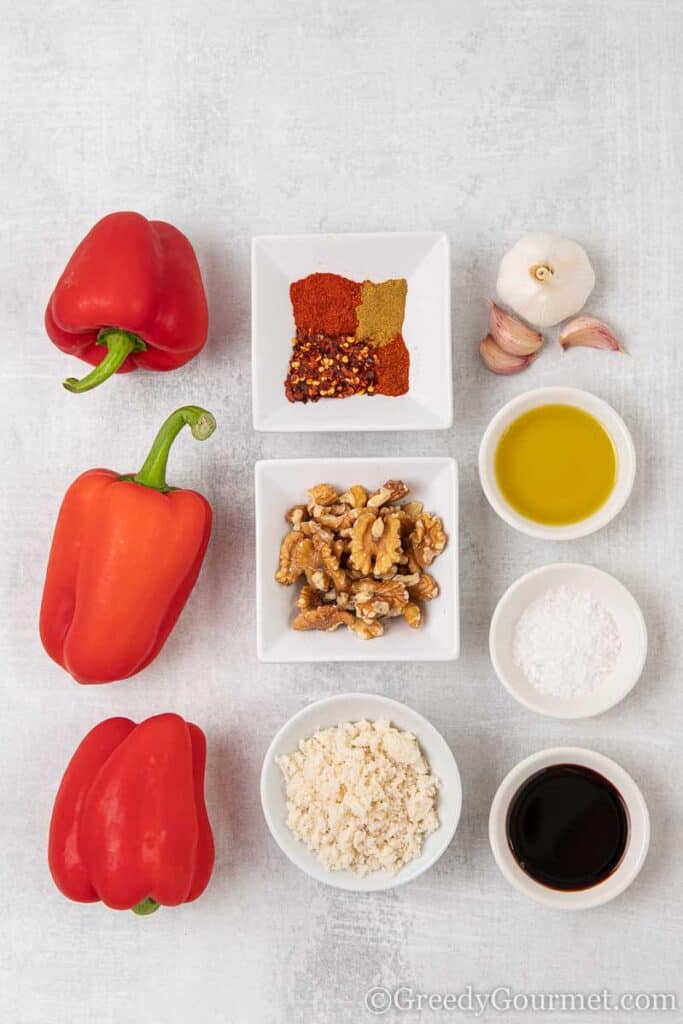 What is muhammara?
This utterly delicious dip is a sweet, savory smoky sensation! It has a creamy texture and an incredible balance of flavors that make it one of the best dips around.
The dried Aleppo pepper brings a sweet smokiness to the dip. The red bell peppers are almost charred in the oven, which really adds a depth of flavor like no other dip.
The chopped walnuts give this dip a beautiful creamy texture and a delightful nutty undertone. Chilli red pepper flakes add some heat to the dip, while spices like cumin, paprika and cayenne pepper add an earthy dimension.
Finally, pomegranate molasses, a sweet and sour syrup that's common in Middle Eastern cuisines, add an incredible depth of flavor that elevates this above your standard party dip.
After the peppers are roasted, everything is blended up in a food processor to create the most incredible Aleppo pepper dip.
Just wait to try it. You'll be blown away!
How do you pronounce muhammara?
Muhammara is an Arabic word that's roughly pronounced Moo-ha-MA-ra.
Where does muhammara come from?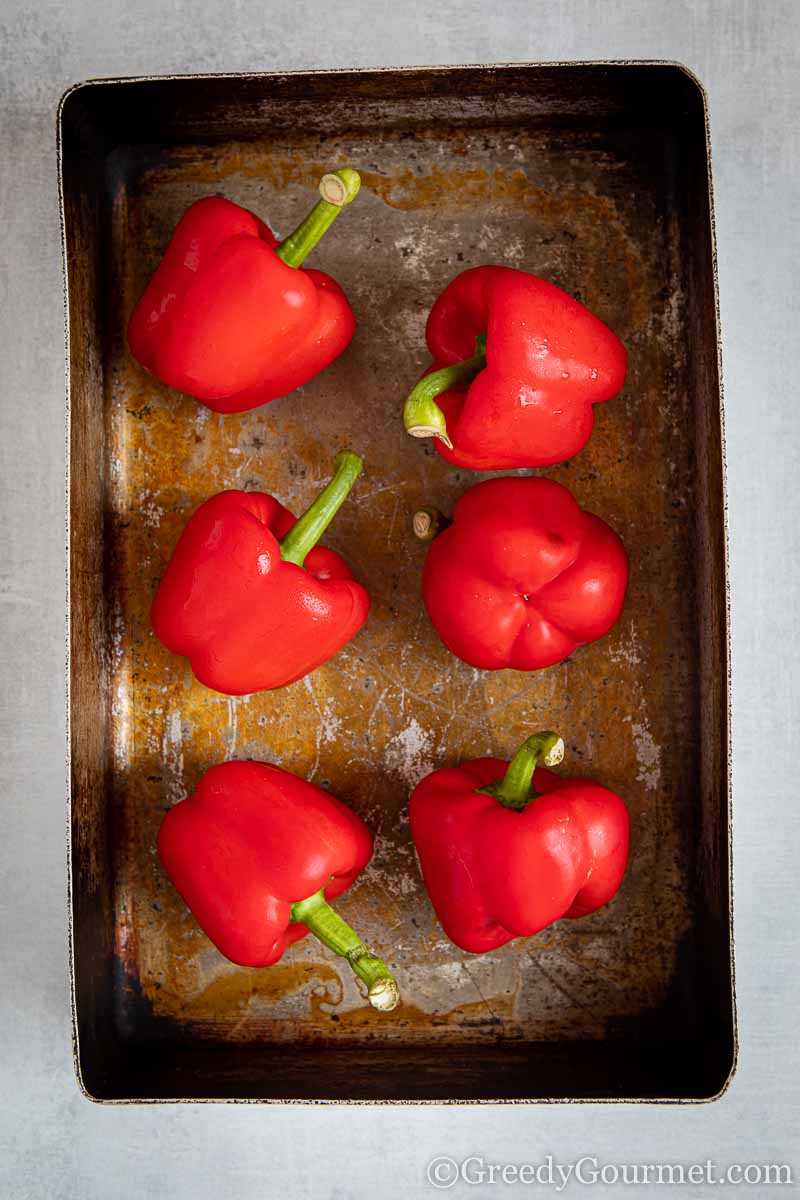 Muhammara comes from Aleppo, one of the largest cities in Syria. Its popularity spread beyond Syria to Turkey – where it's known as 'acuka' – and the rest of the Middle East, then throughout Europe and the rest of the world.
What does muhammara mean?
The word muhammara means 'reddened' in English, which refers to the beautiful color of this Middle Eastern dip.
How do you eat Muhammara?
Muhammara is a roasted red pepper dip. Just dip in anything from crudités to grilled meat. You can even spread it across crusty bread or toast or use it as a pizza sauce!
What does Muhammara taste like?
This delicious Aleppo pepper dip is the perfect balance between sweet, savoury, smoky, nutty and subtly spicy flavors.
What are pomegranate molasses?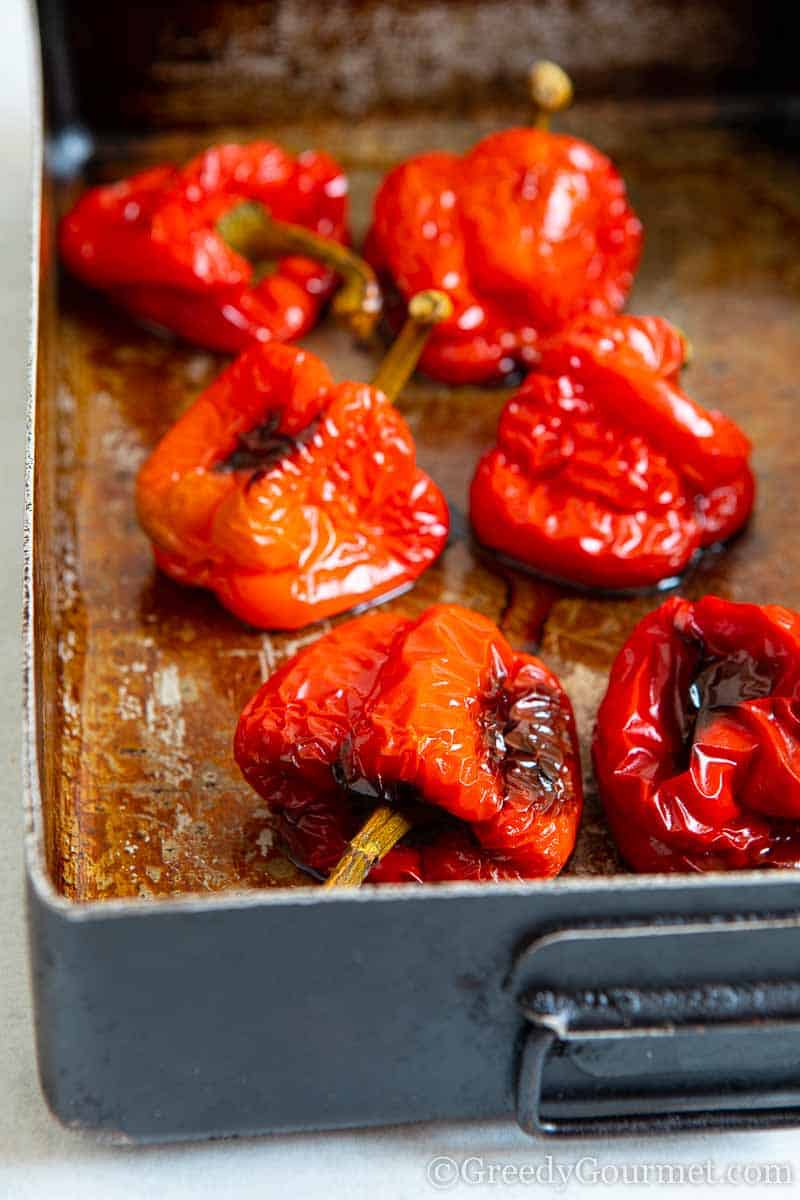 Chances are you've never used or even heard of pomegranate molasses. Well, it's a great ingredient that's widely used in Middle Eastern cuisines, as well as African and Mediterranean cooking.
Pomegranate molasses bring a deep sweet and sour flavor to dishes. This ingredient really does add an extra dimension of taste like nothing else can. Pomegranate molasses have a syrupy texture that blends into sauces and dips.
Pomegranate molasses are made by boiling pomegranate juice to form a reduction. You can buy from any good international food store or Middle Eastern market. 
If you can't find any, you can easily make your own pomegranate molasses using pomegranate juice, sugar and lemon juice.
How long does Muhammara last in the fridge?
Once you've made this red pepper and walnut dip, it'll last for up to a week when stored in an airtight container in the fridge. Just you try keeping it for that long!
Is muhammara gluten free?
The only thing you need to tweak for this recipe to make it 100% gluten free is the bread crumbs. Get some gluten free bread crumbs for this recipe and you'll have a seriously tasty 100% gluten free red pepper and walnut dip!
What do you eat with muhammara?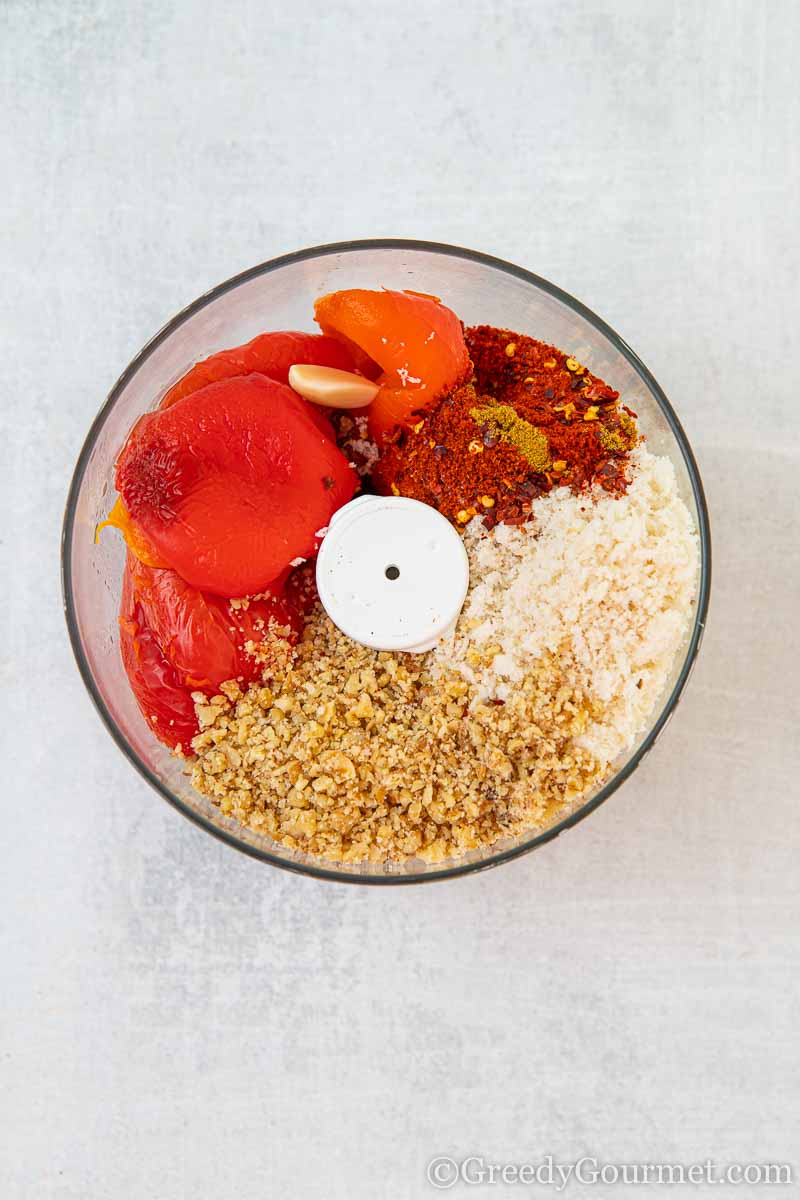 Aside from pita bread, crackers and crips, muhammara will taste amazing with these recipes:
Parmesan parsnips – if you're a fan of parsnips, you've got to try this! I've taken the humble root vegetable and given it a loving twist, to create a full flavored finger food that will have you, your friends and your family desperate for more! 
Baked parma ham parmesan croquettes – these little croquettes already taste absolutely delicious. Pair them with this pepper dip and you've got a mouthwatering mix of flavors and textures 
Parmesan crisps – any crisps would taste great with this muhammara recipe, but parmesan crisps would be next-level delicious
Parmesan arancini – if you've never tried arancini, you're in for something special. This sensational Sicilian snack would make fantastic fusion food when dipped in your roasted red pepper dip
Chia seed bread – this dip works just as well when used as a spread. Try lovingly spreading some across this homemade chia seed bread and indulge in the incredible mix of flavors
Veggie puffs – these little spicy snacks would go great with the taste of bell peppers
Salt and chili chips – make this homemade chips recipe for the ultimate chips and dip experience. You could also make pita chips or any other kind that take your fancy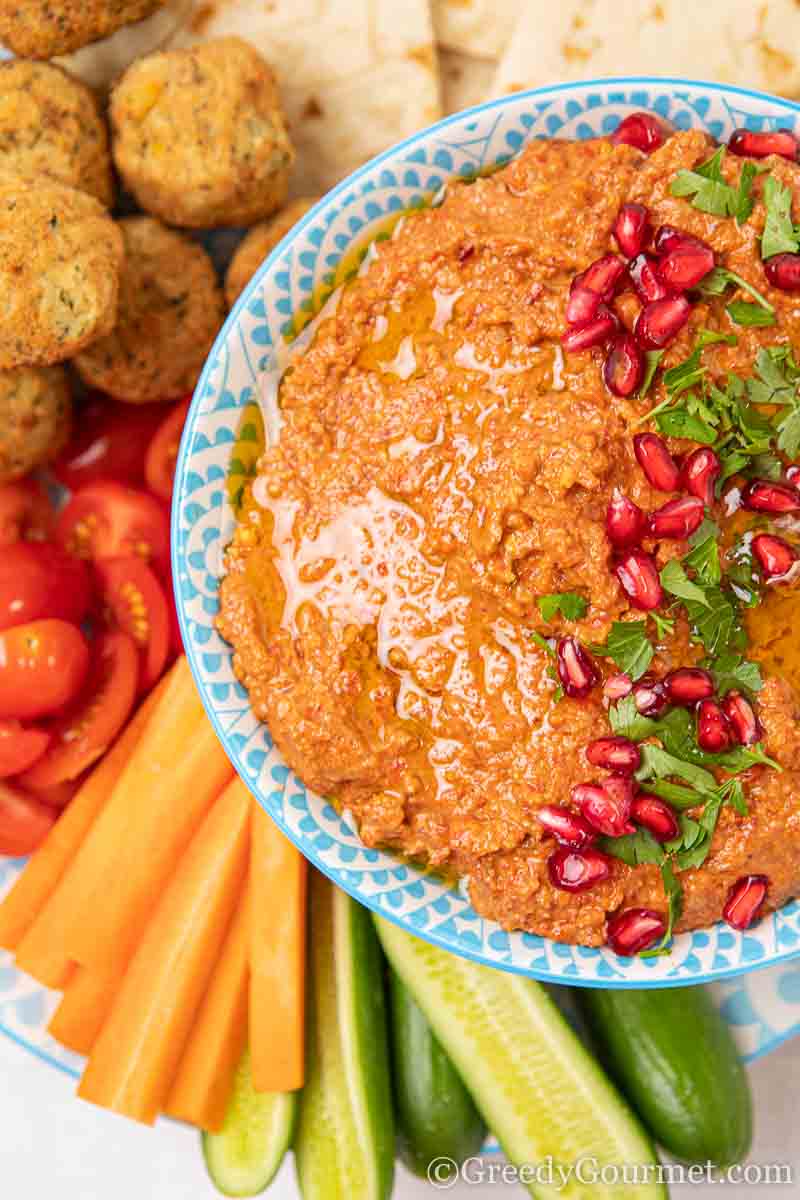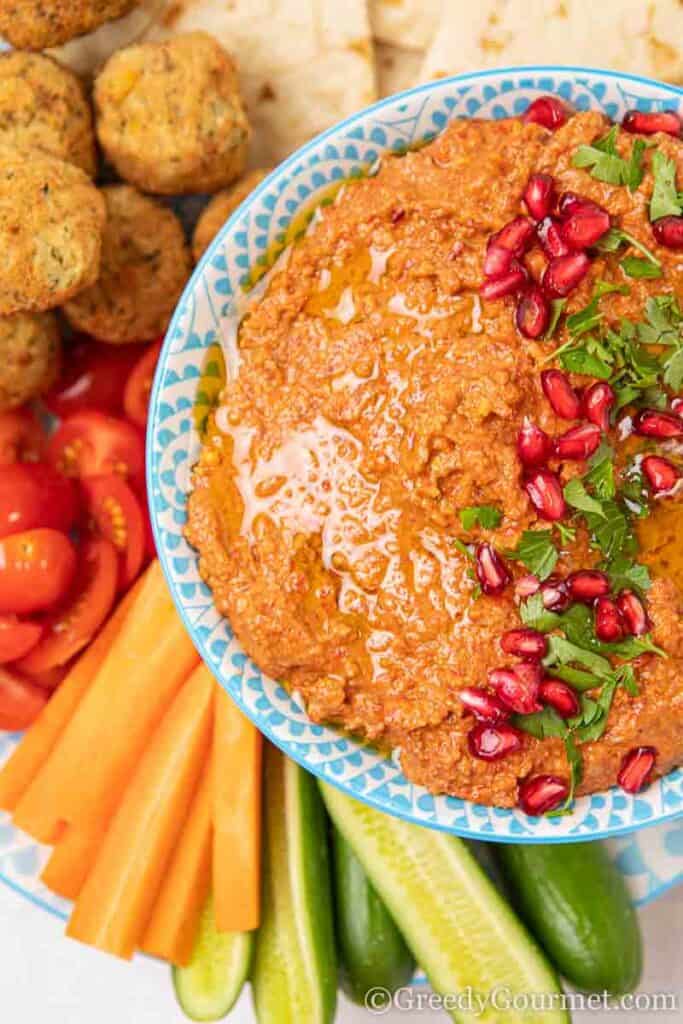 Other mouthwatering dip recipes
If you enjoyed making (and tasting!) this muhammara recipe, feast your eyes on these other fantastic dip recipes. They are perfect for parties and special occasions all year round:
Print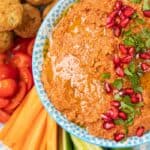 Muhammara
---
Author:

Michelle Minnaar

Prep Time:

20 minutes

Cook Time:

40 minutes

Total Time:

1 hour

Yield:

8

portions

1

x

Diet:

Vegan
Description
Muhammara, a roasted red pepper dip, is a Syrian recipe that consists of blended red peppers, walnuts, breadcrumbs, pomegranate molasses and spices. Perfect for a starter, served with vegetable crudités, warm flatbreads and falafel.
---
---
Instructions
Preheat the oven to 200°C / fan 180°C/ 400°F / gas mark 6.
Place the red peppers in a roast tin and brush lightly with oil.
Place the tin in the oven and roast for 40 minutes, turning halfway through. If the peppers aren't tender and wrinkly give them a little more time in the oven until they are.
Remove the heat and let it cool.
When the peppers are cool enough to handle, peel and deseed them.
Place the pepper, along with the rest of the ingredients in a food processor and blend until desired consistency – smooth or chunky – it's up to you!
Season to taste, garnish with pomegranate arils, and serve with flatbread and crackers.
Notes
You'll need around 8 medium red peppers for this recipe.
Most breadcrumbs contain dairy, but if you're not vegan, use any fresh breadcrumbs you fancy.
This is a big batch of dip because it won't last very long!
Store in an airtight container in the fridge for up to 3 days.
If you don't have the time to roast fresh peppers, you can buy ready-made roasted peppers in bottles.
Just drain them and proceed with the recipe.
Category:

Dip

Method:

Roast

Cuisine:

Syrian
Keywords: muhammara, muhamara recipe, roasted red pepper dip, red pepper and walnut dip, vegan red pepper recipe