Slow cooker red cabbage cooked with onions, apples, and spices to make for an exquisite holiday side dish.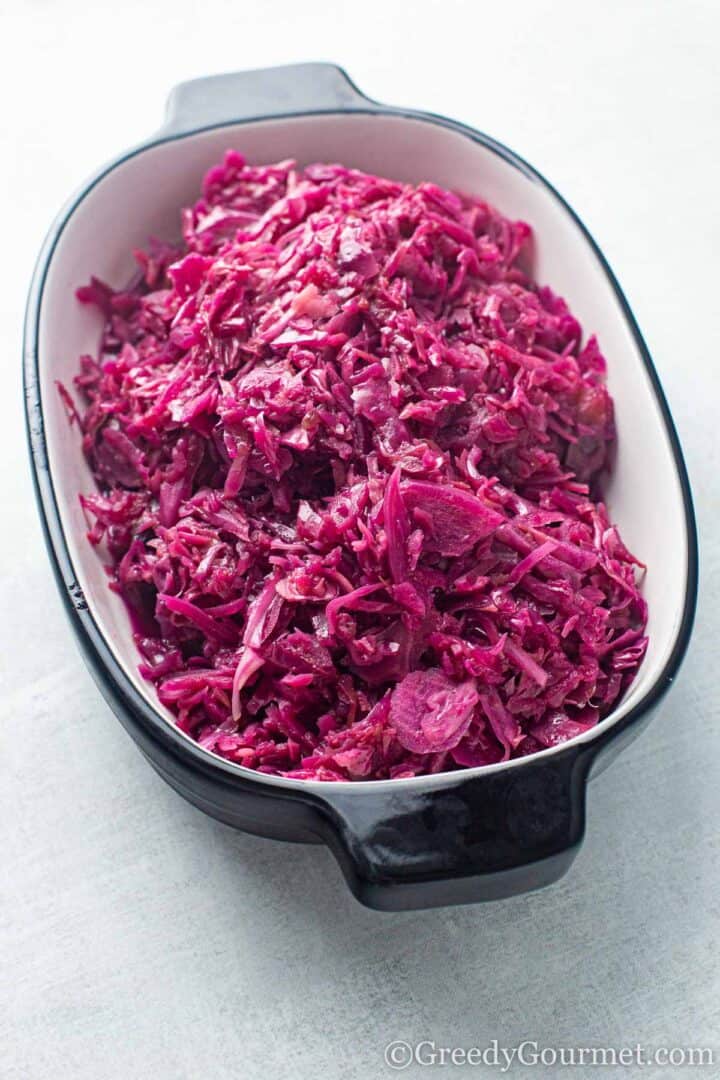 I love holiday dinners as much as anyone else. But, cooking all that food can be a little bit tiring! I couldn't help but think, "Is there a recipe I could create that would make holiday dinners easier?"
Then I remembered my braised red cabbage recipe! With a few tweaks to the ingredients and with the help of a slow cooker, I could make a lovely red cabbage side dish without so much hassle.
The sweet, sour, and silky slow cooker red cabbage tastes amazing with any holiday turkey, or other main dish!
Why You'll Love This Recipe
Quick and easy to make
Can be made ahead of time
Accessible and simple ingredients
Vegetarian friendly, and can be made vegan
Special Equipment Needed To MakeThis Recipe
Slow cooker: this is what will cook the cabbage. Leave the red cabbage to cook in the slow cooker for hours without worrying too much.
Food processor: optional tool, but will help prepare the vegetables faster.
How To Make This Slow Cooker Red Cabbage Recipe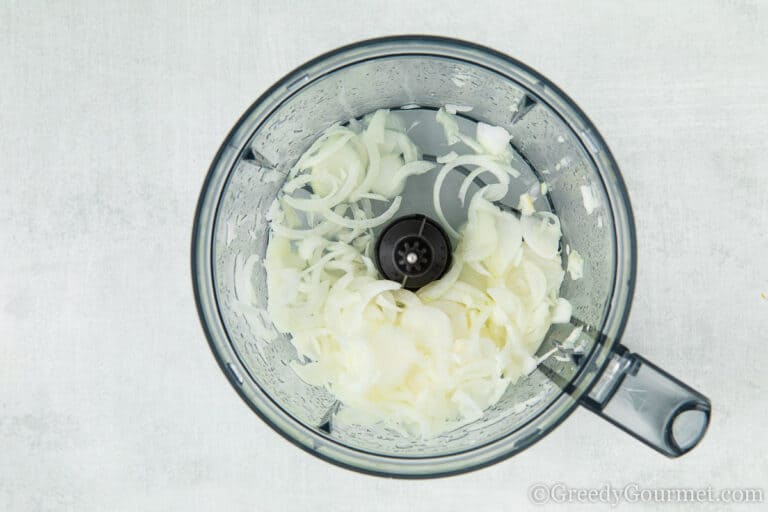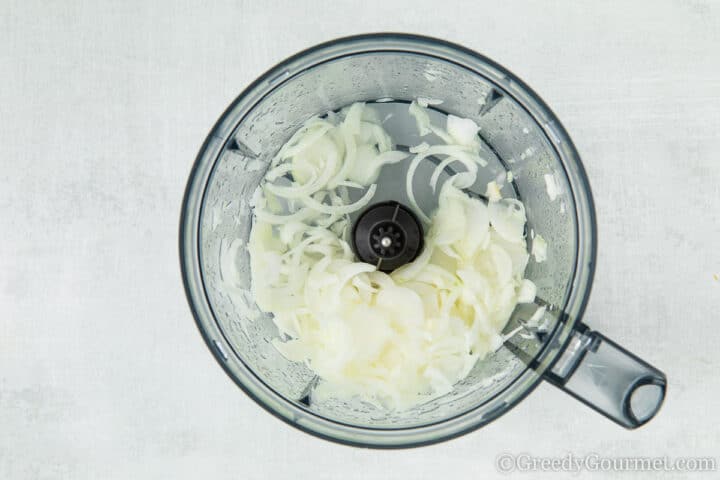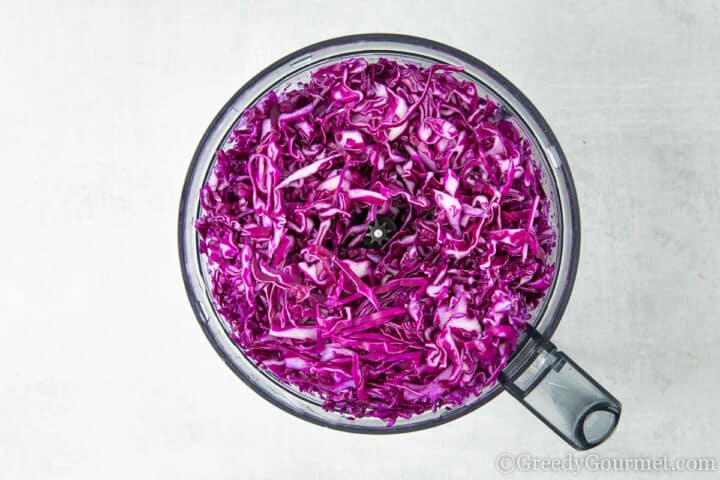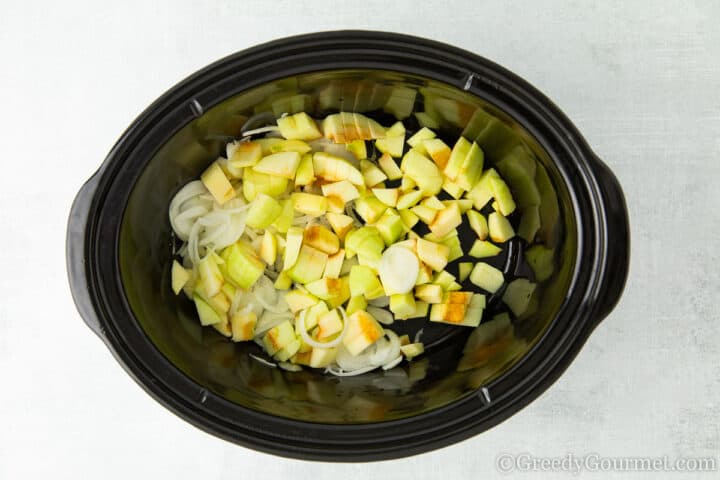 Layer the onions, apples and red cabbage.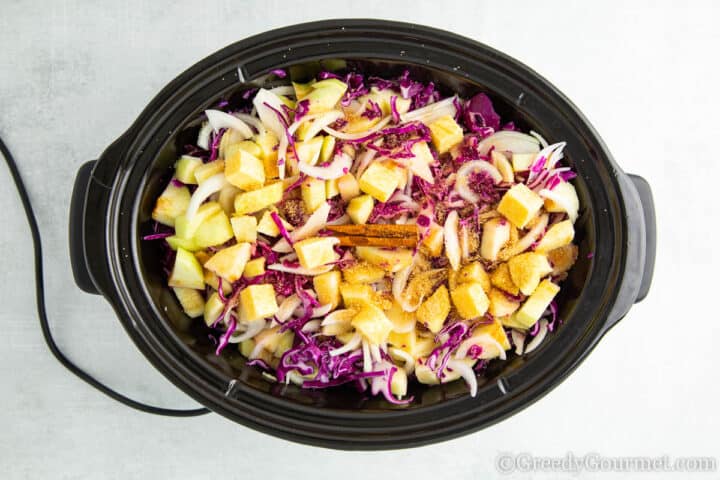 Don't forget the sugar, spice, cider and vinegar!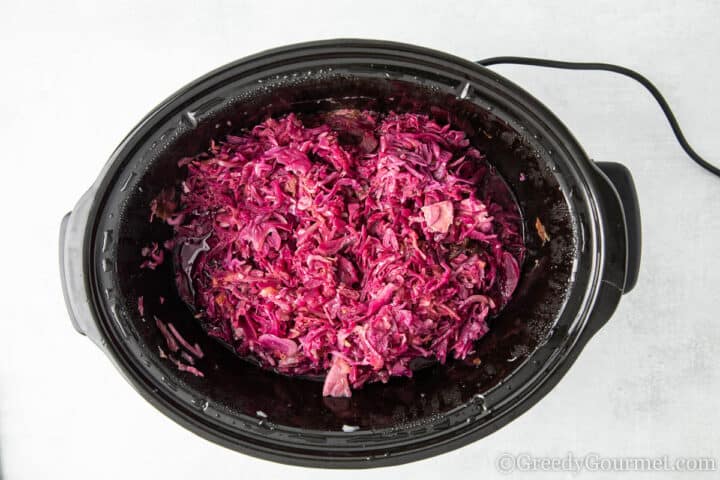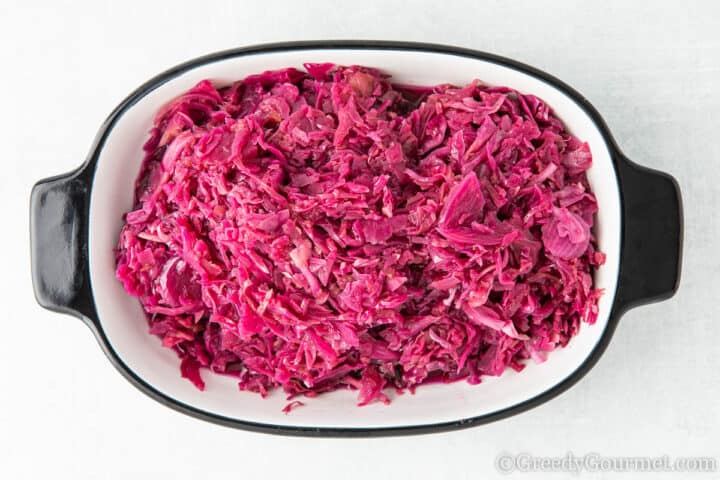 Serve as a side dish for Christmas!
What to Pair with Your Slow Cooker Red Cabbage
Desserts
Salted Caramel Apple Crumble: the hint of apple in this crumble pairs delightfully with the sweet and tart flavours of the slow cooked red cabbage.
Sugar Free Apple Crisp: Get a break from all the rich holiday meals with a bite of this sugar free apple crisp.
Drinks
Apple Cinnamon Infusion: there's nothing that warms the holiday spirit than this drink filled with cinnamon-y goodness.
Carrot Juice: enjoy a healthy drink after indulging during the holiday dinner.
Top Tip
The cooking time can vary depending on the texture you want your slow cooker red cabbage to be. For a firmer red cabbage, cook the red cabbage in the crock pot for less time. For a softer cabbage, cook it in the slow cooker for longer.
Popular Substitutions For This Recipe
Whole30: make this recipe whole30 friendly by skipping the sugar. Use honeycrisp apples instead to get more sweetness in the dish.
Paleo: use coconut sugar instead of granulated sugar.
Vegan: use vegan butter, or skip the addition of butter all together. Some ciders are not vegan-friendly, so use a vegan cider. Or, you can use apple juice. The taste may come out slightly different, but the side dish willl still be delicious!
Red cabbage: use green cabbage instead. The taste will be almost the same. Same with the onions, you can use red onion or white onion.
Apple cider vinegar: white wine vinegar and red wine vinegar can also be used for the braised red cabbage recipe.
Variations To This Recipe
Meaty: the only thing that can make this slow cooker red cabbage more delicious is bacon! Cook red cabbage with a bit of cooked bacon and have a nice smoky flavour in each bite.
Deluxe: take the slow cooker red cabbage to the next level with a hint of port. It will give the dish a huge boost of richness. Not a fan of port? Use balsamic vinegar instead.
Sweet: if you want your red cabbage to be on the sweeter side, add in some dried cranberries or raisins.
Zesty: Add a squeeze of lemon juice to give the dish a nice pop of flavour.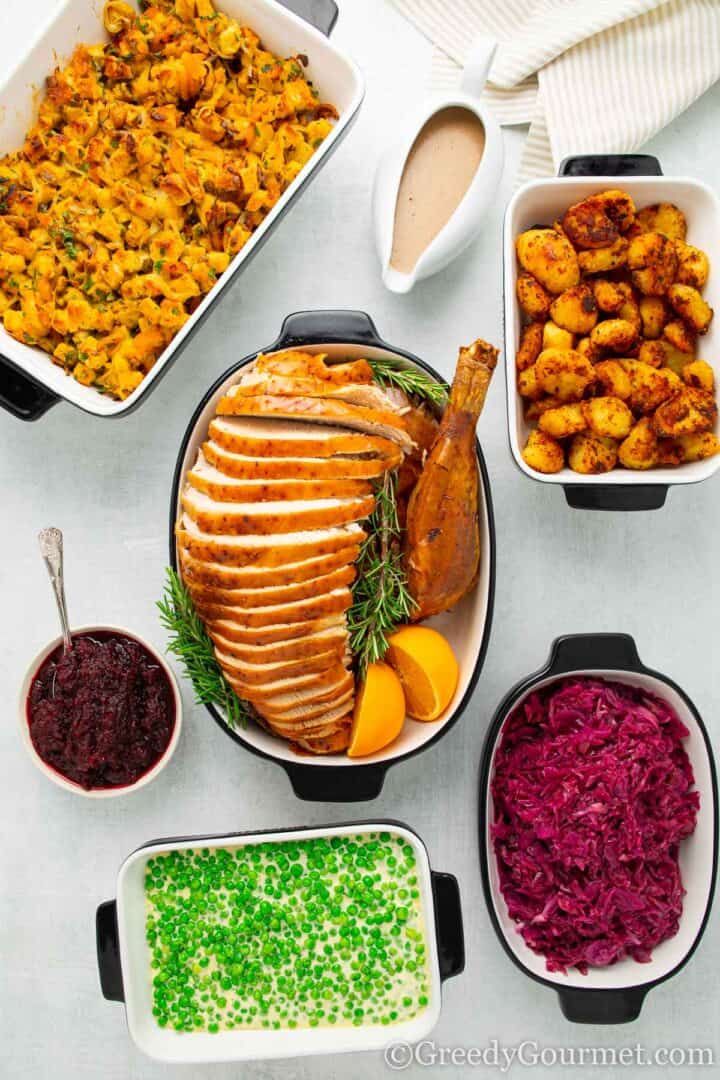 Top Tips
Fill your slow cooker with enough red cabbage that it's about ½ to ¾ full. Having too little food in the slow cooker will cook red cabbage quickly and burn it.
On the other hand, if the slow cooker is overcrowded, then it won't be able to fully cook red cabbage. Or worse, it could overflow!
Cabbage releases water during the cooking process, so you don't want that spilling out of the crock pot.
How do I store leftovers?
Let the slow cooker red cabbage cool completely, then place it in an airtight container in the fridge. It will last about a week in the fridge.
Can I Freeze This Recipe?
Yes! This is a great side dish cuisine to make ahead of time and freeze. Let the slow cooker red cabbage cool completely, then place it in an airtight container. It can last in the freezer for around 2 months! 
Leave it in the fridge overnight to defrost, then reheat it in the microwave or on the stove. 
Can this recipe be scaled?
Yes. You can double the slow cooker red cabbage recipe, but you may need a larger slow cooker to do so. 
This Christmas time recipe can easily be changed to make enough food for the whole family. No matter how big!
Can This Recipe be made in advance?
Absolutely. It is actually better to make the slow cooker red cabbage ahead of time. It takes a few hours to make, and you can keep it warm in the slow cooker until serving.
The slow cooker red cabbage can also last in the fridge for a week and in the freezer for 2 months. So, feel free to make it far ahead of the holiday season! 
Other Slow Cooker Recipes You'll Love
Food Safety
Don't leave the red cabbage in the slow cooker on "warm" for too long. Having food in there for too long can cause mould and bacteria to start growing.
Print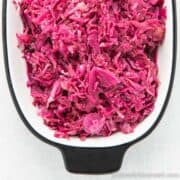 Slow Cooker Red Cabbage
---
Author:

Michelle Minnaar

Total Time:

4 hours 30 minutes

Yield:

8

servings

1

x

Diet:

Gluten Free
Description
Slow cooker Red Cabbage is a tasty Christmas side dish that goes well with roast meat. Cooked low and slow, it is loved by all. 
---
1

kg (2¼lbs) red cabbage, finely sliced

2

onions, finely sliced

4

Granny Smith apples, peeled, cored and chopped

100g

(

½ cup

) granulated sugar

5g

(

2 tsp

) ground mixed spice

45

ml (3 tbsp) apple cider vinegar

250

ml (1 cup) cider

25g

(

2 tbsp

) butter 
---
Instructions
Switch the slow cooker to the Low setting. 
Layer the ingredients in the following order – cabbage, sugar, mixed spice, onion, and apple – ending with a cabbage layer at the top. 
Pour the vinegar and cider all over, then evenly dot the top layer with butter. 
Cover and cook for 4-5 hours until tender. Serve with your favourite Thanksgiving or Christmas dinner. Enjoy!
Notes
A food processor will make the preparation of the vegetables quick and easy, saving you plenty of time!
This is an excellent recipe to make ahead of any special occasion. It keeps up to three days in the fridge and freezes well for 2 months. Simply reheat in a saucepan with a splash of water, if necessary. Otherwise, it can be zapped in the microwave, or covered with foil and reheated in the oven.
Feel free to experiment by substituting different ingredients. E.g. different vinegars, such as balsamic or red wine vinegar. Dark brown sugar will yield a deeper flavour. You can use red or white wine in place of cider. 
Prep Time:

30 minutes

Cook Time:

4 hours

Category:

Side Dish

Method:

Slow Cooker

Cuisine:

British
Keywords: slow cooker red cabbage, slow cooker christmas recipe, christmas side dish, christmas cabbage, slow cooker side dish recipe, red cabbage recipe, red cabbage side dish, thanksgiving side dish recipe