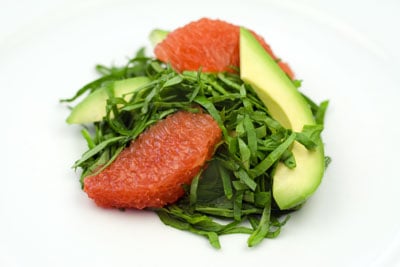 Avocado and grapefruit is just one of those classic combinations in a salad. The seriously rich and green taste of the avo is extremely well complemented by the sweet and fruitiness of the grapefruit. There is no need for salad dressing either, because more than enough grapefruit juice would have accumulated while you were in the process of peeling and segmenting the citrus fruit. Since grapefruit possesses the same qualities as lemon, it will keep the avo from turning brown. To prepare the spinach leaves you use the technique the French call "en chiffonnade", "chiffon" meaning rags. (In Michelle language that would mean "to raggify".) Take a few leaves at a time and roll them into a tight cigar before finely cutting. The leaves unroll into tiny, delicate "rags". The lightness of the salad is unreal and would make an excellent starter.
If you're after a more robust salad, you can add some barley.

Print
Avocado, Grapefruit & Spinach Salad
---
Description
This avocado, grapefruit and spinach salad recipe will take you no time in the kitchen whatsoever. The trick here is to cut all the ingredients evenly. Go for this grapefruit spinach salad and enjoy!
---
1

big bunch of spinach

1

medium avocado

1

large grapefruit, segmented
salt and freshly ground pepper
---
Instructions
Trim stems from spinach leaves well in cold water. Drain and pat dry with paper towel. Place the largest leaf on the chopping board and make a pile of six or so large leaved on top of it. Roll up the leaves lengthwise, like a cigarette, and cut into tiny strips about 0.5cm (¼ inch) wide. Continue with remaining leaves, until they are all finely sliced.
Segment the grapefruit as follows: Cut a thick slice off both ends of the grapefruit. Stand the grapefruit onto a cutting board and use a sharp knife to cut away the peel of the fruit, ensuring not to cut off too much flesh. Hold the grapefruit over a bowl to catch any juices, and carefully cut out the segments allowing them to drop into the bowl with the juice. Avoid the core of the fruit and its seeds. Squeeze any remaining juice from the remaining segment of the grapefruit and discard it. Set grapefruit segments and juice aside.
Peel the avocado and slice into thin wedges.
Combine all the ingredients, drizzle over the grapefruit juice, toss well and serve.
Notes
Pink grapefruit was used in this instance, but other varieties work just as well.
Nutrition
Serving Size:

1 serving

Calories:

246

Sugar:

12.7 g

Sodium:

168 mg

Fat:

14.3 g

Saturated Fat:

2 g

Carbohydrates:

28.3 g

Fiber:

11.7 g

Protein:

8.3 g