Have you ever heard of black garlic? Neither have I before now.
As an avid cook, I'm always on the lookout for new ingredients and when I was offered a sample of black garlic I just couldn't refuse. There were questions swimming around in my head that needed answering…
What does black garlic look like?
In bulb form, it doesn't look much different except that the white outer layers have a slightly brown sheen. However, the cloves inside are the deepest brown you can ever imagine – almost black. The flesh feels squidgy and slightly oily.
What does black garlic taste like?
Ah, the taste test. Feeling a bit wimpy I dared a friend to taste a slice with me. Standing in the kitchen with a thin slice each I started counting down….three…two…what?! She already put it in her mouth! Brave girl.
The taste is difficult to describe. Definitely pungent. Definitely garlic. Sweet. Sour. Serious. A favourite line of mine:
"Liquorice gone wrong."
Is black garlic healthy?
Yes! Black garlic is made with no additives. Of course, it contains all the health benefits of regular garlic but it also acts as a natural occurring antibiotic and anti-fungal qualities. Lastly, black garlic contains double the anti-oxidants regular garlic does.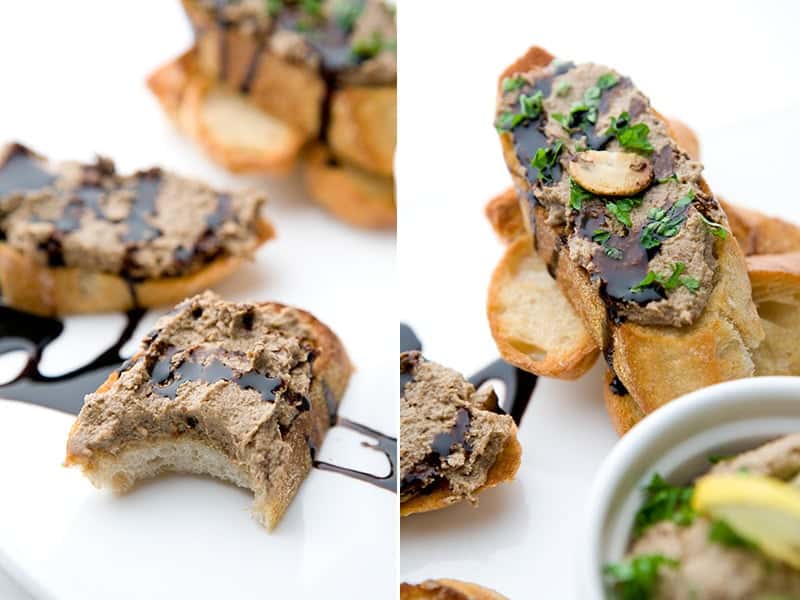 As for my mushroom and black garlic pâté, I struggled to taste the key ingredient. Maybe more cloves would have done the trick. It still tasted darn good though!
If all else fails and you can't get hold of black garlic you can use regular garlic in this recipe instead – just half the amount use because its flavour is much more powerful than its aged peer.
Love pate recipes? Check out this chicken liver pate.
Print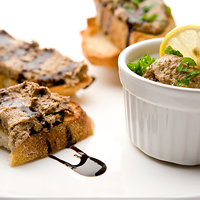 Mushroom & Black Garlic Pâté
---
40

g

(1 1/2 oz) butter

15

ml

(1 tbsp) oil

1

onion, chopped

4

black garlic cloves

450

g

(1 lb) button or field mushrooms, washed and sliced

15

g

(1/2 oz) dried porcini mushrooms, soaked for 30 minutes then drained

15

ml

(1 tbsp) lemon juice

45

ml

(3 tbsp) ricotta cheese

45

ml

(3 tbsp) cream cheese
---
Instructions
Heat the butter and oil in a large frying pan and fry the onions and garlic for 5-6 minutes until softened.
Add the mushrooms and porcini, and cook over a medium heat for 10 minutes until most of the liquid has evaporated.
Leave to cool.
Coarsely blend the mushroom mixture with the lemon juice, ricotta and cream cheese in a food processor.
Season, to taste, then spoon into a serving dish. Cover and refrigerate for 2 hours to firm.
Notes
Crostini goes beautifully with this pâté. Otherwise enjoy with your favourite crusty bread.
Drizzle some balsamic vinegar reduction over the pâté for extra sweetness.
If you can't get hold of black garlic, you can easily use half the amount of standard garlic in the recipe instead.
Large flat mushrooms have more flavor than the smaller button mushrooms.
If you don't like a strong mushroom flavour, omit the porcini mushrooms.
Prep Time:

20 minutes

Cook Time:

20 minutes
Nutrition
Serving Size:

1 serving

Calories:

254

Sugar:

1.8 g

Sodium:

562 mg

Fat:

20.1 g

Saturated Fat:

10.3 g

Carbohydrates:

13.7 g

Protein:

5 g

Cholesterol:

41 mg