Delightfully simple and tremendously tasty, Cajun chicken pasta is a quickfire midweek meal to please the whole family!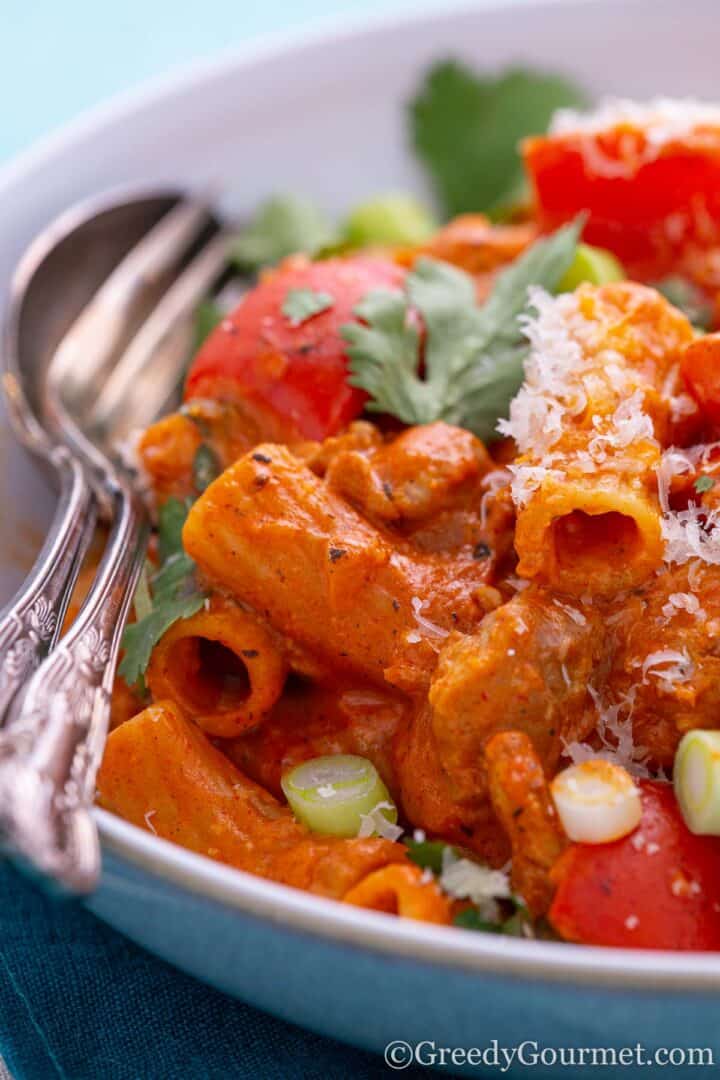 A fresh, healthy, delicious meal in 25 minutes tops? What's not to like?
Products you need for this recipe
There are a few essential items you'll need to get the best out of this Cajun chicken pasta recipe: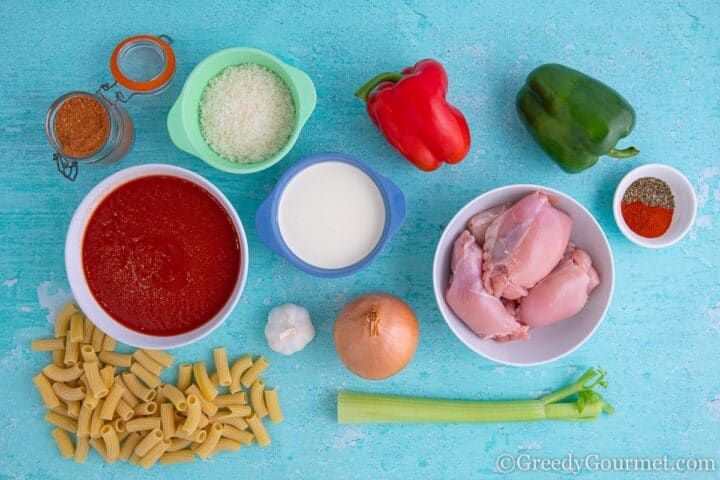 Cajun chicken pasta recipe
This dish is a delicious one-pan wonder! Creamy Cajun chicken mixed with smoky, spicy Cajun seasoning and pasta, for a marvelous midweek meal.
Simple ingredients, minimal preparation and a quick cook time from start to finish make this pasta dish perfect for those without much time on their hands.
Where this dish really excels is in the sublime mix of creaminess and spiciness!
Homemade Cajun seasoning
An essential part of this Cajun chicken pasta recipe is my homemade Cajun seasoning. It's like a smoky flavor bomb and takes a humble chicken pasta dish to a different dimension!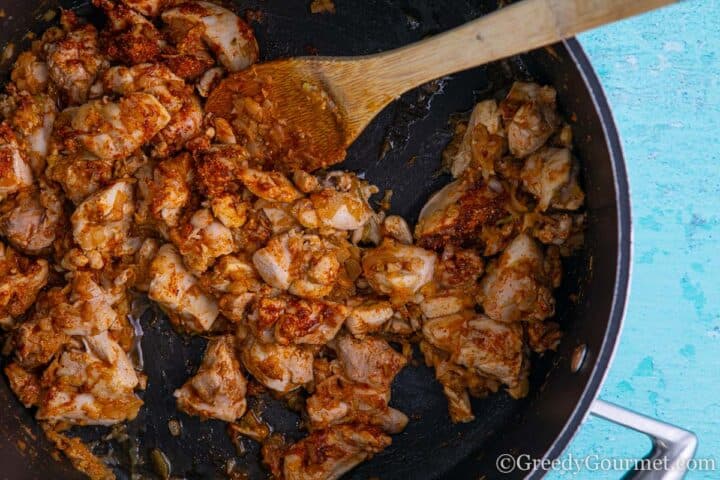 What is Cajun seasoning made of?
Is this dish spicy?
Not particularly. There's none of that chili heat that can put many people off. Instead, you get a nice, warm smokiness. 
Also, this is creamy Cajun chicken we're talking about – the creaminess of the dish balances with the smoky seasoning to reduce the heat.
What kind of seasoning can I use instead of Cajun seasoning?
For me, the homemade Cajun seasoning is key. It's got a very specific balance of flavors that works so well with the chicken and the creamy sauce.
Still, if you do want to try something different, you can always opt for creole seasoning. It contains chili powder, so it will bring a little more heat.
If you want a milder flavor, go for ranch seasoning in place of Cajun, or leave out the paprika and cayenne pepper altogether. 
Can this recipe be made in advance?
Yes! Like a lot of saucy, spicy dishes, this recipe just gets better when you let the flavors get to know each other.
So, by all means make Cajun chicken pasta a day before, two days at a push. Just make sure you store it properly.
Keep in mind that the pasta will soak up a lot of the sauce. This means a less creamy sauce if you make it in advance and serve it later.
One way around this is to cook everything except the pasta. Then, when you want to serve the dish, add the pasta and the rest of the ingredients to the pan and cook until the pasta is ready. 
How do you store leftover Cajun chicken pasta?
You'll need to store your leftovers in an airtight container and keep them in the fridge. They'll stay fresh for 2–3 days, although I'd challenge you not to devour them before then!
Can you freeze it?
Yes, you can. Cajun chicken pasta will stay fresh in the freezer for up to 6 months, although around the 3-month mark the flavor and texture will start to suffer.
Also, creamy cajun chicken doesn't freeze that great. The less creamy it is, the better it will freeze.
Make sure it has fully cooled before freezing. Place the contents in an airtight freezer-safe container and freeze straight away. You can also freeze it in individual portions if you've made a large batch and only want to defrost a certain amount at a time.
When defrosting, defrost it in the fridge, preferably overnight. If you don't have time, you can defrost it in a bowl of cool water, changing the water every 30–45 minutes until fully defrosted.
How do you reheat Cajun chicken pasta?
I recommended using a double boiler. It's the best way to gently reheat leftovers without affecting the taste and texture too much. 
You could also reheat your Cajun chicken pasta leftovers in a large saucepan or frying pan. You might find that the sauce becomes too thick, leading to a dry dish. If this happens, try adding a splash of milk or cream, or a little bit of stock.  
What pasta should I use?
When it comes to which pasta to use with this dish, there are lots of different options:
Penne
The classic pasta to pair with chicken, penne pasta comes in the shape of small tubes and is terrifically versatile. Perfect for rich, creamy or tomato-based dishes and excellent for absorbing sauce. 
Farfalle 
These little bow-ties are great with Cajun chicken and are widely available. As they look like little butterflies, kids love them too!
Spaghetti
You associate this type of pasta more with a carbonara or a bolognese. Still, if you're a sucker for spaghetti, you're going to love it in this creamy Cajun chicken dish.
Linguine
Like a flatter, fatter spaghetti, linguine is a great option if you fancy getting your fork twirling skills on the go. Excellent with creamy dishes, although it's not the most common type of pasta to serve with Cajun chicken.
Pappardelle
A large, very flat ribbon type pasta, pappardelle isn't as widely known or available as the above, but it tastes fantastic. The wide surface area makes them perfect when paired with rich sauces, usually a ragu, but they'd go great with creamy Cajun chicken too.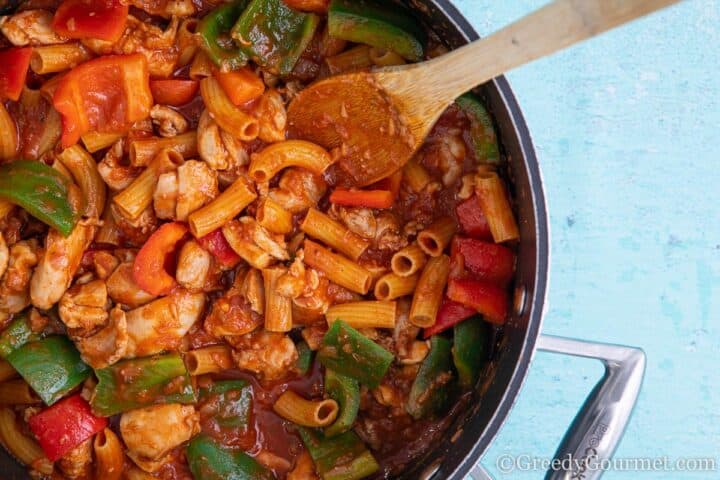 Variations on this recipe
We've all got different tastes, right? Well, luckily this recipe is not only downright delicious, it's also very flexible and highly adaptable.
Aside from picking your preferred pasta type, there are lots of ways to change up this recipe and tailor it to your taste buds. Here are a few suggestions:
Turn up (or down) the heat
Some like it hot, while others prefer it mellow. Either way, you can easily adapt this recipe to get just the right amount of heat.
For heat junkies, double the amount of cayenne called for in the recipe, or add a teaspoon of hot chili powder.
For those looking to dial it down a notch, halve the cayenne pepper or leave it out altogether. If you're completely averse to spices, leave out the smoked paprika too.
Make it more or less creamy
This is supposed to be a creamy Cajun chicken recipe, right? Just how creamy is up to you.
If you want it creamier, add an extra 50% of the amount of heavy cream called for. Be careful though! You don't want to go overboard. Too much cream will detract from the Cajun flavors.
To make this dish less creamy, you can either halve the amount of cream called for or you can use single cream. You could also use any kind of low fat alternative, like a low fat cream cheese.
Add some extra star quality
Now we're talking! If you want to take that wow factor through the roof and go full indulgent mode, there are a few things you could do.
First of all, as mentioned in the recipe, add a final dusting of grated Parmesan cheese on top. For real luxury, use a quality aged Parmesan cheese. The flavor will blow you away!
Smoked sausage is another option. Go for a Cajun sausage – something like andouille would be perfect. Just chop it up and add it at the same time as the peppers and spices. Another sausage that would bring amazing flavor is Spanish chorizo.
While we're talking star quality, let's talk bacon. Chopped bacon in a pasta dish never fails to raise the flavor level. It works perfectly with chicken and spice, not to mention the creaminess.
Finally, for a little hit of rich umami flavor, look no further than a splash of good old Worcestershire sauce!
Go surf and turf
If you know anything about Cajun food, you'll know that Cajun spices and seafood are a match made in heaven. So, if you want to take this dish to the next level while keeping that authentic Cajun style, add some delicious shrimp.
Make it veggie
For meat-free foodies, replace the chicken with a meaty mushroom, tofu, seitan or jackfruit.
Add some zest
Grate in some lemon zest to add some citrus flavor into the mix.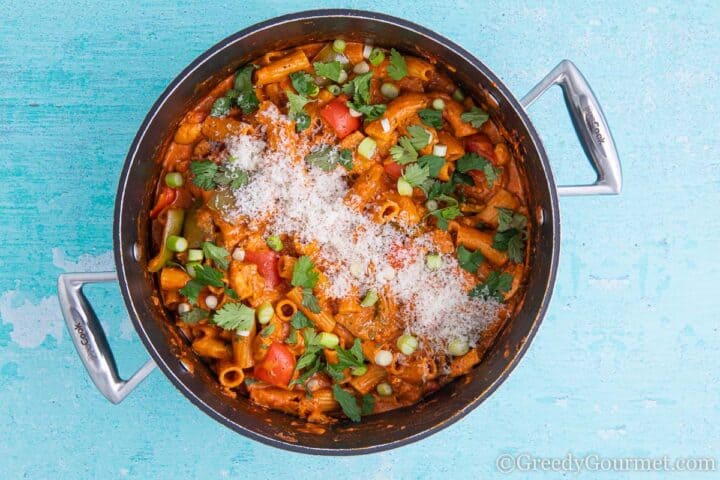 What to serve with Cajun chicken pasta
Go for a fresh, simple salad – something like a cucumber ribbon salad, a pear and rocket salad or a Caprese salad would be perfect.
If you're really in the mood for a feast, serve your creamy Cajun chicken pasta with some homemade garlic bread.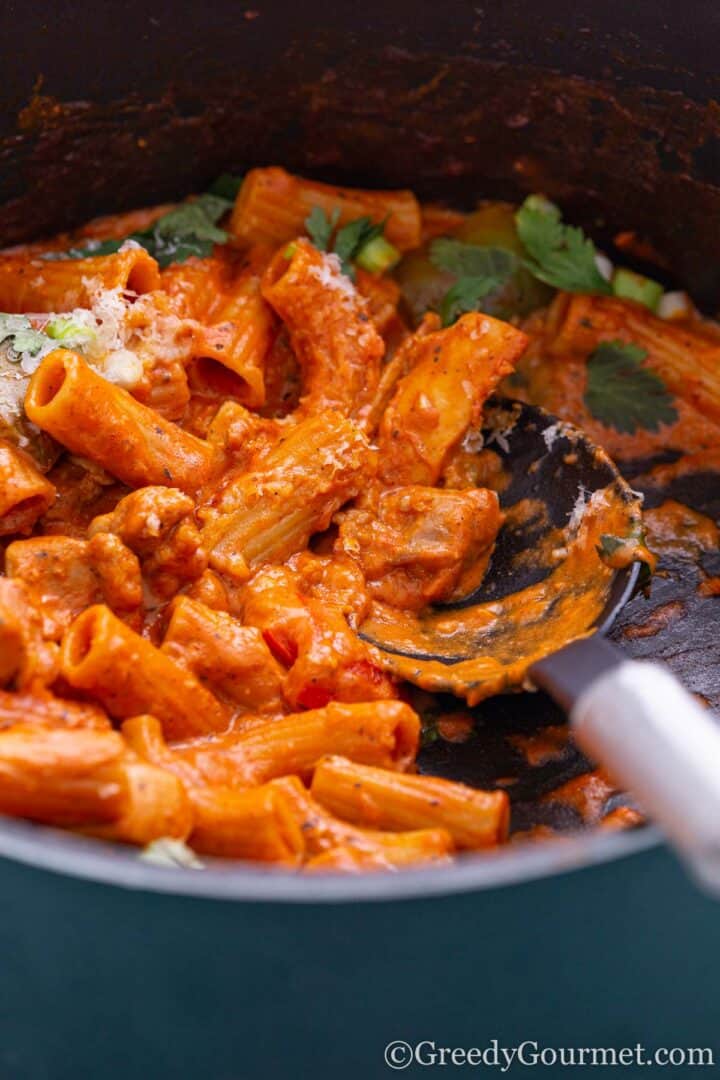 More amazing chicken recipes
After you've mastered this Cajun chicken pasta, why not give these a go?
Chicken chaat
Sous vide fried chicken
Sous vide chicken breast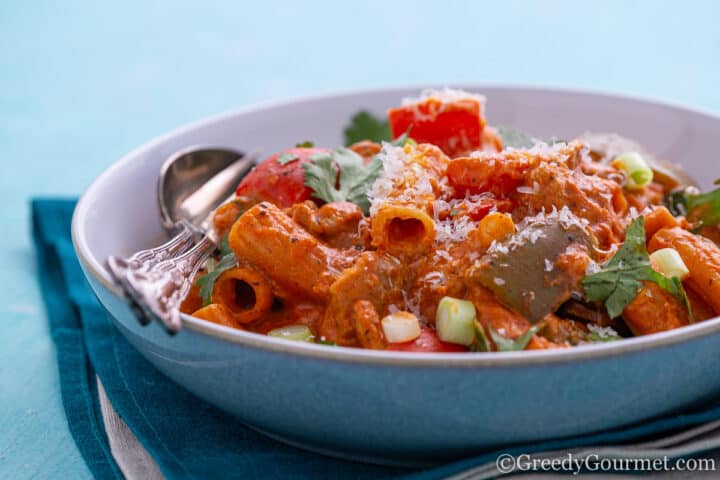 GIVEAWAY
One winner will receive (5) tubes of Hlthpunk condiments!
Hlthpunk is a small family of delicious planet-friendly, organic, plant-based condiments, including the world's first oat-based vegan mayo, special harissa, delicious Dijon mustard, Italian tomato double concentrate, and the impossibly awesome UFO burger sauce to tantalise your taste buds and punk your health. All created at the kitchen table by brothers Richard and Laurence Lassallle and delivered in art-forward re-cyclable packaging.
Hlthpunk's Organic Creamy Style Burger Sauce with our special vegan oat-based mayonnaise, tomato and mustard… We've taken the best of everything and combined it into this awesome secret UFO sauce that will take you to the impossible and beyond!
Made with a combination of our Bionnaise, Hot Dijon Mustard, Tomato paste and a dash of cayenne, this plant-based secret sauce is chock full of deliciousness. Dip the fries, slather the burger, dollop on small bites and, pretty much everything!
A line of delicious planet-friendly, organic, plant-based condiments, including the world's first oat based vegan mayo and the impossibly awesome UFO burger sauce that tantalise your taste buds and punk your health. Question everything and choose freely. #EatWhatUBelieve

Hlthpunk Highlights:
all certified Organic under the Soil Association
100% plant-based
recyclable packaging and a 2% giveback to the farming community
all recipes were created at the kitchen table by ourselves and packaging design done in house also
made in Switzerland to the highest environmental standards
art forward brand - designed to look great on the kitchen table
a Rafflecopter giveaway
HELP
Here you can find a tutorial on how to enter with Rafflecopter.
If your form is not showing, try refreshing the page.
Complete the form, otherwise your entries will not count.
Make sure the mandatory entries (e.g. leave a blog comment) are completed first.
Don't forget to come back daily for extra entries via Twitter.
If you're viewing this post by email, please come to the actual webpage to enter.
Competition Question: What is your favourite way to add flavour to pasta dishes?
Print
Cajun Chicken Pasta
---
Author:

Michelle Minnaar

Total Time:

50 minutes

Yield:

4

servings

1

x

Diet:

Halal
Description
Add a spicy kick to your pasta and learn how to make this delicious Cajun Chicken Pasta. This tasty dish is easy to make and will delight the whole family. 
---
600

g

(1.3lbs) boneless skinless chicken thighs, chopped

15

g

(2 tbsp) Cajun seasoning

15

ml

(1 tbsp) olive oil

1

onion, finely chopped

1

celery stalk, finely chopped

4

garlic cloves, crushed

1

red pepper, cut into chunks

1

green pepper, cut into chunks

2

g

(1 tsp) smoked paprika

1

g

(1/2 tsp) dried basil

225

g

(1/2lb) dried pasta

450

g

(1lbs) passata

500

ml

(2 cups) chicken stock

125

ml

(1/2 cup) double cream

22

g

(4 tbsp) parmesan, grated

4

spring onions, finely chopped
cilantro, for garnishing
---
Instructions
Place the chicken and Cajun spice in a bowl and stir to coat the chicken evenly with the spice. Set aside. 
Heat the oil in a large frying pan or skillet. Gently fry the onion and celery until softened and translucent. 
Turn up the heat to medium high and add the chicken, searing the meat as you stir. 
When the chicken is more or less browned, add the garlic and fry for 2 minutes while stirring. 
Add the peppers, smoked paprika and basil, then stir fry for another 3 minutes. 
Tip in the pasta and stir. 
Turn up the heat, then pour in the passata and chicken stock. Give it a stir so that all flavours mingle, then wait until a low simmering point is reached. 
Cover with a lid and cook for 15 minutes or until the pasta is al dente. 
Stir in the double cream and let it bubble away for 2 minutes. 
Remove from the heat, then sprinkle with parmesan, spring onions and cilantro. 
Serve immediately. Enjoy!
Notes
Feel free to use as much or little of Cajun seasoning as you desire. 
Don't fry the chicken on too high a temperature. Cajun seasoning burns very easily. 
Chicken thighs are so much juicier and flavourful than chicken breast. That said, the latter will also work in this recipe. Turkey too!
I used rigatoni pasta in this recipe, but almost any type of pasta will work. Keep in mind though, that smaller pasta shapes need a shorter cooking time, so keep an eye on it!
If you find you have plenty of double cream leftover after this recipe, don't let it go to waste! Try one of my other recipes that includes double cream!
Prep Time:

15 minutes

Cook Time:

35 minutes

Category:

Dinner

Method:

Simmer

Cuisine:

American
Keywords: cajun chicken pasta, creamy cajun chicken pasta recipe, one pot cajun chicken pasta, one pot meal, easy chicken pasta recipe, family dinner recipe, how to make cajun chicken pasta