A light, healthy, easy and supremely tasty meal, this aubergine salad is like a wonderfully fresh taste of Italy, whipped up in your very own kitchen.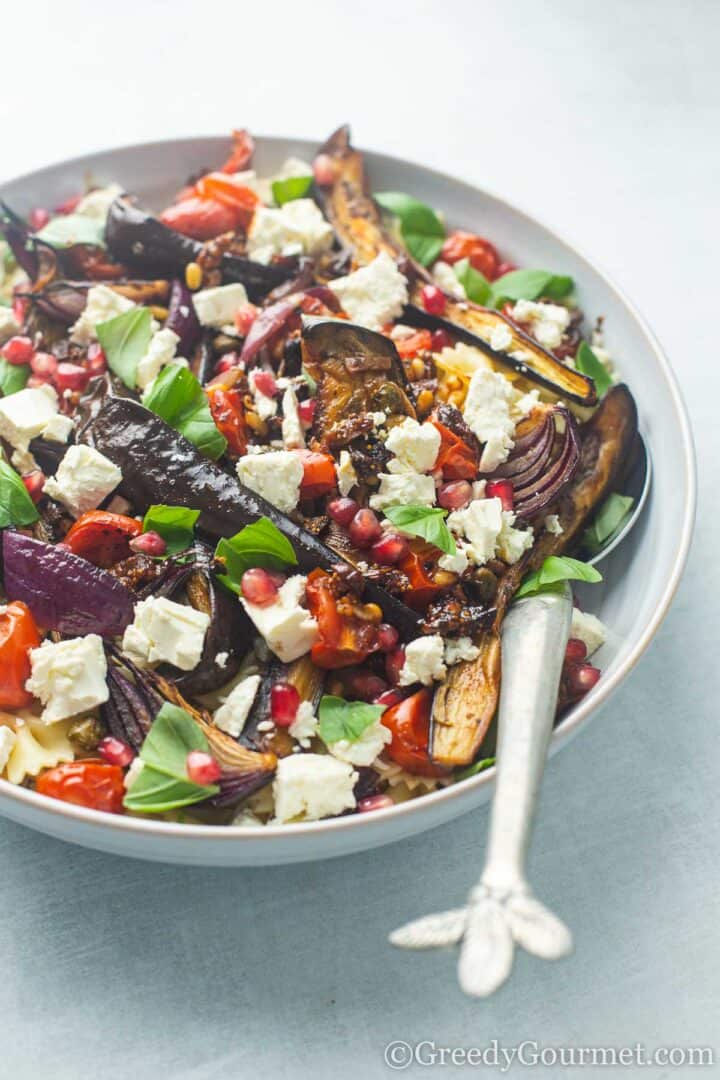 There's something so satisfying about a simple salad that relies on good, simple produce. This salad has got a lot going on flavourwise, yet it all comes together in glorious Greedy Gourmet fashion. Are you ready to make aubergine salad? Let's go!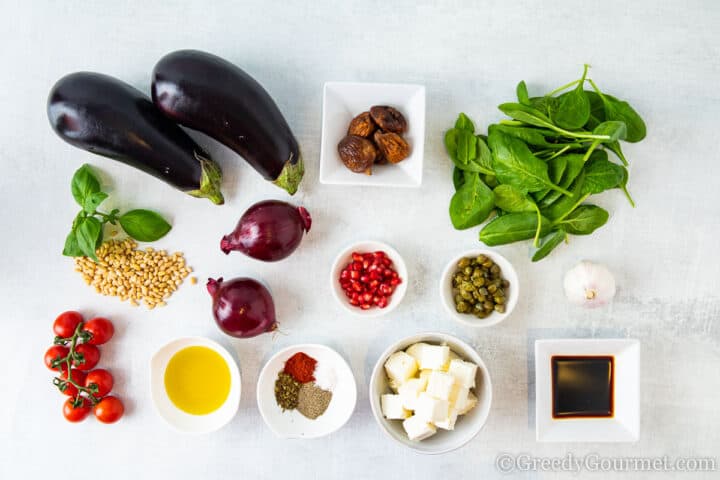 Equipment needed to make this recipe
Before we get started, here are some important kitchen items you'll need to make this roasted aubergine salad:
Large mixing bowl – essential for any kind of salad, a large mixing bowl is the best way to get all your ingredients mixed together
Knife and chopping board – a sharp quality knife and a sturdy chopping board are an essential combo for any foodie
Baking tray – you'll need a quality baking tray to roast your aubergine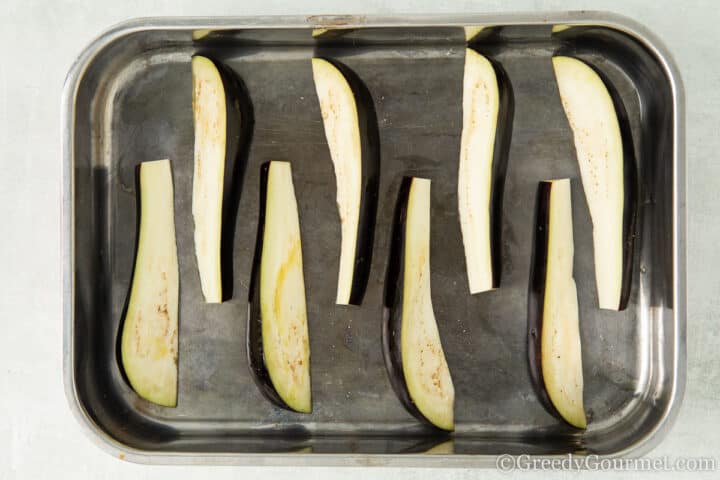 Aubergine salad recipe
A deliciously fresh and fabulous salad, this aubergine salad is the perfect healthy meal for vegetarians, vegans and meat lovers alike.
There's so much flavour going on here – from the wonderful aubergines and the juicy cherry tomatoes to the paprika, chilli flakes, pine nuts, capers and dried figs. It's a salad that's filling, easy to make and hugely satisfying. You're going to love it!
Why you'll love this recipe
Lots of great complementary flavours
Light and healthy
Easy to make
Uses fresh, tasty ingredients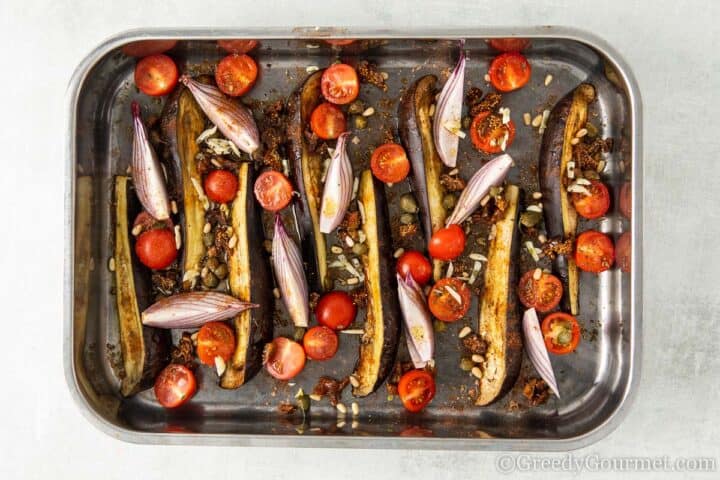 Are aubergine and eggplant the same thing?
Yes they are! Known as 'eggplant' in the US and 'aubergine' in the UK. The word Aubergine is French, while eggplant was named by those in the US when it was first brought over to North America, as this version was the white kind that resembled an eggshell.
Aubergine is a member of the Nightshade family – which conjures up thoughts of 'deadly nightshade.' Don't worry… aubergine is harmless, in fact it's extremely good for you.
Plus, other members of the nightshade family include tomatoes, potatoes and bell peppers.
Is it a fruit or a vegetable?
A common misconception is that aubergine is a vegetable. In fact, it's a fruit!
It's easy to understand why people think it's a vegetable. It has a somewhat savoury and is cooked like a vegetable.
However, just like its cousin the tomato, an aubergine is a vegetable. In fact, botanically speaking, it's a berry!
You might find that berry hard to believe, but no matter… the important thing is that it's delicious, it's healthy and it's readily available. 
How do you roast an aubergine?
Roasting an aubergine is easy! You just need to remove the top, cut it into wedges, place on a baking tray and season with salt and pepper. The salt draws the moisture out during the roasting process, preventing them from turning soggy.
This is why you resist the temptation to drizzle them with olive oil. It might seem like a good idea, but you'll end up with a soggy aubergine – no one's idea of a good time!
What's the best pasta to use for an aubergine salad?
For me, farfalle is the best pasta for this salad. The classic little bows look pretty in a salad and mix in well with the other ingredients.
What herbs go best with this salad?
I've gone with a handful of fresh basil to finish this salad off. It's one of the most fragrant herbs and works a treat with the flavours in this salad, including the garlic, olive oil, tomatoes, pine nuts and, of course, the aubergine.
There's also oregano in the dressing, which brings a sweet earthy scent.
Should I serve this salad hot or cold?
Hot or cold – either way this salad is delicious.
Can I serve it as a side?
Absolutely! This salad can work either as a main or as a side salad. Serve it with a quiche, grilled chicken, grilled fish or pan fried duck breast.
How do I store leftovers?
How long will this food last in the fridge?
You can store your roasted eggplant leftovers for up to four days.
Can I freeze this recipe?
Yes you can! It won't taste as fresh as it used to, but freezing eggplant salad is a great way to extend its shelf life. Just be sure to keep it in an airtight container in the freezer.
How do I thaw this dish?
Thaw your frozen roasted eggplant salad in the fridge overnight. The slower it defrosts, the less the flavour and texture will be affected.
What to serve with this roasted aubergine salad
Desserts
A light fruity dessert would be the best way to follow up this salad. 
Wine
Go for a crisp, light white wine to bring the best out of this roasted eggplant salad.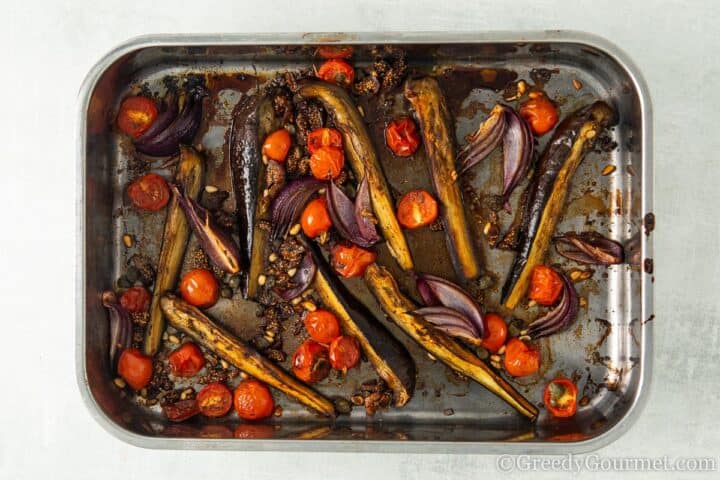 Popular substitutions for this recipe
Pasta, rice or lentils
In place of farfalle, you could also go for orzo, which are like large grains of rice, or if you prefer something longer and nuttier, go for farro, which has undertones of oats and barley and would work really well with this roasted aubergine salad.
If pasta doesn't float your boat, cook up some wholegrain rice or puy lentils and stir them in. Puy lentils are especially great – they bring a real earthy taste to any kind of salad.
Dressing
The sauce is pretty damn tasty, I have to say! If, however, you'd like to bring a different flavour angle to it, go ahead!
As extras, I'd recommend adding a squeeze of lemon juice for some extra zestiness, a splash of red wine vinegar alongside the balsamic and a sprinkle of other fresh herbs such as thyme or parsley.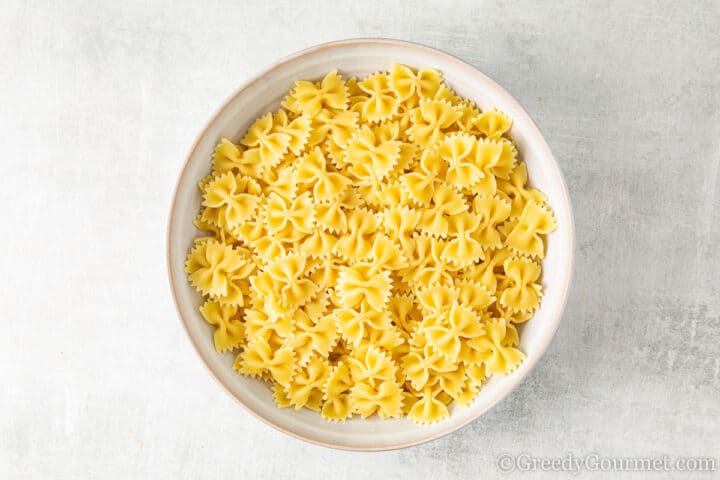 More scrumptious salads
When all you want is something light, healthy and delicious, a really good, inventive salad is the order of the day. For anyone who thinks salads are boring, fix them up one of these and watch them eat the salad and their words.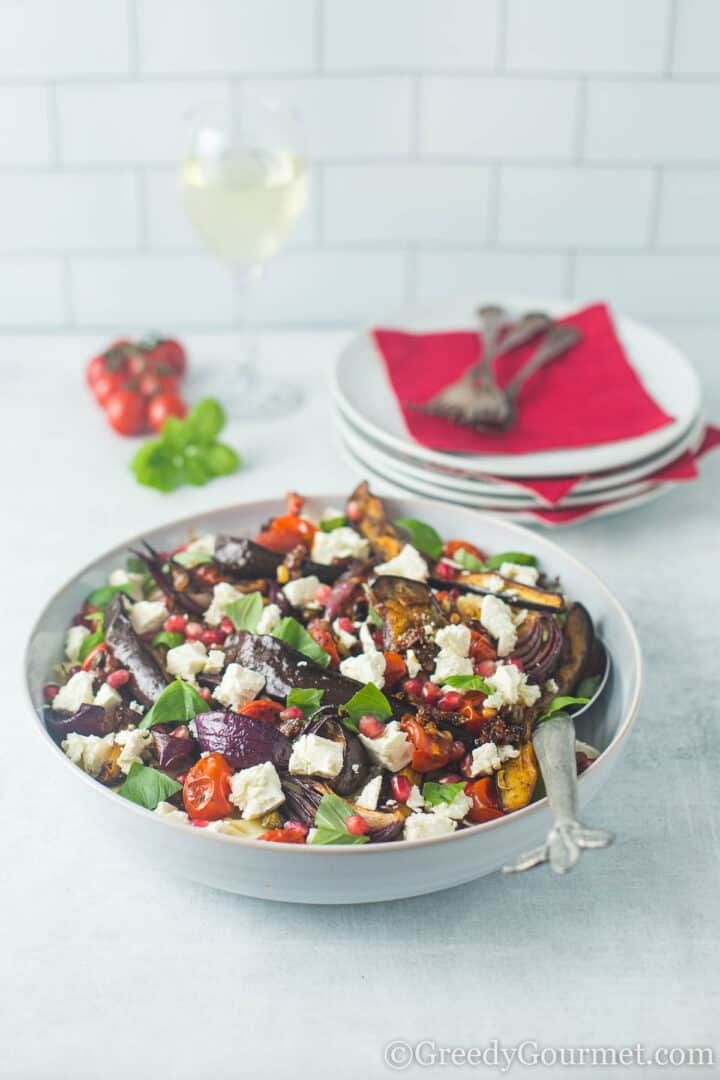 More ways with aubergine
Can't get enough of this wonderful versatile, totally underrated ingredient? Here are some more delicious recipes to you inspire you: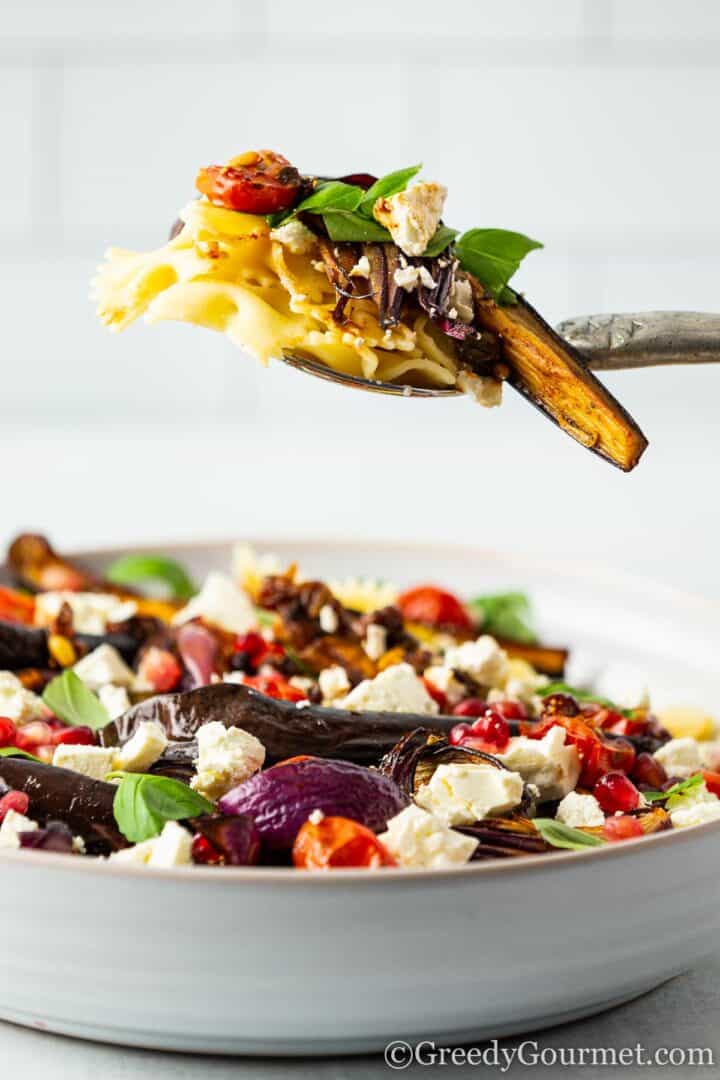 Print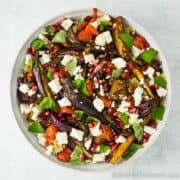 Aubergine Salad
---
Author:

Michelle Minnaar

Total Time:

50 minutes

Yield:

4

servings

1

x

Diet:

Vegan
Description
This flavourful Aubergine Salad makes one light, tasty and quick lunch. It includes pasta, pomegranate cheese and herbs. 
---
Salad Dressing
Roasted Vegetables
1

aubergine, cut into

8

wedges and top removed

1

medium red onion, cut into

8

wedges, skinned and root removed

12

cherry tomatoes, halved

12

g

(1 1/2 tbsp) capers

8

g

(1 tbsp) pine nuts

2

dry figs, finely chopped
To Serve
200

g

(2 cups) farfalle pasta (or 1 cup of orzo or faro)

200

g

(1 pack) vegan feta cheese

40

g

(1/4 cup) pomegranate arils
a handful of basil leaves
---
Instructions
Preheat the oven to 200°C/180° fan/390°F/ Gas mark 6.
For the Salad Dressing: In a large bowl, mix together all the ingredients for the sauce, apart from the balsamic vinegar. Set aside.
For the Roasted Vegetables: Lay the aubergine on a baking tray and place in the oven for 20 minutes turning half way through.
Add the remaining vegetables to the tray.
Pour the sauce over the vegetables and then toss the vegetables vigorously until all surfaces are covered.
Transfer to the oven and cook for another 20 minutes. Halfway through, drizzle over the balsamic vinegar and mix, then cook for the remaining allotted time.
While the vegetables are roasting, cook the pasta as per instructions on the packaging.
Remove the vegetables from the oven and set aside to cool.
Portion up the pasta and top with the roasted vegetables.
To Serve: crumble over the feta, sprinkle with the pomegranate arils and top with basil leaves.
This salad is delicious, warm or cold, Enjoy!
Prep Time:

10 minutes

Cook Time:

40 minutes

Category:

Main

Method:

Roast

Cuisine:

Mediterranean
Keywords: Aubergine Salad, vegan eggplant Salad Recipe, Roasted vegetable Salad, Pasta Salad recipe, Mediterranean Salad, Mediterranean Recipes, Aubergine Recipes, eggplant salad, roasted eggplant recipe