Give your vitamin levels a boost with this delicious creamy apple salad with pecans and dried cherries. This salad is the perfect combination of flavours; acidity from the apple, sweetness from the dried fruit and nuttiness from the pecans. Together in one bite, it makes a flavourful and a texturous salad. You can easily add your favourite fruit, nut or spice. This apple salad is also vegan friendly – all you need to do is use dairy free alternatives.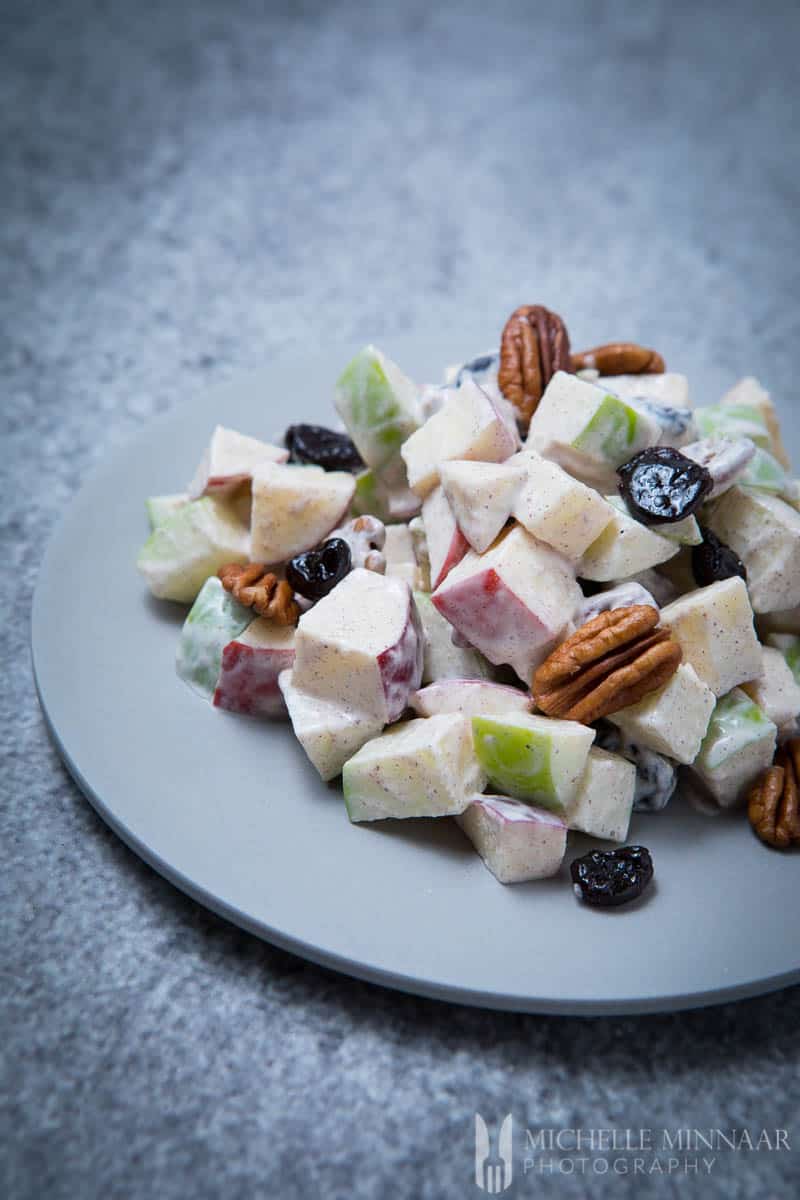 it's an apple salad – you'll need apples!
What are the best type of apples to use for an apple salad? The honest answer is, it varies on the type of salad you want to prepare. Similarly to potatoes with their wax and starch content, apples too have their own texture. Not all apples are fit for a salad as they possess granular textures, which don't make them pleasant if eaten raw. These 'soft' types of apples are best for baking or roasting. If you've bit into one of your apples at home and you found it too soft, just use it for a baking recipe as I did with my baked apples stuffed with almonds, honey and cinnamon.
Now, as this is an apple recipe where you'll need to cut the apples up into small cubes, you'll need apples that don't brown too quickly. In addition, two types of apples are required – red and green apples. So, for the red apples, it is best to use either of these: Gala, Golden Delicious, Fuji, Cameo and Sweet Tango. You can also use Pink Lady, but it's better for baking in apple tarts. The Gala apple, Golden Delicious apple and Cameo apple are sweet and crisp, everything you'd want in a fresh apple salad. The Fuji apple is also crisp and sweet, but it's also more juicy. The Sweet Tango apple is a ross between the Zestar and Honeycrisp apple, it is firm and tangy.
As for the green apple, the best type of apple would be the classic Granny Smith apple. It's tangy and acidic, also excellent for baking or cooking.
So, which apples have you got at home?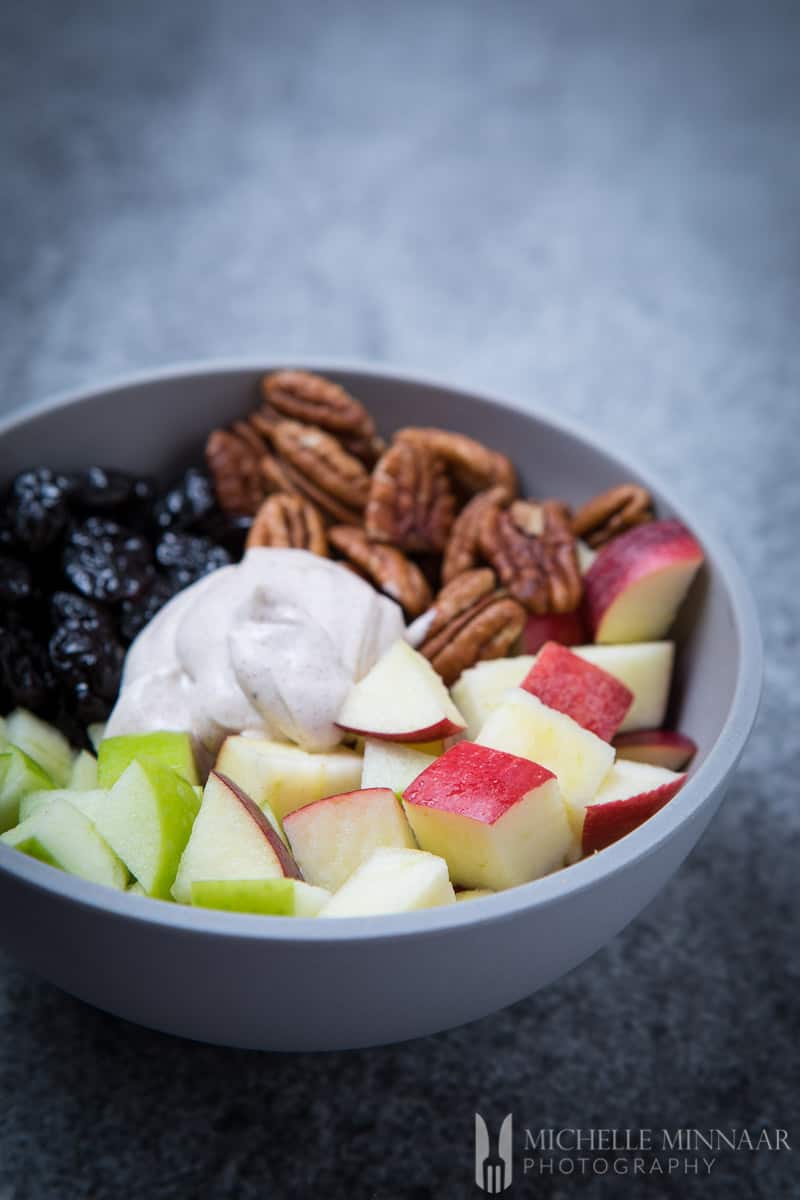 how to prevent apples from browning
There are techniques out there to prevent apples from browning. These will come in very handy once you start cutting the apples into small cubes. You can try some of these classic but effective techniques at home:
Cut the apples in cold water
Soak the apple cubes in salted water – I tried this one and it actually works! Plus, if you are going for a savoury meal, the salt is ever more fitting!
Soak or brush the apple cubes in lemon water
Soak the apple cubes in ginger ale
If you are cutting the apple into long slices, simply put the apple back together with a rubber band.
I hope this helps!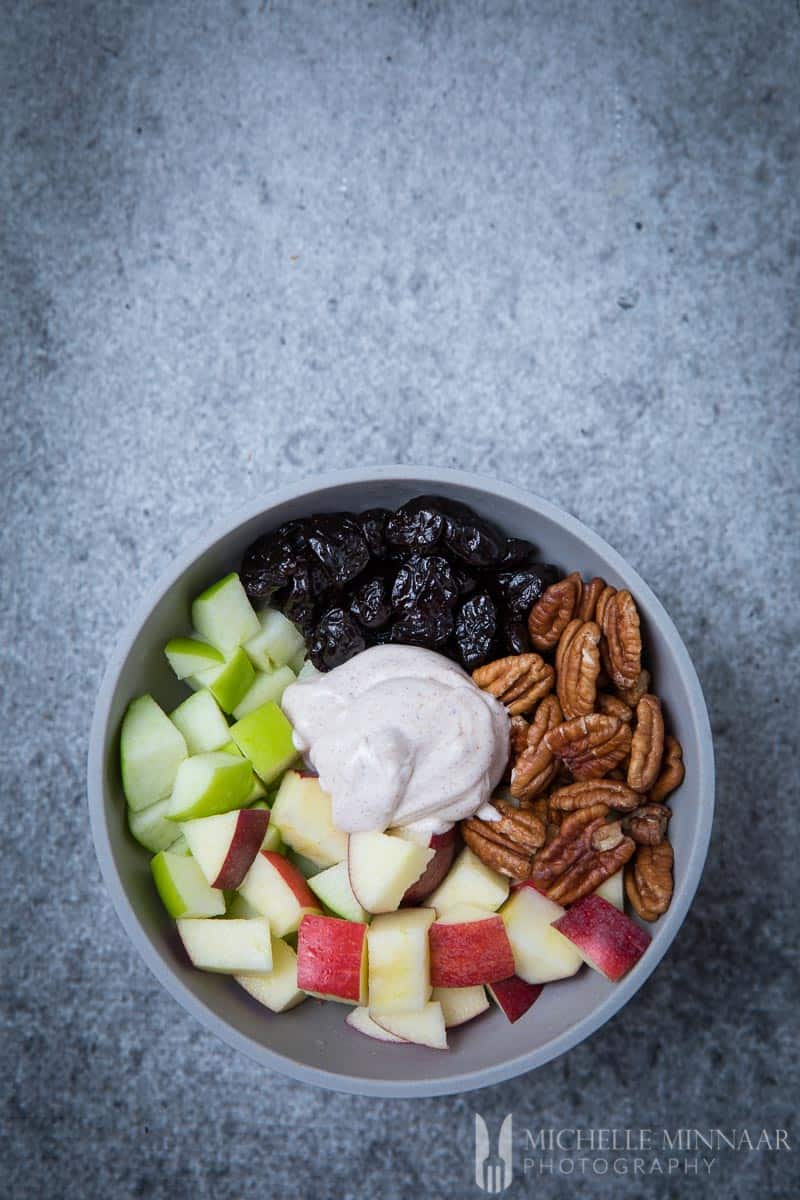 creamy apple salad
I highly recommend using sour cream and cream cheese for this step. The former will be balanced with the addition of sugar. You can also use double cream or crème fraîche. In fact, apples and the latter go hand in hand. What's best about this creamy dressing is that you can control the amount of sugar and spice that goes in.
So, for a diet-friendly version, add less sugar and use agave syrup or honey instead. In terms of spices, I love cinnamon and nutmeg with an apple salad. I also recommend adding vanilla beans or vanilla essence for a sweeter version of the apple salad.
make it vegan
To make it vegan-friendly, simply omit the sour cream and cream cheese or use dairy free alternatives. Or, as dressing to tie the apple salad together, you can add honey with a bit of lemon juice. Alternatively, toss in some pomegranate seeds with a bit of icing sugar so that you can still retain a sweet yet tangy taste.
dried fruit and nuts
This apple salad is very versatile and it doesn't matter whether you use dried cherries. figs or just about any type of dried fruit you've got home. I would even recommend using dried apricots as I did with my halloumi salad with apricots, avocado and almonds. Cranberries is a great substitute for the cherries.
Use any nuts of your preference. Pecan nuts, but hazelnut, almonds, cashews or macadamia nuts will do the trick.
eat it on its own
This apple salad is excellent on its own, especially during the warmer months. For a more robust meal, you can add some rocket salad along with Parmesan cheese, blue cheese or Parma ham. Take some inspiration from my fig salad with Parma ham and blue cheese.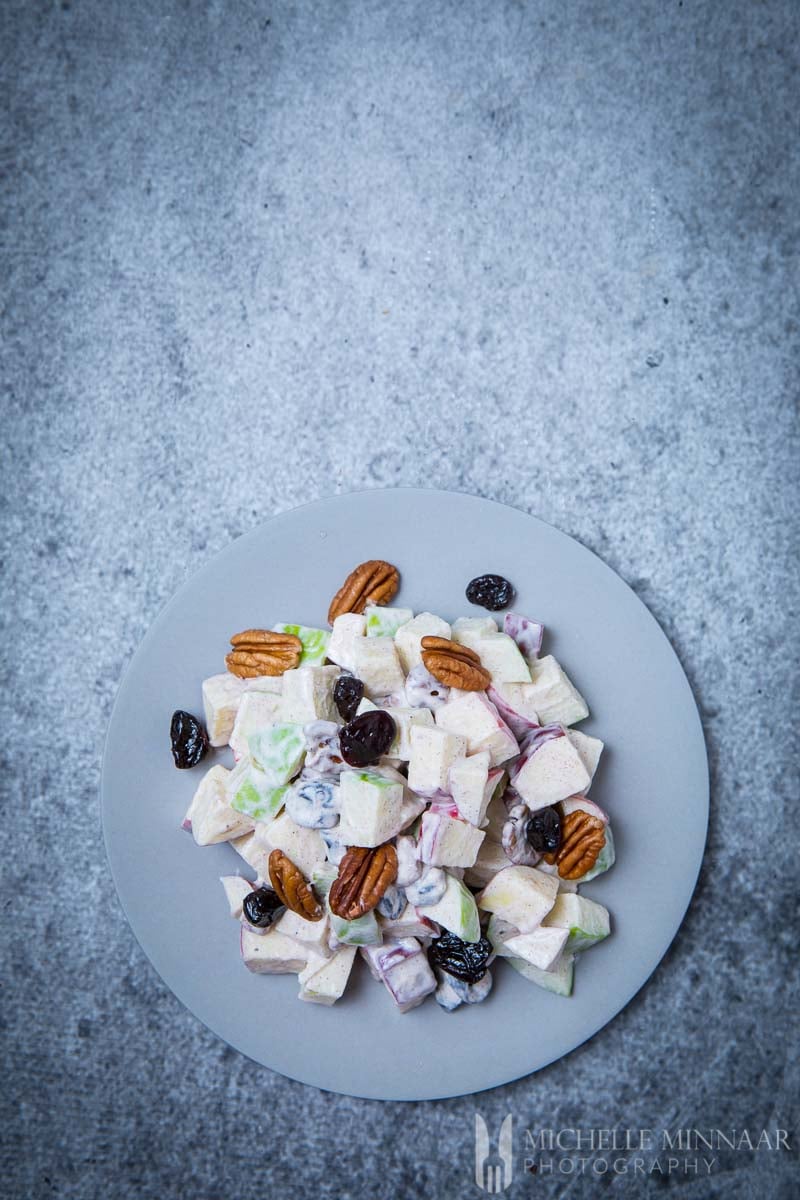 serve it as a side
Why not serve this apple salad with some typical BBQ meats? This can include BBQ smoked ribs, BBQ pulled lamb or  honey glazed smoked ribs. In fact, pair the apple salad with the smoked chicken filo tarts with peach. It's a perfect combination as the filo tarts are not so in big terms of serving size, so pairing it with a side salad completes the meal. Similarly, you can pair the apple salad as a side dish with some venison kebabs or lamb and apricot sosaties.
pair it with another salad for a large dinner
Are you having a large piece of meat for your family dinner – such as the whole smoked turkey or an Indian roast leg of lamb? Pair the apple salad with other side dishes like grilled courgette salad with feta and pomegranate, or baked sweet potato fries. Your options are endless! Enjoy!
Print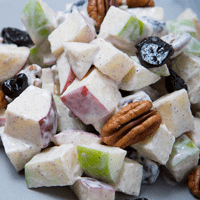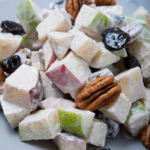 Creamy Apple Salad with Pecans and Dried Cherries
---
Author:

Michelle Minnaar

Prep Time:

15 minutes

Total Time:

15 minutes

Yield:

4

1

x
4

green apples, washed and cut into bite-sized cubes

4

red apples, washed and cut into bite-sized cubes

250

ml (1 cup) dried cherries

250

ml (1 cup) pecans

60

ml (4 tbsp) sour cream

60

ml (4 tbsp) cream cheese

30

ml (2 tbsp) caster sugar

2.5

ml (½ tsp) ground cinnamon

2.5

ml (½ tsp) ground nutmeg
---
Instructions
Place the apples, pecans and cherries in a large salad bowl.
In a smaller bowl, mix together the cream, cheese, sugar and spices until everything is well blended.
Pour the sauce in the salad bowl and give a good stir.
Serve immediately and consume soon!
Notes
For the green apples I used Granny Smith and the red, Pink Lady. This way you have a combination of tangy and sweet flavours in the salad.
There are techniques as to treat the apples in order to prevent browning. Soaking the cubes in salted water works!
Category:

Side Dish

Cuisine:

American
Nutrition
Serving Size:

1 serving

Calories:

458

Sugar:

30.3 g

Sodium:

52 mg

Fat:

24.1 g

Saturated Fat:

5.7 g

Carbohydrates:

62.3 g

Fiber:

8.7 g

Protein:

4.7 g

Cholesterol:

17 mg
save the recipe to your pinterest board