Try this delectable quick and easy salad recipe. This chili, green bean and potato salad is an ideal lunch for calorie aware potato lovers.
Types of potatoes
The potato, Solanum Tuberous, belongs to the Solanaceae family of flowering plants. It originated and was first domesticated in the Andes Mountains of South America. There are over 4,000 varieties of potatoes, the majority of which are found in the Andes; in Peru, Bolivia, Ecuador, Chile and Colombia. They grow in many sizes and shapes. The wild potato species contains over 180 different types these are too bitter to eat though. Their important biodiversity includes natural resistances to pests, diseases, and climatic conditions.
Potatoes are the third most important food crop in the world, after rice and wheat. In terms of human consumption, the calculation is that more than one billion people worldwide eat potatoes, so the global crop production of potatoes exceeds 300 million metric tonnes. Scientists have conducted repeated cross-breeding to transfer these resistances from the wild species to the cultivated potato species. Genetically modified varieties have met public resistance in the United States and in the European Union.
Propagation
Potatoes are vegetatively propagated, which means that a new plant can be grown from a potato or piece of potato, called a "seed". A new plant can produce 5-20 new tubers, which are genetic clones of the mother seed. Flowers and berries that grow on the potato plant contain 100-400 botanical seeds. These are planted to produce new tubers. Every time a potato, the berries or the seeds are planted, their genetic makeup is completely different from that of the mother plant.
Potato production has rapidly overtaken all other food crops in developing countries since the 1960's. The potato is a fundamental element in the food security for millions of people across South America, Africa, and Asia and Central Asia.
Grown in over 100 countries worldwide, potatoes produce more food per unit of water than any other major crop. This vegetable is up to seven times more efficient in using water than cereals. There are more than 600 varieties of potatoes sold throughout the United States. Each of these varieties fit into one of seven categories being russet, red, white, yellow, blue/purple, fingerling and petite.
Potatoes on Mars
In Lima (Peru), a team of world-class scientists are growing potatoes under Martian conditions in a bid to save millions of lives. This experiment, led by the International Potato Center (CIP) and NASA, is a major step towards building a controlled dome on Mars to farm this invaluable crop. The entire process serves to prove that potatoes can be grown in the most inhospitable environments, to feed starving communities.
This experiment will raise awareness of the incredible resilience of potatoes. It will also fund further research and farming in devastated areas across the globe, where malnutrition and poverty are rife and climbing.
The Top 10 Most Requested Potato Varieties in Europe
Agria
Desiree
Spunta
Bintje
Maris Piper
Lady Rosetta
Hermes
Charlotte
Agata
Early Rose
What is the difference between a New Potato and Baby Potato?
New Potatoes are immature potatoes. They are harvested earlier in their growth to make room for the rest of the potato crop to mature. There is no specific "new potato" variety, they are simply the baby version of any potato species that a farmer grows. Those being sold as "baby" potatoes are the same as new potatoes or sometimes slightly more mature, meaning they were harvested a little later than a "new potato".
Technically speaking any potato picked before the height of maturity is a new potato, generally in spring or early summer. They have a "waxy" texture, meaning they're low in starch, high in water and very firm.
New potatoes are harvested when their leaves are still green. Mature potatoes are harvested after their leaves have turned yellow or brown and before their sugar has begun to convert to starch.
Thin Skins
Early harvesting means the New Potato's skin is very thin and tender, often feathering or peeling off in places. Its thin skin causes it to be more perishable than a regular potato. New Potatoes can be stored in a paper bag in a cool place like mature potatoes, but they must be eaten within a few days of purchase.
The thin immature skins make these new potatoes excellent for eating unpeeled. They are at their best boiled or roasted and used in soups and salads. They have a delicate, slightly sweet flavour and a creamy texture.
Round or oblong in shape they vary from the size of a walnut to the size of a ping-pong ball.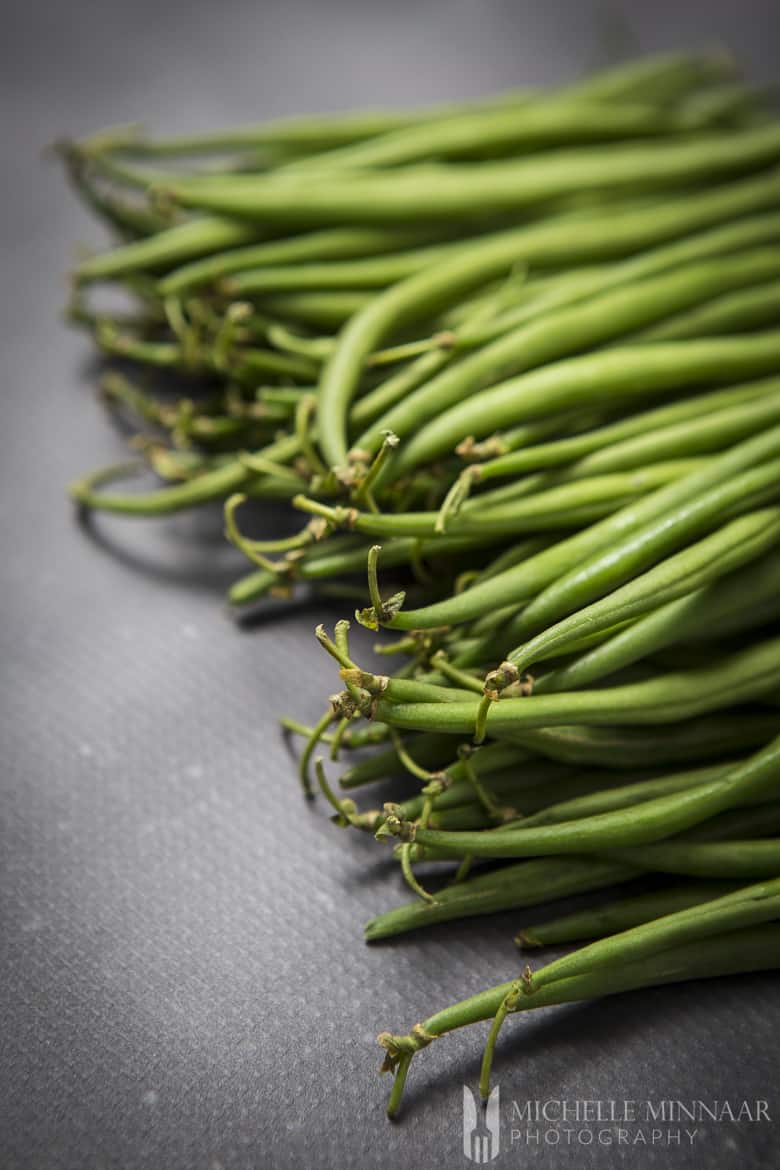 Starchy vs. Waxy vs. All Purpose
Here is a quick cheat sheet to help you choose the right potato every time.
Potatoes fall into three basic categories: starchy, waxy, and those in-between which are referred to as all-purpose.
Use starchy potatoes for baking, frying and mashing. The high starch content prevents the potato from staying whole when it is cooked even though they are fluffy and absorbent. In turn it makes the starchy potato absolutely perfect baked, topped with melted butter, or deep-fried in oil. It makes for a decent mash but be careful not to process it too much, or else, you will have a gluey mess.
Use medium starch potatoes for steaming, baking, roasting, grilling and au gratin dishes. Waxy potatoes have a smoother, more waxy texture so they hold their shape very well while they are cooking. They work well in dishes like soups, stews, potato salad and scalloped potatoes where you would need to boil, slice or roast them.
Use low starch potatoes for boiling, roasting, grilling, sautés, stews, salads and au gratin dishes. All-purpose potatoes have less starch than starchy potatoes so they really cook nicely in most potato dishes.
Avoid green potatoes!
Avoid potatoes with a green tint to the skin. A green skin means that the potatoes have been exposed to too much light and they have developed the toxin 'solanine'. This poison causes some nasty conditions like cramping, headaches, diarrhoea and fever. Its flavour will also be bitter.
So many ways to jazz up a potato salad...
There are so many different and exciting ways to spruce up potato salads… from the creams and sauces to the vegetables, meats, herbs and spices added.
Sauces
Mix up your sauces from mayonnaise to crème fraiche with mustards and even curries. Vinegars and pickle juices make an incredible variant to the standard salad.
Cheeses, thick full cream and Greek yoghurt.
Meats, Veggies and Condiments
I love a potato salad with grated boiled egg and finely chopped scallions or onions
Mix in crab meat, lobster or prawns
Use pickles and hams, raisins and celery
Celery, apple and walnuts for the classic Waldorf salad
Chillies, fennel bulbs and herbs, tarragon, parsley, salt and pepper
Avocado's, beetroot and horseradish
Bacon, mushrooms and bell peppers
Salmon caviar
Ditch your usual Niçoise at lunch time and try this awesome chilli, green bean and potato salad!
Print
Potato, Green Bean & Chilli Salad
---
400g

(

1

lb) baby new potatoes, halved

160g

(

5½ oz

) green beans, trimmed and halved diagonally

2

red chilis, deseeded and sliced thinly

60

ml (4 tbsp) extra virgin olive oil

15

ml (1 tbsp) red wine vinegar
---
Instructions
Put the potatoes in a large pot of gently simmering water and cook for 20 minutes, or until tender but still firm. Drain and set aside.
Bring a pot of lightly salted water to the boil, add the beans and blanch for 2-3 minutes, or until bright green and just tender. Drain, refresh under cold water, then drain again. Put in a serving bowl with the potatoes.
Whisk the oil and vinegar together and drizzle evenly over the salad.
Notes
If you have a lazy streak like me, add the beans to the potato pot near the end of the potatoes' cooking time. That way you have one less pot to wash.
For those of you, who are frightened of chilis, use bell peppers/capsicums instead.
Prep Time:

5 minutes

Cook Time:

20 minutes
Nutrition
Serving Size:

1 serving

Calories:

171

Sodium:

220 mg

Fat:

14.1 g

Saturated Fat:

2 g

Carbohydrates:

11.1 g

Fiber:

2.5 g

Protein:

1.4 g
save the recipe to your pinterest board