This pea salad is refreshingly crunchy and sweet, a great alternative to the bog standard green salad. It is vegan friendly and is lactose and gluten free.
Neither a fruit or a vegetable, a snap pea is a legume. Some people like eating the leafy tip and the flower of the plant in their salads or in a Chicken and Sugar Snap Pea dish.
The History of Sugar Snap Peas
These peas were a new food developed to meet consumers demands for sweeter edible pod peas, which are larger than snow peas. First developed in 1952, sugar snap peas is the love child of garden and snow peas. The latter is also known by the French name "mange tout", which means "eat all".
Researchers mixed a snow pea with a mutant shell pea plant, hoping to circumvent the twisting of the pod while it was growing. This cross breed is now referred to as the sugar snap pea. Snap peas were developed with fibres going in one direction making them easier to chew than the green pea pods making chewing easier.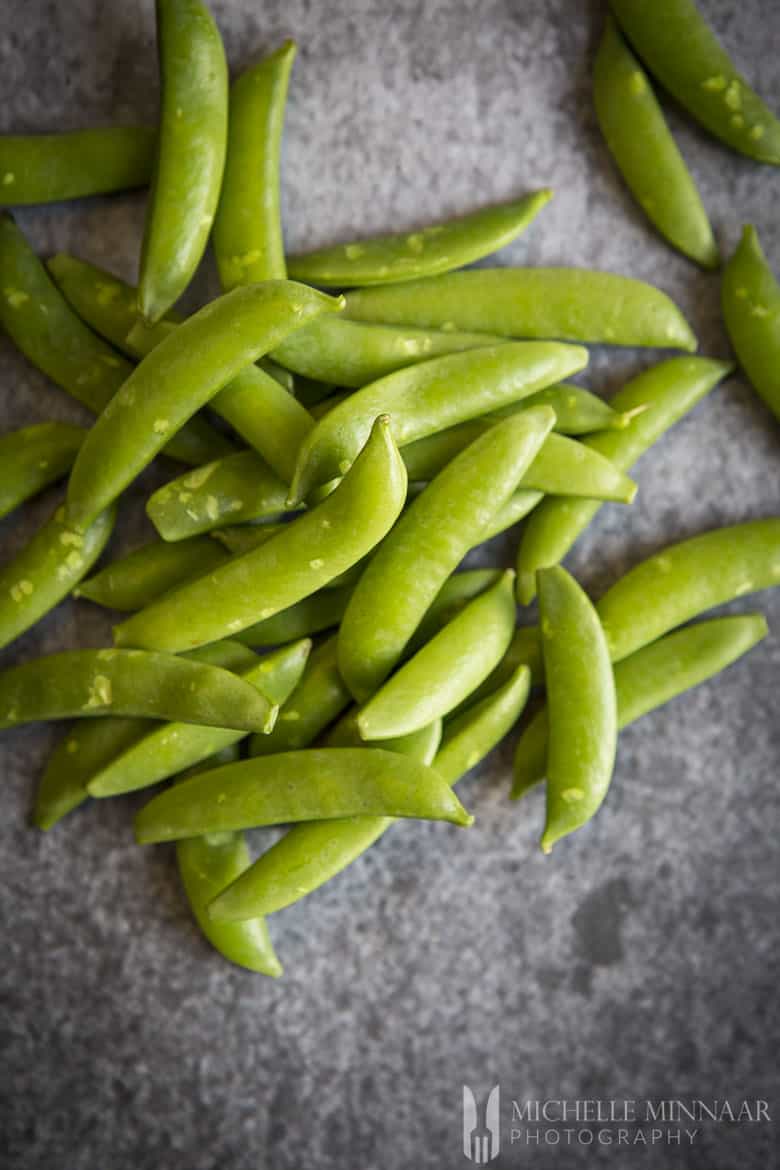 Cultivation
Grown in the cooler seasons it is a vining plant requiring a trellis type structure to grow horizontally. It has a higher tolerance of hotter climates and adapts to light frost well when it is a young plant. They require 4 – 6 hours of sunlight per day while growing.
Storage and Refrigeration
For the best flavour and texture, buy them fresh, keep them cool and eat them soon.
The conversion of sugar to starch is slowed down by keeping them cool in the fridge. Fifty percent of the sugar will convert to starch within six hours of keeping them at room temperature. Cooler temperatures also preserve their texture and nutrients.
How to Choose Fresh Pods
When buying snap peas look for firm pods with a velvety texture, they must look so full, that their seams are about to burst. The peas must not be loose and rattling in the pod.
The colour should be rich green not dull or yellowed. There must not be any speckles of brown or black rust.
Why Eat Sugar Snap Peas
They are the perfect addition to your diet to improve your health, essential for your heart and bones. The sugar snap pea is an essential ingredient to a vegan diet.
Lima beans are the only other vegetable that has a higher vegetable protein content than peas.
If you love eating fresh peas and do not want the tedious process of shelling bowls of them, then snap peas are the best alternative, as you can eat the whole thing, pod and all.
Crispy and sweet they are delicious as a quick snack just on their own.
Five Reasons Why You Should Snack on Sugar Snap Peas.
Immune Boosting: they are high in beta-carotene and Vitamin A, retinol the derivative of Vitamin A is instrumental in the development of immune cells, fighting off foreign invaders they keep us healthy.
Bone development: Full of Vitamin K which aids the creation of new bone cells and helps prevent fractures and certain bone cancers.
Sweet snack with no guilt attached; they have a glycemic index of 5 which means no blood sugar rushes and aid the prevention of diabetes. Low glycemic diets decrease fat stores and discourage insulin resistance helping weight loss.
Iron content: containing 18% of the daily recommended intake of dietary iron in one cup they reduce female fatigue.
Dietary fibre and protein altogether, in one cup, they contain 4.5g dietary fibre and 5g protein. Perfect for a balanced weight loss regime that is plant-based, high in fibre and protein. Mix them with lima beans to create a complete amino acid profile. A three-quarter cup of peas has more protein than an egg or a tablespoon of peanut butter and less than 1g of fat
If you are trying to lose weight or maintain your current weight, sweet, crunchy sugar snap peas are the answer. They have 35 calories per 3-ounce serving, which is about 1 cup. 2g of protein. No fat, 3g of natural sugar and 2g of fibre.
Preparation
The leafy tip of the plant and the flower can be eaten and gives salads a fresh twist of colour.
If you do choose to cook them they must not be cooked for a long period of time. The thrill of sugar snap peas is the crunch and explosion of sweet, juicy flavour in your mouth. So try not to cook them, eating them raw gives you the healthiest, tastiest preparation. If you must cook them lightly steam or fry them for a few seconds.
Categorised as legumes they can be eaten as they are or steamed, pureed or chopped and added to salads.
Raw: The best way to eat sugar snap peas is raw. Add them to your crudité platter with dressings, mayonnaise, guacamole or hummus. I love them with cottage cheese sprinkled with salt and pepper or a Peppadew® dip.
Blanched: 5 minutes of boiling no longer than that and then dip them into ice water quickly and serve straight away. I am not a fan of freezing vegetables, I always believe you pick them, prepare them and eat them immediately. However, you can freeze them immediately after blanching and save them for later.
Sautéed: Mix them with a little olive oil and some shallots or garlic. Add some other vegetables and some herbs, if you'd like. Sautee over medium heat for about five minutes, and dig in. With a lean protein, it is a blood-sugar-friendly meal.
Salads: Crunchy and juicy, cut them into halves or thirds before tossing them with a spinach or spring mix, avocado, tomato and garbanzo beans. Or add them to your favourite salad.
Steamed: Just add salt, pepper, butter and a steamer basket.
Pickled: Use them in your favourite pickling recipe.
Add them to your salad, pasta or stir-fry to infuse a refreshing flavour into your dish without adding excess calories and fat. This Sugar Snap Pea Salad is an ideal start to your journey into a healthier lifestyle. The fibre will help keep you feeling full and reduce your temptation to snack between meals.
Print
Sugar Snap Pea Salad
---
300

g

(10oz) sugar snap peas

5

ml

(1 tsp) caster sugar

15

ml

(1 tbsp) dark soy sauce

15

ml

(1 tbsp) rice wine vinegar

15

ml

(1 tbsp) mirin

15

ml

(1 tbsp) sesame oil
---
Instructions
Wash and dry the peas.
Finely slice lengthwise into matchsticks.
For the dressing, mix the sugar, soy sauce, vinegar, mirin and oil together.
Pour the dressing over the peas, toss and serve.
Notes
For a less sweet version of this salad you can use mangetout (snow peas) instead.
Nutrition
Serving Size:

1 serving

Calories:

306

Sugar:

18 g

Sodium:

869 mg

Fat:

13.5 g

Saturated Fat:

1.9 g

Carbohydrates:

34.8 g

Fiber:

7.1 g

Protein:

7.2 g
save the recipe to your pinterest board